This delicious French Toast Casserole can be made the night before and just baked in the morning!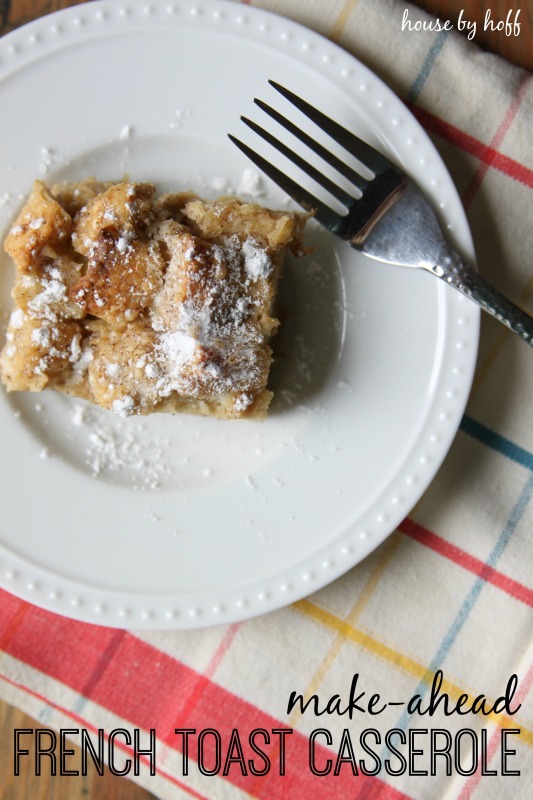 Before I get to the French Toast baked casserole I have a confession.
I did something just awful this weekend.
I snipped the tip off of Miss L's pacifier and told her it was broken.
She was devastated.
Between sobs, she suggested that we should just find some tape to fix it. I told her it wouldn't work.
She told me I should fix it. I told her I couldn't.
She said that her daddy would fix it. I explained that he couldn't.
In complete despair, she cried, "Well, we should take it to somebody's house, and somebody can fix it!"
*Sigh.*
I felt SO bad, but she's almost 3, and I just knew the time had come to let the pacifier go.
 It still made me sad, though. It's just gives me one more sign that she's not a baby anymore.
🙁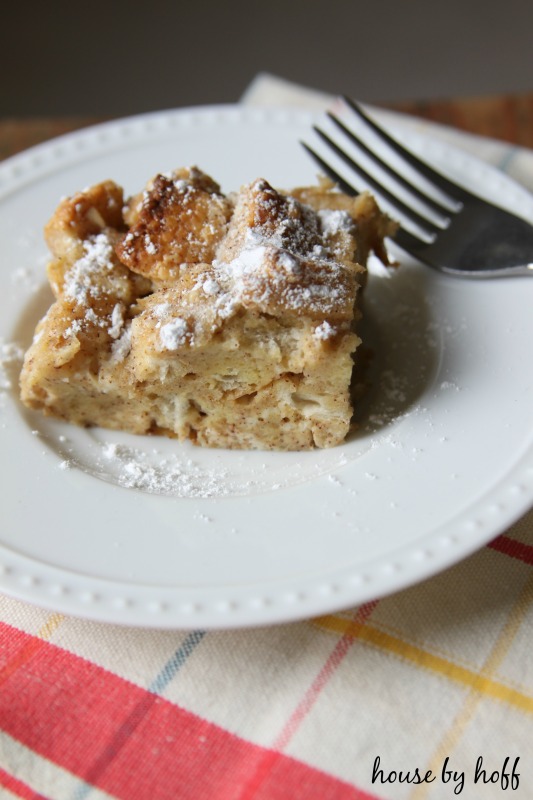 She had a hard time napping that day, but went right to bed without it on Saturday night. Which made me feel a whole lot better.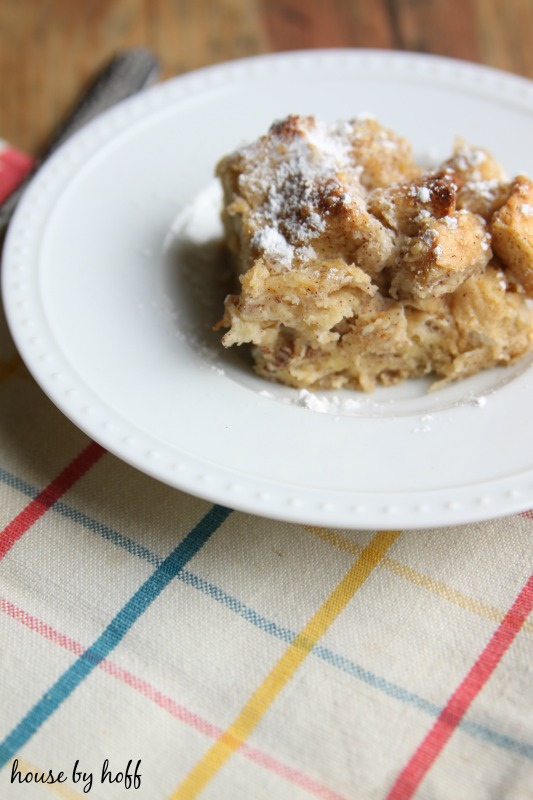 Are you wondering when I'm going to get to the French Toast Casserole, already? 😉
I made this awesome casserole for the baby shower I hosted last weekend. It was perfect. I made it the night before, then baked it the morning of the shower.
Overnight French Toast Casserole
Ingredients:
10 cups cubed (1 inch) sturdy white bread (1 long loaf of French bread)
1 package (8 oz) cream cheese (at room temperature)
8 large eggs
1 1/2 cups milk
2/3 cup half-and-half cream
1/2 cup maple syrup (pancake syrup)
1 Tbsp cinnamon
1 Tsp vanilla extract
2 Tbsp confectioner's sugar
Directions:
Place bread cubes in 13″x9″ baking dish coated with cooking spray.
Beat cream cheese well with an electric mixer at medium speed until smooth. Beat in eggs at low speed until blended.
Add milk, cream, maple syrup, cinnamon, and vanilla and wisk or beat until smooth.
Pour mixture over top of bread and press bread down gently into egg mixture making sure the bread is completely coated.
Cover and refrigerate overnight.
The next morning remove casserole from refrigerator and press down gently to re-soak bread and let stand on counter for 20-30 min.
Bake at 350* for 40-45 minutes or until set. Let stand 15 minutes before serving.
Sprinkle top with confectioner's sugar and serve with warm maple syrup.
Original recipe found here.
Have a great day!