I will show you how to unclutter the look of your open shelves with 3 great display tips!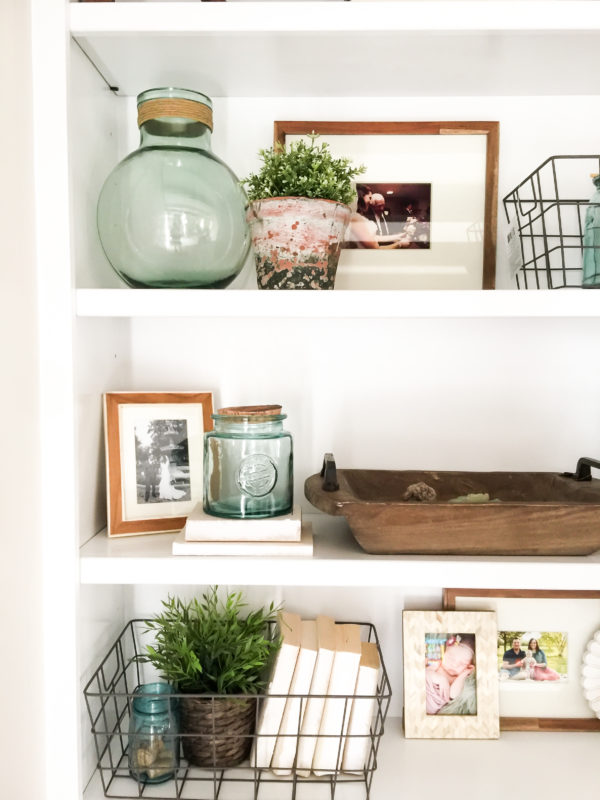 Last week I made a little day trip down to Indianapolis to do some decorating with my sister…Can you imagine a day more fun than that?! She and her husband bought and renovated their home about a year and a half ago, and she wanted to focus on decorating some of the areas in her house that were still, well, undecorated.  The area we chose to focus on on that particular day was the open shelving unit next to her fireplace. Open shelves can be tricky, so I thought I'd share with you some ideas on how to style open shelves for an uncluttered look.
* Sources for most of the items we used to decorate are at the bottom of this post!
How to Style Open Shelves: 3 Tips for an Uncluttered Look
Here is a look at the shelves before we began. These open shelves are removable and adjustable, and I had actually already suggested that she remove one of the shelves before I took this picture. Before she removed one of the shelves they were too close together, which really limited what we could do with them. After she took one of the shelves out (as you can see below) we now had more height per shelf to work with.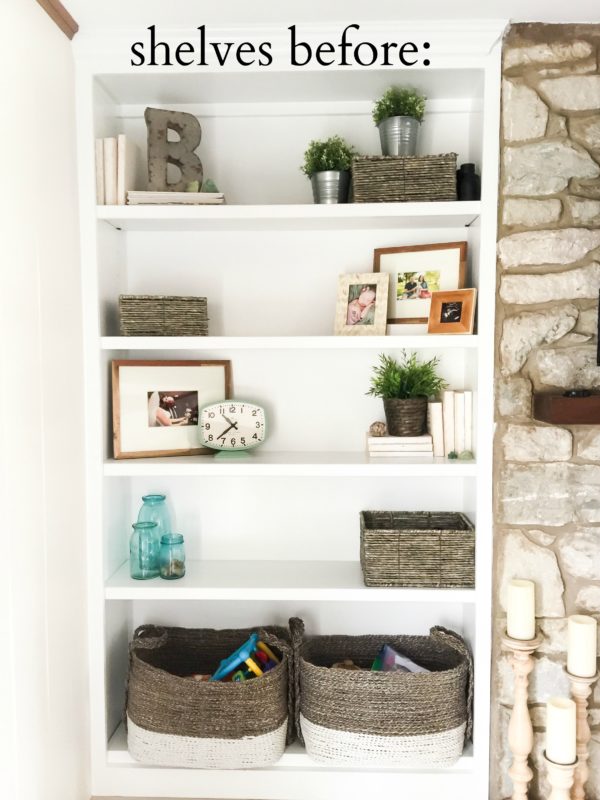 Tip 1:  Balance smaller pieces with larger accents
My sister already had enough smaller pieces, so my goal was to incorporate some larger accents (like the wood corbels, wire baskets, blue vases, and wood dough bowl to fill the space. If you use too many smaller decor pieces, it ends up looking junky and cluttered. By using larger pieces, you fill space without things looking too cluttered. Balancing decorative pieces of various sizes is good.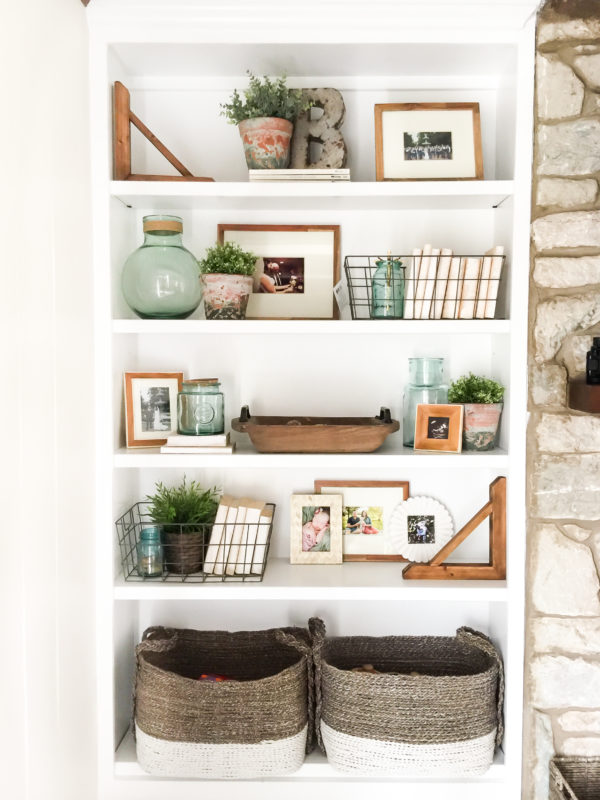 Tip 2:  Repeat decorative accents and elements
Repetition is good. I repeat, repetition is good…ha! No, but really, repetition is good. Notice the way we used a corbel on top, and repeated it on the bottom opposite corner. We repeated blue vases, wire baskets, aged terra-cotta pots, coverless paperbacks, greenery, and wooden photo frames….that is a lot of repeating! Not only do you want to repeat decorative accents to avoid your opens shelves from looking cluttered, but you also want to repeat elements of color and texture. We focused on using blue colored vases for pops of color, aged terra-cotta planters for texture and color, and wooden elements to create a repeated color/texture.
By repeating decorative accents and elements, we create a harmonious and uniform look from top to bottom.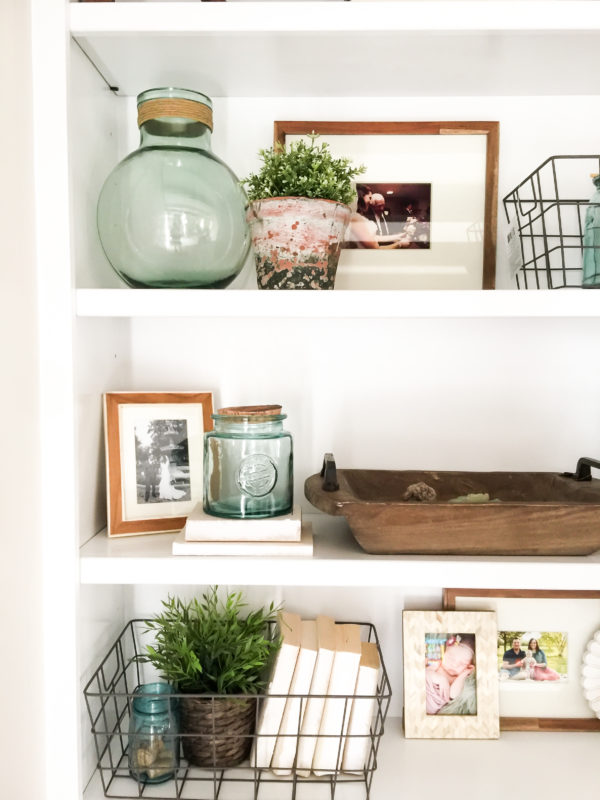 Tip 3:  Use groupings of three
One of the fundamental rules of decorating is using groupings of three. The eye likes threes…it just does. Creating little vignettes and groupings of three is just an easy way to make your eyes happy. Let's make this like a game:  How many groupings of threes can you spot in the open shelving below?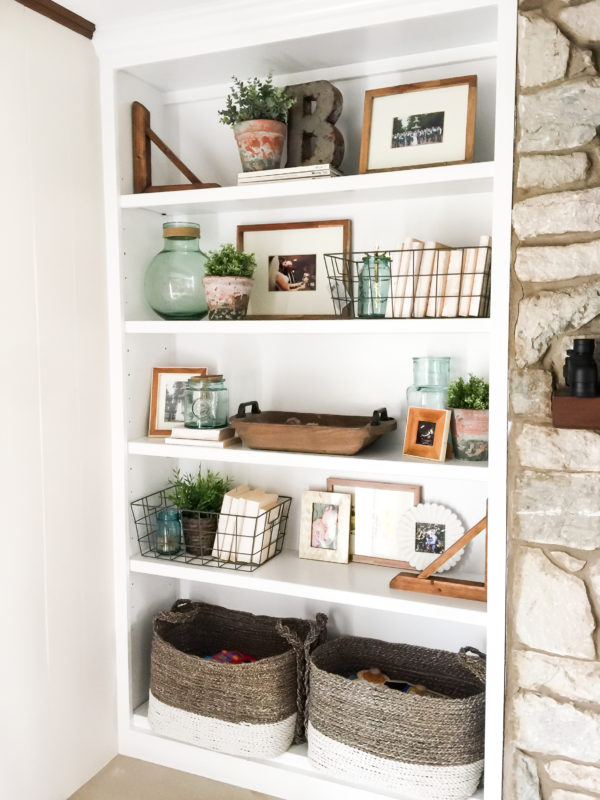 ~
If you want to save these tips for later, be sure to pin!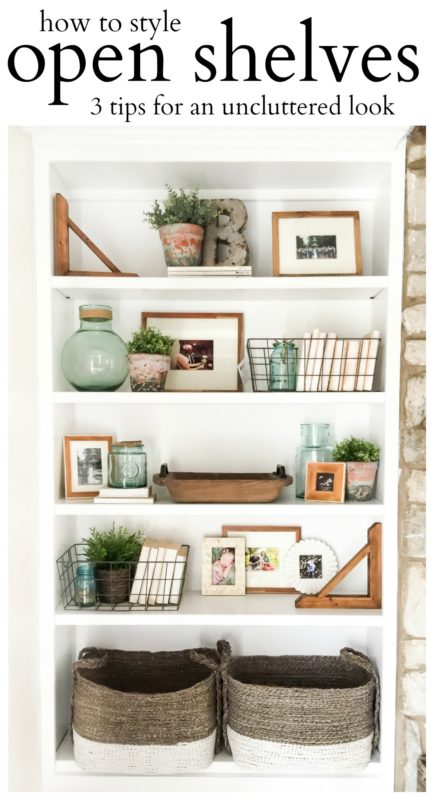 Have a great day! 🙂