You need to see these beautiful pictures of my faux plants!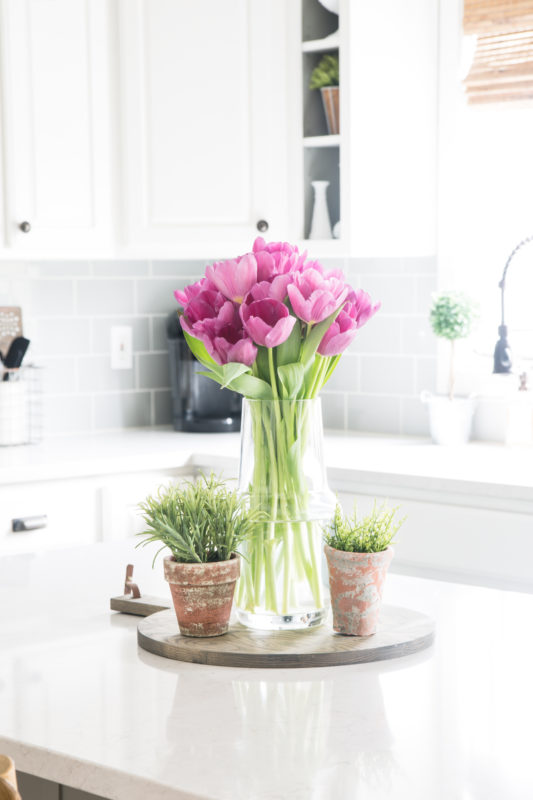 Fake plants are my jam, and I have no problem telling you that. I don't possess the talent, patience, or interest required to grow real plants. Maybe someday I'll enjoy it, but for now I'm just embracing faux plants as one of my most essential decorating pieces. I incorporate them in every room, in every season, and in every vignette. One scroll through my Instagram feed, and you'll see that they're in every. single. shot. They are absolutely necessary to me, and I'll tell you why:
*Ahem*
Plants (fake or real) bring softness, texture, fullness, color, and an element of life to every space. They make a room feel fresh and happy, and no space is complete without them.
Wouldn't you agree? 🙂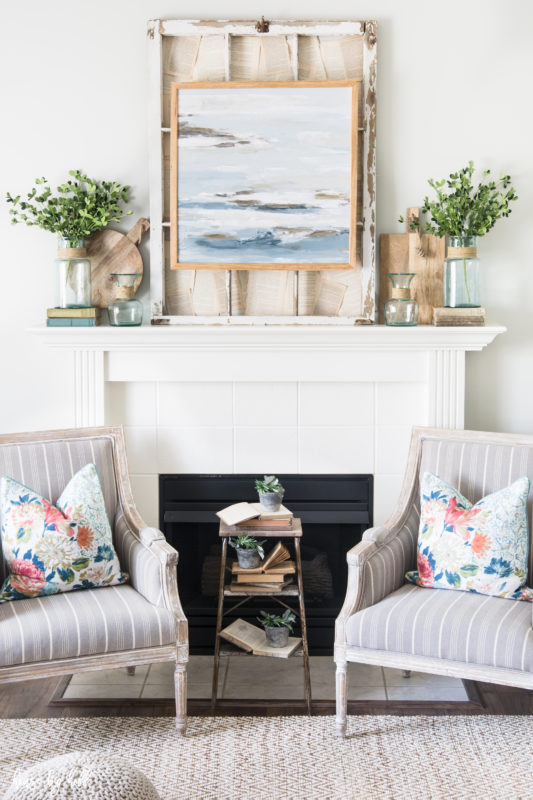 How to Decorate With Fake Plants
1. Put fake plants in a variety of vases and containers.
I put fake plants in just about every size and type of container. Weather it be glass vases, terra-cotta planters, baskets, or buckets…chances are I've got some fake stems in it. If you've got an empty container in your house, stick some greenery in it, and BAM:  instant decoration! 😉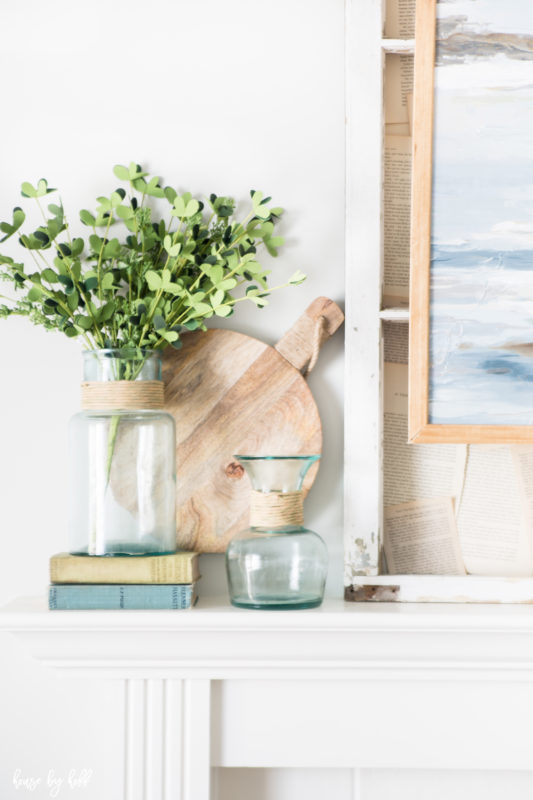 The picture below kind of cracks me up, I've literally got fake plants of every size and in every type of container in one shot. The eucalyptus leaves in the blue vase are from Kirkland's…I could not get a link because they're not sold online. They are some of my absolute favorites though!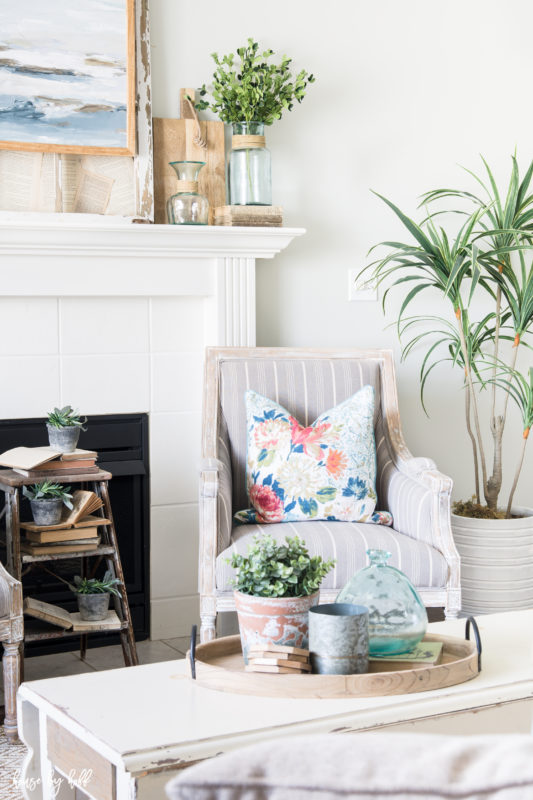 Every arrangement and vignette looks better with some green, even in the kitchen!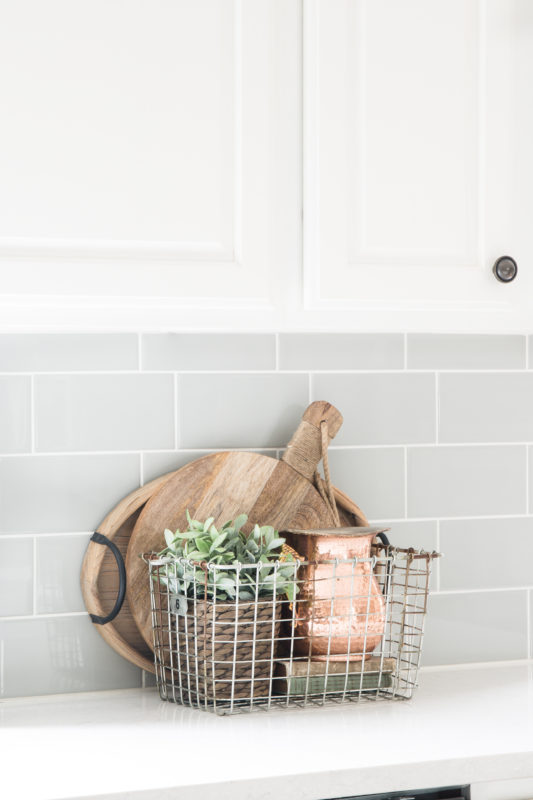 2. Mix fake plants with real plants
Ummmm, but April, you just said you only decorate with fake plants. Touche, my friend, touche. On the rare event I have a living plants in my house, I like to mix them in with fake stems. When you combine real plants with fake plants, I think it makes the fake ones look even more real…did that make sense?!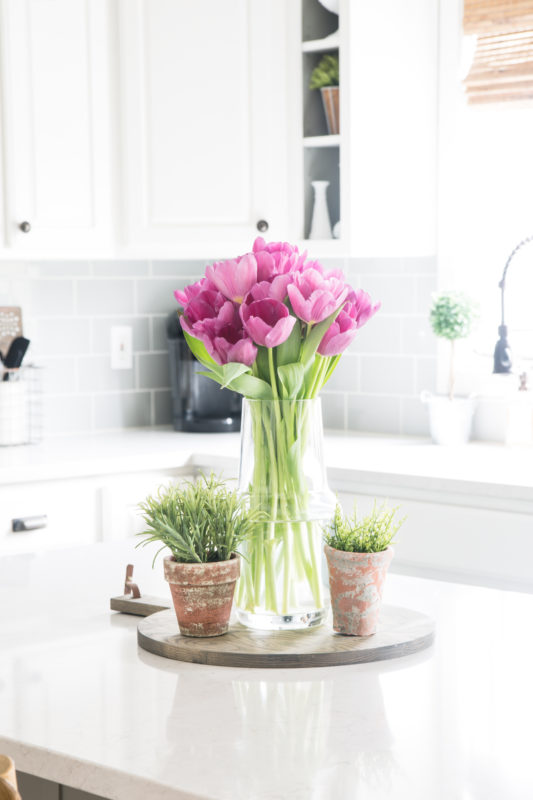 Above, I created a simple counter top arrangement by pairing real tulips (from the grocery store…I take no credit for growing them) with a few fake plants in terra-cotta pots.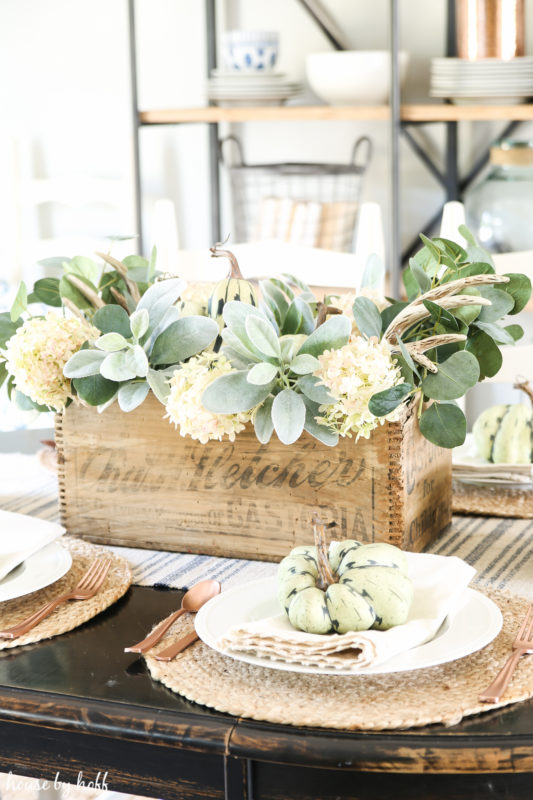 Last fall I combined real hydrangeas with fake lamb's ear (from Hobby Lobby…I couldn't get link for exact stem) and eucalyptus to create a pretty DIY Fall Centerpiece.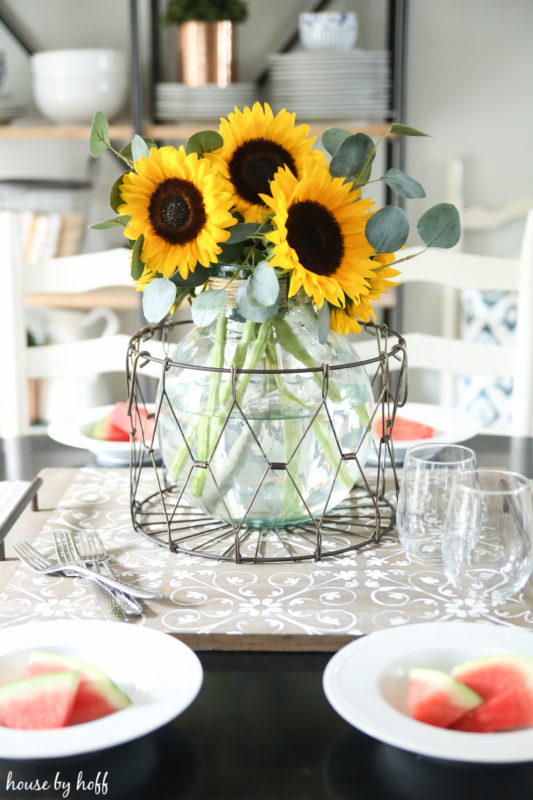 Last summer I mixed up real sunflowers (again from the grocery store) with fake eucalyptus stems. I think this is a great example of the fake eucalyptus looking even more real when mixed with real flowers.
3. Make Wreaths and Hoops with Fake Plants
Embrace the fake plants when making decorative wreaths and hoops! I especially love my DIY Succulent Embroider Hoops because they're seasonally neutral. I hung these this spring, and I plan to keep them there until at least fall. Which is why I really love fake succulents. They are timeless in the sense that they can be used all year round.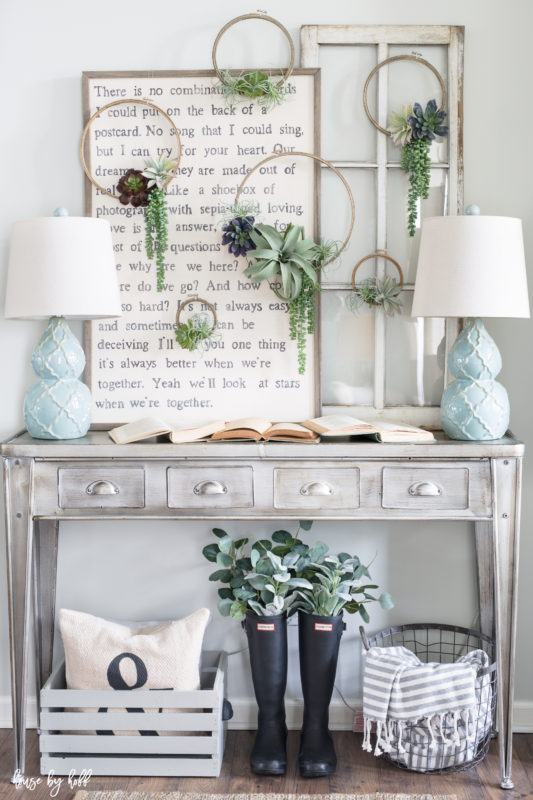 I also love the unexpected look of faux greenery in my Hunter boots, refer back to Tip #1). If this isn't a good example of using faux greenery in an unexpected container, I don't know what is…ha!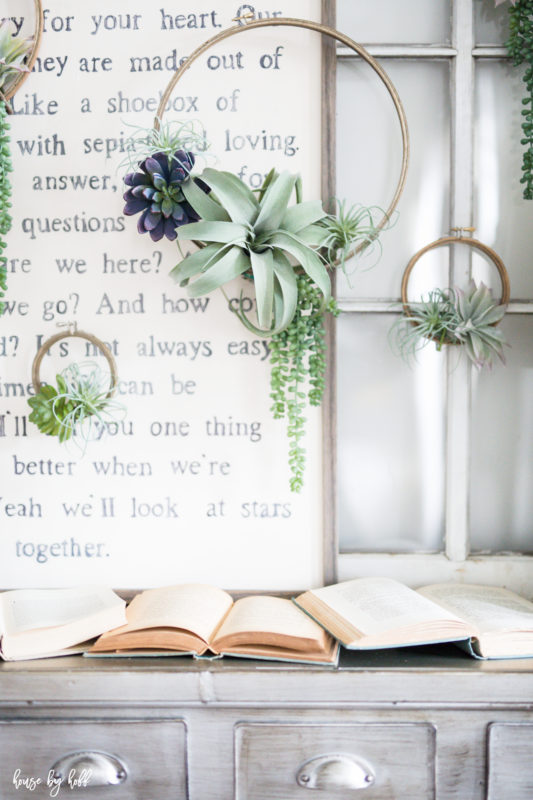 Yes, my house sure would look pretty naked without faux greenery. It's absolutely everywhere! I hope these tips gave you some ideas and inspiration!
~
My favorite places to shop for faux greenery are:  Hobby Lobby, Kirkland's Flower Market, and Ikea.
Below I am giving you all of the sources for my favorite faux plants.
 *Affiliate links are used. 🙂
Favorite Succulents:  Large Air Plants / Small Air Plants / Purple & Green Medium Succulent / Green Medium Succulent
Favorite Eucalyptus Leaves:  Stem of Eucalyptus Leaves  I have at least 15 stems of these in my house! 😉
Favorite Lamb's Ear:  My favorite lamb's ear is from Hobby Lobby. I could not get link because it's not sold online. This lamb's ear looks very similar though.
Favorite Artificial Potted Plants: Potted Jade Plant / Potted Thyme Plant / Potted Wheat Grass /
~
 If you love these ideas, don't forget to pin them for later!