Having a decorating blog is so much fun, but it's especially fun at the change of the seasons. I love adding decorative touches, changing things here and there, and photographing my home for each round of seasonal blog home tours. I've shared bits and pieces of my 2018 summer home throughout the last few weeks, and today I'm putting allll of the photographs of allll of the rooms of my house together for one final summer home tour hurrah!
Today I'm taking part of a summer home tour blog hop hosted by Marty from a Stroll Thru Life. If you're stopping by from Christy's beautiful tour, welcome! I'm so glad you're here!
All of my summer home sources can be found at the bottom of this post.  Affiliate links are used.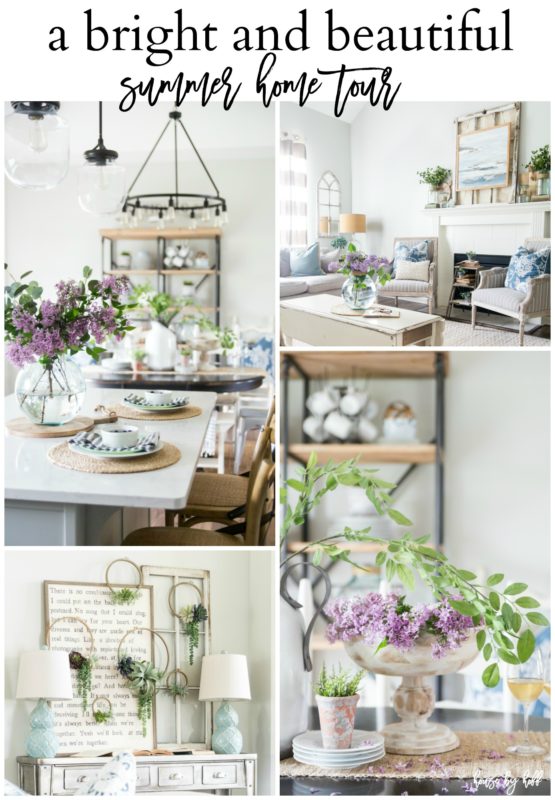 We'll begin in my summer living room. My living room is kind of a blank slate of a room, and it's vibe can really change depending on the decor I put in it. I was inspired by the coastal seascape on canvas to give this room a beachy summer feel.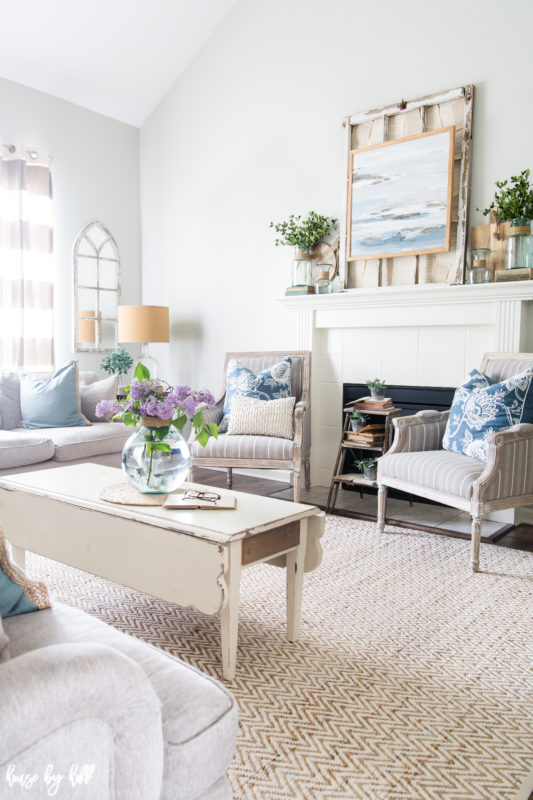 I'm never really one to shy away from blues, so I brought in allll the blue accents for this coastal summer look.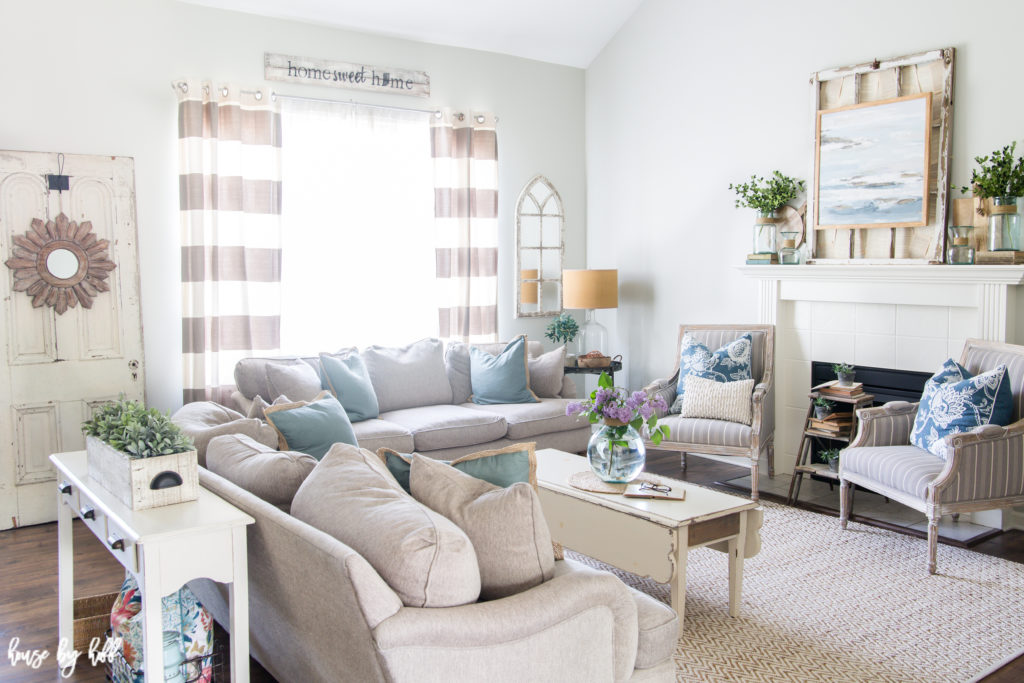 I'm also not one to shy away from a floral throw pillow. If it's a throw pillow, and it has a floral print, and it has blue in it, there is no way I can resist it. It will end up in my house. It's science. 😉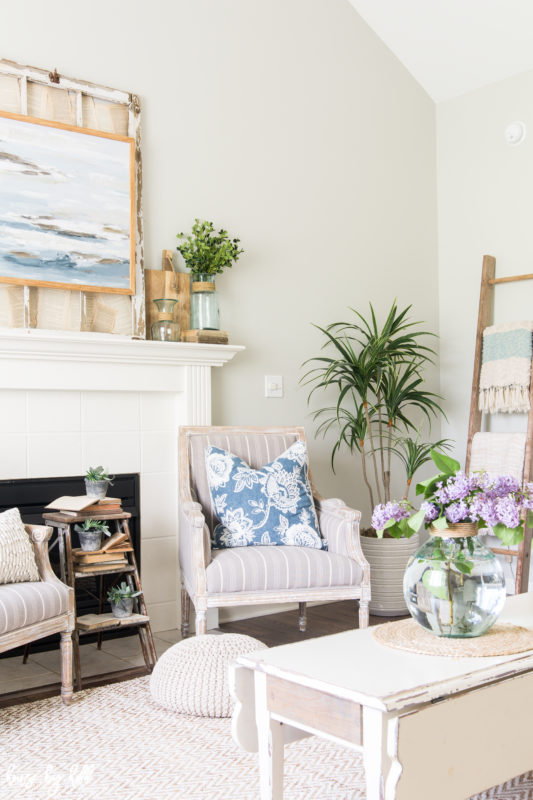 My DIY Succulent Hoop Wreaths are still hanging on the back wall of the living room. I look at them every day, and they make me happy. As long as I'm still smiling at them, they're staying up.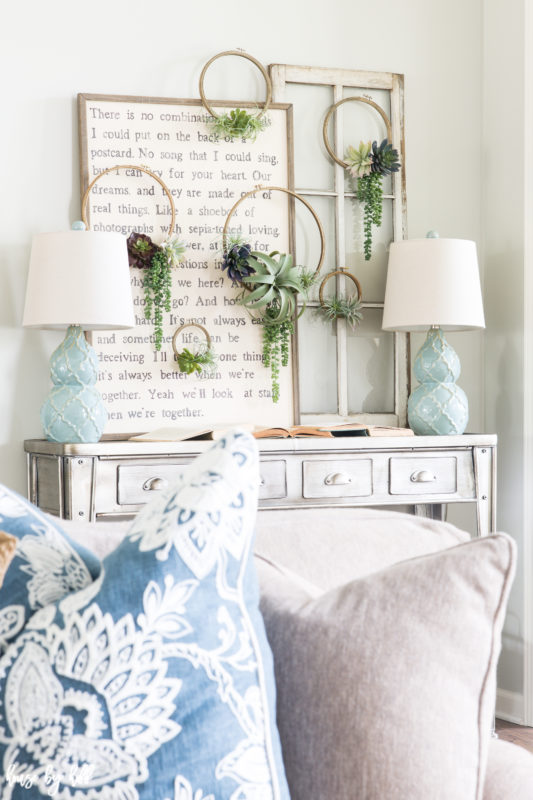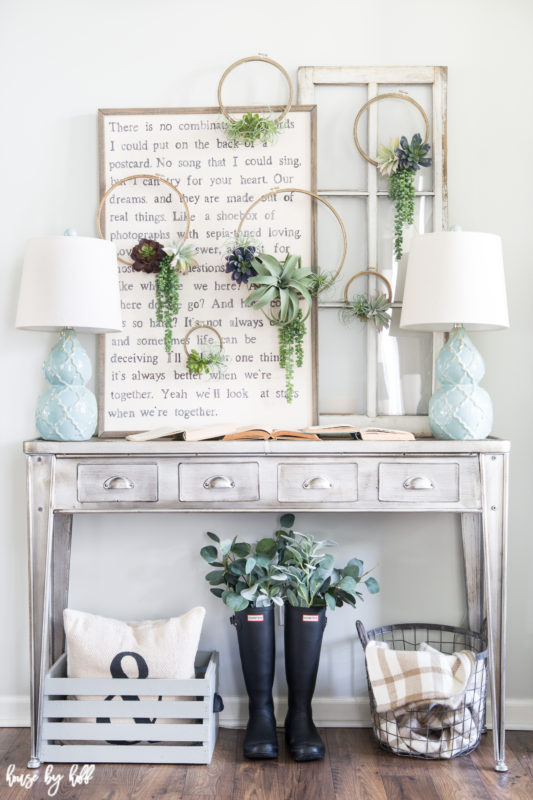 We added a new window mirror to our living room this summer…(and it's $35 price tag at Hobby Lobby could not be beat!)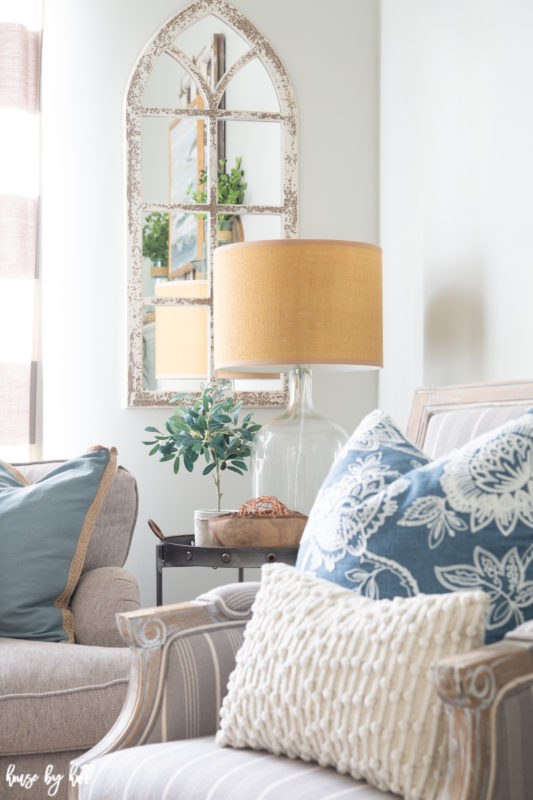 Next up is the summer kitchen! (Can you tell that I had one vase of lilacs that moved from room to room on photo shoot day…ha!) 😉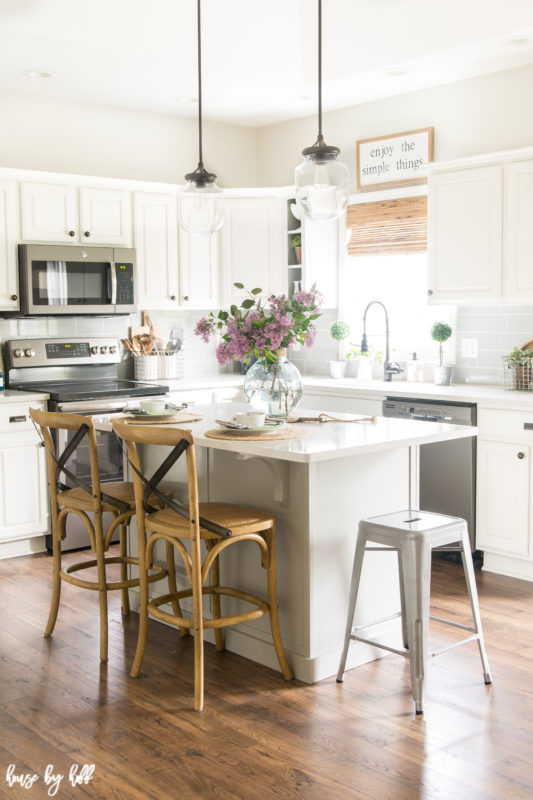 I loved pulling out some vintage dishes to add a pop of color to the kitchen island.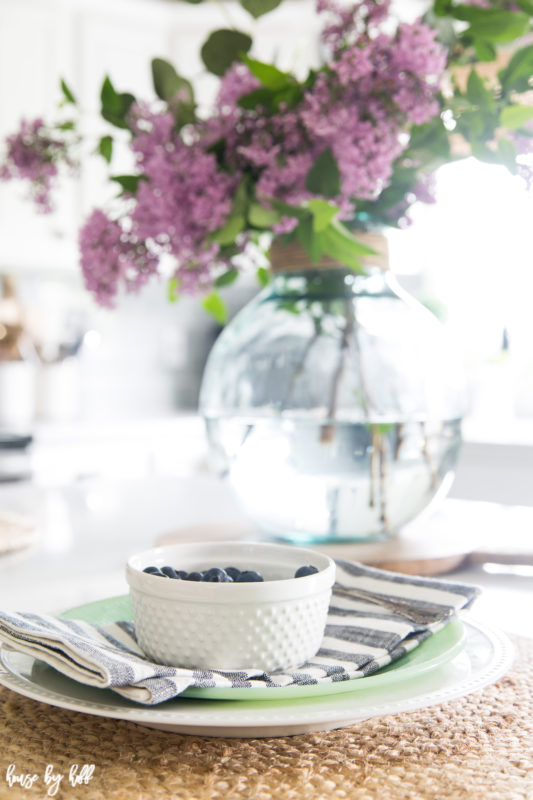 My very favorite shot that I took of my summer home tour…little flowers in your blueberries, anyone?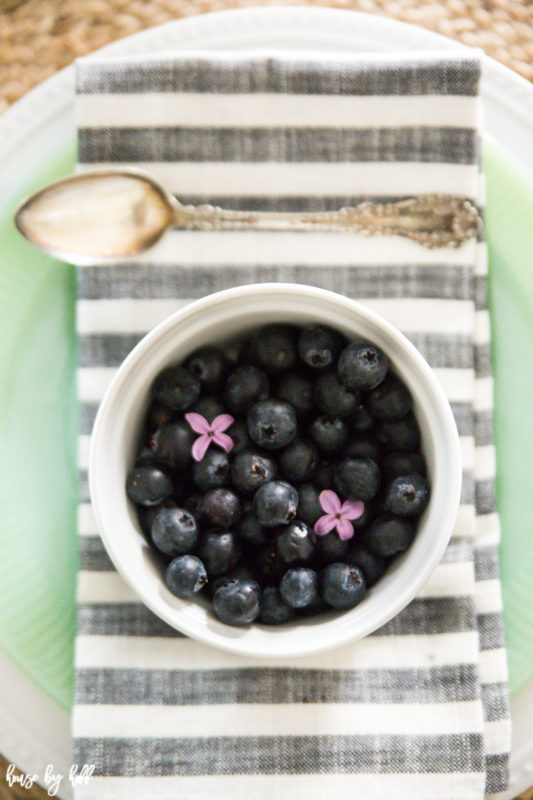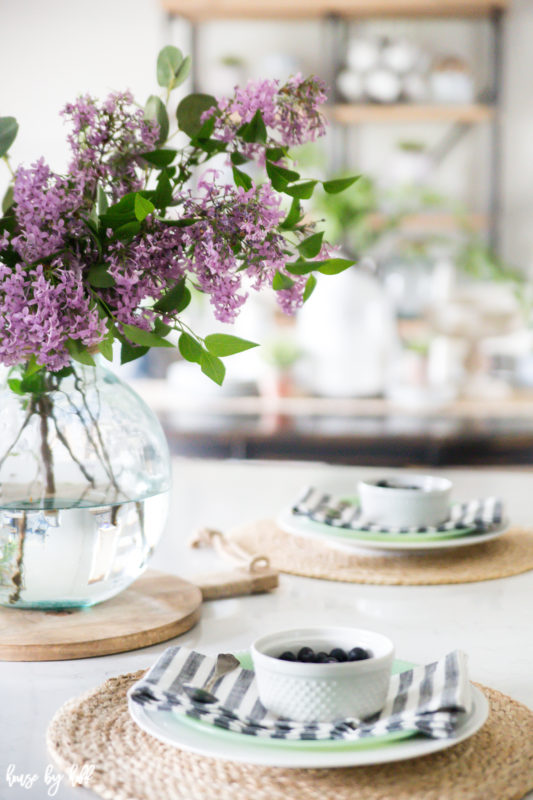 One of the biggest challenges I have when I switch out my decor each season is making sure that it all goes and flows nicely. We all love open-concept spaces, but the challenge is making it all cohesive, don't you think?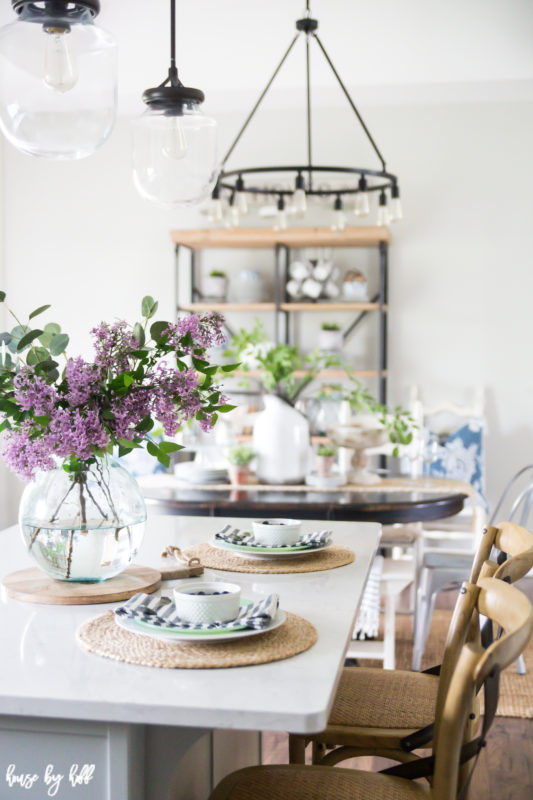 I wanted to play with scale a little bit on my summer tabletop. I added this large whitewashed pitcher vase to the table and filled it with some cascading greenery.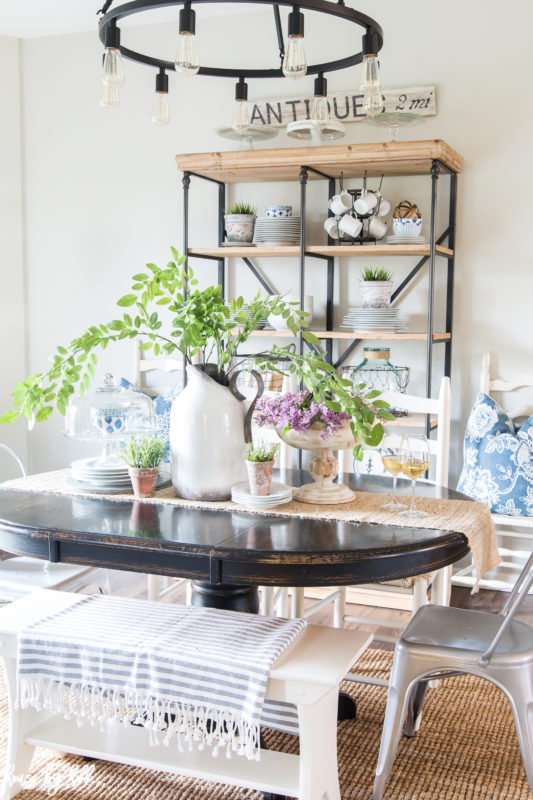 To balance out the large scale of the pitcher, I added this gorgeous wood pedestal bowl.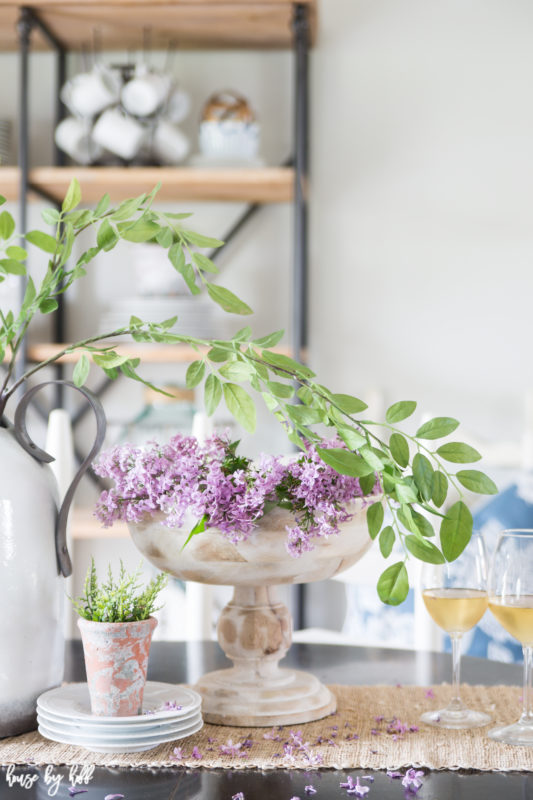 Here is a shot that shows how our kitchen and dining room combine together into one space.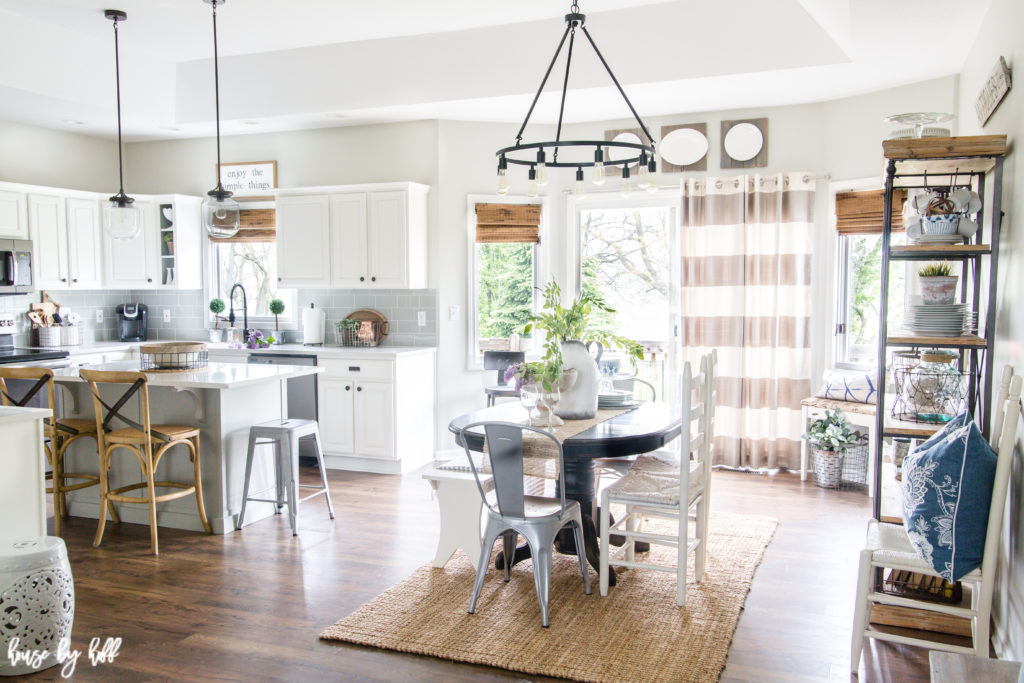 A few years ago I painted our kitchen cabinets. Read this post to find out how they're holding up two years later and how I feel about them now.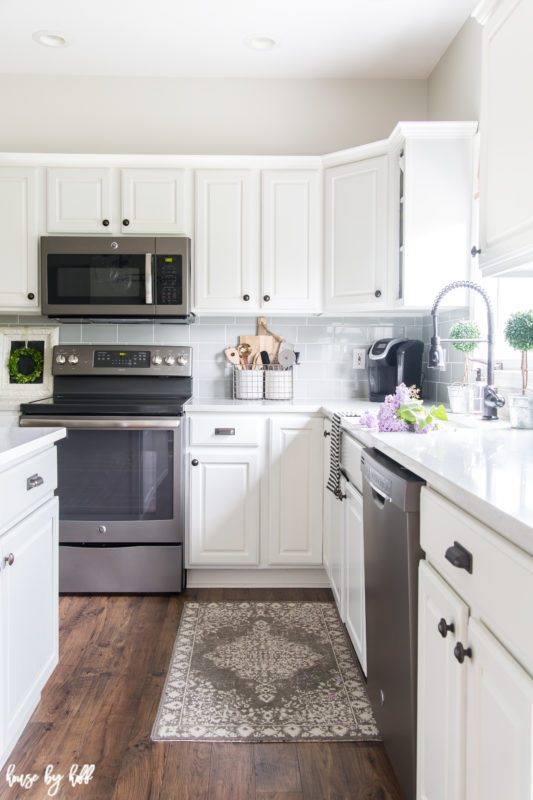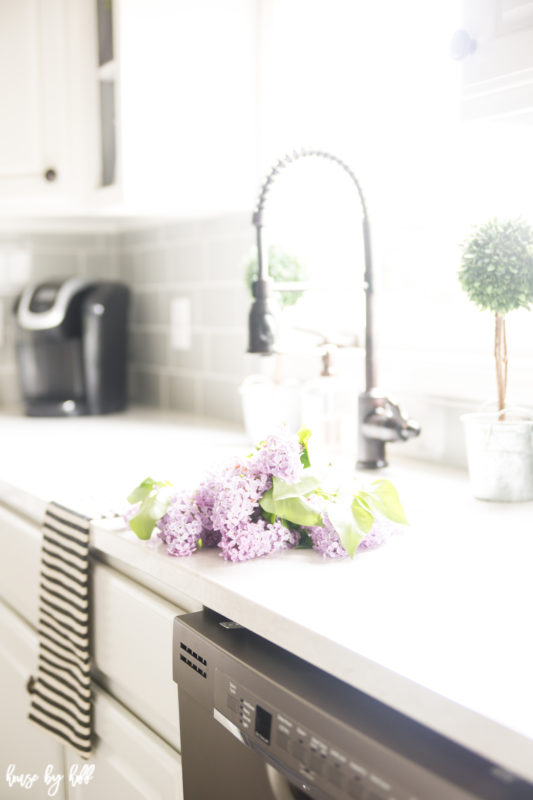 Thank you so much for stopping by and taking my 2018 Summer Home Tour! I hope you're leaving inspired and happy! 🙂  Please find my home sources below. Affiliate links are below:

The next stop on the tour is Carmel from Our Fifth House's beautiful home!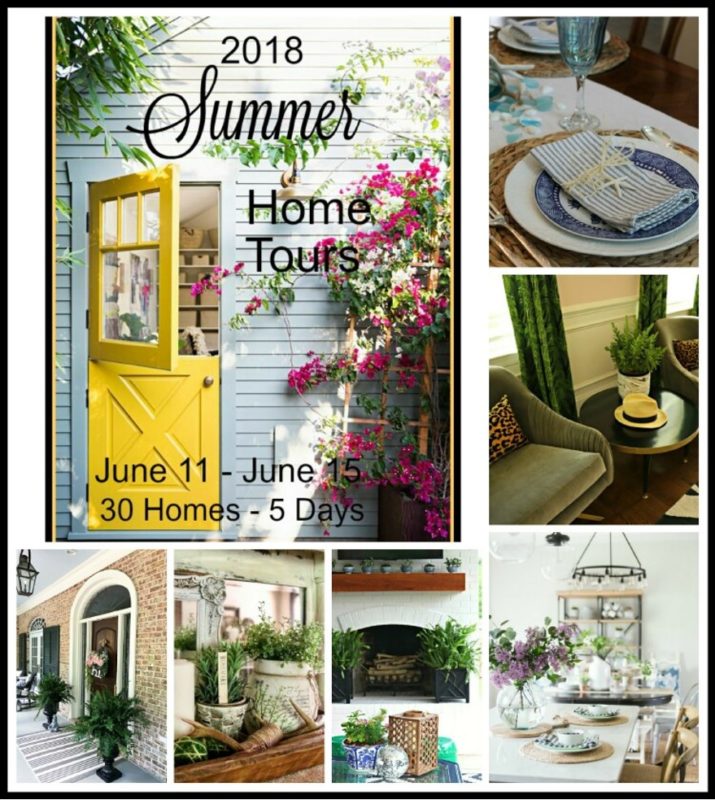 2018 Summer Home Tour
Monday – June 11
A Stroll Thru Life – Marty
Pink Peppermint Design – Tammy
Setting For Four – Heather
Nesting With Grace – Brooke
Cuckoo4Design  – Julia
Southern Hospitality  – Rhoda
Tuesday – June 12
ZDesign At Home  – Bree
 Inspiration For Moms  – Laura
Clean & Scentsible – Jenn
Simple Stylings  – Summer
Life On Virginia Street – Sarah
Remodelando La Casa – Cristina
Wednesday – June 13
Our Southern Home – Christy
House By Hoff – April
Our Fifth House – Carmel
Dimples & Tangles – Jennifer
Decor To Adore  – Laura
Follow The Yellow Brick Home – Amber
Thursday – June 14
Haneens Haven – Haneen
Monica Wants It – Monica
Duke Manor Farm – Laura
My Sweet Savannah – Melaine
11 Magnolia Lane – Christy
Life Love Larson – Andrea
Friday–June 15
Decorating Delirium  – Jennifer
Thistlewood Farm – Karianne
Thrifty & Chic  – Alicia
Hymns & Verses – Doreen
Starfish Cottage – Kristy
Far Above Rubies – Anita