When we moved into this house six and a half years ago, I knew that one day we'd give our mudroom/laundry room a major overhaul. Although we're not completely done with our mudroom makeover yet, we've made some major progress, including building an amazing IKEA Hemnes Hack: DIY Mudroom Bench and Storage! I can't begin to explain to you how awesome this project turned out! It's even better than I envisioned it, and I can't wait to tell you how we pulled it off!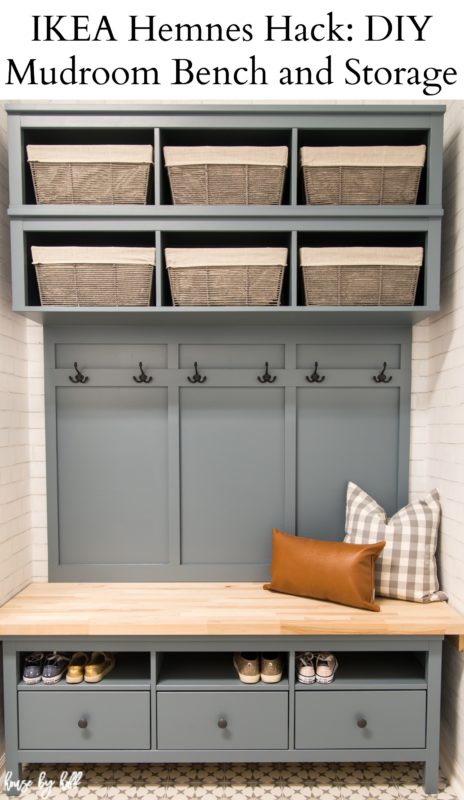 Before we begin with the tutorial, here is a reminder of what this space looked like before. We have an alcove in our mudroom that had a counter space that was never used, cabinets that were overflowing, and shelving that needed to go. It was a catch-all for everything, and very disorganized. I've always envisioned removing the cabinets and counter top and building a mudroom bench and storage system here. I had seen some inspiring DIYs on Pinterest where people had used IKEA pieces to build their own mudroom systems, and I figured that we could definitely do the same thing. It was so much cheaper than hiring someone to build a custom piece, and so much easier than trying to build our own shelves and bench. After measuring the alcove dimensions, I knew that the IKEA Hemnes TV Unit would make the perfect bench and storage for shoes, and two Hemnes Wall Bridging Shelves would be perfect for overhead storage. I think that the idea for this unit could easily be replicated along a flat wall, if you don't have an alcove that happens to have the exact right dimensions.
Before: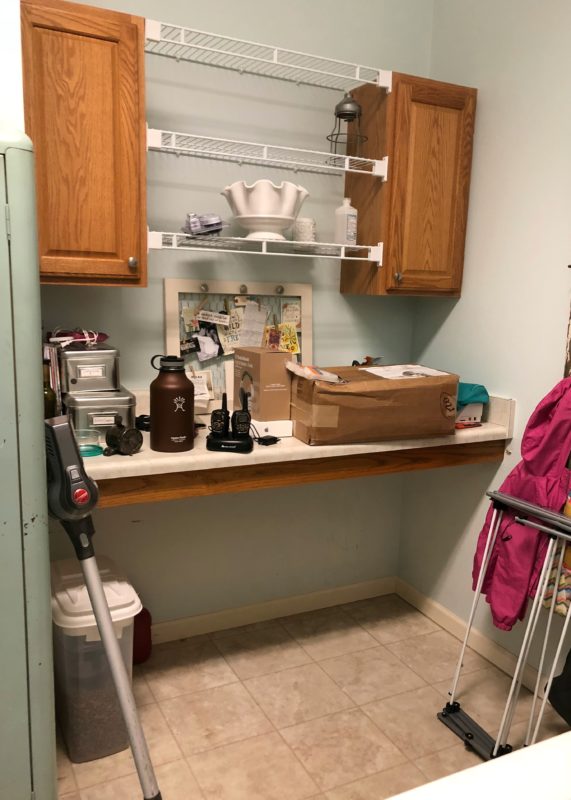 IKEA Hemnes Hack: DIY Mudroom Bench and Storage
The first step was to remove the cabinets and counter top from the alcove in our mudroom. It wasn't pretty. There was some major wall repair that had to be done before we could hang the wall paper and proceed with the mudroom bench and storage. We used a lot of drywall patch and spackle to fix the damage.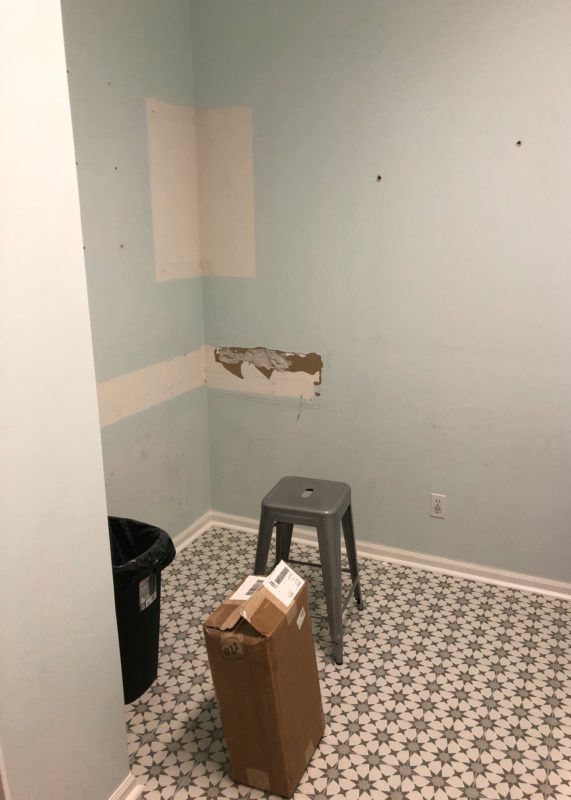 After the walls were patched, we hung some really cool removable wallpaper (I will give you all the details on this product later, I promise!)  We didn't wallpaper the patch of the wall that we knew would serve as the back of the mudroom system. Instead I painted the wall Providence Blue by Benjamin Moore.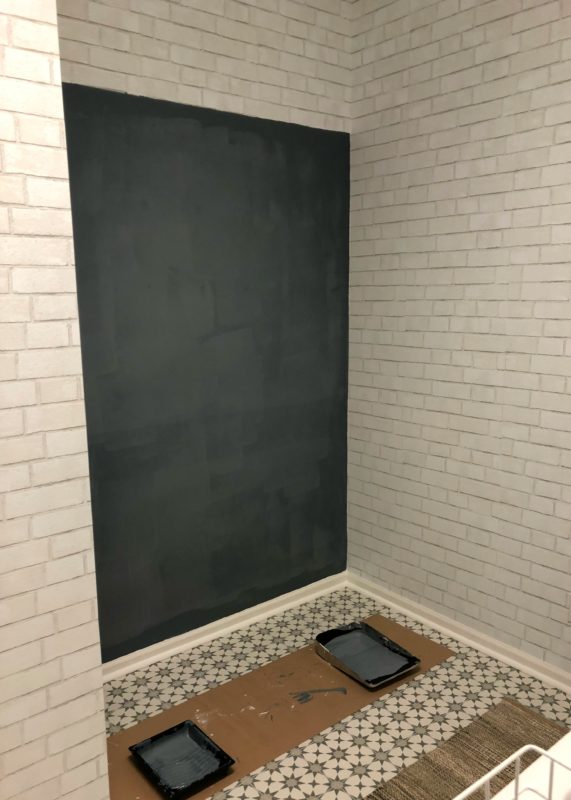 We assembled the IKEA Hemnes TV Unit and Wall/bridging shelves in our garage and began painting! I primed the pieces first, then gave them all two coats of Providence Blue by Benjamin Moore.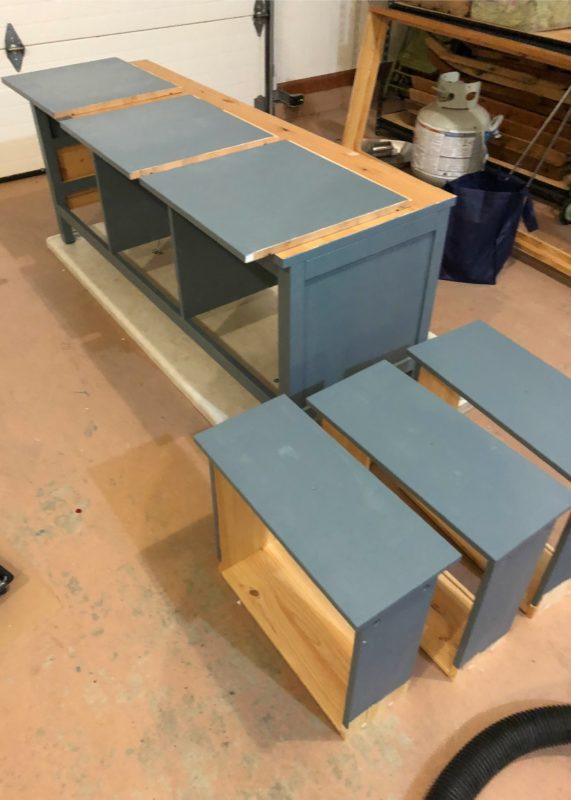 After all the paint was dry, we did the final steps of assembly and brought them into the mudroom.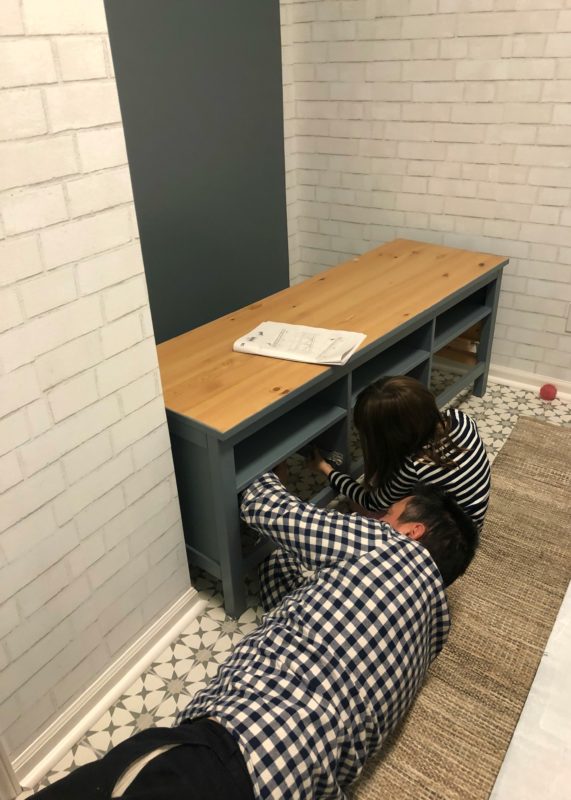 Here you can see the two Hemnes Wall/bridging shelves stacked on top of each other. We made sure to have these shelves drilled into the studs of our walls for maximum support! You can really see the bones of this project coming together here. The Hemnes shelves above, the painted wall, and the Hemnes TV Unit as the bench.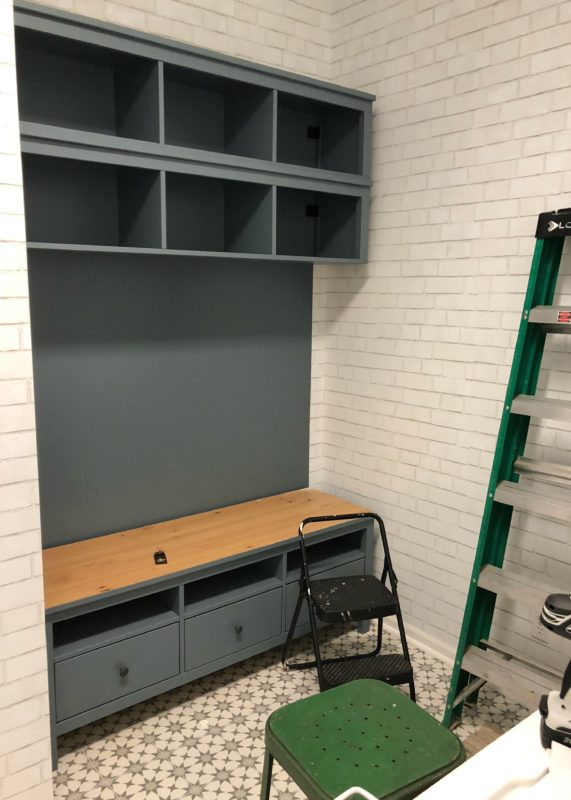 Now here is where things got a little tricky.  The Hemnes TV Unit, which serves as our bench, has a maximum weight capacity of 110 lbs. This is a bit of a problem as my husband and I both exceed that weight limit… 😉 To solve this problem, we built a frame that is secured to the studs of the wall on three sides to support a butcher block that actually serves as the top of our bench. Let's look at the pictures below to see more: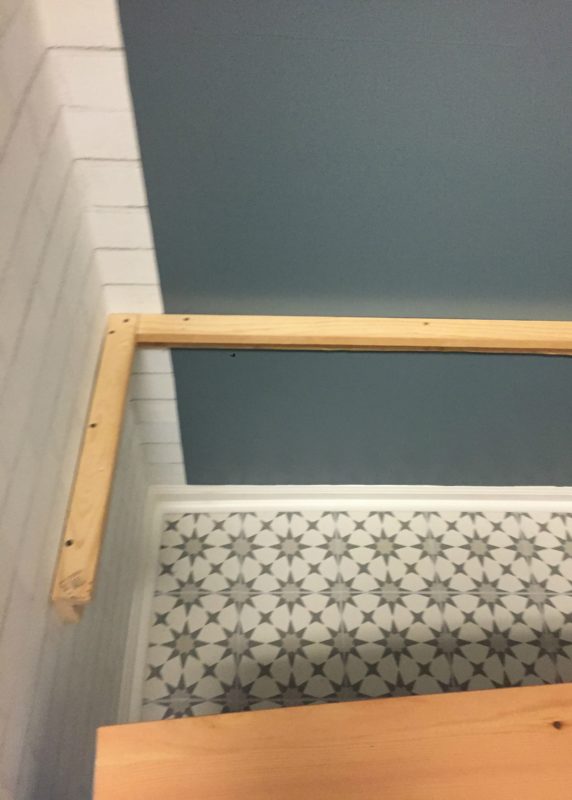 Above, see the frame, which actually supports the butcher block and our weight. It is nailed into studs into the wall.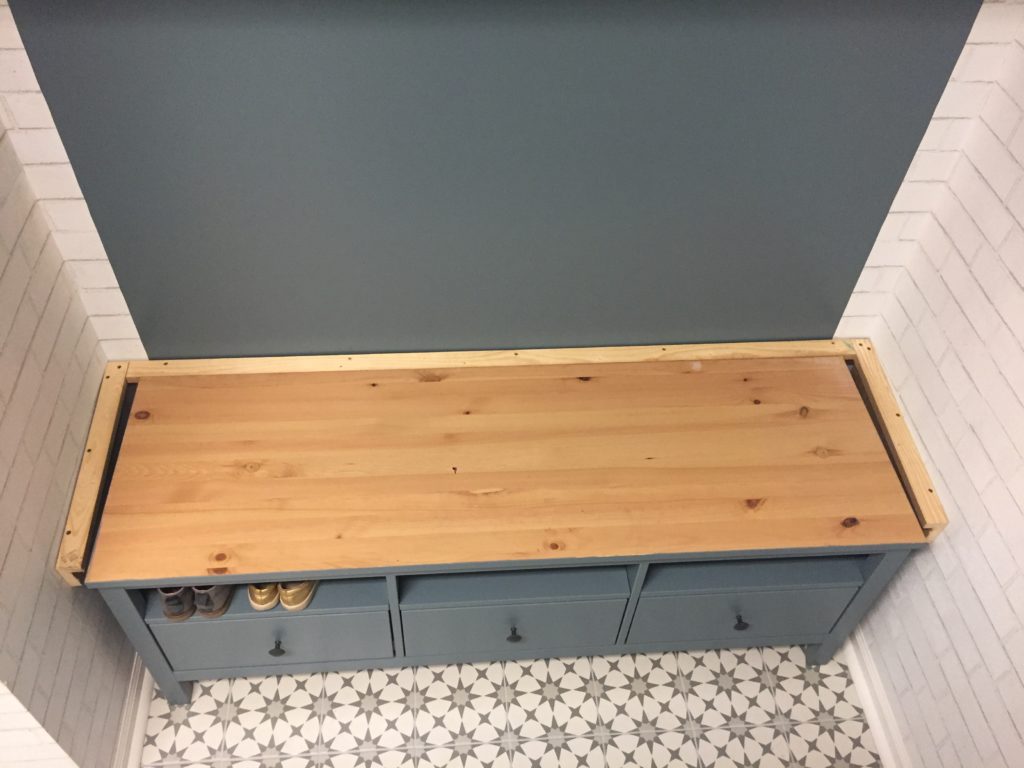 Above you can see the Hemnes TV Unit, with the frame flush with the top of the unit. We had a piece of butcher block cut to fit our exact measurements by a local cabinet maker. It sits on top of the frame and TV Unit, and our weight is supported by the frame, which is drilled into studs in the wall.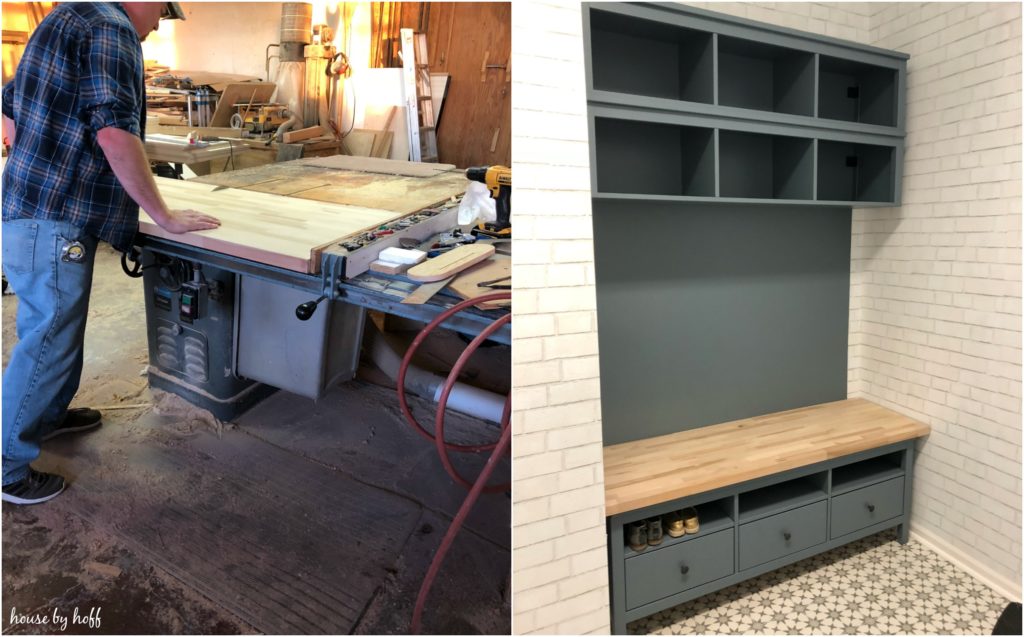 The last step of this process was to trim out the wall in between the shelves and TV unit. We used a brad nailer and wood glue to attach strips of wood to the walls in a board and batten inspired look.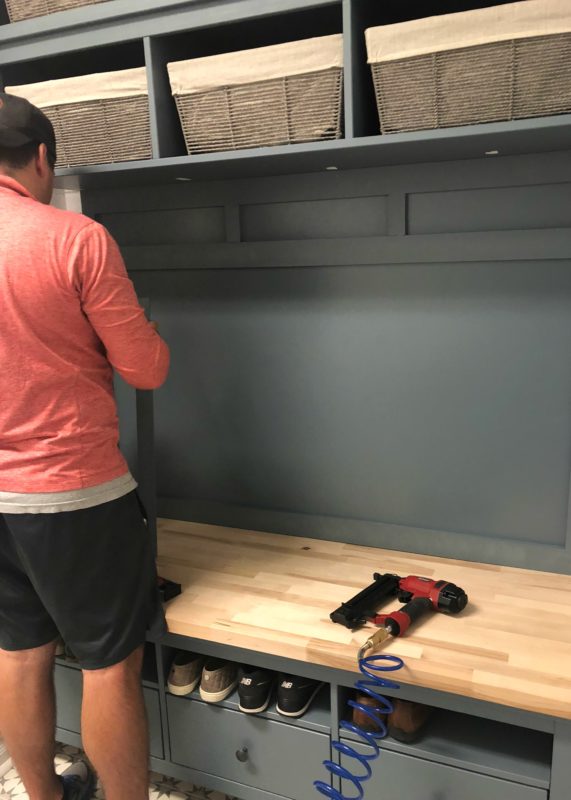 Tada! The final look! Like I said, the finished product far exceeds my expectations! It looks SO good!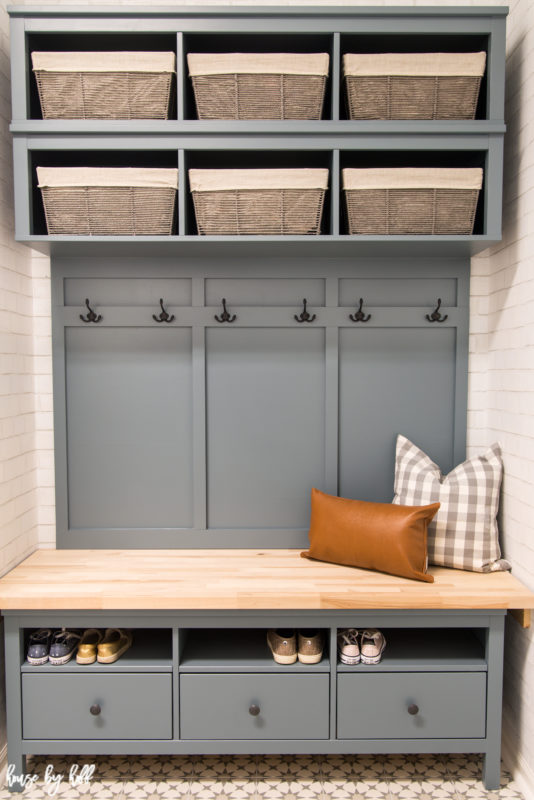 I chose a simple and classic looking hook for this mudroom bench and storage system. I liked that each hook had three places to hang coats and bags.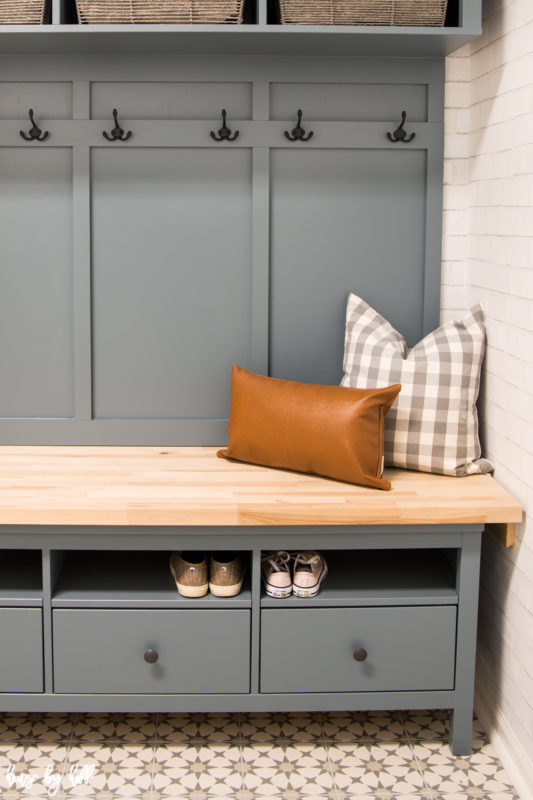 I mentioned it above, but the paint color that I chose for this unit is called Providence Blue by Benjamin Moore. I am so happy with the color, and I love how it looks in this mostly neutral space.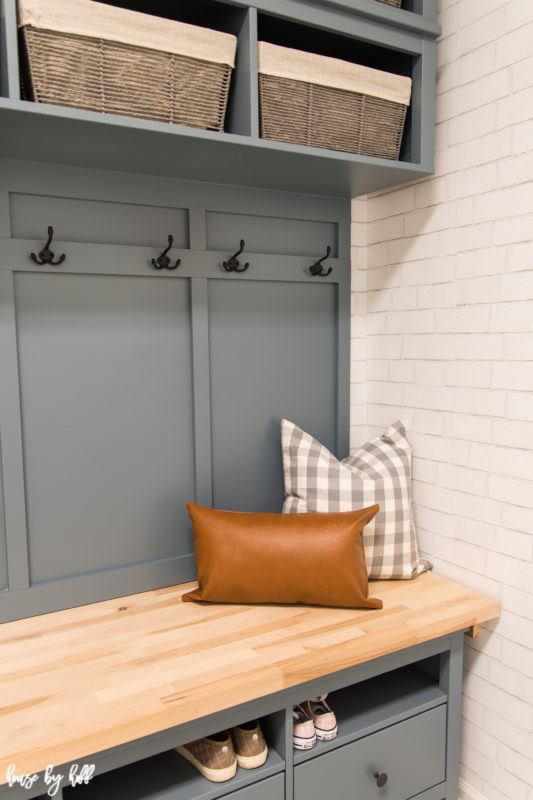 Isn't it amazing how perfect the Hemnes TV Unit works as a mudroom bench! It has the perfect slots for shoes, and then drawers for even more shoe storage!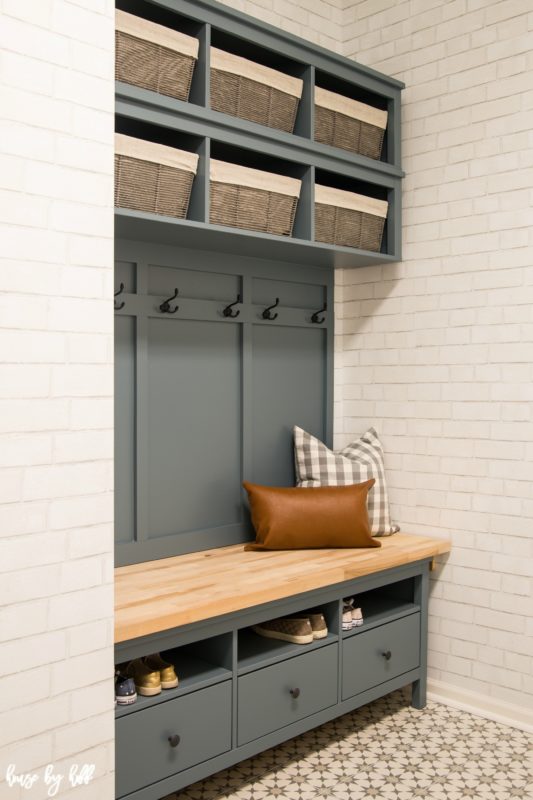 I knew I wanted to squeeze as many hooks as possible into this unit. I ended up going with six hooks, which gives us plenty of hanging space. We use every bit of it, especially in the winter when we need to hang coats!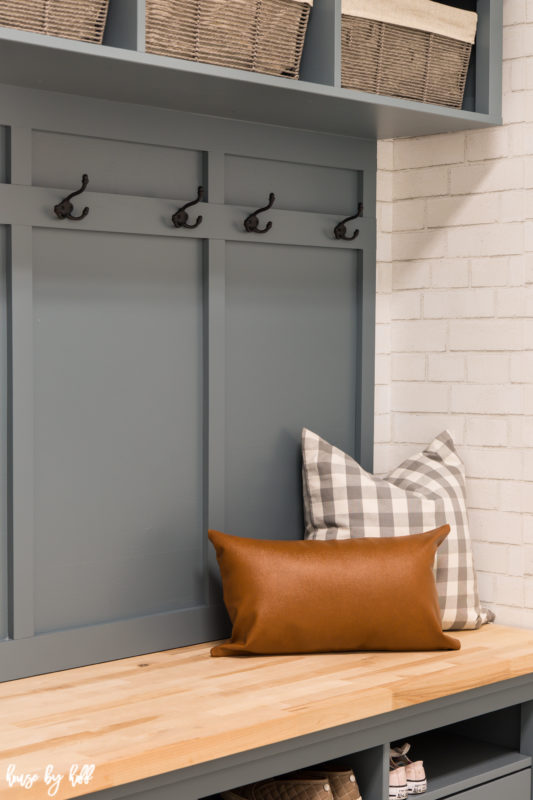 I think that the simple style of the Hemnes pieces works great with the classic board and batten look. It really looks like one large piece of custom built furniture.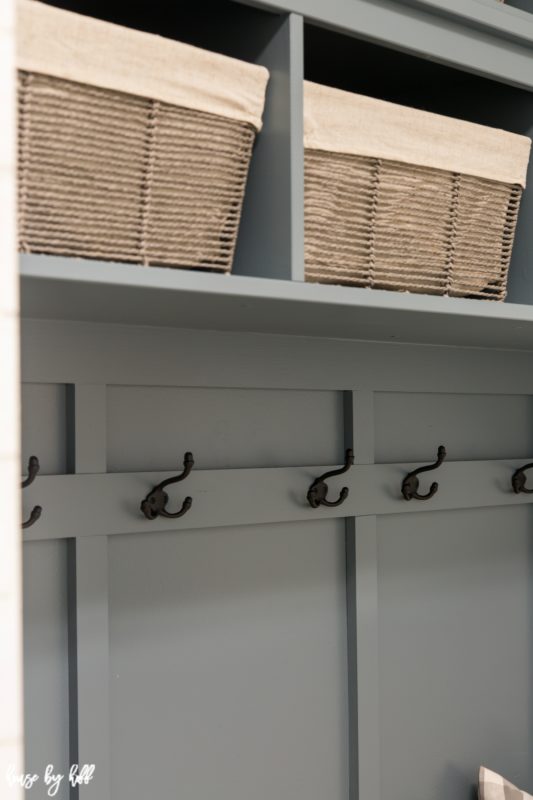 The last thing I need to do is stain or seal this piece of butcher block. The devil is always in the details, isn't it? 😉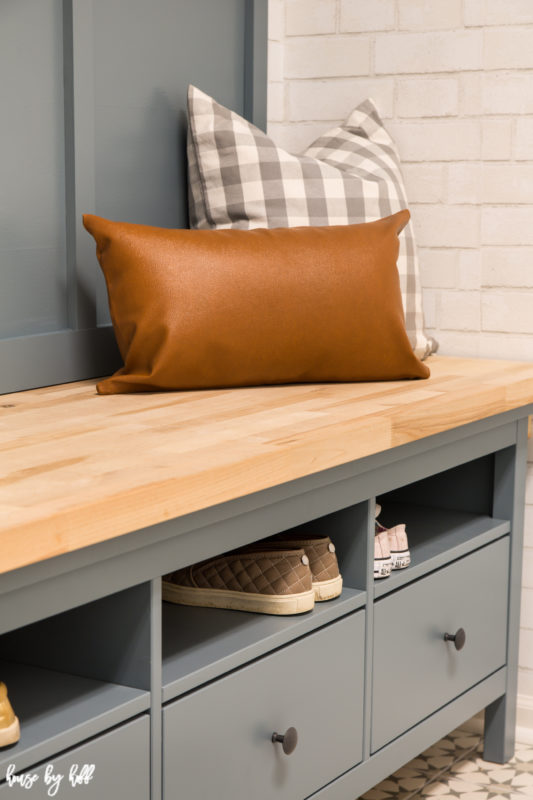 P.S. Have you heard about IKEA's new Click & Collect service?
Basically, you shop online for the items you need and schedule a time to pick them up in store, and the great people at IKEA pull all the items for you and have them ready and waiting at the Click & Collect pickup counter when you arrive. They'll even send you an email confirming they have your items. I used this system to collect my Hemnes pieces at the IKEA Fishers, Indiana location, and it saved me SO much time!

You guys, I am SOOOO excited to share the rest of this mudroom makeover with you soon! I really only have a few finishing touches left before I'm ready to get all the details and sources to you! This IKEA Hemnes Hack: DIY Mudroom Bench and Storage unit is just the crown jewel of the whole room!


Have a great day!