Holiday DIY Week continues today!
Since we're in a new house, I wanted to start fresh with some new decor. I've debated between going for a more glam and glittery holiday look, or a natural and simple approach. I think I'm going to settle somewhere in between with lots of burlap, boxwood, red ornaments, and milk glass. I should be able to easily tie in some of my old favorite decorations with the new decor.
Here is my next DIY holiday project: a cute burlap banner made in 20 minutes!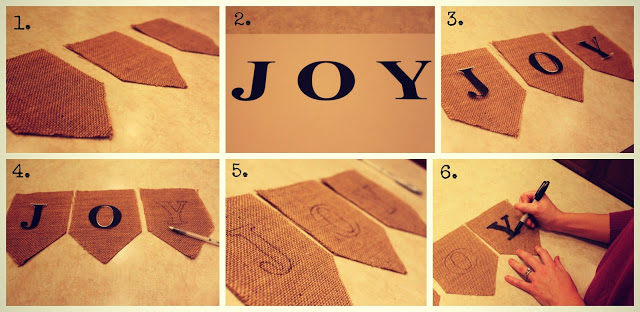 1. In the true DIY spirit lazy approach, I bought these burlap pennants pre-cut at Meijer. They also have pre-cut triangles.
2. Using Microsoft Word, I printed out JOY in bold print. I used Times New Roman, font size 250.
3. I cut out the letters and centered them on the pennants.
4. Using a ball point pen I traced the letters onto the pennants.
5. There, done tracing! The pen easily wrote on the burlap.
6. Using a sharpie marker, I colored in the letters.
Yup, it was that easy!
Here is the finished product: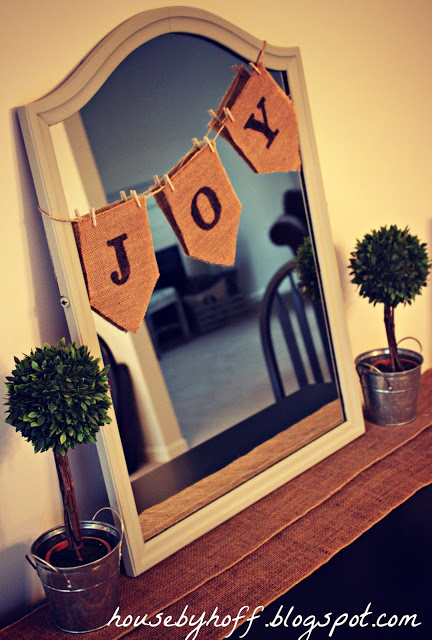 Imagine this mirror in the middle of a beautiful holiday display…I think it will be perfect! 🙂