Happy Monday to you! I'm deeming this week "DIY Week" on House by Hoff! Each day I'll be bringing you a DIY holiday project!
Since the longest painting project ever painting project is still going on in my house, I can't really decorate for the holidays yet. Boooooo! Oh well! I'm hoping that by the end of the week all of the painting will be done and I can put up my tree, decorate my mantel, add some wreaths here, a nativity scene there, etc., etc.
To scratch my Christmas itch, (did that sound weird to anyone else?) I decorated my front door yesterday. I LOVE it when I manage to put together things I already have to make a great new piece. It is very exciting…very. exciting. people.
Here are the ingredients to my Christmas front door wreath: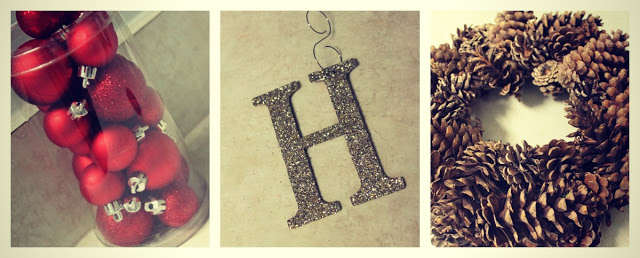 I purchased the red ornaments and the "H" stocking charm at Wal-Mart a few weeks ago. (Am I the only one that finds myself roaming the Wal-Mart holiday section knowing neither how I got there or how long I've been there?)  I snagged this pine cone wreath from my mom's garage sale pile over the summer. She was trying to decide whether to throw it away or try to sell it, so I generously took it off her hands!
Using a glue gun, I managed to create this: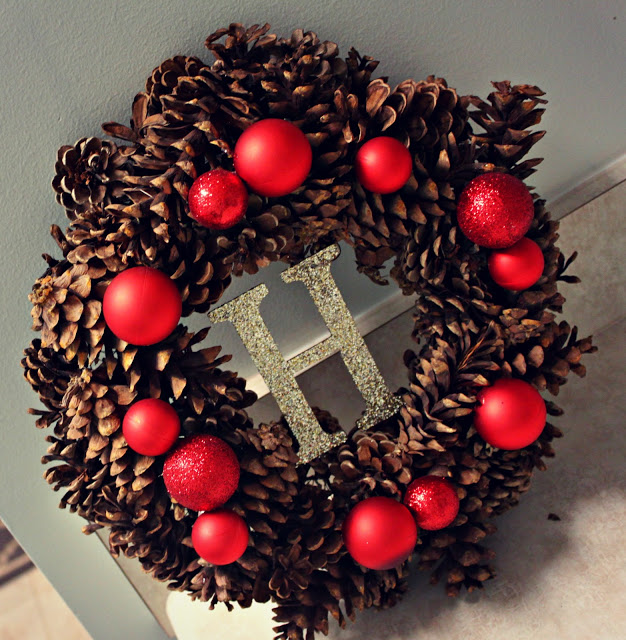 Lovely, right? But I wasn't done there. I have seen some cute ideas on Pinterest lately of framed holiday wreaths and ornaments. So, I grabbed a frame that I had left over from another project and tied my wreath onto it using some striped red and white ribbon. I hung my finished product on the door.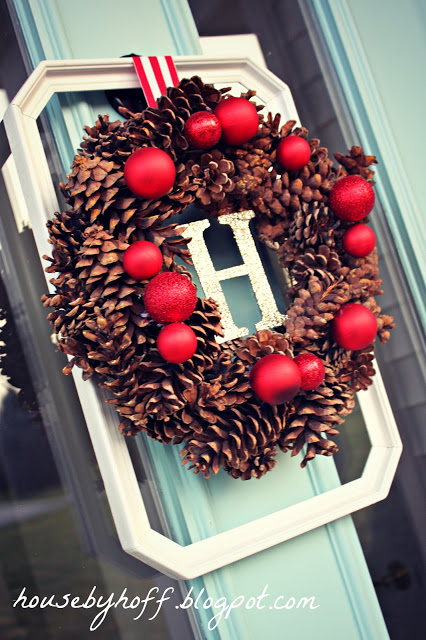 Tada! I love how this turned out!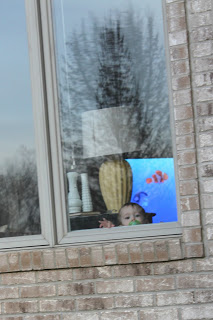 As I was decorating the front door, Miss L. was offering some moral support from inside the house. You can see that her dad was trying to get her to watch Finding Nemo instead of banging on the window and waving at me, but you can't keep that girl from her Momma. 🙂
Finally, I am
very excited
(this would be an understatement) to be guest posting at
Migonis Home
later today! The topic? Tips for accessorizing your home! Be sure to check it out!
Have a great day!