Today I am sharing with you the painting our tired tiles received.
The painting continues today! Everything is going great, but it is taking longer than expected. The hardest part is keeping Miss L and our dog out of the painter's way. We end up holed up in the master bedroom, which, I think I'm speaking for the three of us here, gets booooring. I think we're going to head up to one of my favorite antiquing towns in Michigan today to busy ourselves (not the dog, she's staying here).
I want to share one of the major changes that this painting project is bringing; the mantel and tile surround! We wanted to paint all of the woodwork in the house white, so, obviously, the mantel was going to change. After discussing it with the painter, it was decided that we would also go ahead and paint the rather dingy and tired tiles as well. I am very pleased with this decision, and I think you'll agree it is a change for the better!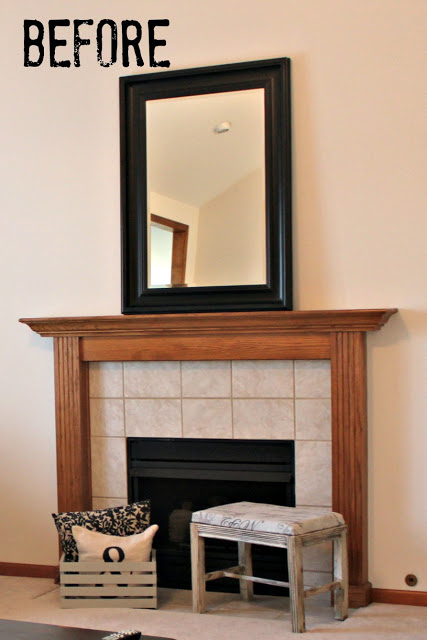 And after: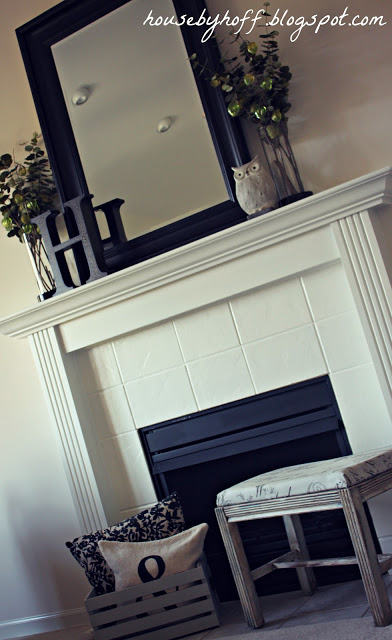 Ooooh! Do yo love? Doesn't the fireplace and mantel look so much cleaner and better? It looks a little stark now, but that's because the walls aren't painted yet. Just imagine that contrast when they are! Our painter simply sanded the tile and then primed, caulked, and painted it just like the trim. We are using Benjamin Moore's "White Dove" on our trim and doors. The walls will be Benjamin Moore's "Vapor Trails".
I hope you have a good day! Say a little prayer for me as I drag my toddler out of the house for a long day of antiquing….