I don't really do New Year resolutions, but I do have a goal to organize some cluttered spaces in our home this year.
When we moved into our new house last summer, I immediately claimed one of the largest kitchen drawers as our "junk" drawer. You know, the drawer that houses all of the crap items that you don't know what to do with, swear you'll put away later, or stuff you don't want to look at.
Eight months later, and the drawer looked like this: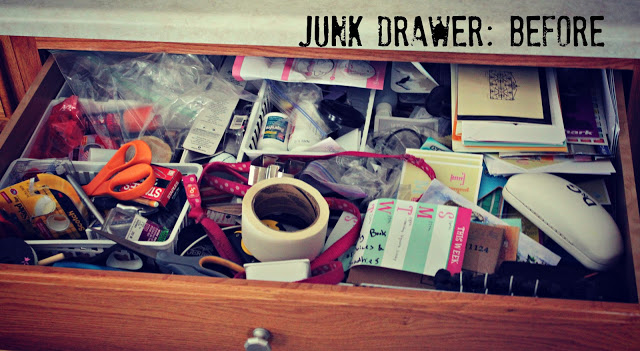 Oh my. I am literally cringing at the sight. We could barely close the drawer anymore, and something had to be done!
I consider myself a fairly organized person. However, drawers like this get out of hand so quickly! I have broken down my organization process into simple steps.
Step 1: Empty out your drawer.
Step 2: Sort your junk into piles: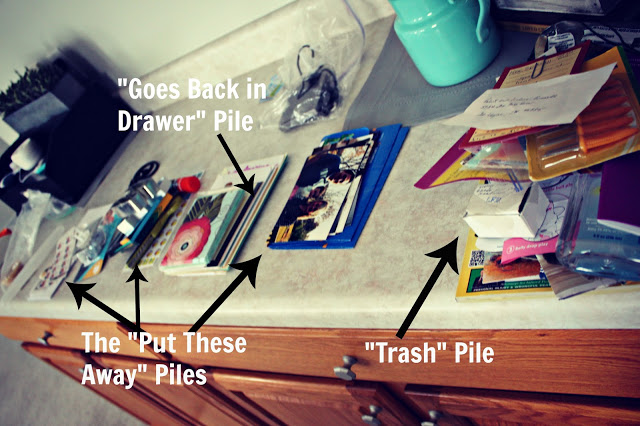 Step 3: Either pitch or put away items that aren't going back into drawer.
Throwing away junk that I'm not using is my favorite! I've been known to throw away perfectly useful things simply because I'm not using them (notice the perfectly good corn cob holders and hand sanitizer in the "trash pile"? You'll never see me on an episode of Hoarders!
The "Put These Away" Pile is the junk that has accumulated in the drawer simply because I've been too lazy to put it away in its actual place.
Step 4: Organize the contents of your junk drawer into dividers or shallow baskets: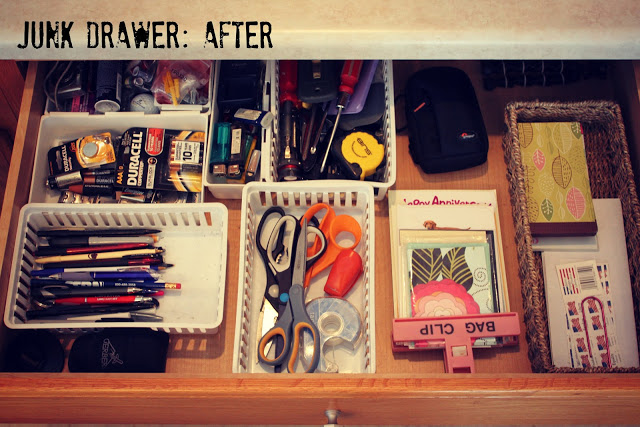 Do you hear that? I think it's a choir of angels. Now, when I open up my junk drawer, I feel so much better about…everything. Don't ask me why we have so many lighters, I don't know. Maybe I should throw some of them away…ha!

Have a great weekend! 🙂