I just love these unique DIY Valentine topiaries, and will show you how to make them!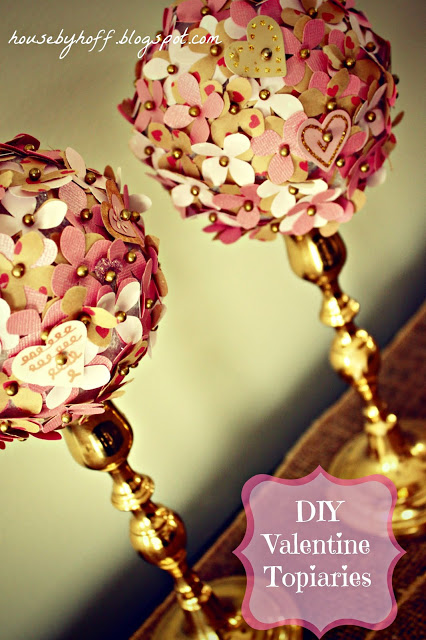 I'm back today with some Valentine eye candy for you!
I'm so in love with these pretty Valentine topiaries!
Making them was easy, but, I will admit, more time consuming than I expected. My supplies included:  straight pins, a gold paint marker, gold glitter,
hydrangea punch,
 scrapbook paper, two Styrofoam balls, and two gold candlesticks (from Goodwill).

1. I started by painting the ball end of the straight pins gold with my paint marker. I sprinkled gold glitter on them before they dried. The glitter is optional, but gives the completed project a bit more *bling*. (This is the most time consuming step.)
2. I punched out hydrangeas from three different scrapbook pages.
3. I layered two hydrangeas, and stuck them to the Styrofoam balls using the straight pins.
4. Voila! Just keep adding more hydrangeas until the whole ball is covered. You will want to leave a small space on the bottom empty, so that you can place the ball onto your candle stick.
Note:  You could hot glue your hydrangea ball to the candlestick for extra durability. I simply placed my ball on top of the candlestick, because I want to reuse these candlesticks for other projects.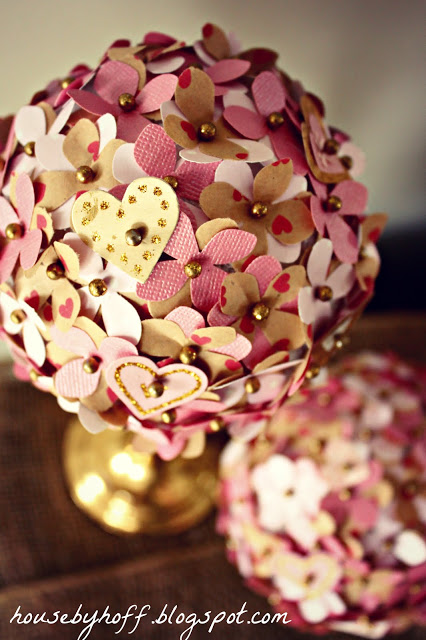 Then I ended up adding a few left over heart cutouts from my
postage garland
to the eye catching topiary to make them even more Valentine-y.
I love this project for it's versatility. You could use this idea for a bridal shower, baby shower, or birthday party. Just switch up the scrapbook paper colors, and you've got a completely different look and feel. You could also fill a large glass vase with these hydrangea balls for a beautiful centerpiece or party decoration…the possibilities are endless here! 🙂
Have a great day!