I've been working on the longest painting project of my life painting my bathroom woodwork.
Between Mr. Hoff's work schedule, my getting a bout of the stomach flu, and taking care of a toddler, this project is taking for.ever.
And yes, I'd like some cheese with my whine.
While I've been painting, I've been trying to document the tips and tricks that I've found helpful throughout this process.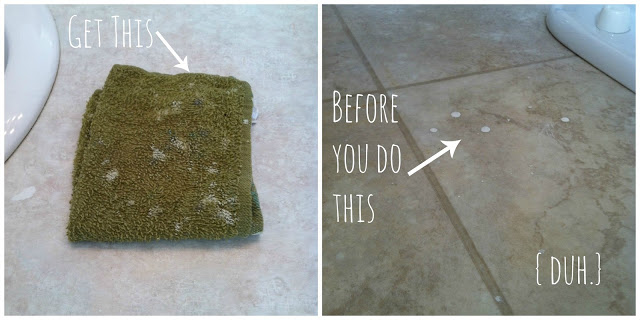 Let me tell you how it typically goes down. We start painting. I drip paint on floor. I ask Mr. Hoff to hand me the wet rag. We both realize that neither of us thought to get a wet rag. The race is on to get a wet rag before the paint dries.
You might also consider a drop cloth…Mr. Hoff suggested it, but I said, "Meh, we'll be fine".

If you are anything like me, and I hope for your sake you are not, your inner monologue goes something like this:
"I should change out of these fairly new, fairly cute clothes before I start painting."
"Nah, I probably won't get any paint on myself, I'm really good at being neat and tidy with the paint."
"Yeah, you always think that, but then ruin your clothes."
"Nah. I'm good."
Then I proceed to drip paint all over myself. That, or Mr. Hoff (who is usually directly above me) drips paint on me, and then laughs because I was dumb for not changing my clothes….*sigh*.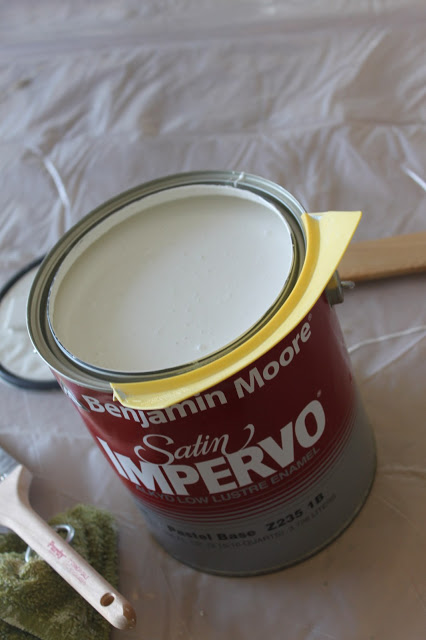 I typically don't buy into all of the "extra" accessories and stuff in the paint aisle, but I was really getting annoyed with how gross the cans of paint get after you pour the paint into your little paint bucket…you know how the paint runs down the side, dries, and gets sticky? The rims of the paint cans get yucky too. This drip guard doesn't completely get rid excess paint in the rim, but it dramatically improves the paint dripage down the front of the can. It was worth the couple of dollars I spent on it!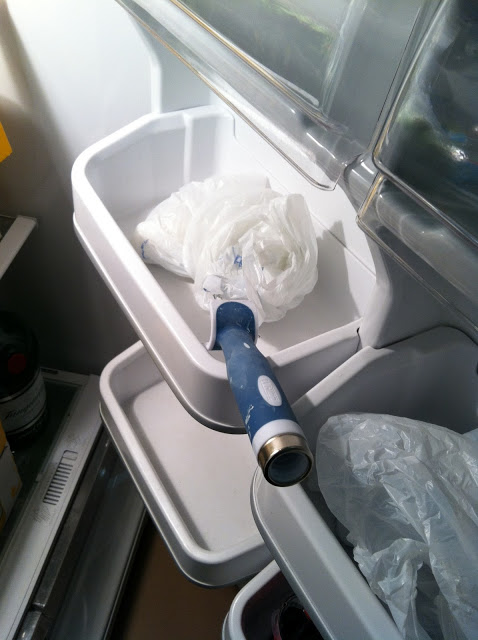 This is a tip that I learned from my brother-in-law. This works for paint brushes and rollers alike. Instead of washing out your brush in between coats of paint, wrap it in a plastic bag and stick it in the fridge. When you're ready for your second coat, just grab your paint brush or roller and it will be ready to go! This tip applies when you're waiting less than 24 hours in between coats!
What little painting tricks have you learned?