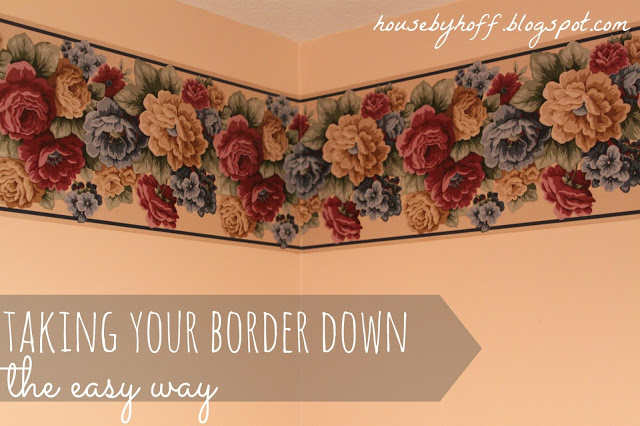 Wallpaper.
I remember when it was cool.
I remember picking out some awesome blue floral wallpaper for my room when I was about 8 years old. I loved it. I also had to have the corresponding heart border that came with it. It had a kind of country vibe to it, which went nicely with my porcelain bunny collection…not kidding.
Floral wallpaper (and porcelain bunnies) aren't cool anymore, and the border in our bathroom had to come down. This isn't our first experience with this border. Our master bedroom was also adorned with it when we moved in. When we got ready to take it down, last summer, we headed to the hardware store, loaded up on scorers and some spray-gel that was supposed to make the glue dissolve.
When we got home, we scored a small section of the border, let it sit for the instructed 30 minutes, then began to scrape….it was horrible.  We ended up taking chunks out of the wall from scraping too hard, the border was barely coming off, and an hour later we were ready to give up. After talking to his mother, who has taken down a lot of wallpaper in her day, Mr. Hoff tried a different technique, and it worked like a charm!
The best part about this technique? It's so easy! You'll need a sponge, warm water, and a scraper. That's it!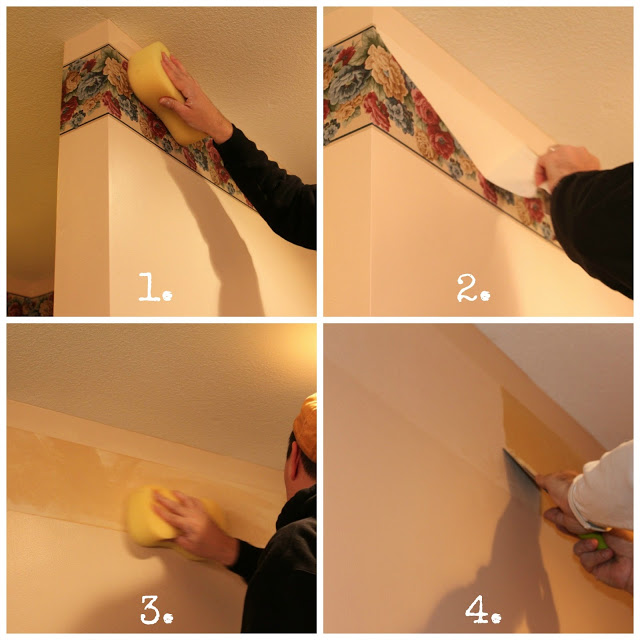 1. Dip a sponge in warm water. Wipe your border with it. Let sit for 5 minutes.
2. Using your fingers, simply peel the top layer of the border off. (The bottom layer of paper and glue will be left underneath.)
3. Wipe the bottom layer with the sponge. Let sit for 5 minutes.
4. Scrape the bottom layer off with a scraper. For us, it has come off very easily and in large chunk.
Mr. Hoff would like me to point out that this is a technique that has worked well for us. Everybody's wall paper is different, so results may vary. 🙂  I'd definitely try it this way first, before you go to the hardware store and buy unnecessary tools and sprays.
On a side note, is there anything better than when your husband gets busy working on a home project? Not in my book.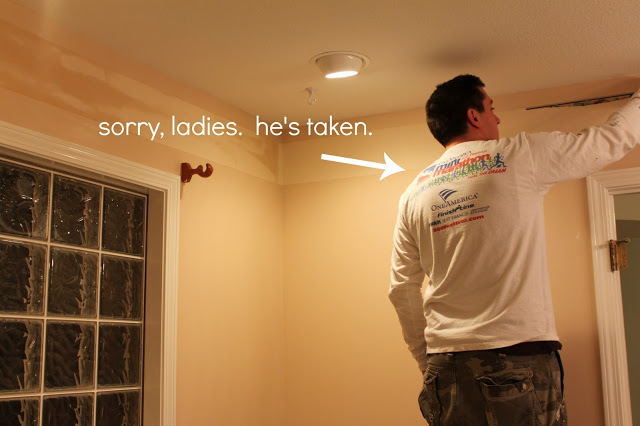 I just hope he's ready to tackle my long list of things left to do in here….
Have a great Monday! 🙂