Good morning!
I've been garage sale-ing  lately…and it's been FANTASTIC!
I have a song I sing to Miss L to get her pumped to go on our weekly garage sale circuit, it goes like this:
ahem….
Come sale away, come sale away, come garage sale away with meeee…
(Sung to the tune of "Come Sail Away".)  There is a dance too, but I will spare you the details of that.
I could write a whole post about why garage sales are the best things in the whole wide world, but why don't I just stick to showing you how I'm using some of my finds?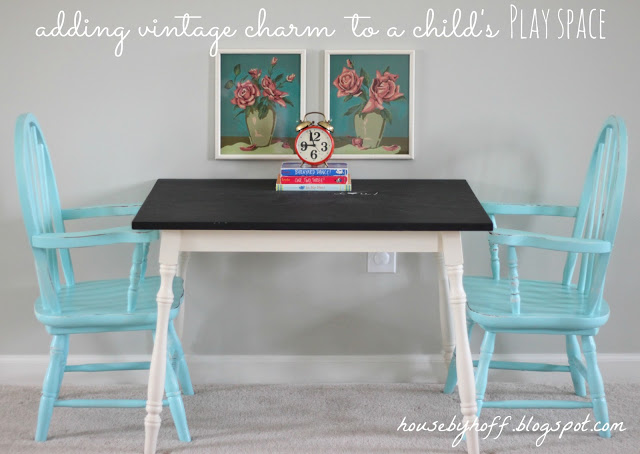 Last weekend I went garage sale-ing at a nearby lake. I found these two vintage prints for 50 cents each.
It almost was over before it began though…
I eyed them, picked them up, and then put them down. I wanted to check out the rest of the garage sale before I committed.
Out of the corner of my eye I saw another lady pick them up. I almost marched right over to explain to her why she needed to give them to me. immediately. Then, much to my relief, she put them down and moved on…whew! Close call!
I brought them home with me, cleaned them up, and painted their frames to match Miss L's chalkboard desk!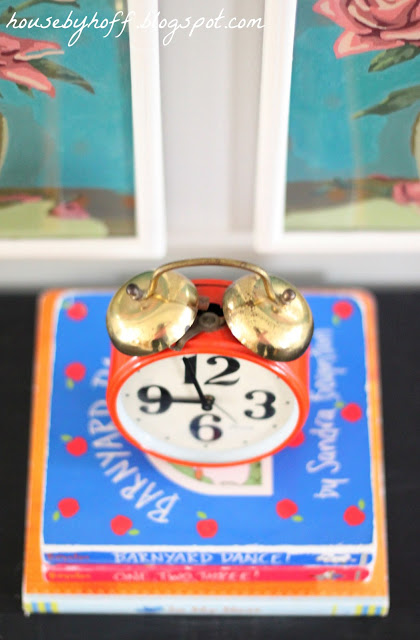 I wish I could tell you that I found this amazing vintage clock at a garage sale, but I actually found it at a thrift store (which is basically a glorified garage sale, right?) for $6! It is very sturdy. Miss L can drop and throw this thing all over the place if she wants.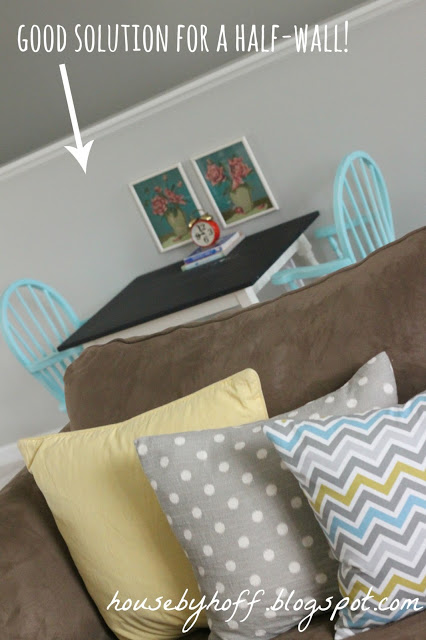 I love the way Miss L's newly decorated play area looks on our half-wall. Our basement stairwell is behind the half-wall, and I could never figure out exactly what to do with it. Problem solved!
Remember, I got this table and chair set at a garage sale last year? See my tutorial for how I changed them into a chalkboard table and shabby turquoise chairs
here.
By the way, feel free to use the new verb I made up:
Garage Sale-ing: verb; The act of going to multiple garage sales in one outing.
You can sing my song too, if you want.
Have a great day! 🙂