The expression, "One man's trash is another man's treasure," couldn't be more true for this month's $30 Thursday Project!
Mr. Hoff and I came across a stack of probably 20 huge, old windows on the side of the road a few months ago. I'm not sure if it's how loud I shrieked for him to pull over, or his quick reflexes, but either way we were in a stranger's driveway taking their old windows before I could fully process my luck! I had so many ideas in my head for these windows before we even made it home! 🙂
My first window project is my pride and joy, my beautiful baby, my new favorite diy project…a repurposed bathroom towel rack for our newly re-done master bath!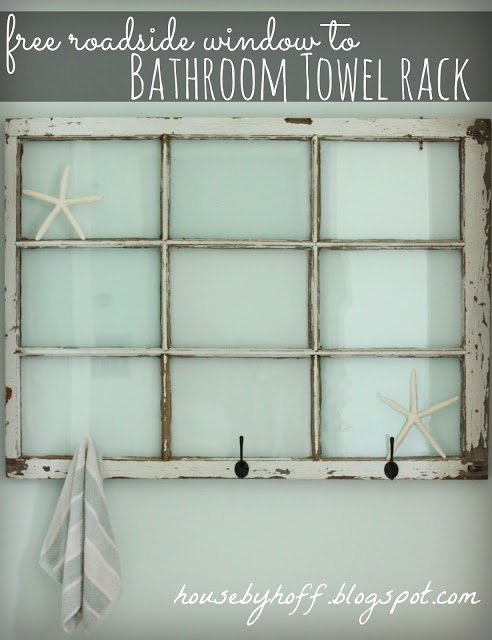 Let me break down how we made a free roadside window into a gorgeous repurposed window bathroom towel rack!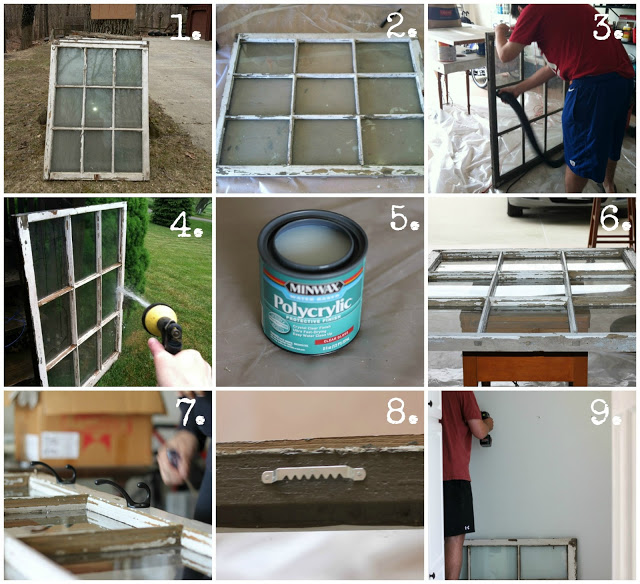 1. I was so excited about this find, that I snapped a picture with my cell phone of the windows on the side of the road.
2. To help keep the mess contained, I rolled out a drop cloth and started cleaning the window with a wire brush and scraper. My goal was simply to remove any really loose paint or general ickiness from the window.
3. Using a shop vac we removed the rest of the dust and loose paint from the window.
4. The final cleaning step was to hose this baby off. I sprayed some all-purpose cleaner on the window, then gently cleaned and hosed it down in the backyard.
5. I was concerned that the paint on this window might be a lead-based paint. Since I wanted to retain the chippy, shabby look, but didn't want paint chips to occasionally fall to the floor, I used this water-based polycrylic from Menards to seal the window. I was happy with how it sealed the window without discoloring it!
6. I let the polycrylic dry for about 6 hours.
7. We added these hooks ($7.00 each) from Menards.
8. To hang the window we added 3 of these large saw-tooth hangers across the back.
9. Mr. Hoff screwed 3 50-lb anchors into the wall. For added support and adhesion to the wall, I added 3M Command Damage-Free Hanging Strips all around the perimeter of the window. That repurposed bathroom towel rack is stuck on the wall.
It was fun to add some starfish to the window panes…I think it adds a little something extra.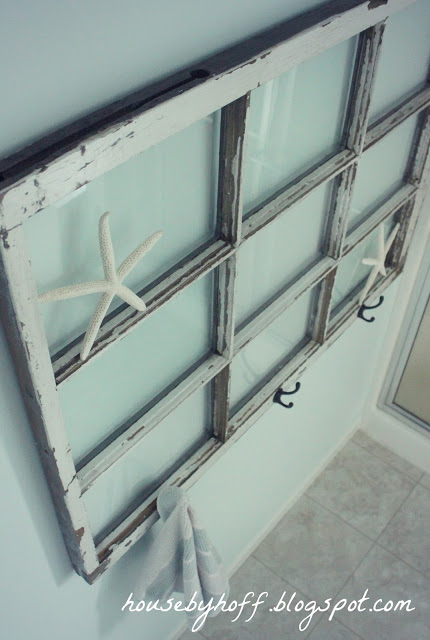 Simply gorgeous. It's like a shabby, antique piece of art!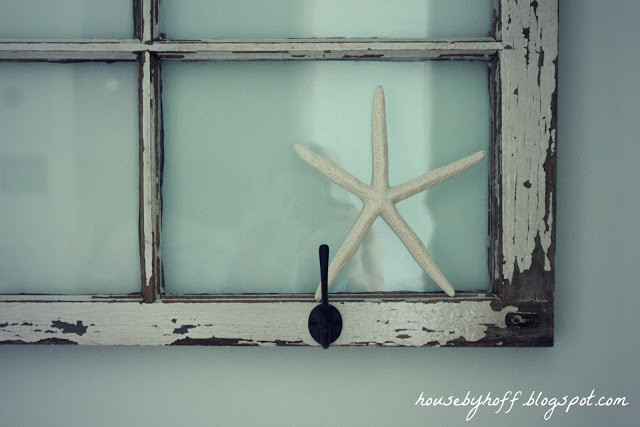 I considered painting the window to match the cabinets, but I'm so glad I didn't! I think this bathroom needed a new texture, painting it would have made it to matchy-matchy!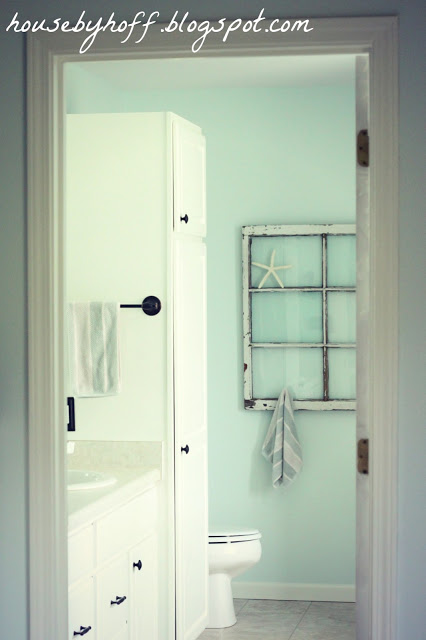 Can you tell I'm in L.O.V.E.? 🙂
Let's see what these unbelievably talented ladies came up with this month!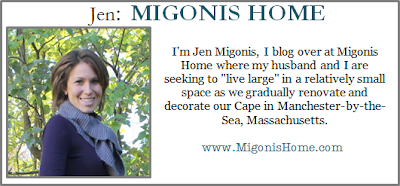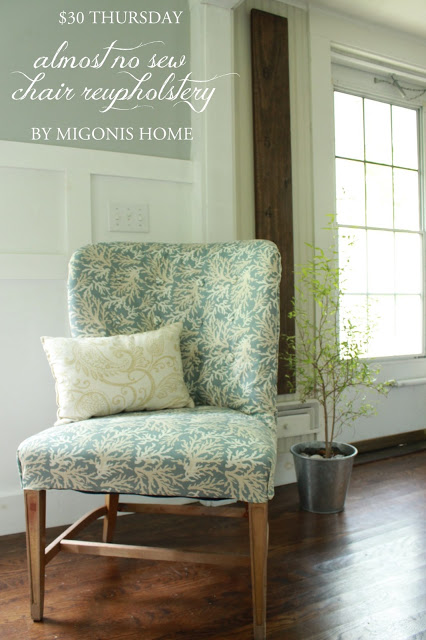 How does this mom of a little boy and a brand new baby girl manage to find the time to reupholster a chair? I have no idea, but she did a fabulous job, didn't she?!? This
Almost No-Sew Chair Reupholstery
looks fantastic!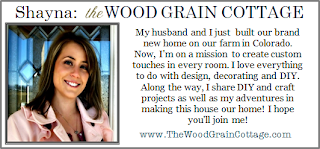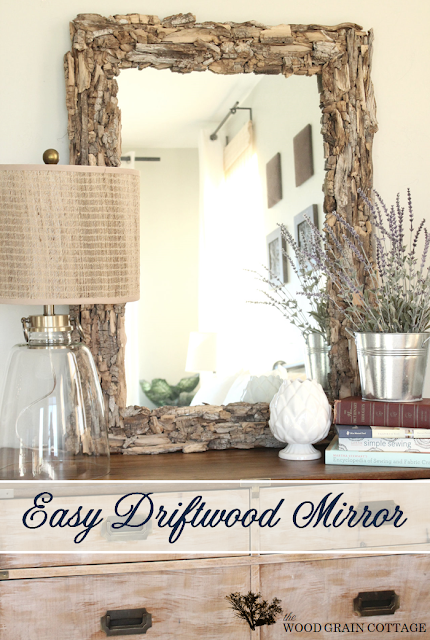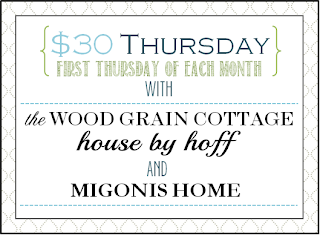 Don't forget to follow our $30 Thursday board on Pinterest!
Have a great day! 🙂

Linking up at: Tatertots & Jello, It's Overflowing, Give Me the Goods Monday, Tuesdays The Scoop, East Coast Creative