When we first moved into our house (nearly 3 years ago…wha?!} the first room we painted was the master bedroom. It was an easy choice. I always paint my bedrooms a light blue. Always. I like  my bedrooms to be serene, soothing, and callllllllmmmm.
We bought a gorgeous upholstered headboard, some new bedding, and then I kind of got stuck. For the longest time, I wasn't quite sure what to do with this space. It wasn't until very recently that I hit a decorating stride in this room. Finally.
Allow me to show you how I'm mixing up some new and old pieces to create a bedroom that I'm very pleased with: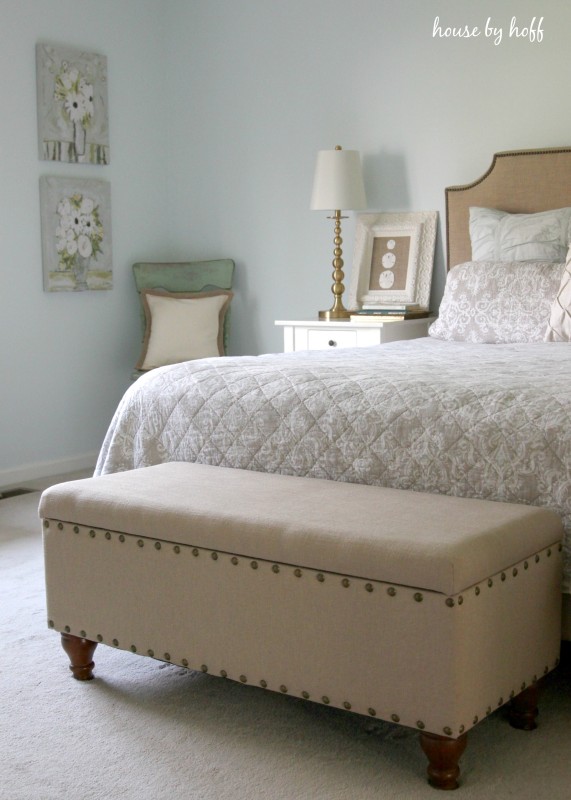 I purchased a new upholstered bench for the foot of our bed. I love the way it matches our headboard perfectly. If you're looking for an easy way to dress a space up, add a piece with some nailhead detailing. Does the trick every time.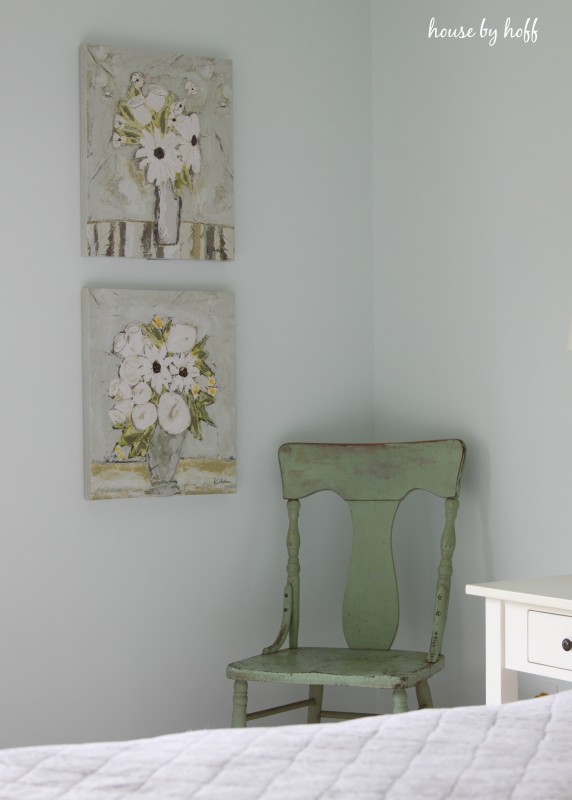 I found some gorgeous new floral prints at a local decor shop. I am in looooove with them. They were exactly what this room needed. They subtly add some more color to the space without taking away from my soothing color palette. Remember, I like it calm in here. 😉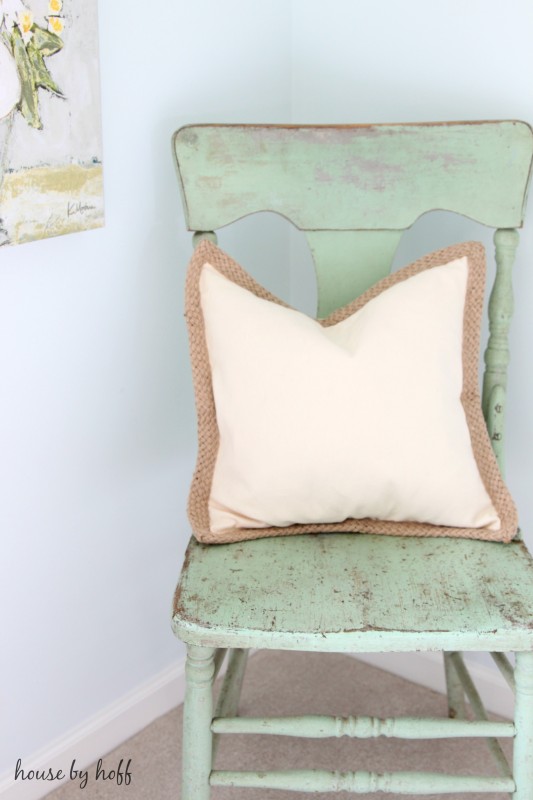 As soon as I hung the prints, I remembered a pair of distressed, green chairs that I salvaged from the basement of a neighbor's a few years ago. The green of the chair matches the green in the paintings so well. When I placed the chair under the paintings, I'm not gonna lie…I jumped up and down and did a happy dance. I just love how they look together!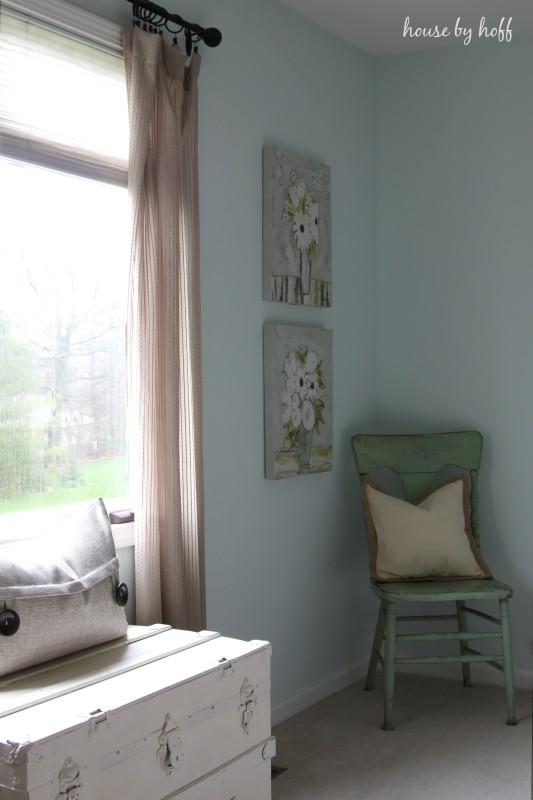 So, have you noticed the old trunk yet? I think it's my favorite addition to this room. I'm going to dedicate a whole post to it in the near future, but for now lets just all agree that it is spray-painted perfection. It came from the ginormous antique-warehouse that is my parents' storage unit, and three cans of spray paint later, we have a masterpiece. 😉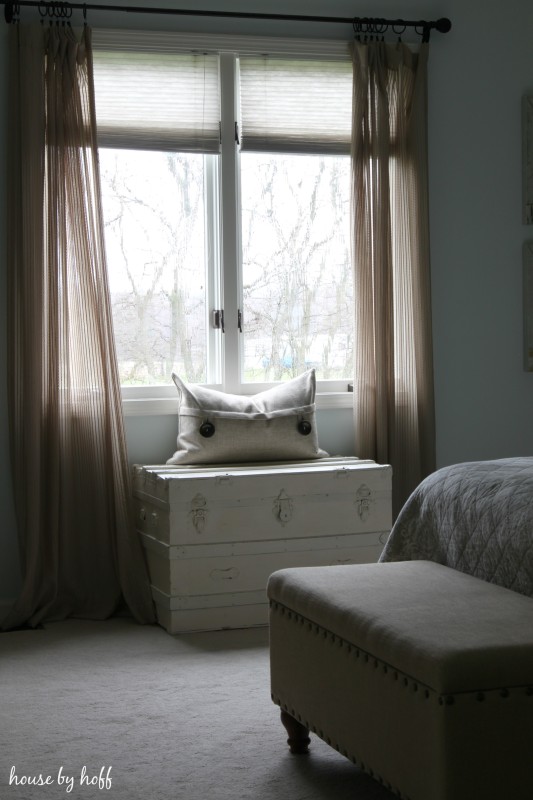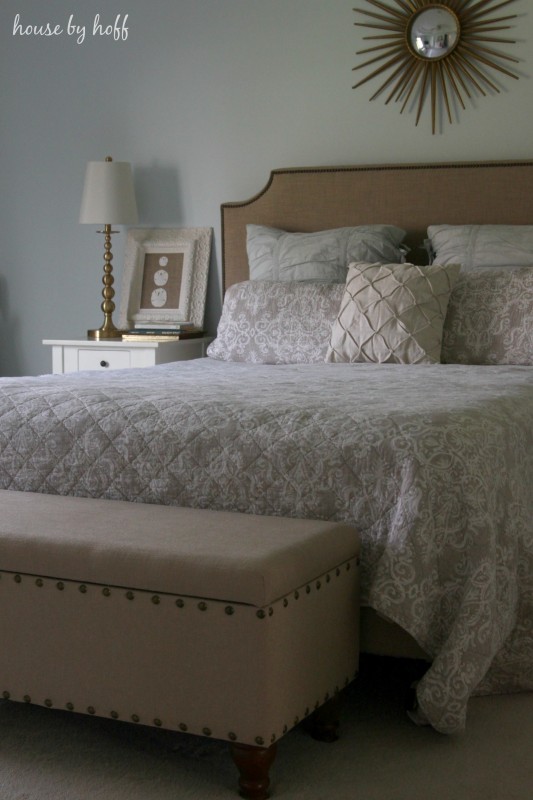 This room is very difficult for me to photograph. It's so hard to get a shot of the whole space. But in this case it worked out well, because I only have half of the room finished! Ha! Always more projects coming! 😉
~
Source List:
Paint Color: "Honesty" by Pittsburgh Paints (PPG1034-2)
Upholstered bench: Wayfair.com
Bedding: T.J. Maxx
Upholstered Headboard: Broyhill Andrina Clipped Custom Upholstered Headboard
Lamps: Marshalls
Starburst Mirror:  Home Depot
Floral Prints: Purchased Locally
DIY Seashell Art: Tutorial here
~
Have a great day!
I'm linking up at: Link Party Palooza