Oh, this deck. It's been a bit of a "problem area" for me since we moved in…
When we first moved here, we gratefully took the hand-me-down outdoor furniture that my grandmother gave us. It was great, but it didn't really reflect my style. I bought new chairs and tried to make that work with the old table for a while, but it never really came together the way I'd hoped.
This year, I decided to take the plunge and buy new furniture for our outdoor area, and I have to say, I'm SO glad I did. This deck finally looks the way I think it should! 😉
(Side note:  Aren't our neighbor's trees gorgeous? They provide such a pretty backdrop to our eating area, and I don't have to do a bit of maintenance…win/win!)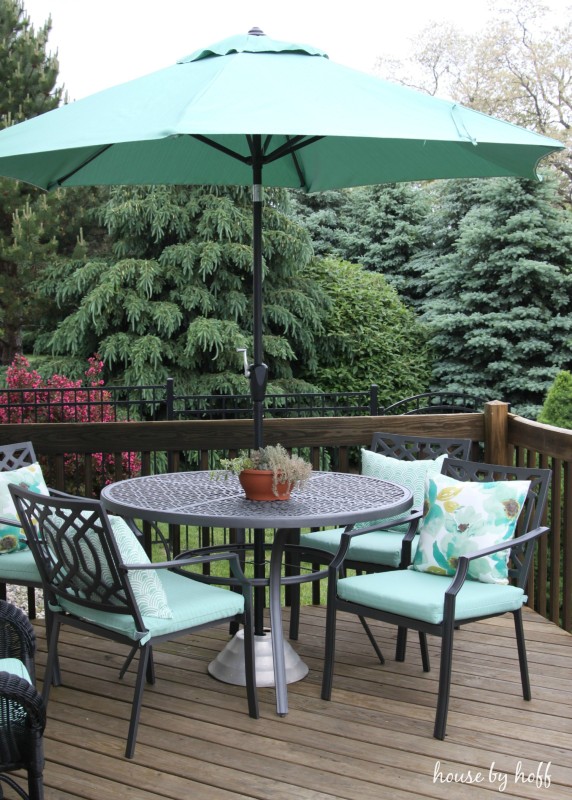 I wanted a basic, black patio set, so I bought the Threshold Harper 5-Piece set from Target. I'm really happy with the look and feel of this set, and I'd recommend it! I also bought the cushions, pillows, and umbrella from Target. (And no, I am not being compensated by Target to say those things.) 😉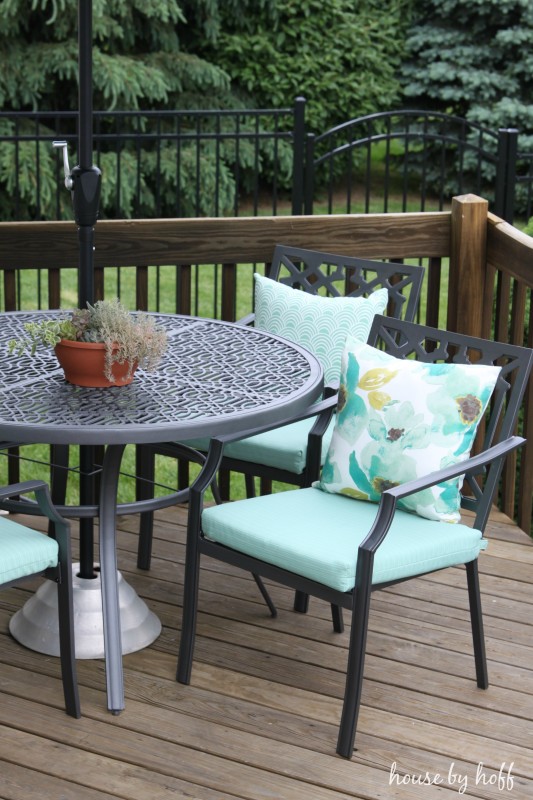 We've been really working on our backyard in recent months, can you spot our new fence in the background? We literally had no choice but to put in this fence, as Miss L. needs to be contained. Girl wants to be walking around in our neighbors' yards all the time. They really don't mind, but we were tired of chasing her down and corralling her back to our yard. We went with a black aluminum fence, which I think is a classic-looking fencing option.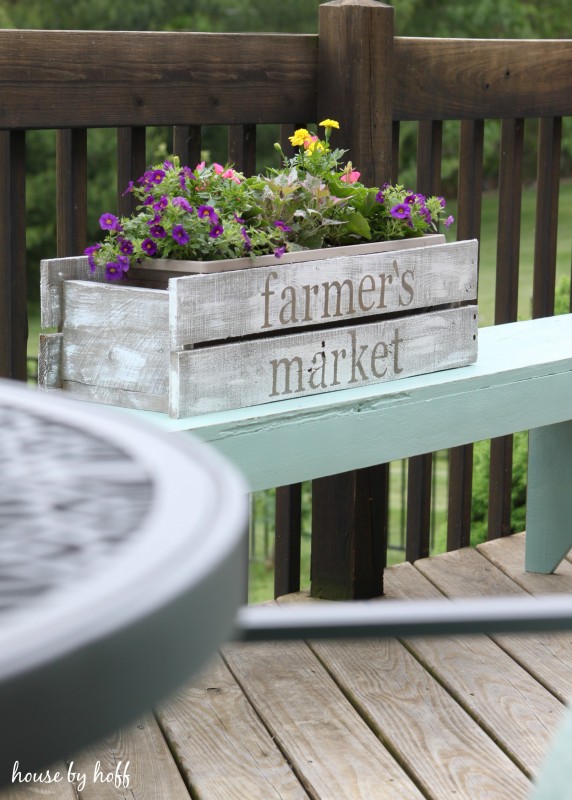 I spray-painted our bench (Catalina Mist by Krylon) to match our cushions. I still need to seal it. It doesn't take long for the rain and sun to weather this wood bench.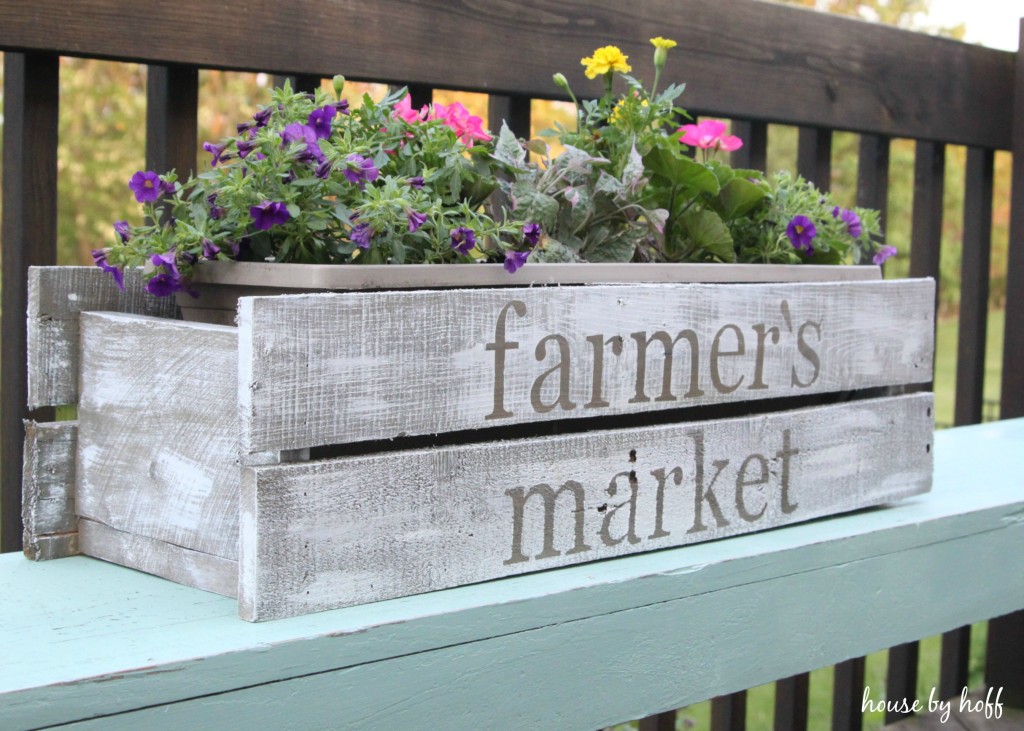 …and of course we have my DIY Pallet Wood Planter Box! See tutorial here.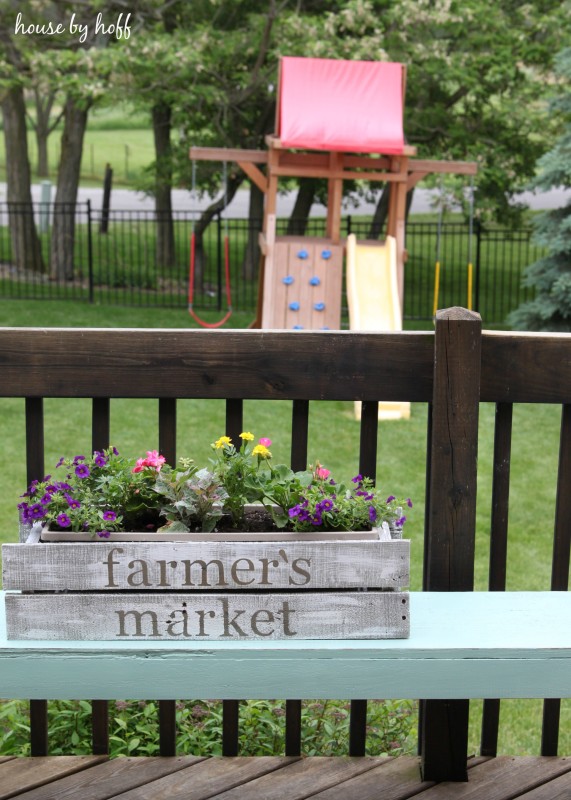 Do you spy one more addition to the backyard?! Miss L. got a new swing set earlier this spring! It's been money well spent, and she LOVES to go swing on her swings, climb the rock wall, and play in the "clubhouse". I quickly came to terms with the fact that I have a big old swing set blinging primary colors right outside our back door. Sometimes my aesthetic has to take a backseat to the needs of my three-year old. But only sometimes. 😉
Lots of changes in the backyard and on the back deck! I'm excited to spend a lot of time back here this summer!
Let's see what my "Get Your DIY On" cohosts came up with this month!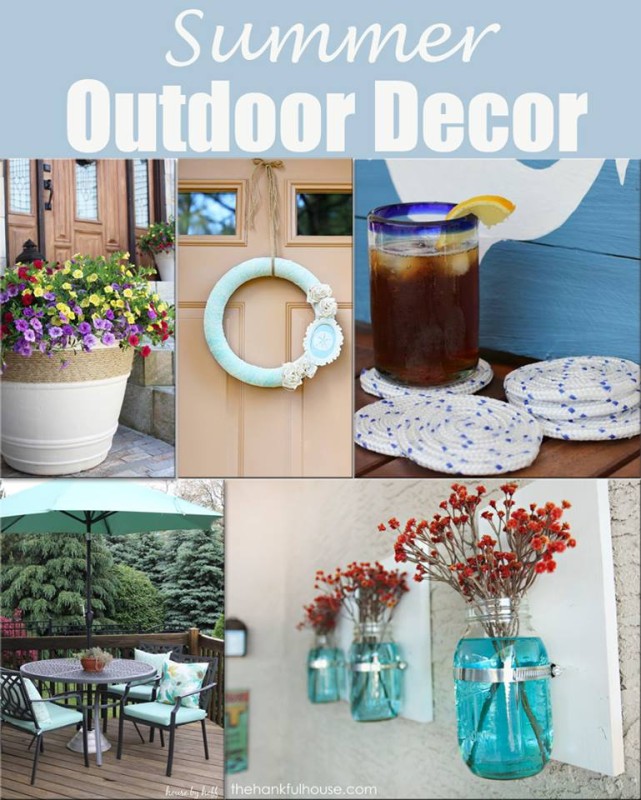 Confessions of a Serial DIYer's Updating Old Porch Decor
Just a Girl and Her Blog's Coastal Summer Wreath
The Happy Housie's DIY Nautical Rope Outdoor Coasters
The Hankful House's Mason Jar Summer Decor
Don't miss our link party for "Outdoor Decor" on Sunday at 7:00 PM!

~
And one more teeny, tiny, little thing before you leave. My Rast Hack is up against some serious contenders on Hickory Hardware's facebook page. I'd really appreciate any votes you'd send my way!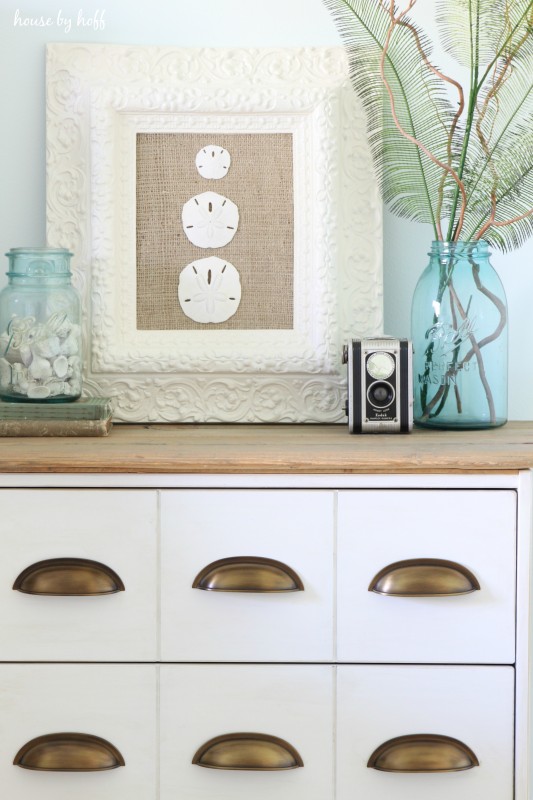 Thank you, and have a great weekend!