I will show you how to create your own personal DIY song lyric sign!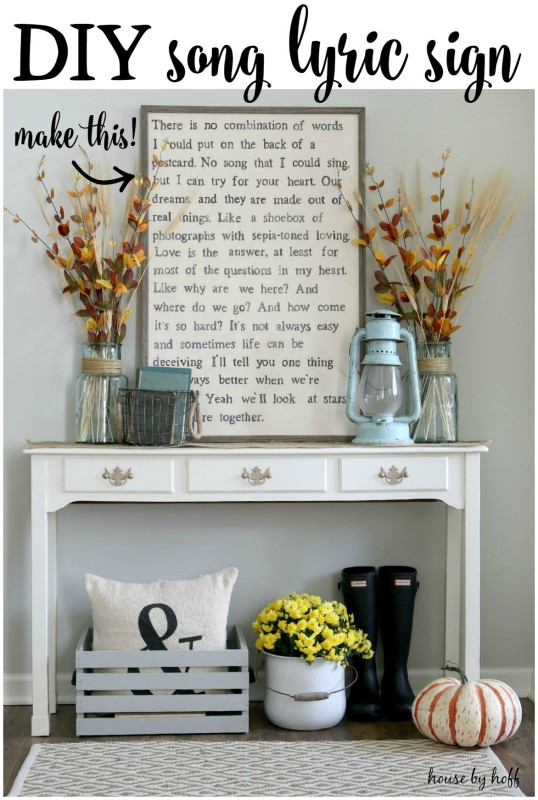 I'm SO excited to finally be sharing my DIY Song Lyric Sign with you all today! This has been by far my most asked about project since I posted about my fall vignette about a month ago, and I've been itching to get this post published for you!
The idea for how to create this lyric sign was a combination of my own thinking and sign-making methods I have seen before, but the idea to create a sign like this was inspired by the very talented Tiffini from House of Belonging. Her Etsy shop blows me away, and I adore her unique style. This sign was not a very easy DIY, so if you decide that making one for yourself isn't in the cards, I would just hop on over to her shop! In fact, I plan on purchasing a few of her signs in the future!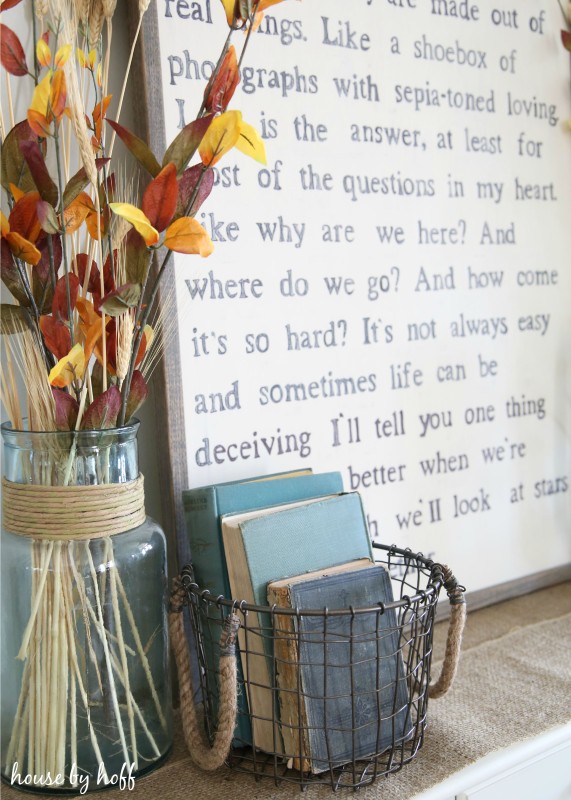 Jack Johnson's song,  "Better Together" has always been one of my favorites. Really, anything by Jack Johnson is my favorite, but this song has always felt special to me. It really expresses the way I feel about my little family…it's always better when we're together. (Well, assuming Miss L is in a good mood, and Mr. Hoff isn't heating up tuna fish or something disgusting in the microwave, and I have my to-do list finished, etc., etc…HA!)  So maybe I should write my own song called, "Sometimes it's better when we're together…" 😉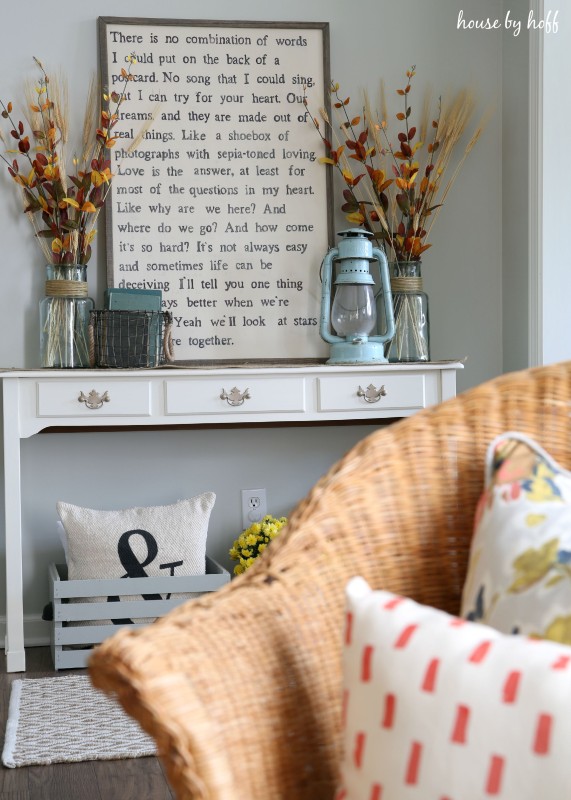 Preparing the sign and trim:
So, I recently shared with you my discovery of these amazing pieces of edge-glued pine (mine is from Menards). They are the perfect size for a sign like this, so we didn't have to cut it at all. To prepare this board for my song lyric sign, I painted three coats of off-white chalk paint on it before lightly sanding it with a fine grit sand paper to make it smooth.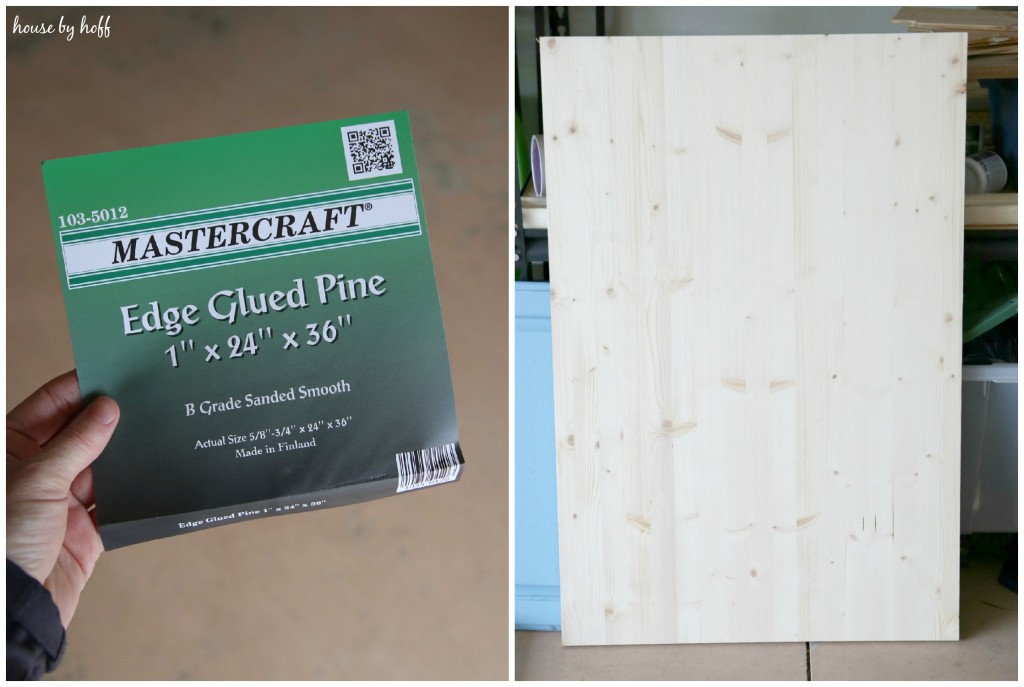 Mr. Hoff cut four pieces of trim to create a frame for this sign, which he then attached to the sign with a nail gun. Before he nailed it on, I sanded the pieces of trim and used a combination of Minwax's "Driftwood" and "Classic Gray" to achieve the perfect tone of "brownish-grayish" or "Driftwood-y." I apply the Driftwood finish first, let it dry completely, then apply the Classic Gray.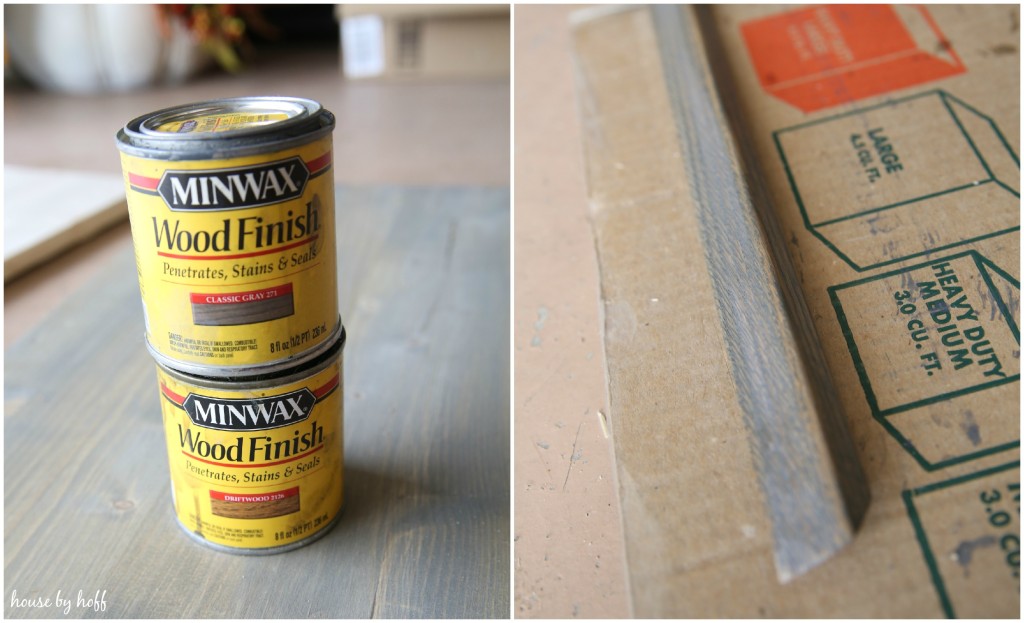 The Font: 
I searched for a long time to find the perfect font to use for sign, and I finally settled on "Tigerlily" which I purchased from Createive Market. Figuring out how large to make my font took some trial and error. I ended up typing up the song lyrics, and printing them off (as many words as I could fit on each page) at a  font size of 130
Transferring the words to the sign:
Step 1:  I cut out each word, or a couple of words, and lined them up on the lines I had drawn in pencil approximately 2 inches apart on the sign. I used scotch tape to tape them up.
Step 2:  Pushing very hard with the point of a pen, I traced each and every letter and word over the paper. I was pushing very hard, because I wanted to leave an indent in the wood of each letter and word. After tracing each word over the paper, I would peel it off, and left behind was the perfect indentation of the word. I took a fine-tip sharpie and traced the indented word, leaving traced hollow letters.
Step 3: Using the same fine-tip Sharpie, (or sometimes a thicker Sharpie…depending on which one's ink was working better at the moment) I colored in every word. Every. single. letter. and. word. It took me two weeks and probably 15 Sharpies to do this.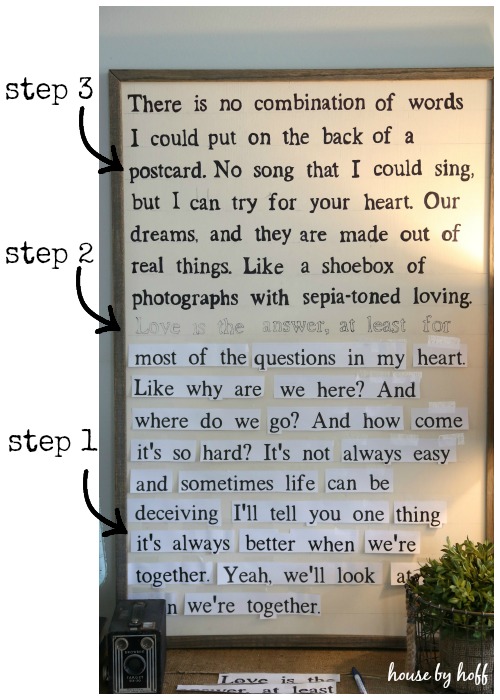 Here is a closer look of my handy work. This sign took me two weeks to complete because my hand would start to cramp after about 30-minutes of working on it, and I would have to take breaks. Also, it had to be daylight for me to actually see the indented words well. Most days I would trace what I could during the daylight, then color the letters in while I watched Real Housewives, or something equally as awesome, at night. 😉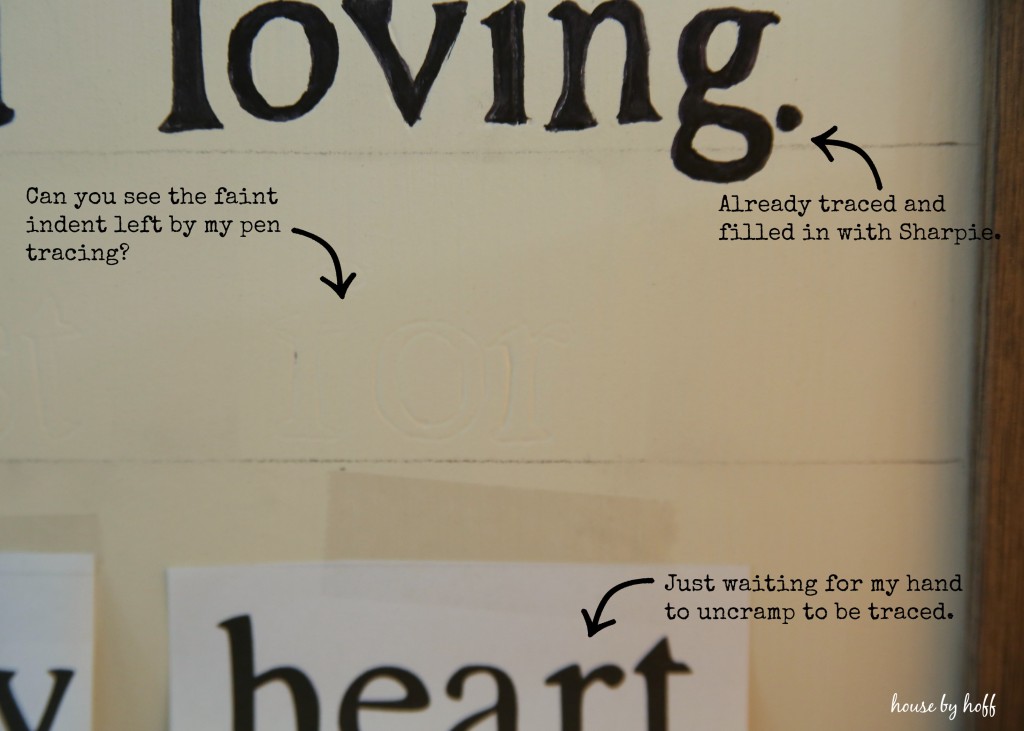 Finishing the sign:
After all of the letters and words were traced and finished, I erased the pencil lines and gently sanded with a fine-grit sand paper over the words to make the sign and words appear distressed. I wanted this sign to almost look as though it could be a page from an old, worn book.
~
Miss L. got in on the action too…she'd stand under me while I traced letters and "help me". I'm still kind of surprised that she didn't get her hands on a Sharpie and start scribbling on the sign in an attempt to "help". #thankgoodness #hidethesharpies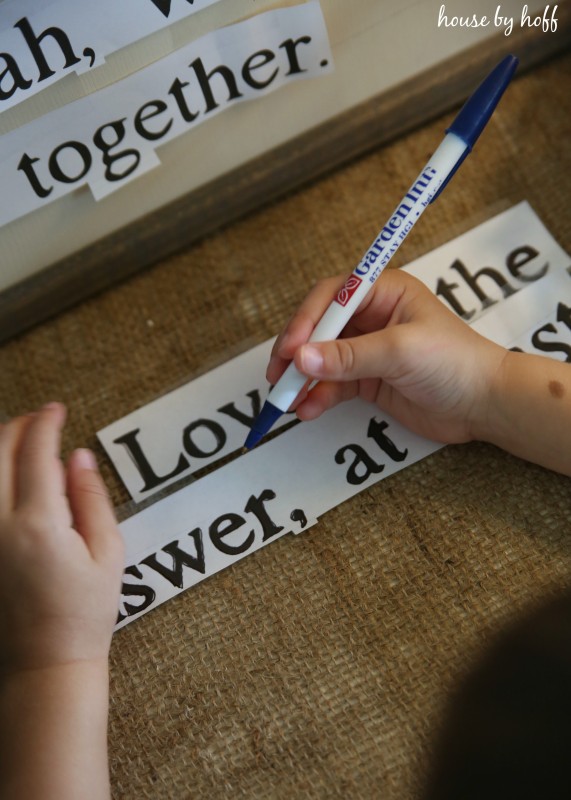 …and that my friends is the true story of how I gave myself carpel tunnel in one project. 😉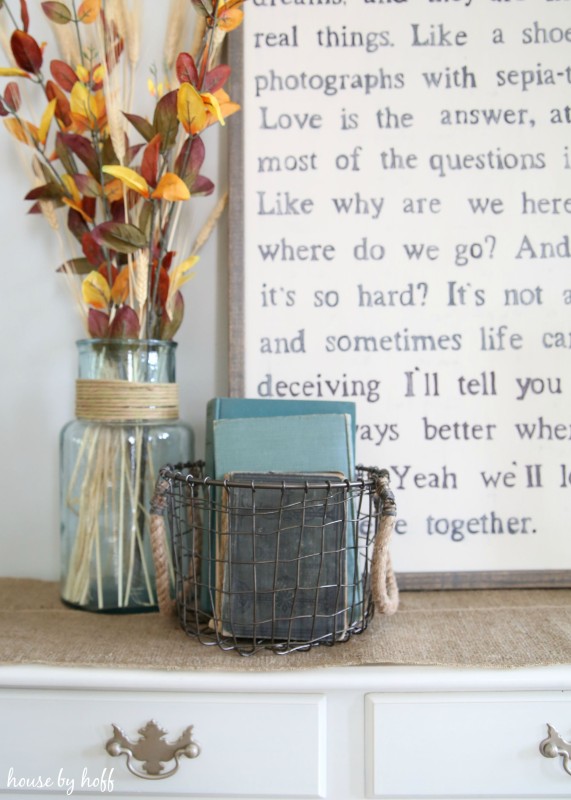 Kidding! It took me a long time, and it was a very tedious process, but I have to say that I'm glad I did it. It turned out great, and it is a real statement piece in the house.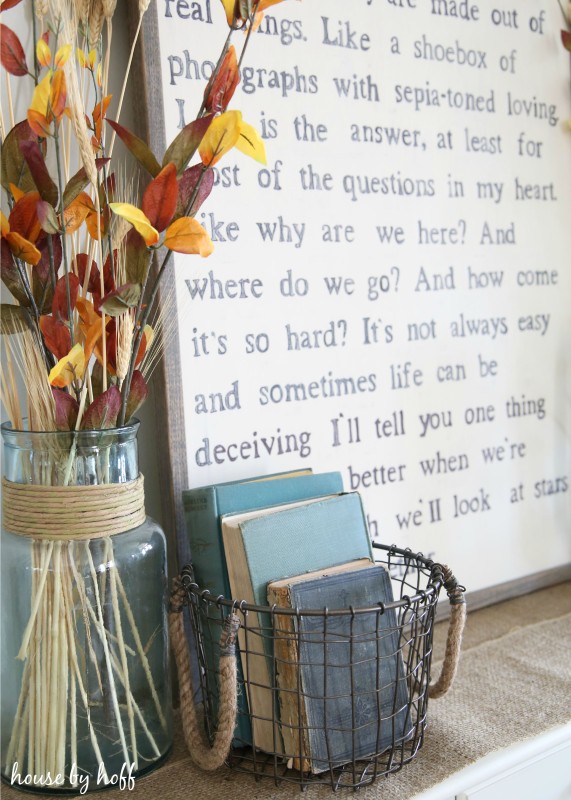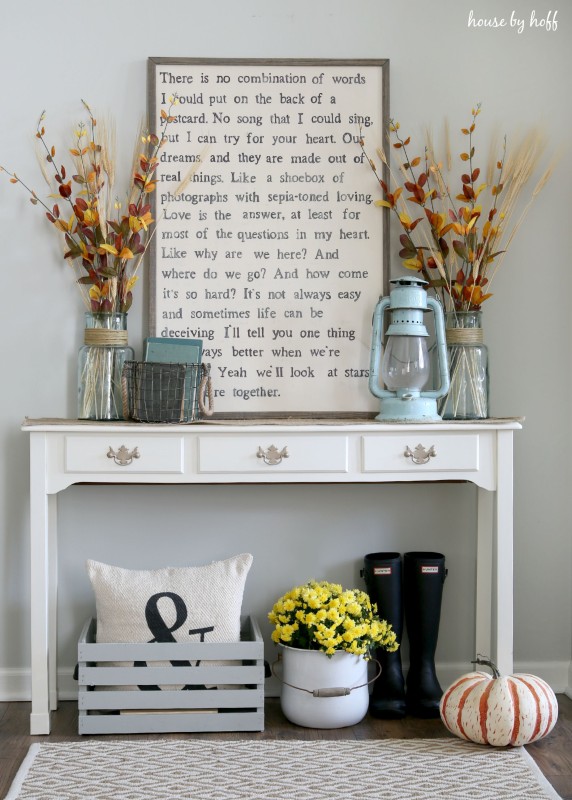 Whew! So that's it! That's how I made my song lyric sign.
Hop on over to my DIY Sign for Fall for another great sign idea!
Have a great day!
🙂