For the past three years we've gone on one big summer vacation. We pack up the car, say good-bye to our dog, and the three of us go on an adventure. We always have fun and make so many sweet memories! We just got back from our trip from Kiawah Island, SC, and I wanted to share the details with you! I always love reading about where people go and what they do on their vacations. It always gives me ideas for future travel destinations! 🙂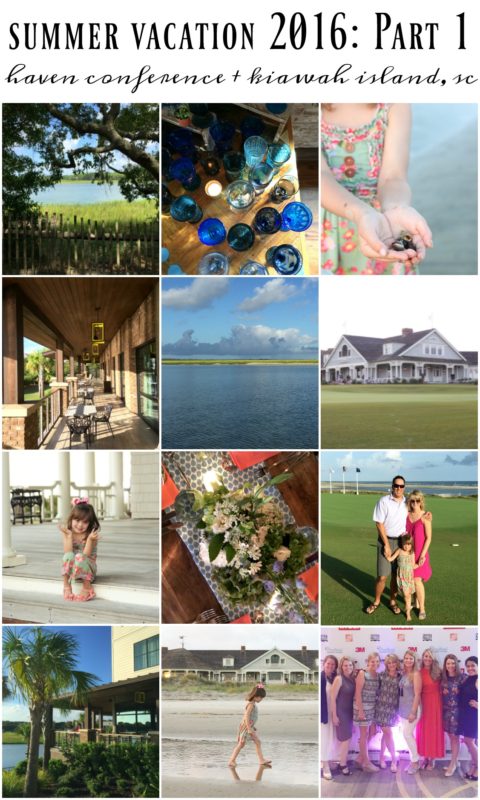 We normally plan our family summer vacation around the Haven Blogging Conference in Atlanta, GA. Mr. Hoff and Miss L. hit up the Atlanta aquarium, go to water parks, and swim in the hotel pool while I attend blogging classes and fabulous parties. 😉  #roughlife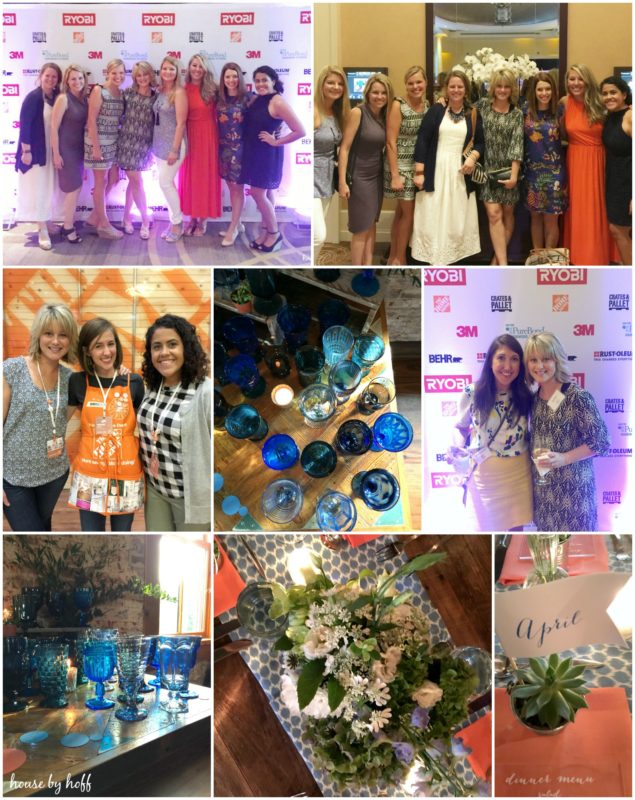 I love, love, love going to Haven! It means so much to me to meet up with my blogging buddies and hang out for three blissful days. I attended a fantastic dinner hosted by Home Depot and Moen, went to some amazing classes, and had a blast at the Saturday Soiree hosted by Ryobi. It is such a trip to meet your blogging friends in real-life. We all belong to the same Facebook groups, team up for seasonal home-tours, and message back and forth all the time, but you just can't replace going out to dinner together and chatting about husbands, kids, life, business, and…well, DIYing. 😉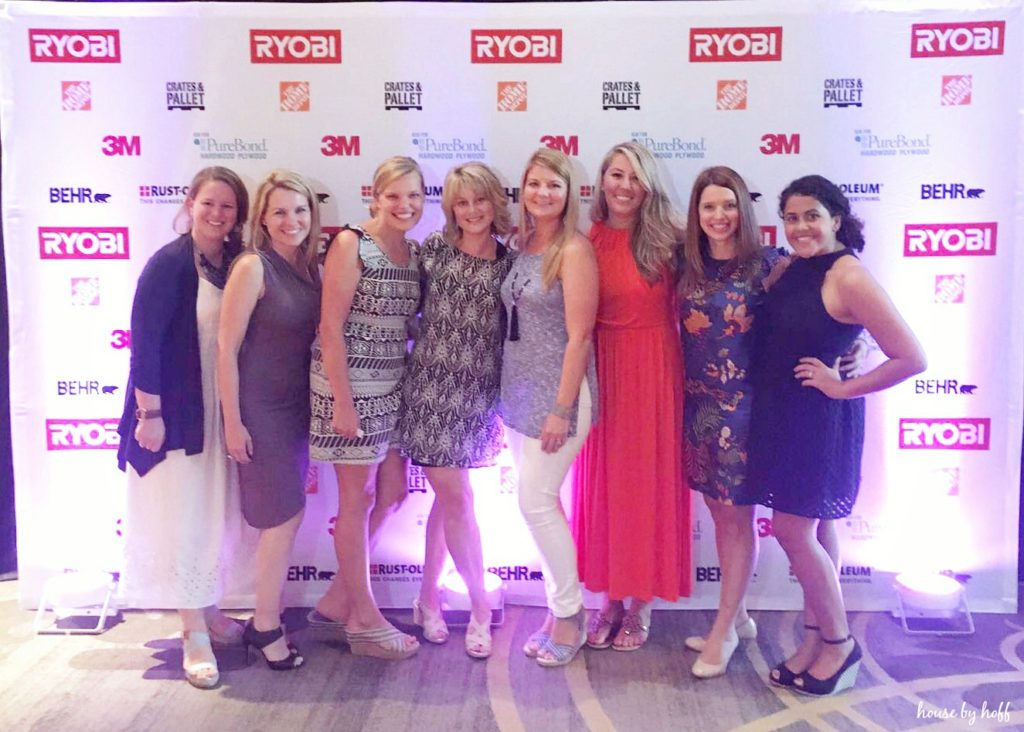 I have a very strong support system of blogging friends. We're a tight-knit group, and I just love these ladies!
~
Ok, so after Haven was over, we left Atlanta and drove out to Kiawah Island, SC. Mr. Hoff's job is based out of Charleston, SC, and we tend to gravitate toward South Carolina for vacations due to our familiarity with the state, and the many places you can go there. And the fact that it's gorgeous and we love it there.  So far we've been to Hilton Head Island, Charleston/Folly Beach, and Myrtle Beach…and Kiawah Island beat them all hands down. I say that, but I actually love Charleston as a city-destination, I just didn't love Folly Beach.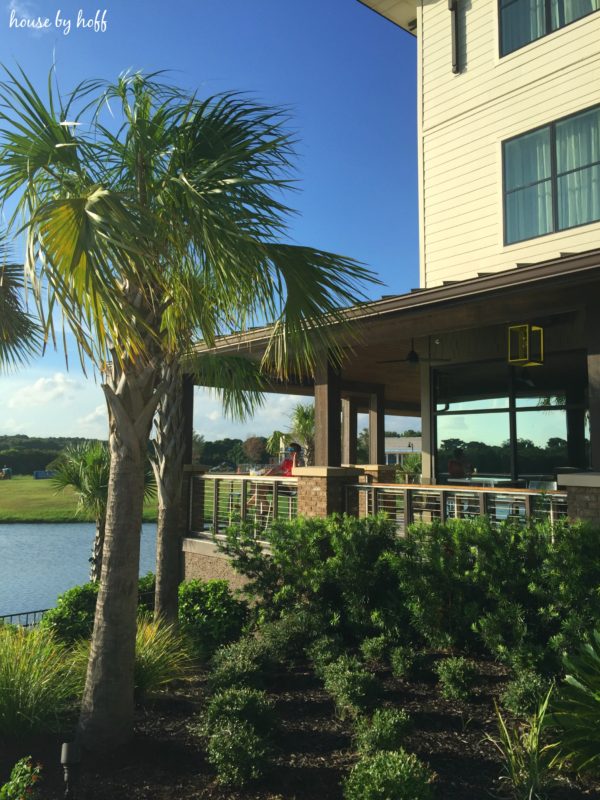 Mr. Hoff had been to Kiawah before to golf for work. (I wish somebody paid me to golf…well, not really, that would actually be like torture to me, but you know what I mean.)  He knows I have a bit of a thing about staying in yucky hotels. #notgoingtohappen #ifmamaain'thappy… So, last time he was in Charleston he drove out to Kiawah to make sure we'd planned our vacation in a place that looked good both online and in person.  *Side note:  Even the grossest hotels can look great online. That's a pet peeve of mine.
Kiawah's Andell Inn did not disappoint. Holy gorgeous! I was instantly impressed with this hotel.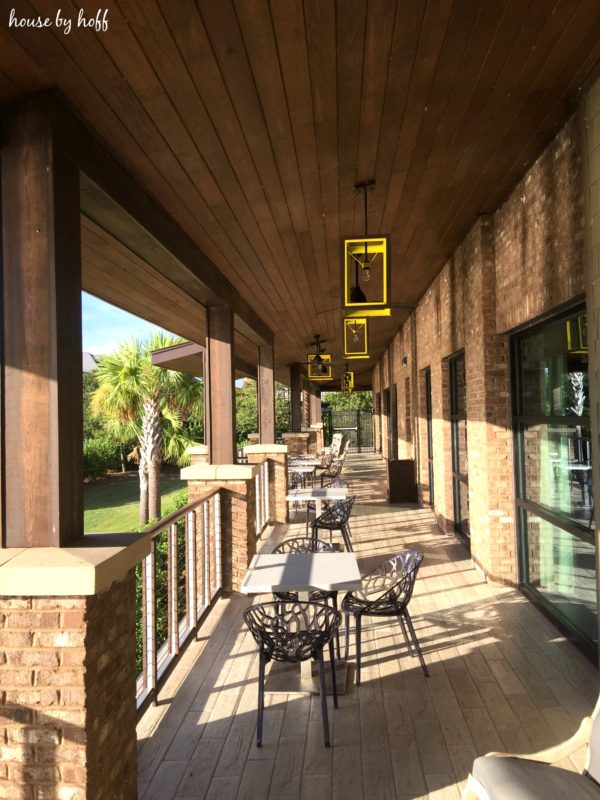 …and because I figure you're a decor junkie like me, I took some interior shots of this awesome place! I love it when a hotel is glamorous and dramatic and gorgeous and rustic and fabulous all at once. The decor was onnnnnn-point.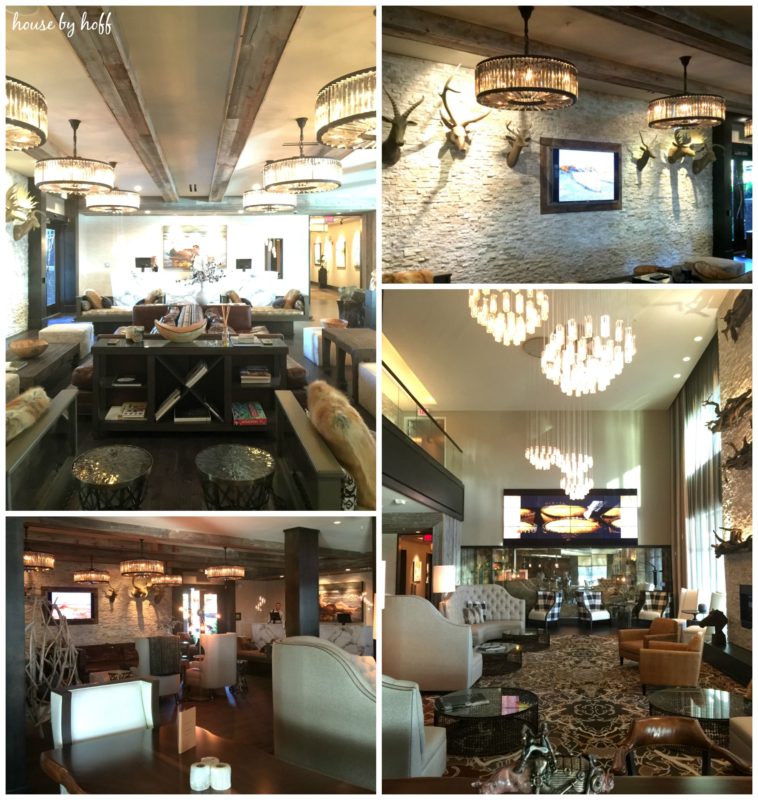 So the Andell Inn is located right at the edge of Freshfields Village. I was researching Kiawah before we left, and I couldn't really get a feel for what this village was. In person I was blown away. It's this quaint, beautiful little village with amazing shops (all price points, but lots of the shops were a wee bit too expensive for me…although I still went in to Lilly Pulitzer just to say I did. There I said I did.) 😉  There were darling restaurants, an ice-cream parlor, bike rentals…pretty much everything you'd need.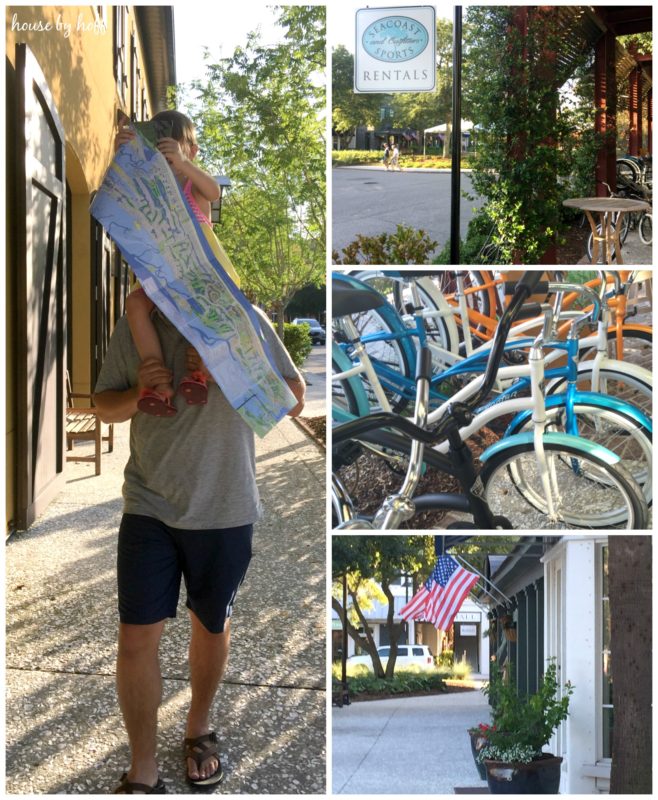 We started our first day at the hotel pool and then went to the Beachwalker's Park. Beachwalker's Park is the public beach. We parked our car and had a little picnic with some views of the marsh.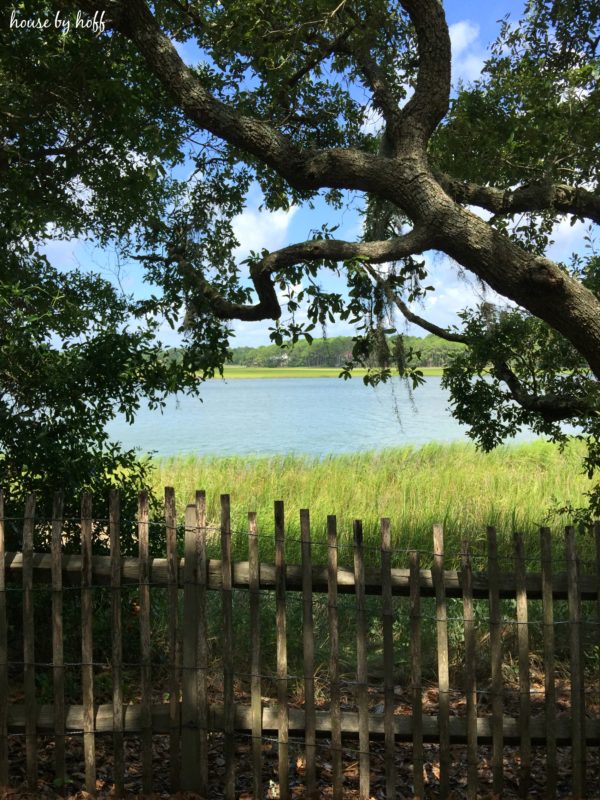 While we were walking to the beach, we spotted a bunch of dolphins in the marsh. It was pretty cool for these Indiana-people to see so many dolphins just swimming around. We were thrilled. 😉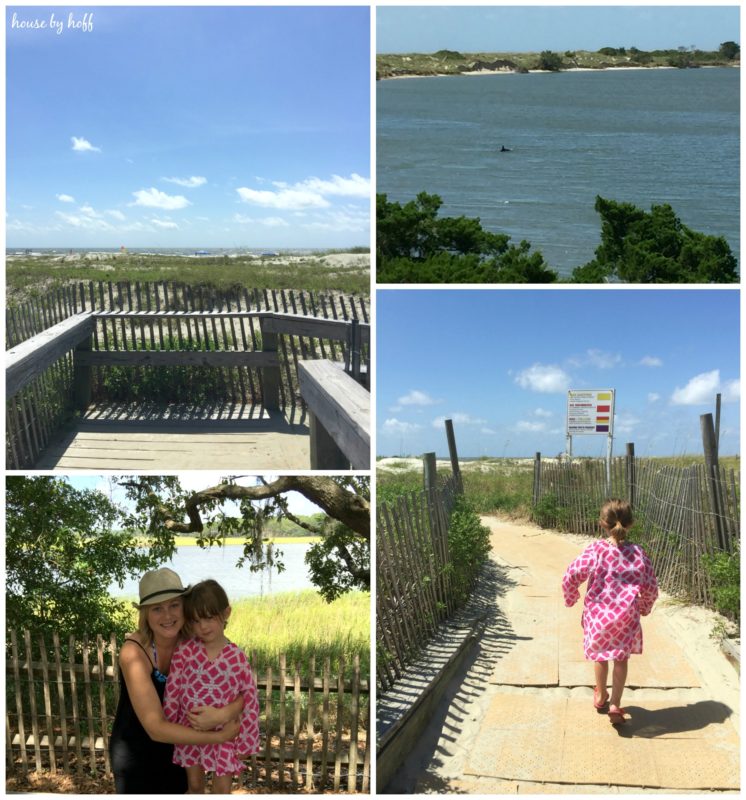 After our beach day, we went to a good seafood restaurant called LoKal. It was delish, and we loved walking along the docks when we were finished.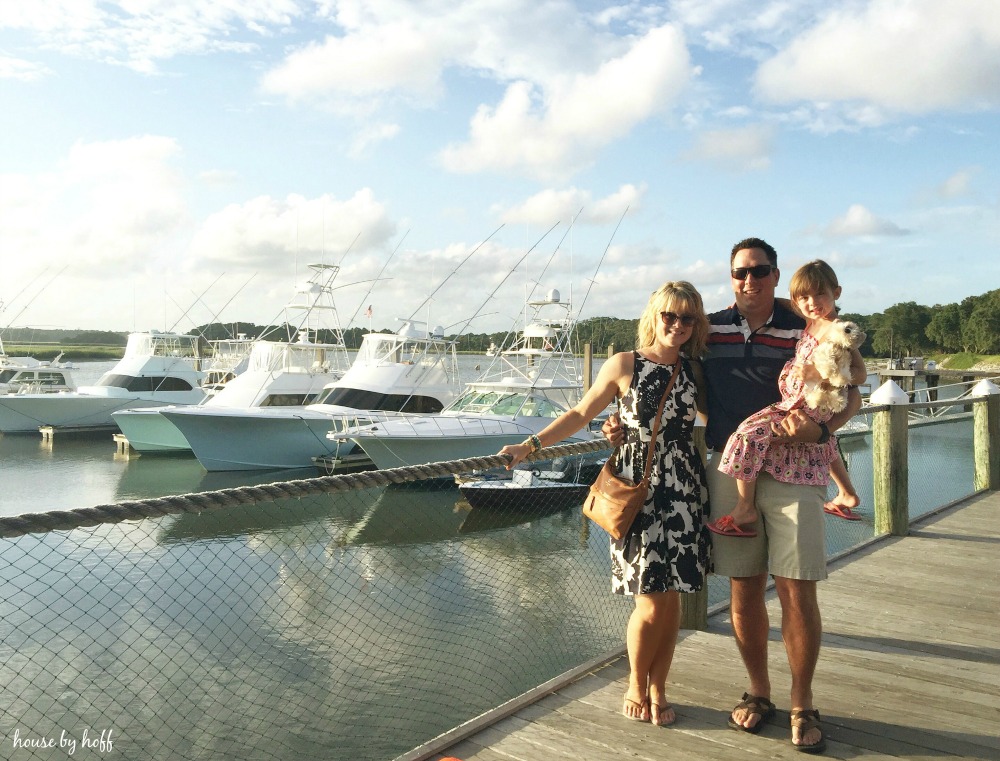 The next day we started out by the hotel pool again. We enjoyed the pretty view of the marshes, or lake, or whatever it was that was behind our hotel.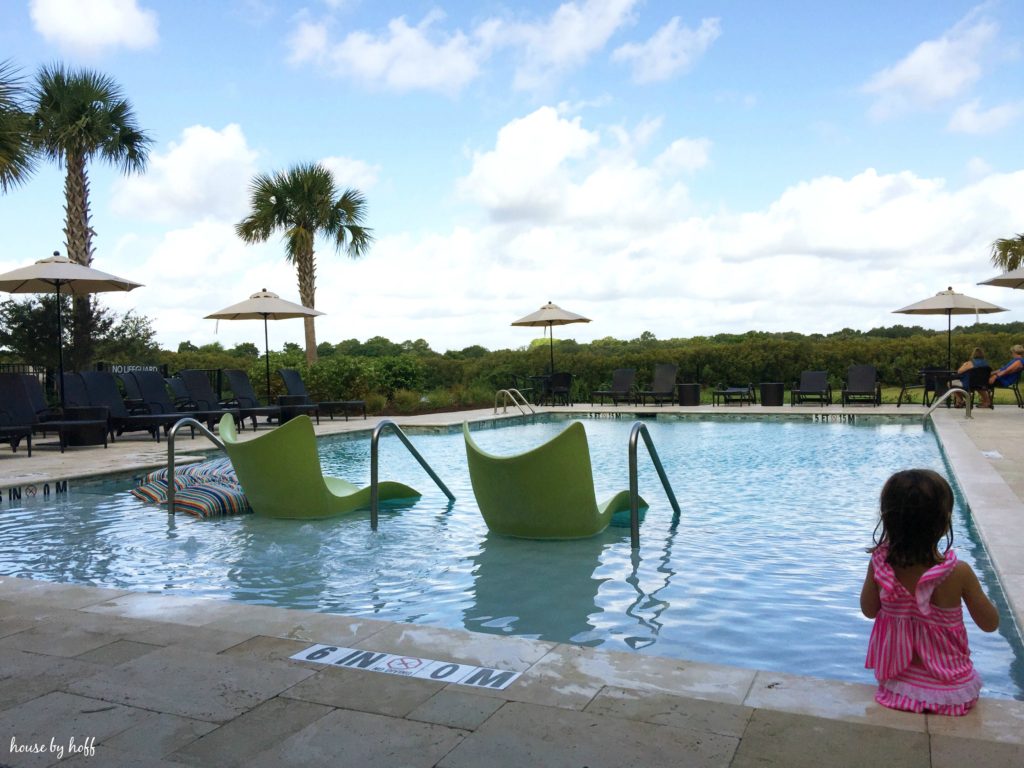 Miss L. was just insistent that we had to see an alligator. So we made a special trip to the Night Heron Nature Center to see real alligators. She brought home a new stuffed alligator, which was her one souvenir she picked to remember our trip. She was hilarious with it and "walked" her alligator all over the hotel and down to the pool. So cute!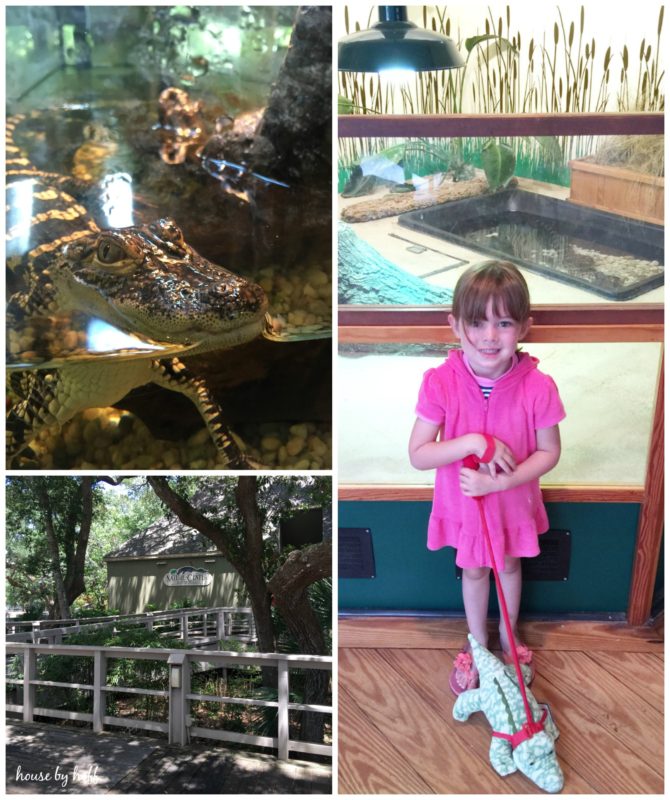 …and as soon as we got back to the hotel we saw an alligator right outside our hotel window in the lake behind the hotel!! Wha?!
I'll finish telling about the rest of our Kiwah Island experience tomorrow!
Have a great day! 🙂