I'm back today with the third installment of my Holiday Home Tour 2016! I am joining some of my favorite bloggers for the "All Through The House" Christmas Home Tour hosted by my good friend, Krista, from The Happy Housie.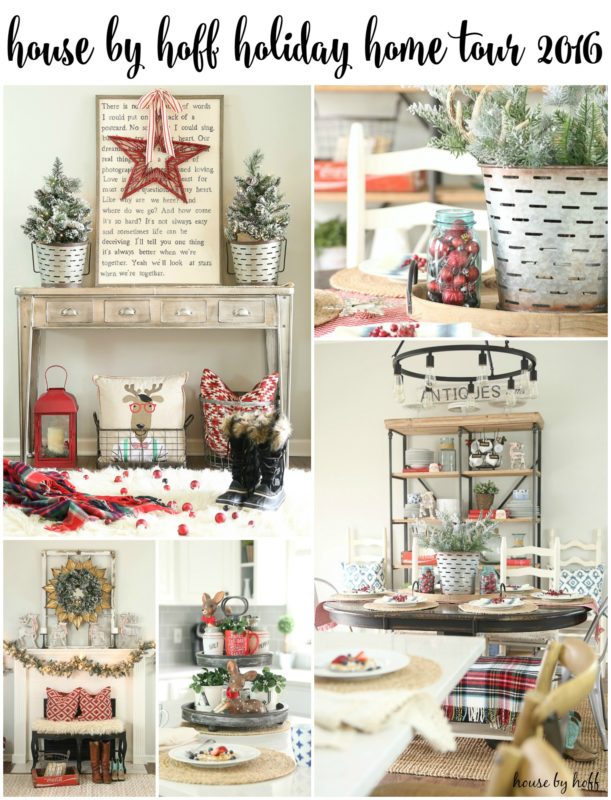 For this third part of my home tour, I'm including some areas of the house that I've already shared, but I like having all of this year's holiday photos together in one post, so you're getting the whooooole tour today. Except for the bedrooms. Haven't shot those yet…my holiday motivation, which was moving like a freight train a few weeks ago has slowed to a crawl.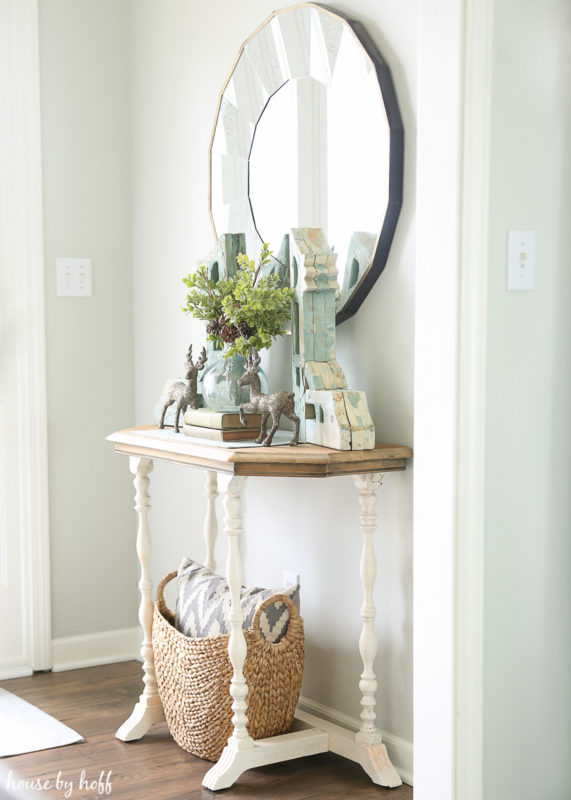 We'll start in the entryway. This simple space was a snap to decorate in minutes with some new antique corbels that seem to look great no matter where I put them. I added some sparkly reindeer and some winter greenery, and I called this space done.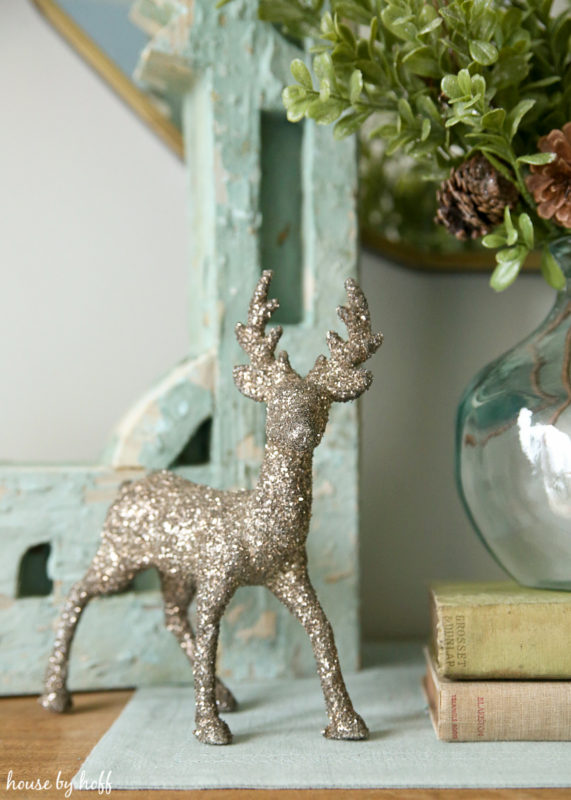 This is about the only room in the house that is neutrally decorated for Christmas. I love the serene colors and bit of sparkle.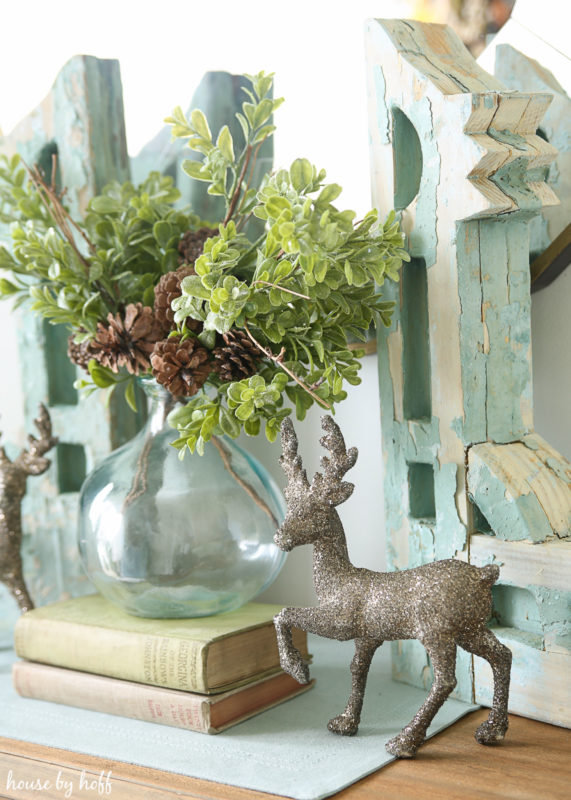 The rest of my house looks like this. Bright pops of red everywhere. It is a look I return to over and over again each Christmastime. It's really the only time of year that you'll find anything red in my house. 😉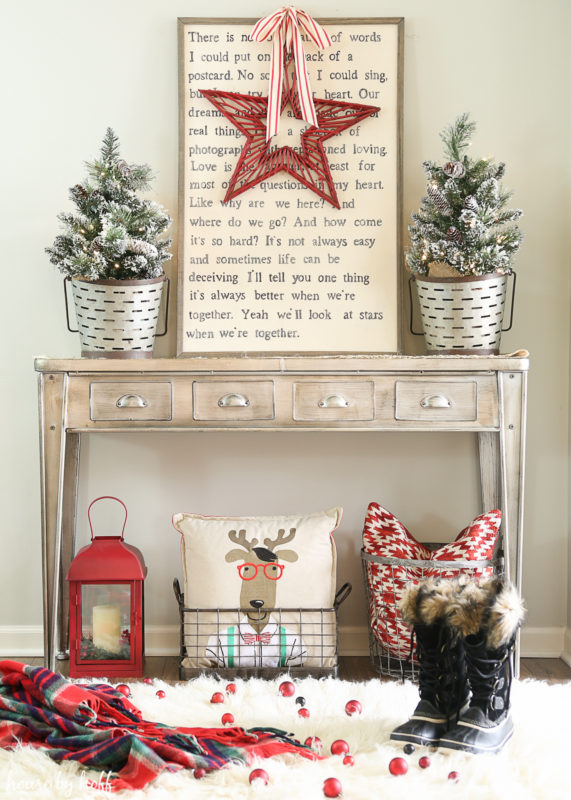 One of my favorite new accessories is this cute reindeer pillow from Target. He's just so hipster, isn't he? It cracks me up. 🙂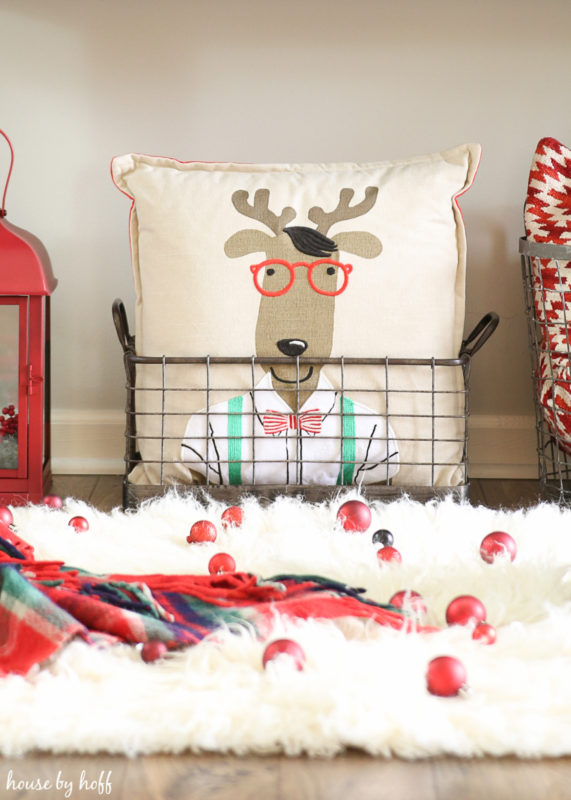 My pictures were looking a little flat and boring, so I poured out a jar of red ornaments out all over the flokati rug, and instantly these pictures got infinitely more happy.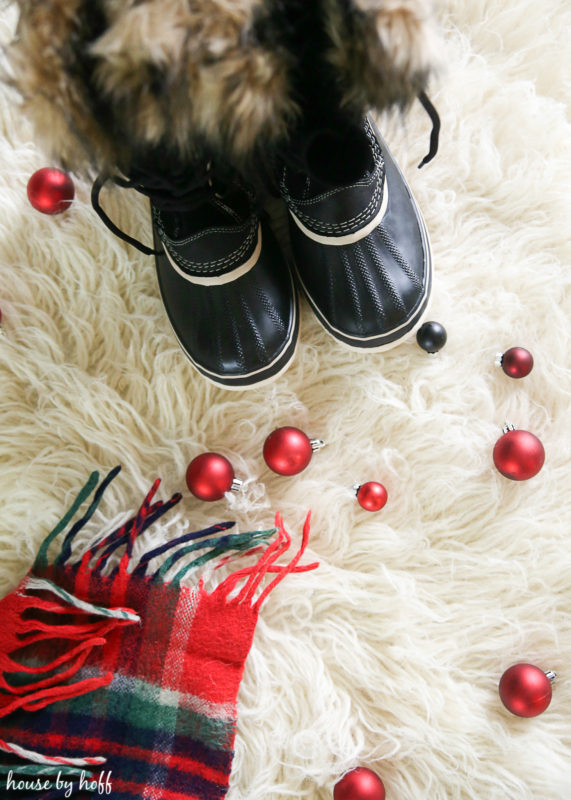 We'll move on to the living room. My throw pillows are the same as last year, and I love the personality they add to the couch. My daughter and husband seem to be on a mission to make sure the pillows are never on the couch, and I pick them up off the floor many times a day. They just do not get it.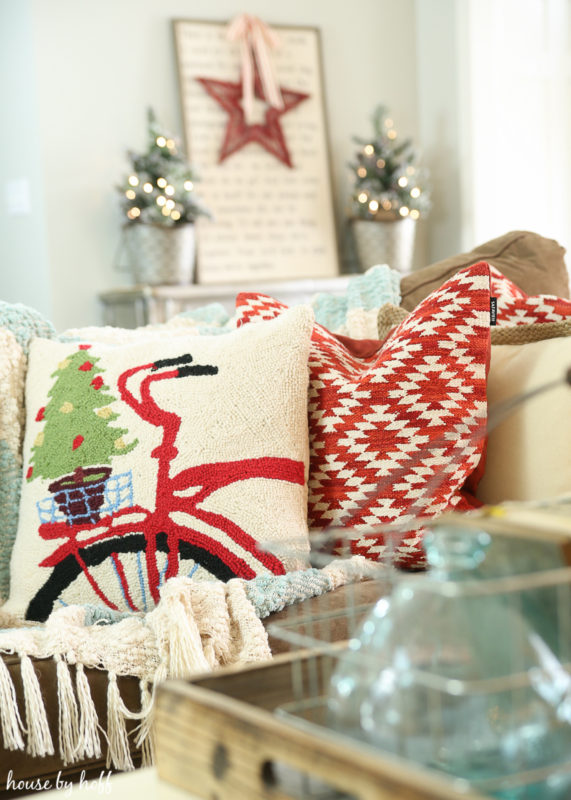 The mantel is lit-up with this pretty, sparkly garland and wreath. I love to sit in front of it and gaze at the lights and the sparkles. I get into like a sparkle-glitter daze for several minutes before I snap out of it.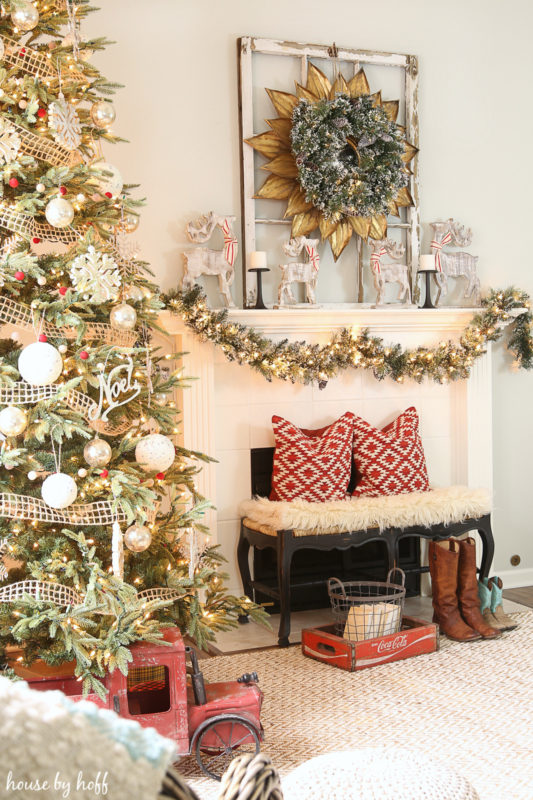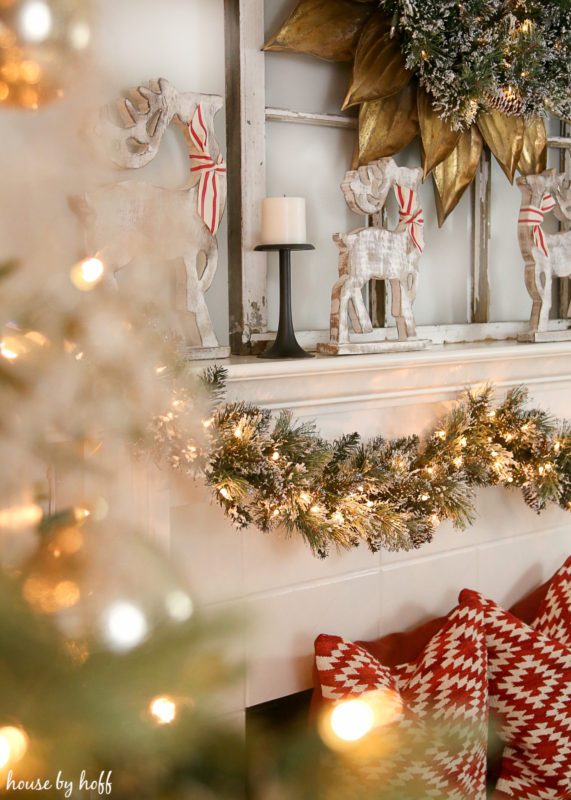 I am absolutely in love with my new 9-foot pre-lit tree from Balsam Hill. I had every intention of spray-painting my tree topper and sticking it on the top, but as I mentioned above, my motivation has been a little lacking. And it's been too cold to spray paint. So that will be a project for next Christmas.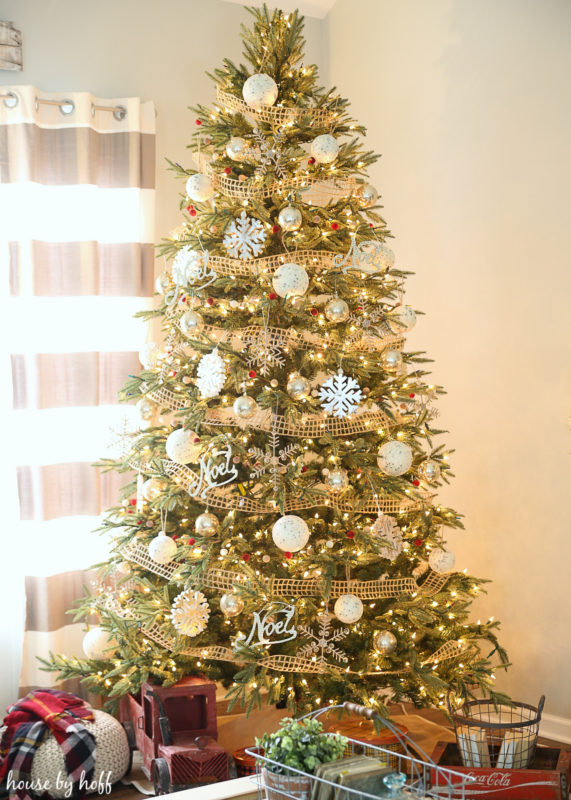 Even without a topper, the tree looks better than any tree we've ever had. 🙂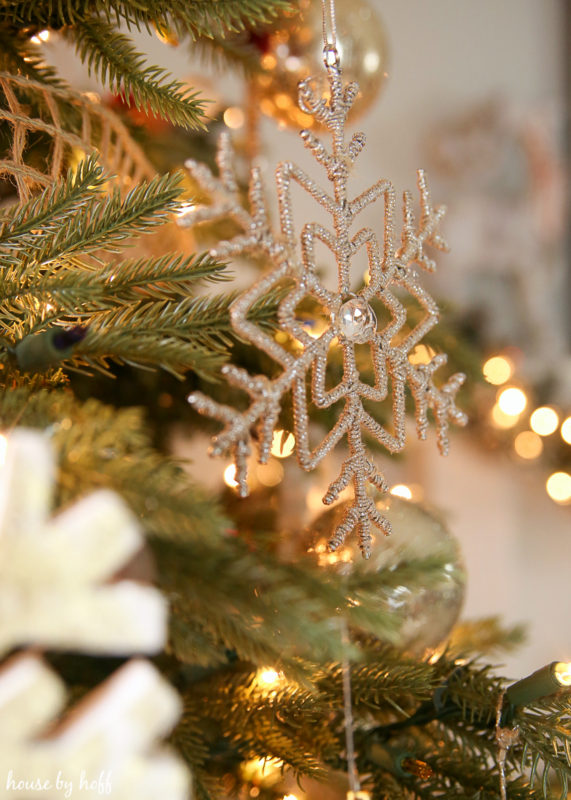 And, now the kitchen. This space has been completely transformed in the last year, which makes Momma verrry happy. Last year at this time I had the new island counter top installed, and the island beefed up with new trim and painted gray. Since then, I painted the cabinets, switched out light fixtures, and hardware, got new perimeter counter tops, sink, faucet, and subway tile back splash…whew!!!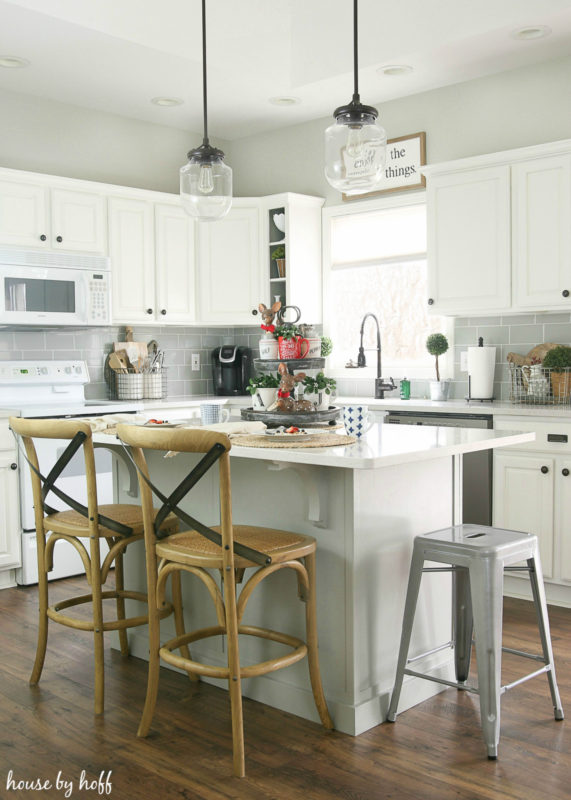 My tiered tray is one of my favorite things to change out for the seasons, and decorating it for Christmas was especially fun. I wanted it to take on a happy, vintage look. I used my Grandmother's salt and pepper shakers and some vintage-looking reindeer from Hobby Lobby to create my vision.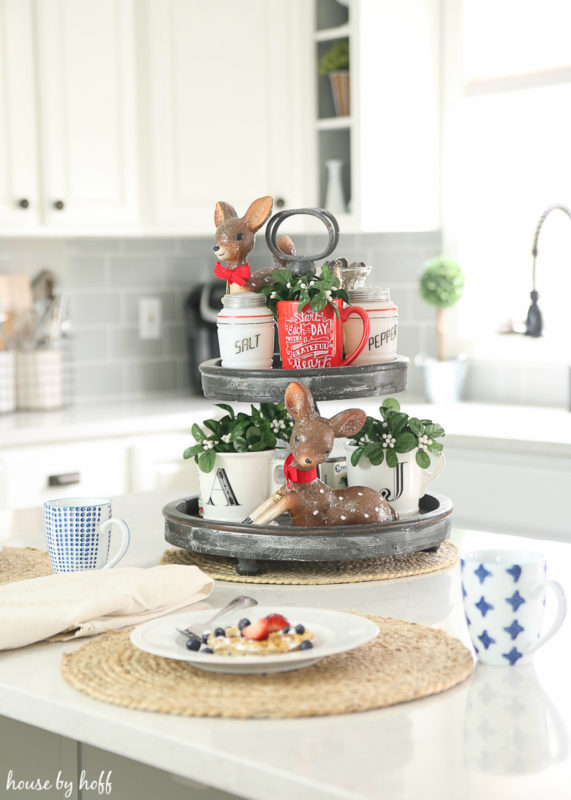 Are they not the cutest?! I seriously am considering going back and picking up a few more.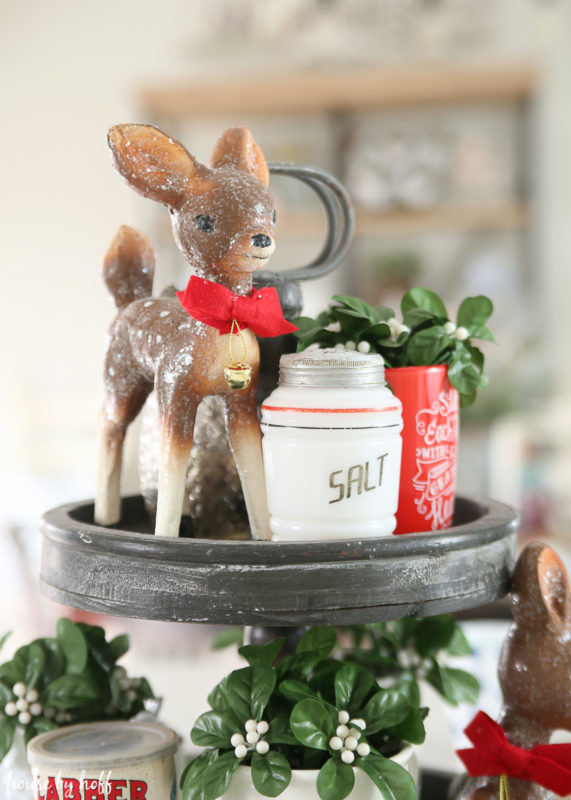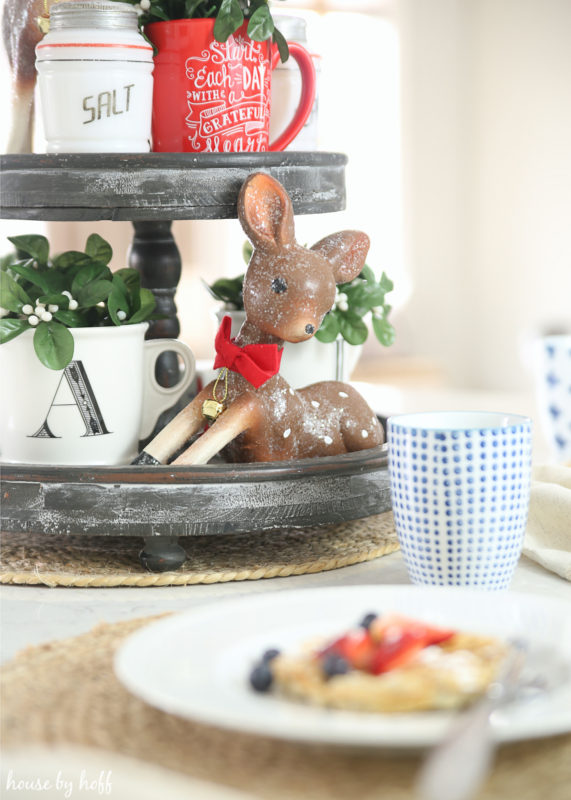 My DIY Holiday Sign adds the perfect little pop of red to the otherwise colorless corner of the kitchen.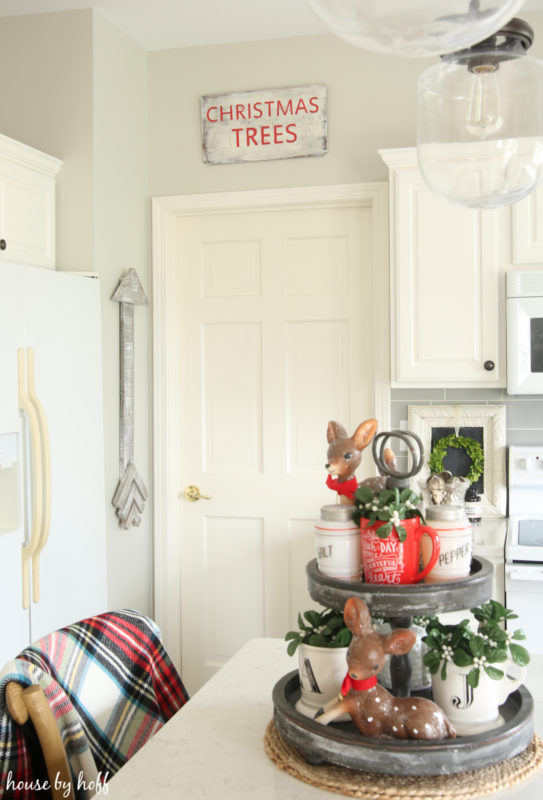 …and, finally, we end with the dining room.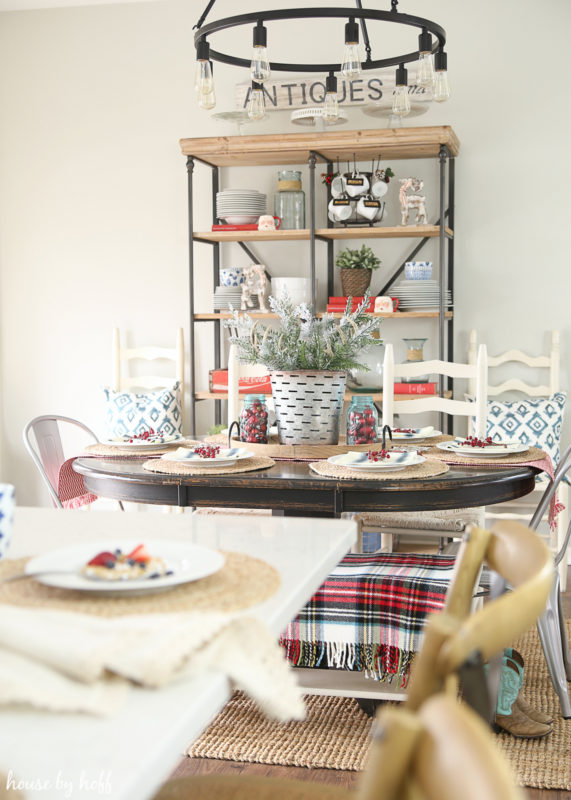 This space has been transformed over the last year too. So much has changed in this house, and it's hard to believe how different the Christmas tour looks this year compared to last year. The new open shelving and new light fixture have given this room the industrial/rustic look that I love so much.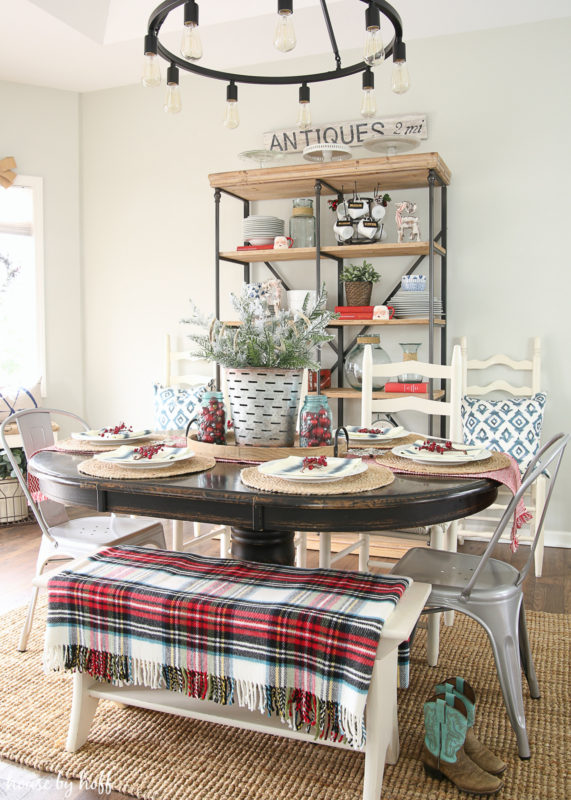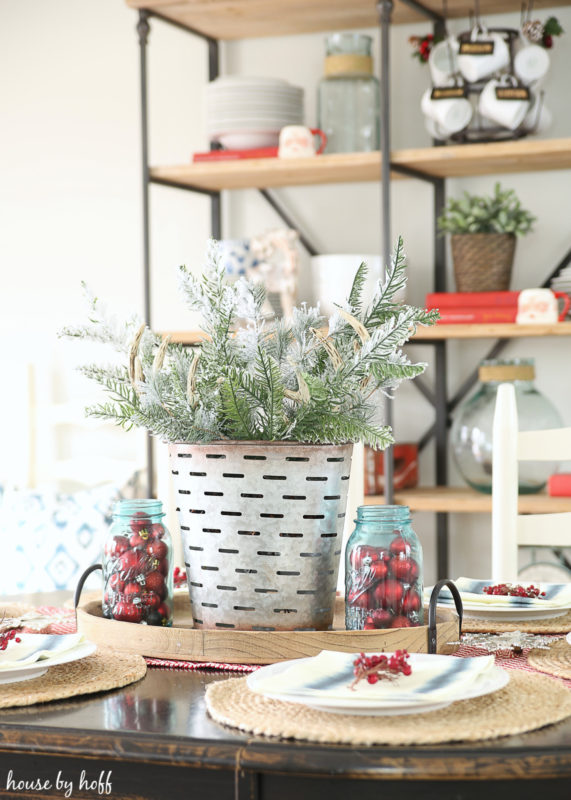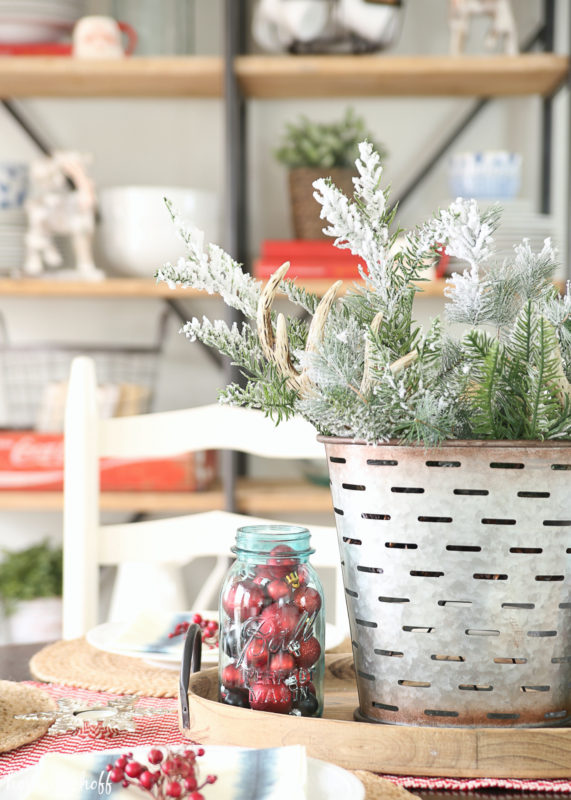 Adding vintage pops of red to the open shelving made an instant difference. I love how "Christmas-y" they look. 😉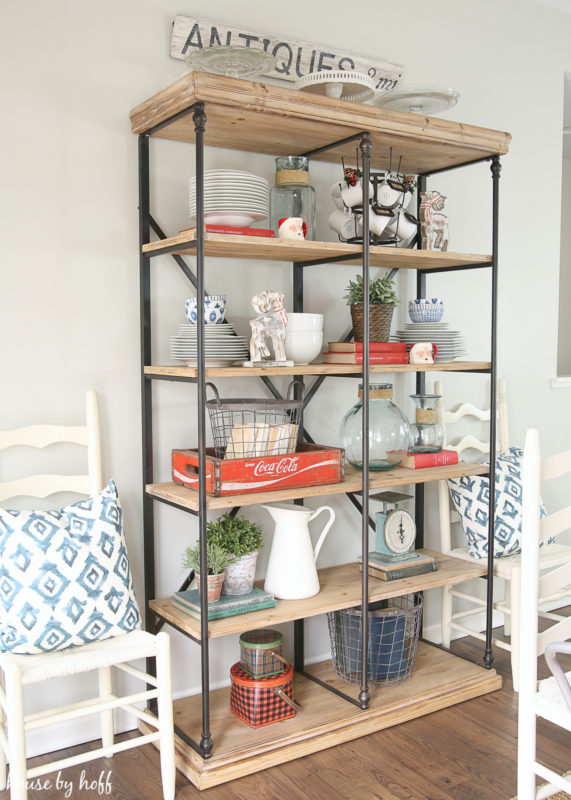 Thanks so much for stopping by and taking the tour today.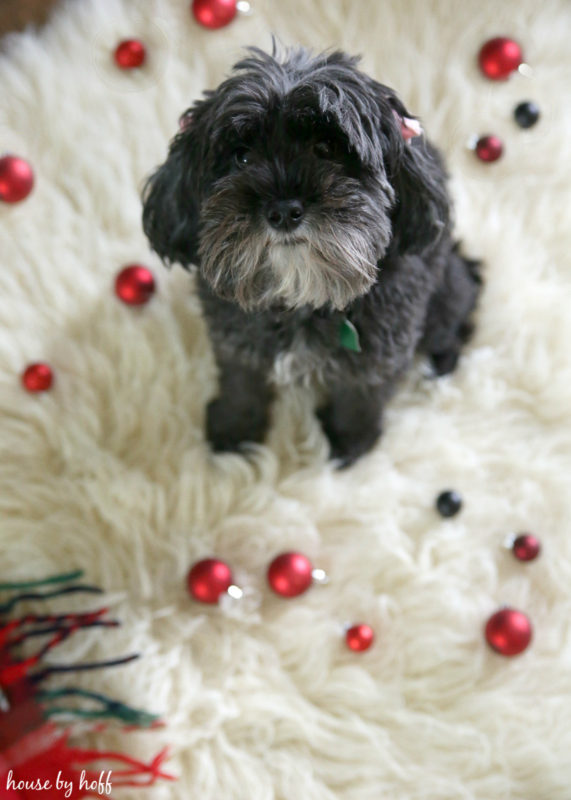 I hope you leave inspired, happy, and with a heart full of joy this season!
~
Be sure to check out the absolutely amazing lineup of bloggers participating in the "All Through the House" Christmas Home Tour going on now. These girls are some of my faves, and each one of them inspires me!
Tuesday, December 6th
The Happy Housie / Life on Virginia Street / Two Twenty One
Rain on a Tin Roof / The Turquoise Home / Making it in the Mountains
Wednesday, December 7th
Maison de Pax / In My Own Style / Willow Street Interiors
Making Home Base /Bless'er House / House by Hoff
Thursday, December 8th
Nina Hendrick Design Co. / Just a Girl and Her Blog / Place of My Taste / Sunnyside Up
The Blissful Bee / Oh Everything Handmade
We hope you enjoy all of the beautiful Christmas decor inspiration!