I'm so excited to introduce you to a fun new tour series that we're kicking off this morning! Krista, from The Happy Housie, and I put our heads together and came up with a fun idea to collaborate with some of our favorite bloggers for a tour series! We're teaming up with a group of 25 amazing bloggers for four seasonal home tours this year: spring, summer, fall, and holiday. How fun is that?! If you're stopping by from Refresh Restyle, welcome!
Today is the first installment of our "Seasonal Simplicity" home tour series. Our goals are to focus on simple ideas to incorporate seasonal touches to our homes, and to share them with you!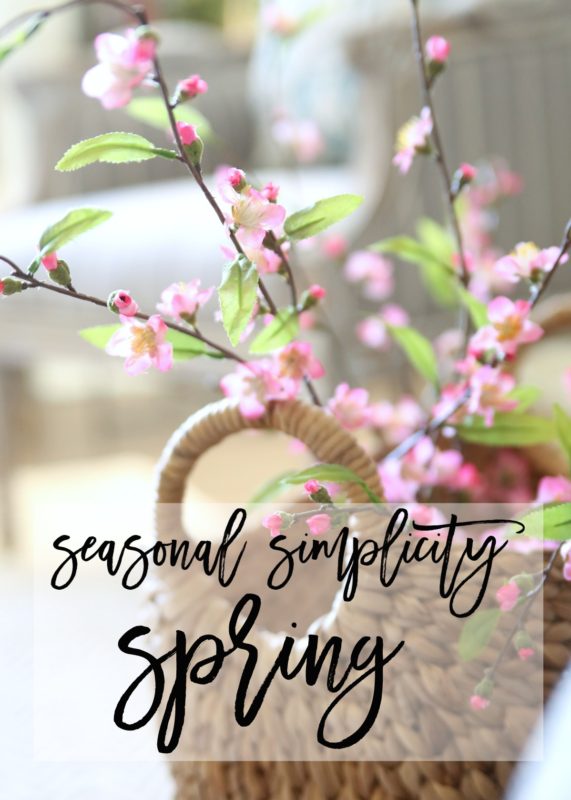 Let the spring home tour begin!
*Affiliate links are used in this post
~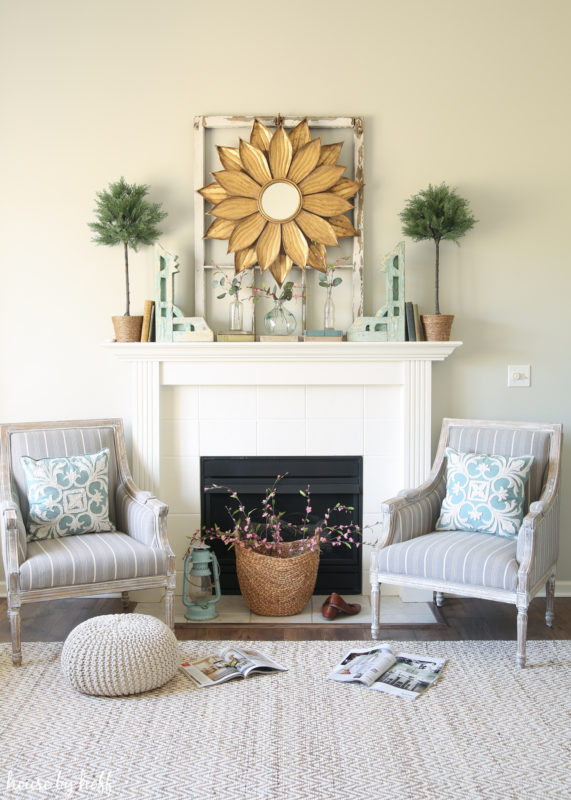 If you're a regular reader of my blog, then you know I've been struggling with choosing accent chairs for either side of my fireplace for the last month…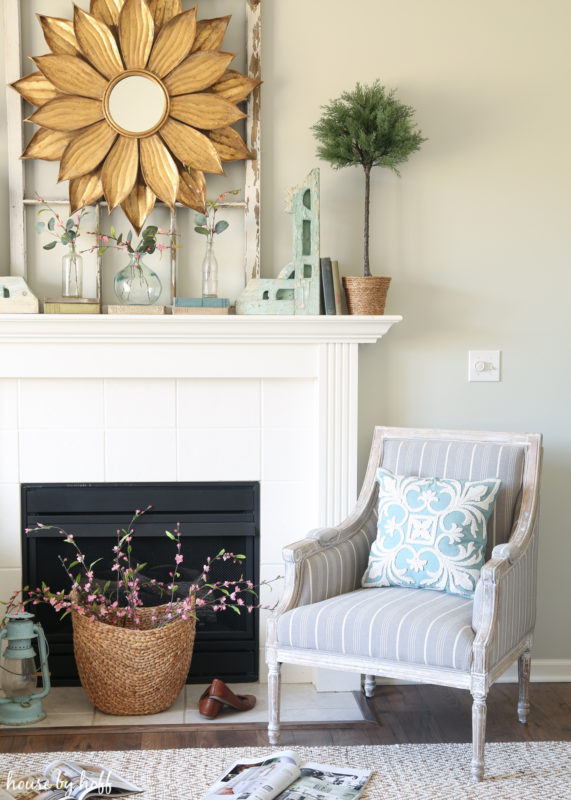 Well, I'm happy to report that it was the Charline Arm Chair from Wayfair for the win! While, initially, it wasn't really a front runner for me, the weirdest thing happened:  I went to Home Goods to see if I could find some accent chairs that were similar to some of the ones I'd been looking at online. (Frankly, I find it difficult to shop for furniture online. I must see and touch in person.) Anyway, while shopping at Home Goods I freaking saw the Charline Arm Chair from Wayfair. There it was, just perched up on a shelf waiting for me. I couldn't believe it. So I brought it home, and I knew it was meant to be. I bought the matching one from Wayfair, and done deal. #goodstory #accentchairdestiny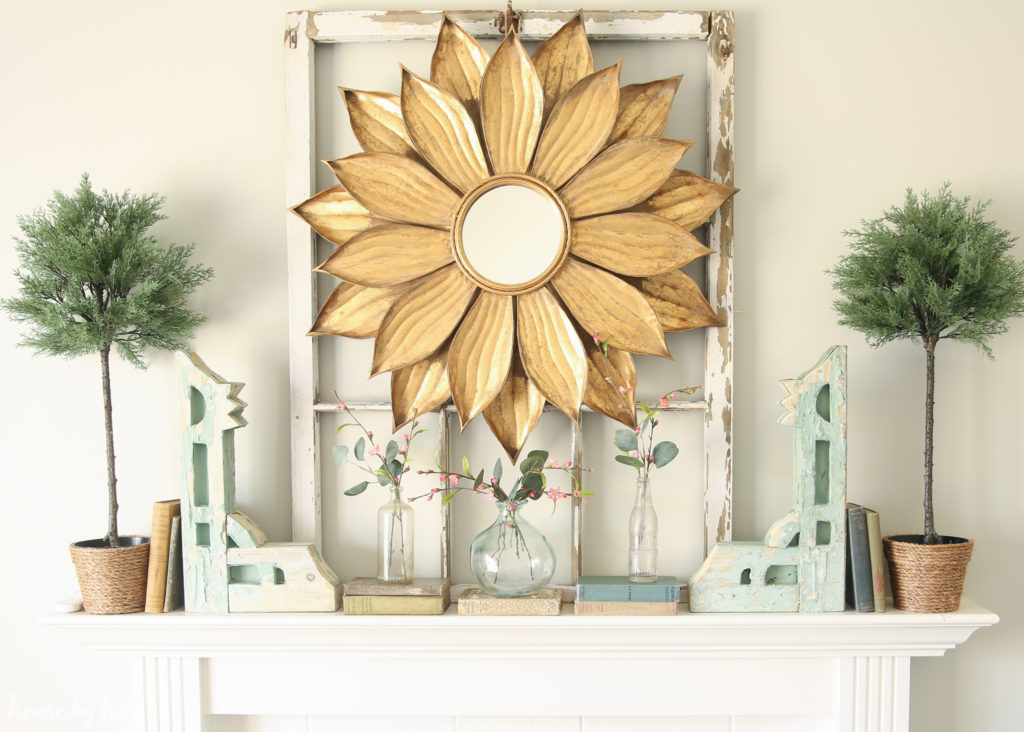 It will be tough to follow my accent chair story, but let's move along to the mantel, shall we? The simple spring decorating idea that I'd like to focus on is little vases with springs of flowers.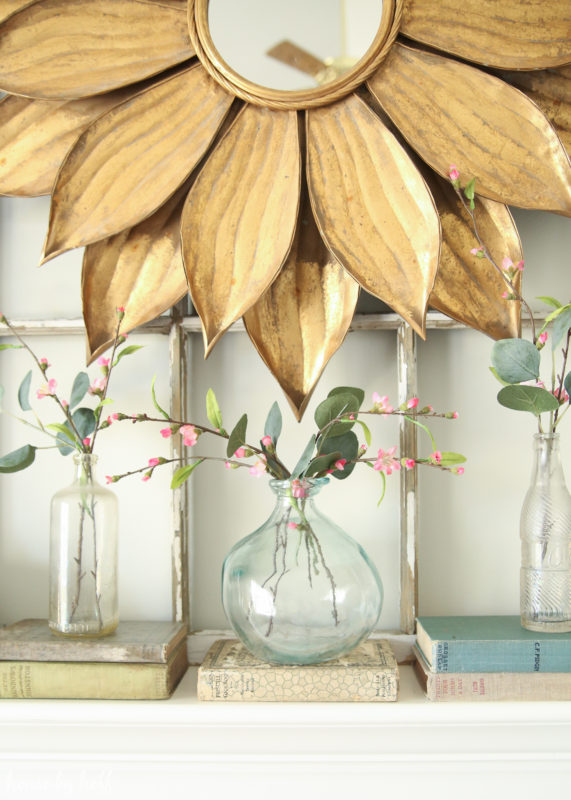 I love the idea of little vases with flowers, because you can put them absolutely anywhere. I mixed these little pink sprigs with some eucalyptus leaves, and I really love the combination. The mirror on my mantel is the Uptown Dahlia Flower Mirror.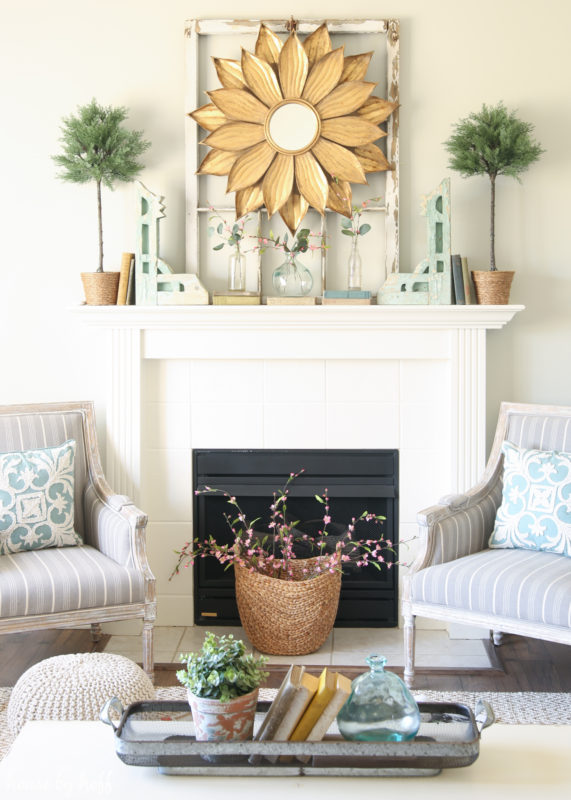 It's funny, but adding these chairs to the living room gives the entire space a more formal look. I don't consider my taste formal at all, but I do like the way the whole room has been "brought up a notch" for lack of a better description. 😉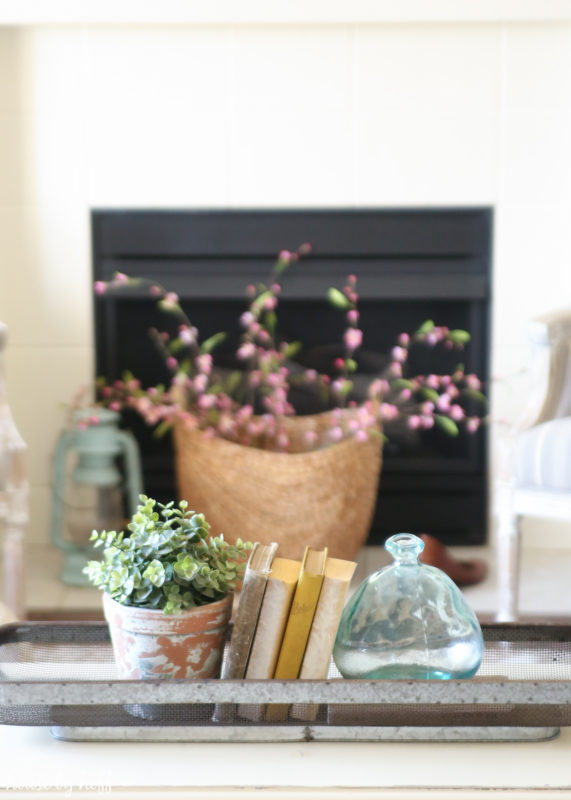 I made sure to bring in pieces that add industrial and vintage charm…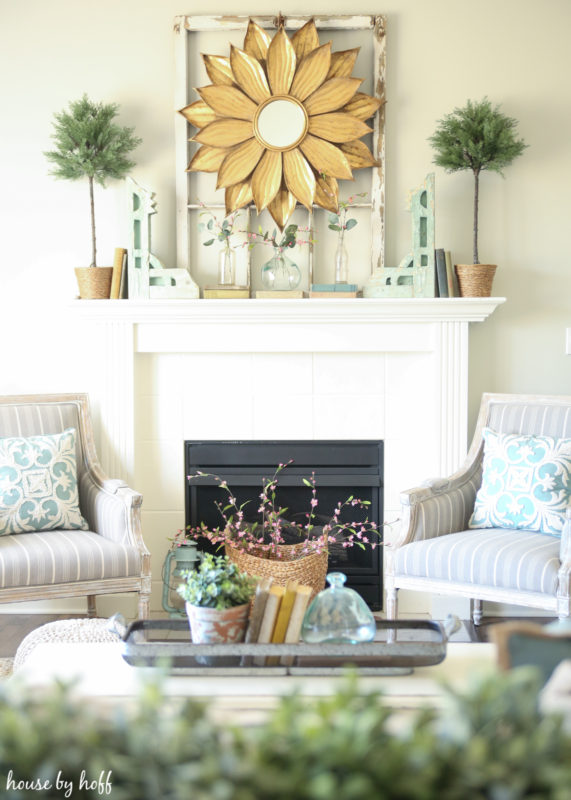 …and I think these floral stems in the basket make this living room delightfully springy. 😉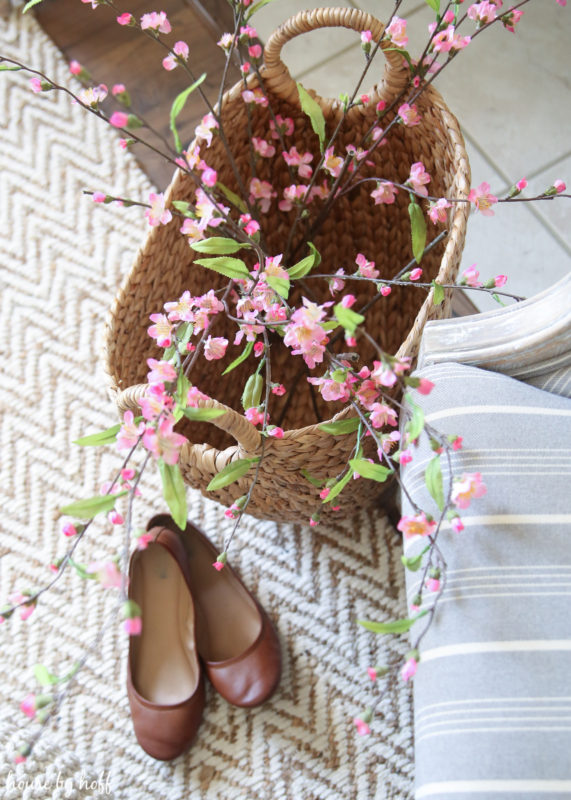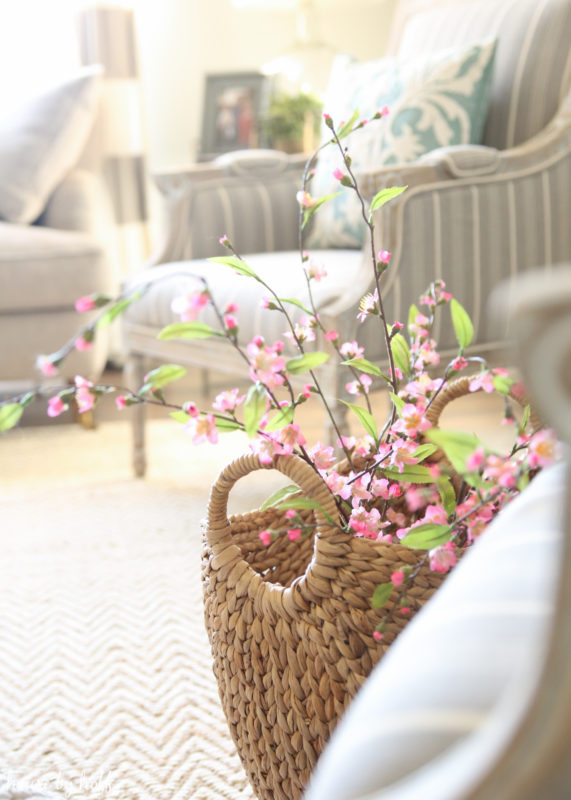 Behind the couch is our entryway, which I decorated and photographed for spring last fall…ha!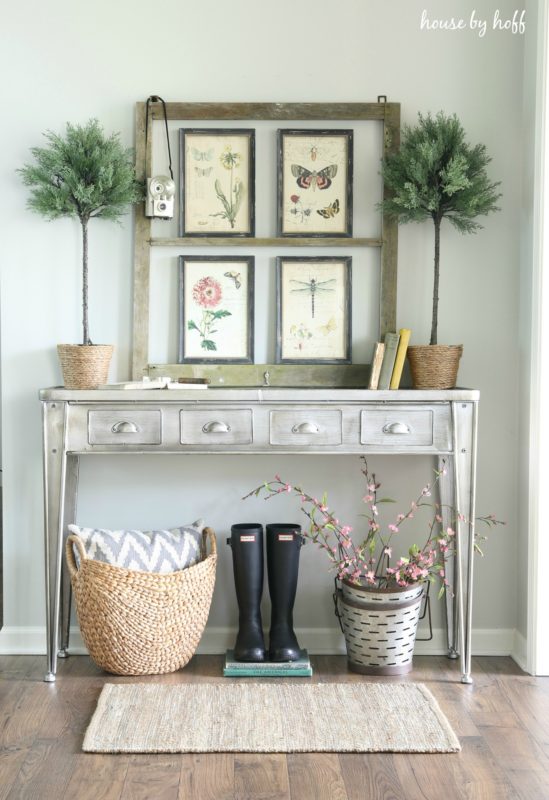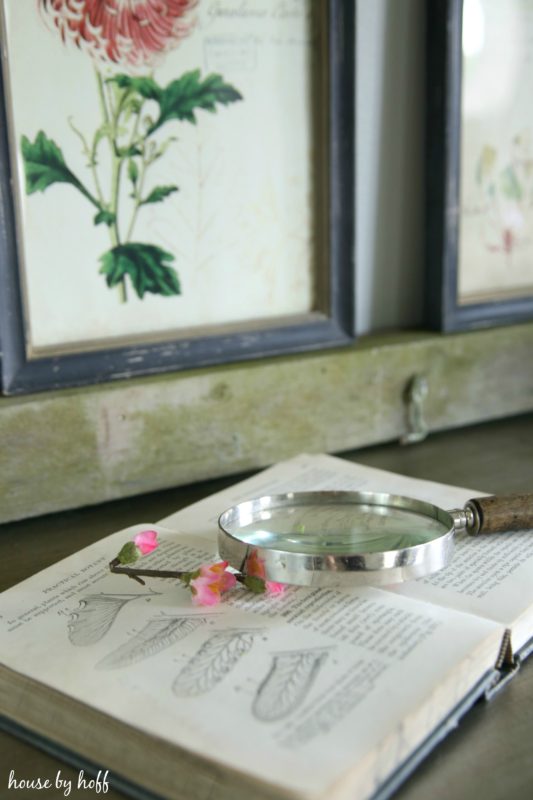 Here is a shot of the whole living room. I always have the hardest time photographing this big space in it's entirety. The enormous window is always blown way out. You can see the corner of our TV console peeking out from around the corner. I've had people ask if we have a TV in here. Yes, we do. I just don't take pictures of it. Nothing is pretty about a TV. 😉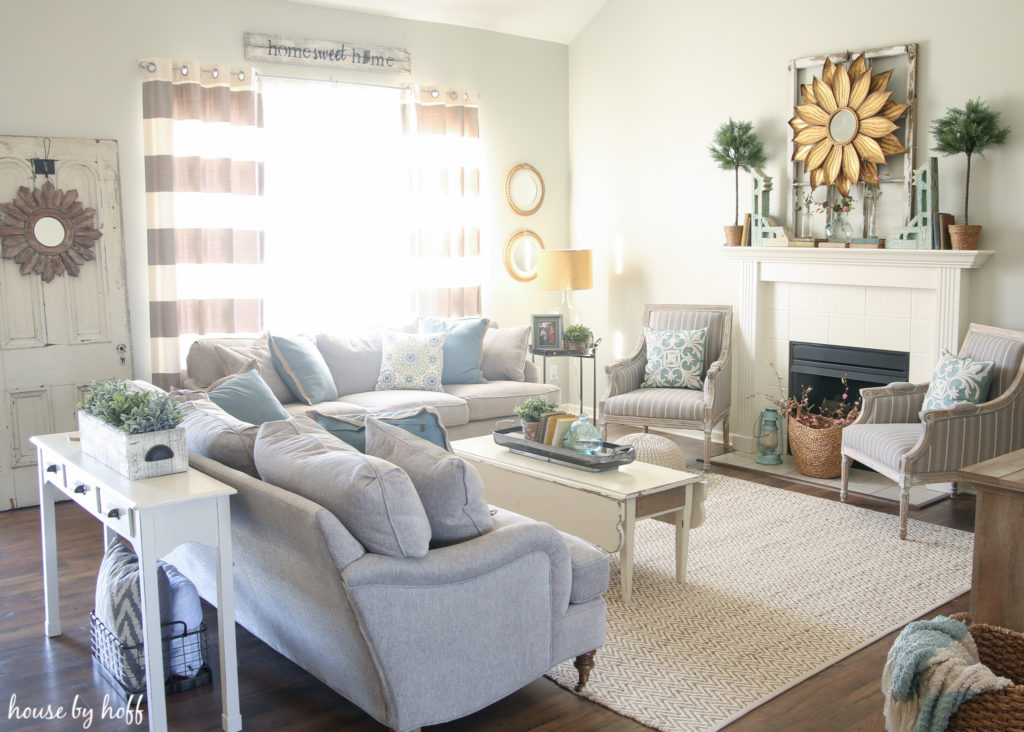 I hope you enjoyed the spring tour of our living room!


~
Now on with today's tours! Next stop is The Happy Housie! Be sure to make the rounds this week! Each of these tours is sure to be amazing!
Monday
House by Hoff / The Happy Housie / The Turquoise Home / Maison de Pax / Refresh Restyle
Tuesday
The House of Wood / Simplicity in the South / Place of My Taste / Tidy Mom / That's My Letter
Wednesday
Sincerely, Sara D. / at HOME with the barkers / Paint Me Pink / Nina Hendrick Design Co. / A Burst of Beautiful
Thursday
Just a Girl and Her Blog / Cherished Bliss / At Charlotte's House / House 214 Design / Town and Country Living
Friday
Cassie Bustamante / Robb Restyle / Erin Spain / My Fabuless Life / The Wicker House
~
Have a great day! 🙂