*This post contains affiliate links, see my full disclosure policy here. Thanks for supporting my blog!
A few weeks ago Target released Chip and Jojo's new Hearth & Hand line, and like any self-respecting home decor blogger, I checked it out right away. I ended up ordering some fun pieces to incorporate into my holiday decor, and I thought I'd share 5 Hearth & Hand pieces I'm using for the holidays with you!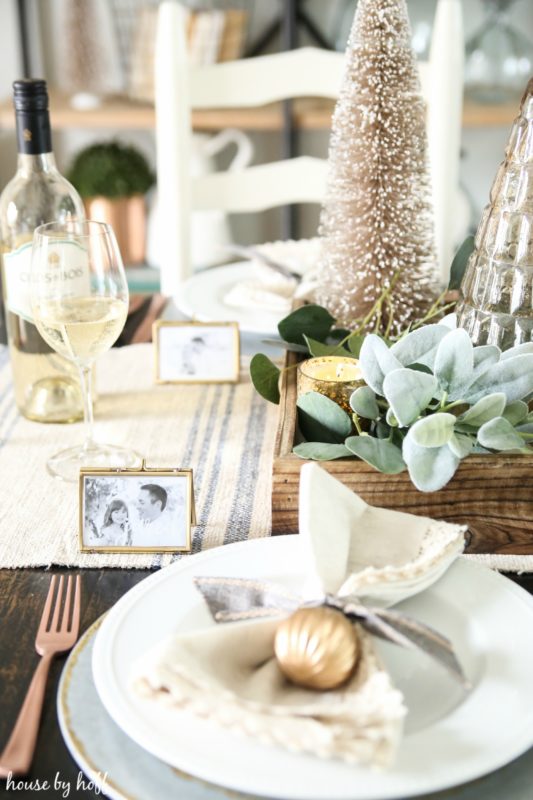 I immediately fell in love with these place card holders. I've never done place card holders on the table, and I though they'd add the perfect little gold detail to my holiday table.

My tabletop was desperately in need of some new chargers, so I snatched four of these beautiful galvanized chargers. I love the mixed-metallic look with the gold edging.

I have a thing, like a real thing for wood beads. I ordered six boxes this Beaded Wood Garland. I have it wrapped around my Christmas Tree, my garlands, and my dining room chandelier! I can't wait to show you!

My obsession with wood beads kind of lead to my next pick. I saw this image of the beads mixed with this Lamb's Ear Garland, and I was more or less convinced that I couldn't live without it. 😉

I needed a smaller wreath for a vignette in the entryway, and I'm trying out the Lamb's Ear Wreath. I'm into lamb's ear lately, and I'm really like this guy!

I seriously can't wait to start sharing more holiday pics of my house! I had a vision and a goal to decorate for the holidays without using red, and I have to say I think it came together really well! 🙂  Here are my picks from Hearth & Hand one more time, plus a few more I've been eyeing!

Have a great day!