I am sharing my March girl guide with you, full of all the beautiful items that I love!

Hi, friends! It's crazy to think that it's already March, but here we are. March always feels like the first peek of light at the end of a long winter tunnel. Here in Indiana we have many, many more weeks of blistery cold weather ahead of us, but it's so fun to start thinking about spring things! I'm so excited to be publishing my second House by Hoff Girl Guide. Just to remind you, I'm posting a girl guide on the first Friday of every month. The girl guide is a chance for me to spread my wings beyond the normal home decor posts and share all the girly things that I'm loving for my daughter and myself. Because I love clothes, and I love beauty products, and jewelry, and books, and podcasts, and the list goes on and on…and it's so fun for me to share!
Let's get to it! Whoop!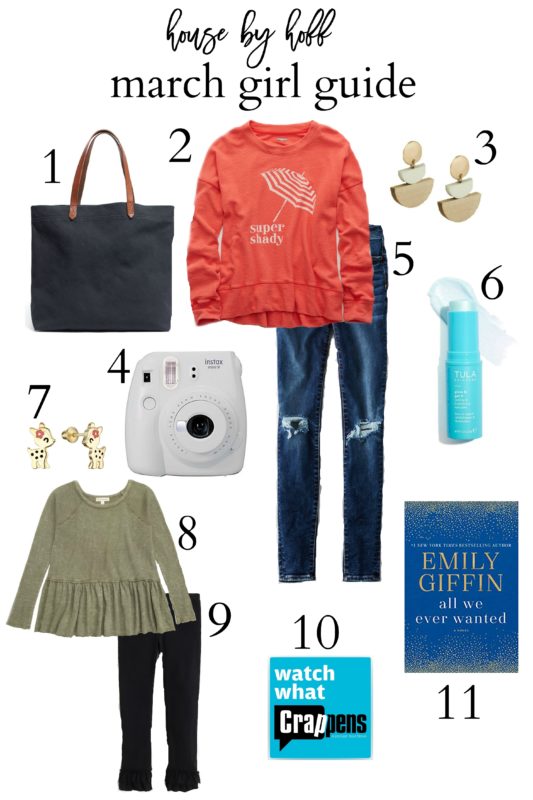 I bought this Madewell Canvas Transport Tote last summer for a few trips we were going on. I figured it would be a great airplane carry-on, and perfect for traveling in general. But I did not expect love it as much as I do.  I love it so much that I actually never switched back to my purse, and I'm still using it for every day. It's so well made, and it still looks brand spanking new, even after using it every single day for the last nine months. I'm thinking that I might go ahead and order this slightly smaller version for my every day purse. I love all the color options, but especially the British Surplus Green!
2. I have a confession: I am a very recent convert to American Eagle. For the longest time I felt weird about shopping there because it's where I used to shop in high school. I just felt like it was for a younger crowd. But, I can admit when I was wrong, and you guys; I was wrong. I have jumped onto the American Eagle bandwagon, and I'm not getting off. My most recent find is the Arie Beach Fleece. I freaking love this thing. It's like a lightweight cotton sweatshirt with the most flattering fit that is longer in the back and covers my bum. Which is a must for me. It has an over-sized, relaxed fit, which I also love. It looks so cute front tucked in jeans or dressed down with leggings. I love it so very much that after I got my "super shady" fleece, I immediately ordered this striped version. They are under $30, and I don't think I could ever have too many of these! 😉  I wear a size medium, so I'd say it's true to size.
3. These wooden tiered earrings are another adorable AE find. They are not overwhelmingly large, but make a cute statement. They'll be so fun for dressing up spring outfits! And they are LESS THAN $10!
4. A few years ago I bought a Fujifilm Instax Mini for Miss L's 3rd birthday. I set up a cute little princess photo booth at her party, and we had the best time capturing some cute shots of her with her family and friends. I bought her a little Instax Mini Photo Album to keep her birthday party pictures in, and since then it has become a yearly birthday tradition to break that little instant camera out and take pictures of her with her party guests. She absolutely loves looking at her party pictures from each year, and it's one of my favorite things we've done to preserve memories from her birthdays. If I could insert a little heart emoji right here, I would. 😉 The film can be pricey, which is why I save the camera for special occasions. She's not quite old enough yet to handle the responsibility of expensive camera film…ha!
5. I'm back to American Eagle for a minute…I warned you, I've completely jumped on the AE bandwagon! There are no words to describe how AMAZING these Super High-Waisted Jeggings are. No words. They are SO comfortable, SO flattering, SO stretchy and stylish….I could go on and on and on and on. Also I have bought many different jeans and leggings over the last few years, and spent a lot of money on them, so let me just save you the time and money and tell you to GET THESE JEANS!  I wear a size 8, and they run true to size.
6. As a generally tired person, I am always looking for some under-eye help. Last month I told you about my favorite under eye cream and energy boosting gel moisturizer. Well, this month I want to share another really awesome under-eye product. It's a glowing and cooling under eye balm by Tula that feels so good to apply and gives you a glowy under eye. It can be applied over makeup, and I love to use it in the middle of the day for a little pick me up. It feels very cooling on my skin, and it really makes me look and feel refreshed.
7. When Miss L turned six she got her ears pierced for her birthday. She has sensitive ears, and I'm kind of picky about what kind of earrings she wears. I remember my ears getting so itchy and irritated when I was little, and I'm trying to avoid that with her. I found these super cute little deer earrings on Amazon. I've since ordered many sterling silver pairs of earrings for her on Amazon, and they have never irritated her ears. The little deer are my faves though!
8. Recently I've picked up a few pieces for Miss L that she can wear now, but that can also transition us into spring. This Tucker + Tate Ruffled Thermal Tunic is both her and my favorite piece.It is absolutely adorable, and looks so cute paired with some leggings. She loves to throw on her little jean jacket over the top. She's a budding little fashionista, and this little tunic is something that we're both in love with!
9. Speaking of little fashionista; I've been dressing her in Matilda Jane for years, (feel how you want about MJ…I happen to love it) 😉  but she's starting to prefer a more "big girl" look. I found these Everyday Leggings with Ruffles that give her the older-girl look she wants, but still has a little bit of ruffle for Momma. They are so reasonably priced, and will transition into spring so nicely!
10. One of my VERY FAVORITE podcasts to listen to is the Watch What Crappens podcasts hosted by Ben Mandelker and Ronnie Karam. These two recap all of the Real Housewives, Vanderpump Rules, and Below Deck episodes, and are so hilarious whilst they do it. They have me laughing out loud while I'm working on posts and listening to their impressions of the various housewives. If you're into Bravo TV, then you'll love this podcast!
11. I just finished reading a really great book, All We Ever Wanted by Emily Giffin. It was a real page-turner with suspense that also tugged on my heartstrings. I don't want to give anything away, but it was about a woman who's high-school son victimized a female classmate and the fallout that came after. It had me thinking about my own morality, and if I'd be strong enough to handle a tough situation involving my child. It's one of those books that sticks with you, teaches you, and makes you a more empathetic person….but was also extremely entertaining and exciting.
That wraps up my March Girl Guide! I hope you enjoyed it! Have a great day!