I have put together a girl guide for the month of April! If you need a girly gift or just a little present for yourself, you wont want to miss these items!

It's the first Friday of the month, and that means it's time for the monthly House by Hoff Girl Guide! This is quickly becoming one of my favorite posts to put together. It's fun for me to combine all of the latest feminine things I love and share them with you! My April girl guide is all about that transition into Spring as the weather warms up and I'm thinking about Easter and springtime!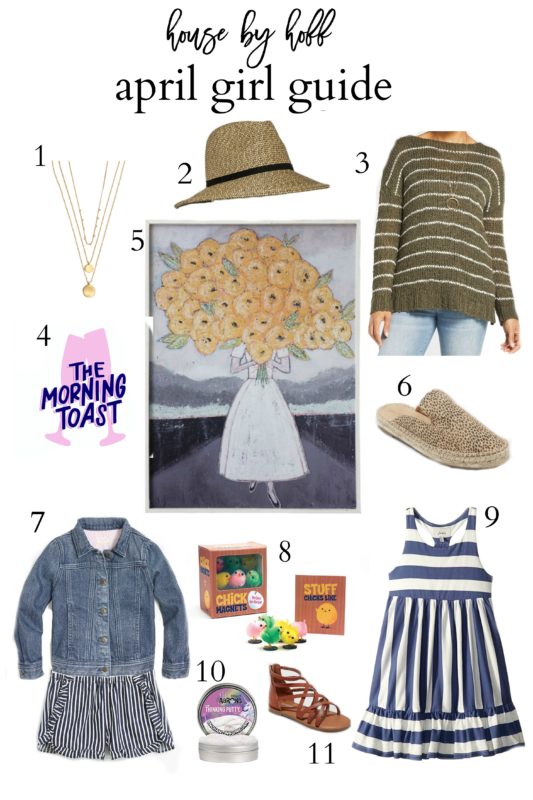 I am a big fan of the layered delicate jewelry I am seeing everywhere, but layering jewelry is an art that I have not yet mastered. That's why I love this Madewell Coin Layered Necklace set. Basically, it's a set of three necklaces that layer beautifully. I have not worn all three at once, but I love putting together different combos depending on the neckline of the outfit I'm wearing. They are so easy to dress up or down, and they look so pretty with everything! I am a big fan of Madewell as a brand, and the quality of these necklaces do not disappoint!
2. I have a trip coming up at the end of the month, and it's pretty standard for me to get a new beach/vacation hat about once a year. I never really spend too much money on these hats, and this Downbrim Panama Hat from Target is perfect for upcoming travel. It's cute, inexpensive, and looks perfect for keeping my face in the shade. I love to wear these hats with cute summer dresses, or with my favorite jeans and a simple tee.
3. I have a little bit of an addiction to Evereve. Have you heard of it? It's my absolute favorite store and a must-stop every time I'm down in Indy. Basically it's very stylish, high-quality clothing curated with the "mom lifestyle" in mind. Each store even has a really cute play area for kids, which is SO nice when you just want to browse without having to pull your kid out from under the racks of clothing every five minutes…can I get an amen?! Last time I was down in Indy, I stopped into Evereve and picked up this beautiful striped sweater. It was a bit of a splurge, but I know I will wear the heck out of it. It's got a cute cutout in the back and looks great with a Free People Bralette peaking out. I wore this sweater with a cute jacket similar to this one and my layered necklaces for my birthday dinner date with Mr. Hoff last week, and it was perfect, if I do say so myself! 😉
4. It's time for me to profess my love for my newest favorite podcast. The Morning Toast is a daily podcast (and Youtube show) hosted by sisters Claudia and Jackie Oshry. They begin each episode with,  "Goooooooooooood morning, Millennials!" and keep us updated on all of the latest news and celebrity gossip. Even though I'm on the very fringe of being considered a "millennial,"  I totally enjoy it and get a kick out this duo. They are truly hilarious and entertaining, and they get me started on the right foot each morning!
5. On my shortlist of things to GET DONE ALREADY, is to shoot and post my completely completed mudroom makeover. Until then, let me share this gorgeous piece of artwork I have hanging in there. It is the first thing you see when you walk into our beautiful new mudroom from the garage, and it hits the perfect, "welcome home" note. I love the colors, the moody (and yet somehow cheery…?) vibe, the pop of yellow against the grays and blues, I could go on and on. I just LOVE this piece. For my local friends, we carry it at The Bent Fork (which is a local boutique I work at, and pick out home decor for.) 😉
6. I love leopard print, and I especially love it on a shoe. I ordered these leopard mules from Target, and I freaking love them. They are so cute and comfortable, and I can't wait to pair them with everything as the weather gets warmer.
7. One of my favorite places to shop for my girl is J. Crew and J. Crew Factory. The prices are reasonable, the clothes are classic and cute, and they always seem to have plenty of options that both she and I love. I've been a big fan of their girls' shorts for years, and this spring I snagged these striped ruffled shorts on sale. They'll be perfect for spring and summer, and they look so cute with her little jean jacket. Some of my other favorite girls shorts that I order every year are these and these.
8. I've got Easter baskets on the brain, so I thought I'd share a few of the fun things I plan on putting in Miss L's basket this year. These Chick Magnets are cute, fuzzy, colorful, and right up her alley.
9. Speaking of Easter, I always feel like Miss L needs a cute Easter dress to wear for the occasion. I found this adorable striped dress by Joules at a little boutique, and it had to come home with me. I am just a sucker for blue and white stripes! 😉  It's a soft cotton and will be really comfortable for her. I think she'll looks so cute wearing it with her jean jacket and brown sandals.
10. Another Easter Basket must-have is this Unicorn Thinking Putty. I like this stuff because it gives her a "slime fix" without actually having to do the whole slime thing. If you have an elementary-aged girl in your life, then you know the slime craze is no joke. They love their slime. As much as my girl loves slime, I can't get it out of our house fast enough…sorry…it's just how I am. Like I said, the Thinking Putty seems to be a less-mess solution that she still loves.
11. Last, but not least, it seems like I always grab Miss L. some new gladiator sandals this time of year. They always look cute with Easter dresses and then carry us through the summer for dressier occasions. I grabbed these brown Lilith Sandals from Target, and she seems very pleased with them. They'll go with everything, so I'm happy. 😉
I hope you enjoyed this month's girl guide, and maybe found a few new ideas for April! xo