Here are some beautiful inspiration photos of a neighbors home remodeling that is full of ideas!

Today's post feels like a breath of fresh air.  A few weeks ago I got to photograph someone's house other than my own! 😉  Our neighbors down the street just completed a whole-home renovation that lasted about six months.  The results are drastic and beautiful, and I thought it would be both fun and inspiring to share their home remodeling ideas with you on the blog!
Our small, quiet neighborhood sits just outside of town.  Most of the homes were built in the late 90s when orange-oak finishes and brassy fixtures were ruling the land.  When our neighbors bought their home back in September, this is what it looked like: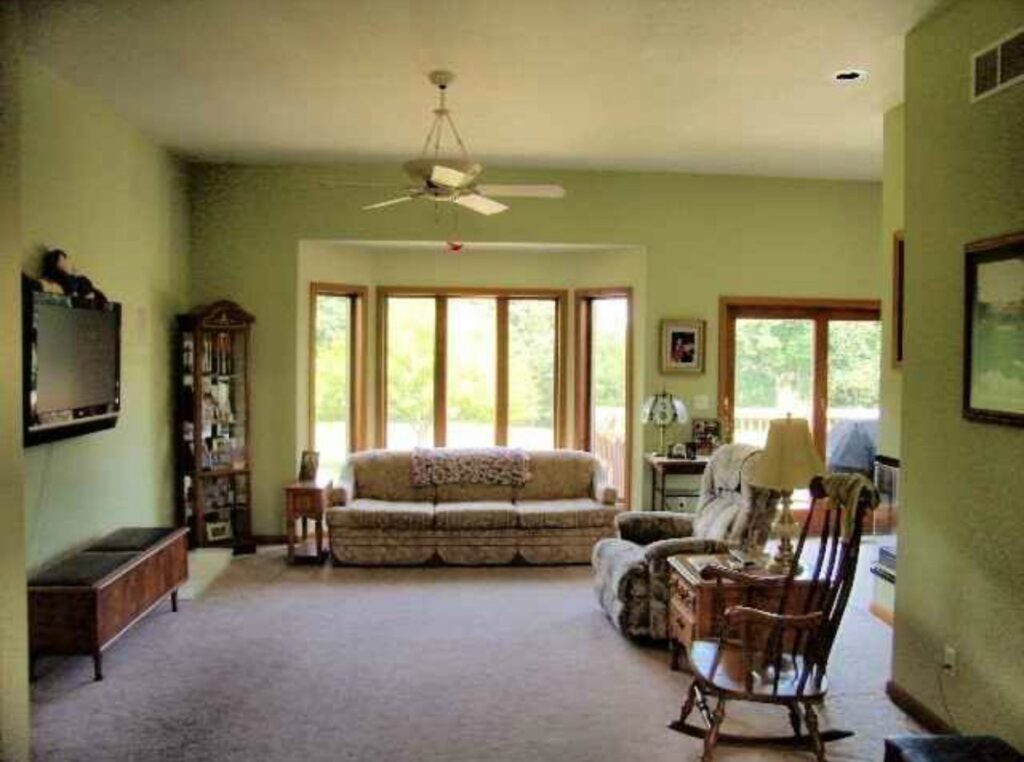 These photos remind me so much of what our house looked like when we moved in.  Dated cabinets and appliances, awful linoleum kitchen flooring, and white carpet.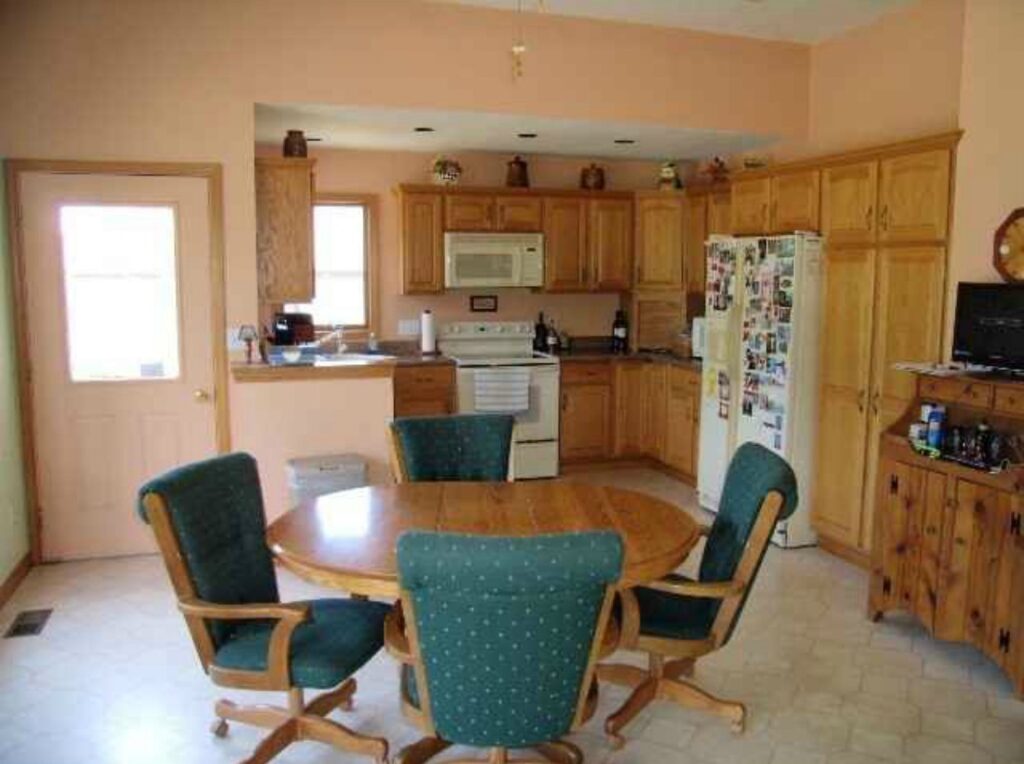 Home Remodeling Ideas
These after shots of the house are so different, aren't they?!  The calming white interior with soothing neutrals throughout are stunning!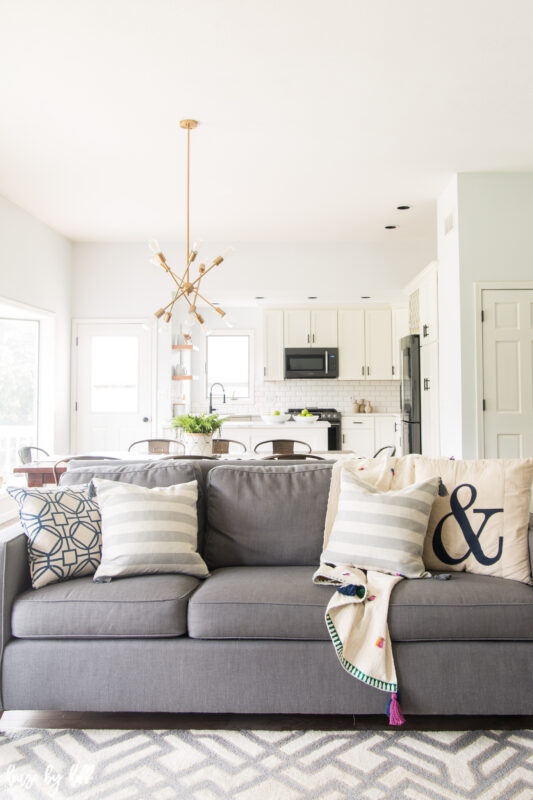 The biggest change in the front area of the home is the removal of two walls that separated the living area from the kitchen and eating area.  The entire front of the home is now open, bright, and airy.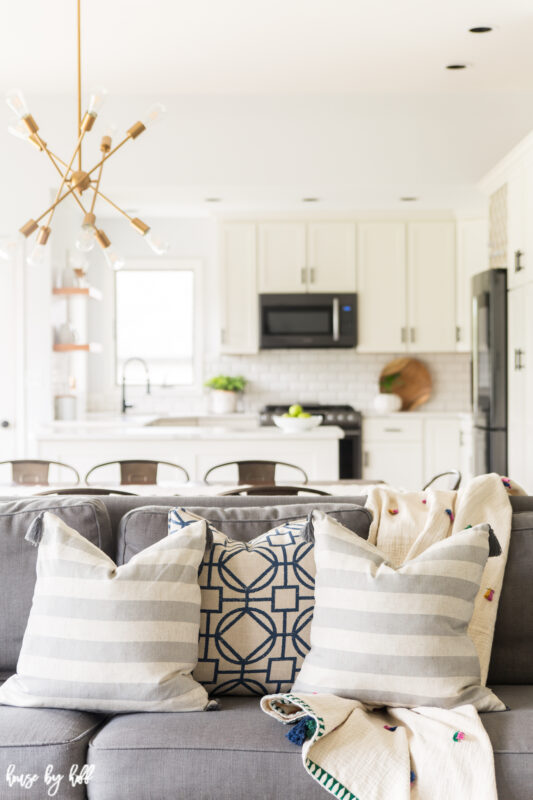 The sight line from the neutral living room to the kitchen is gorgeous!  I love how my neighbors chose an almost completely all white palette.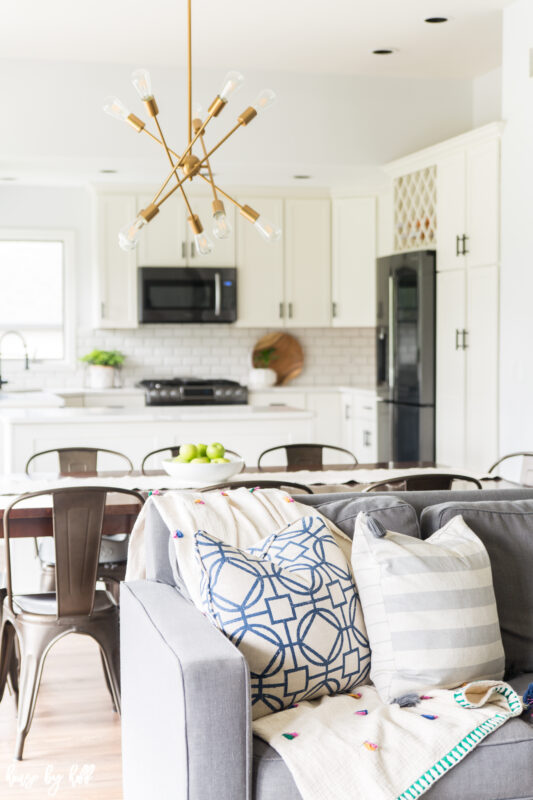 Their use of this modern chandelier over their dining table adds style and modern character to the space.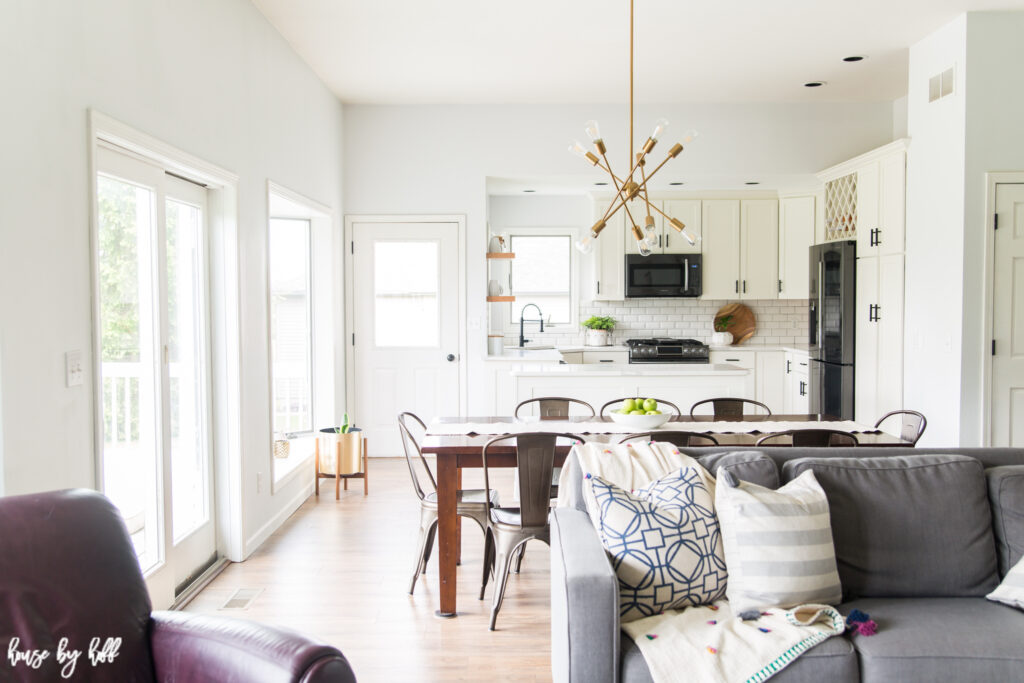 The wall color is Sherwin William's Rhinestone.  It is ever so slightly gray, while the trim and cabinets are Sherwin William's Alabaster.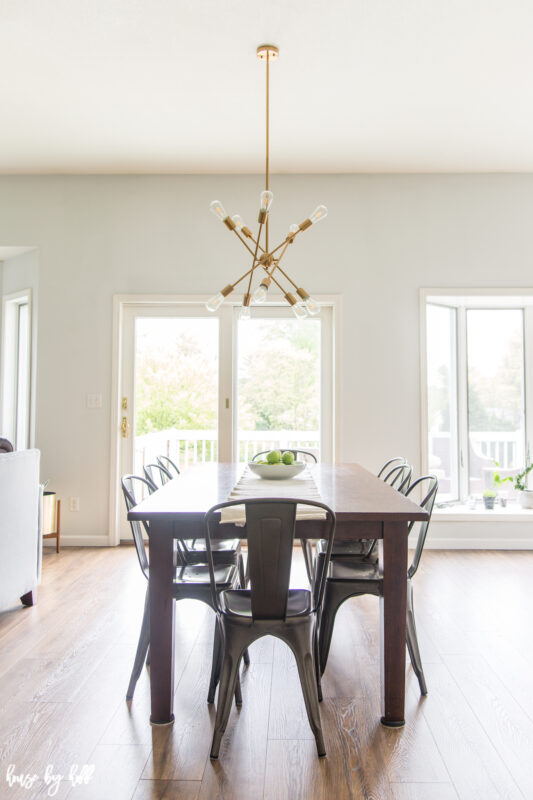 They've styled their home minimally with simple touches for an open kid-friendly space.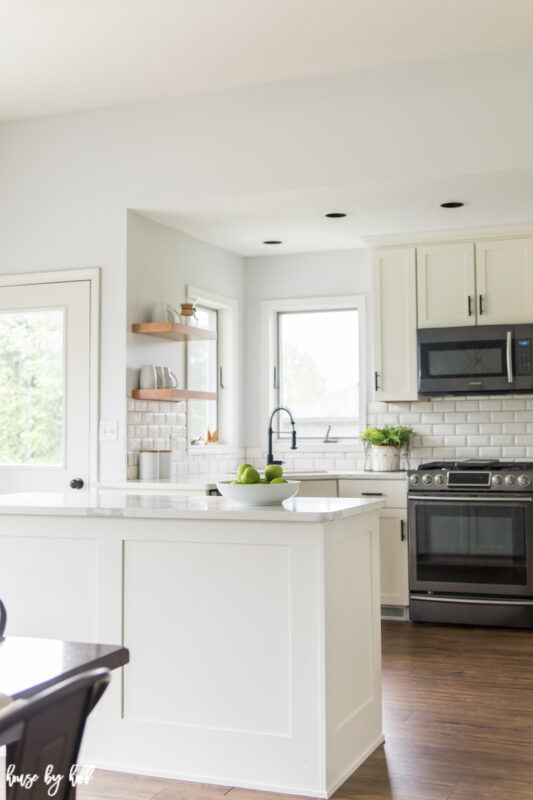 One of my favorite spaces in their home is the kitchen!  I adore the all-white kitchen and gorgeous subway tile back splash!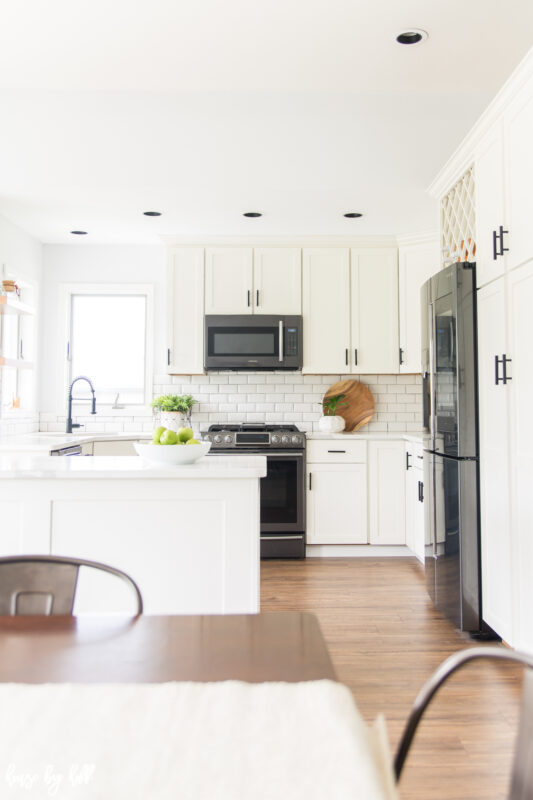 A misconception about white kitchens is that they look sterile.  By adding plants and warm wood-toned accessories, I think the results are anything but boring!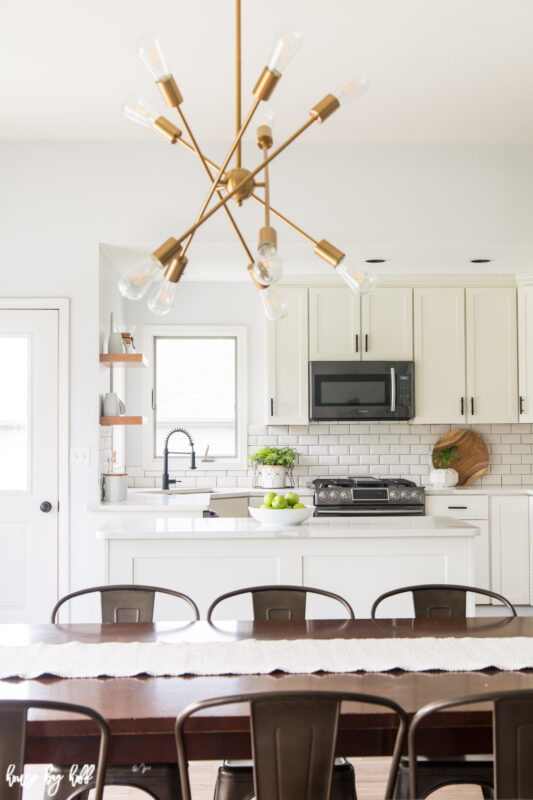 The bold marbling in this white quartz counter top give the kitchen a modern feel.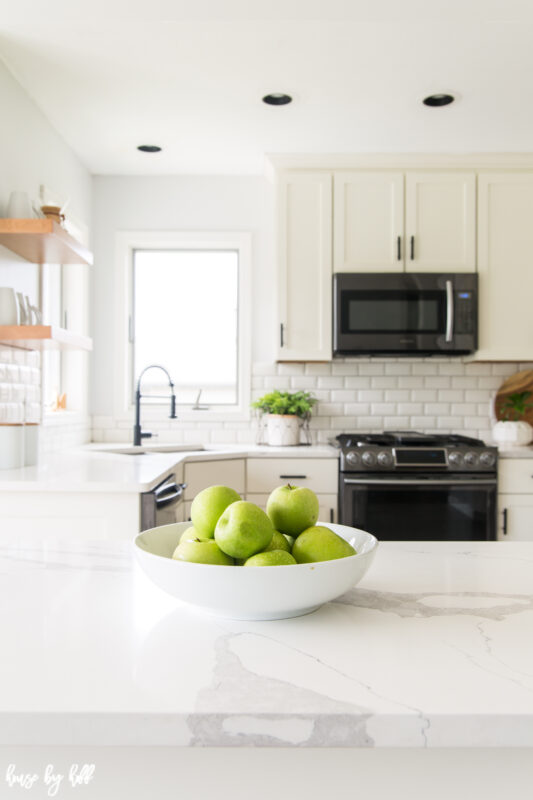 I'm such a sucker for white subway tile with black or dark gray grout!  It's such a bold, clean look!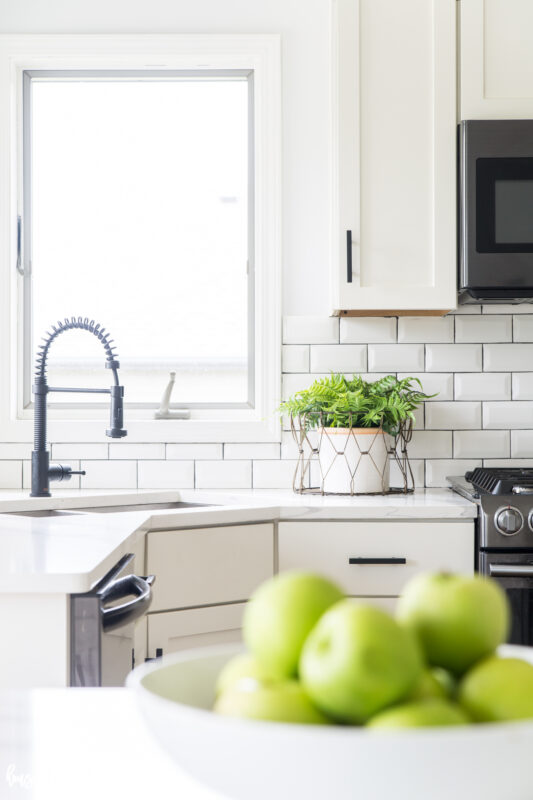 White cabinets with black hardware is a timeless look.  Similar faucet found here.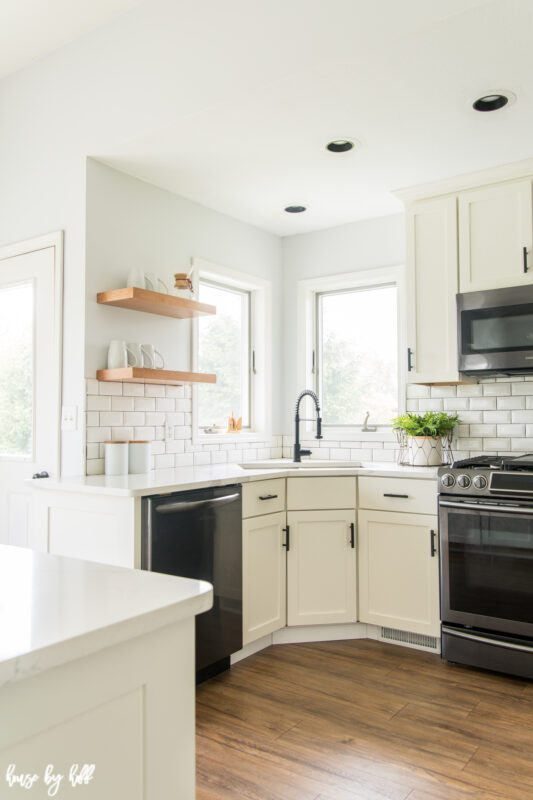 One of my favorite home remodeling ideas is to remove upper cabinets and replace them with open shelving.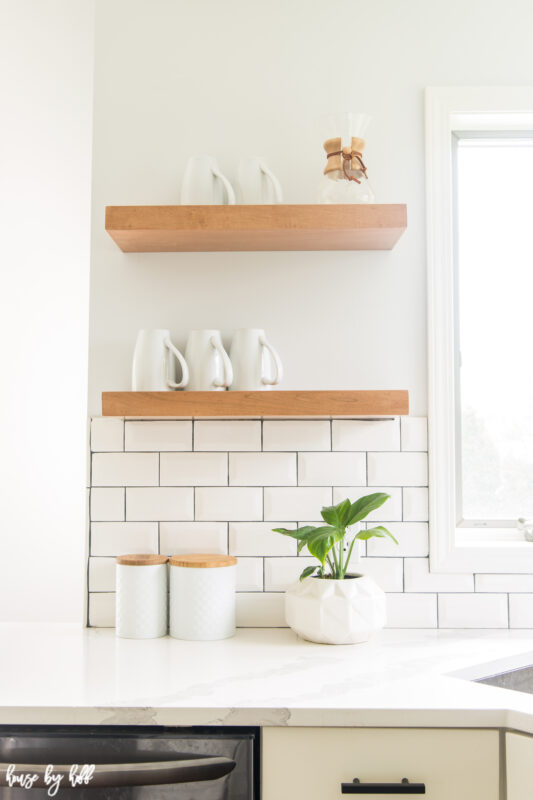 Instead of doing a lot of open shelving, my neighbors simply replaced one set of cabinets with floating shelves. I love it!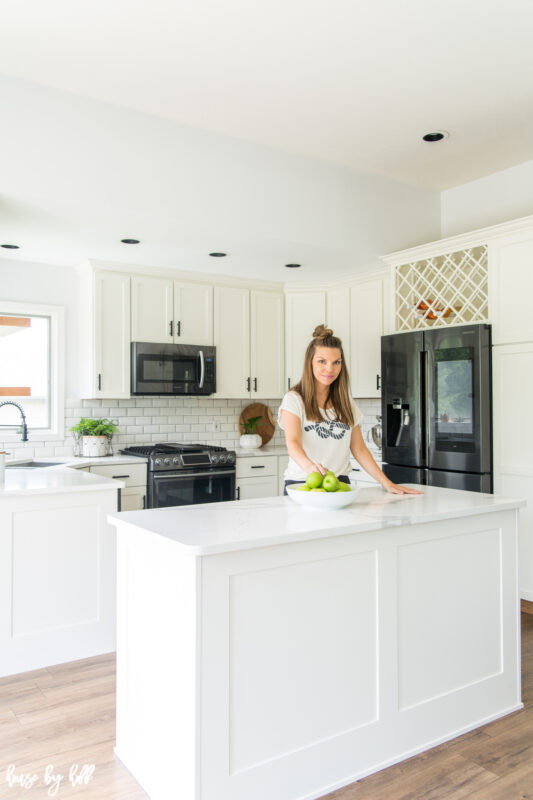 Here is my pretty neighbor in her pretty new kitchen! 🙂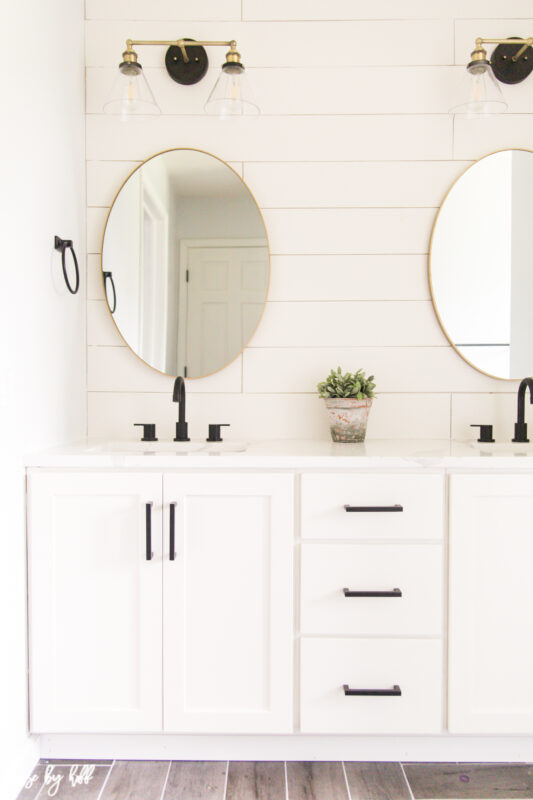 Another space that they remodeled was this Jack and Jill bathroom between their kids' rooms.  They opted for a shiplap wall with gorgeous brass light fixtures and round mirrors.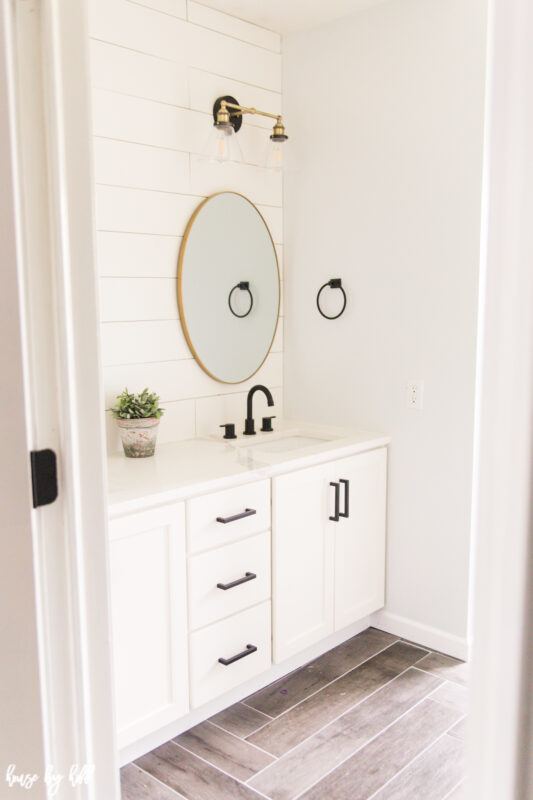 I love the simplicity of the white cabinets, white counter tops, and black hardware.  Similar light fixtures found here.  Similar flooring found here.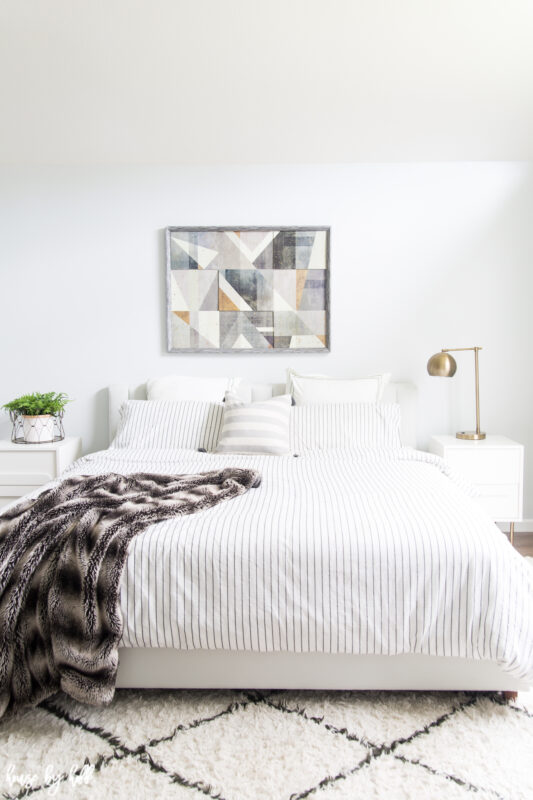 Their master bedroom needed fresh paint and new flooring.  They also removed a rather strange closet that protruded out and collected dust on top.  (Not sure I'm explaining it well, but trust me, it needed to go!) 😉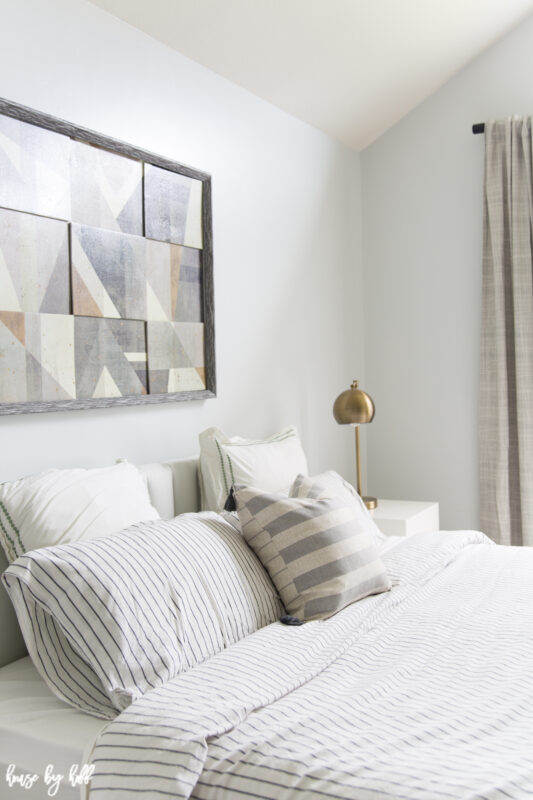 The master bath is so pretty, and the chevron tile flooring is a showstopper!  Similar flooring found here.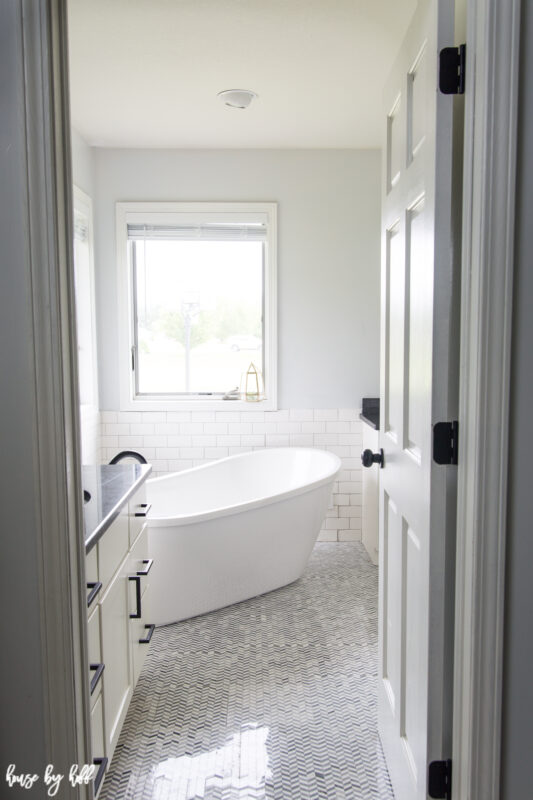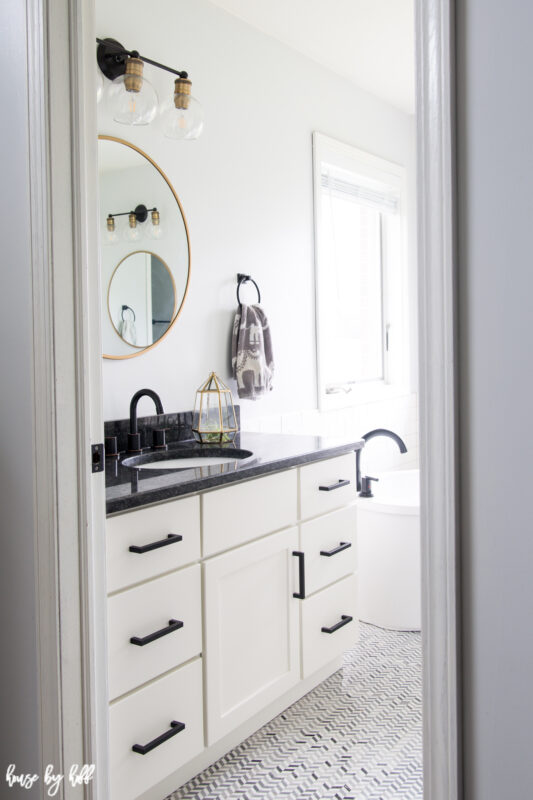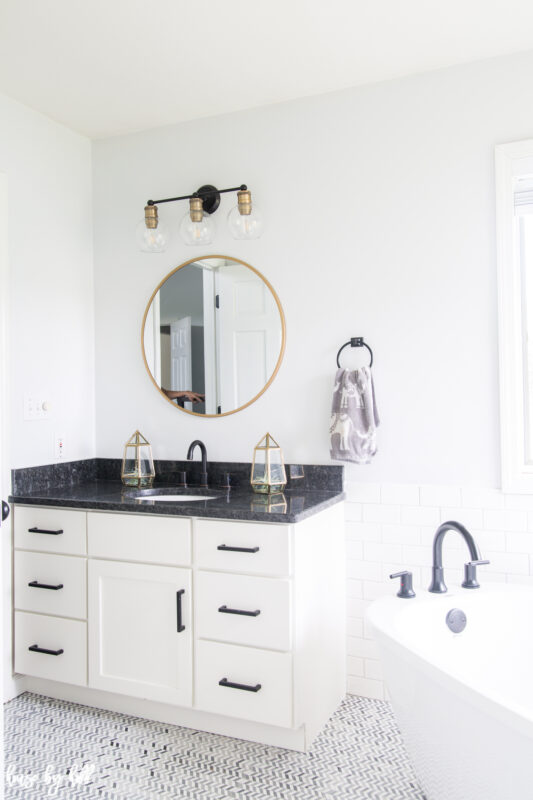 Isn't this bathroom a dream?  I'd love to do a similar tub in our master bath when we finally renovate our bathroom!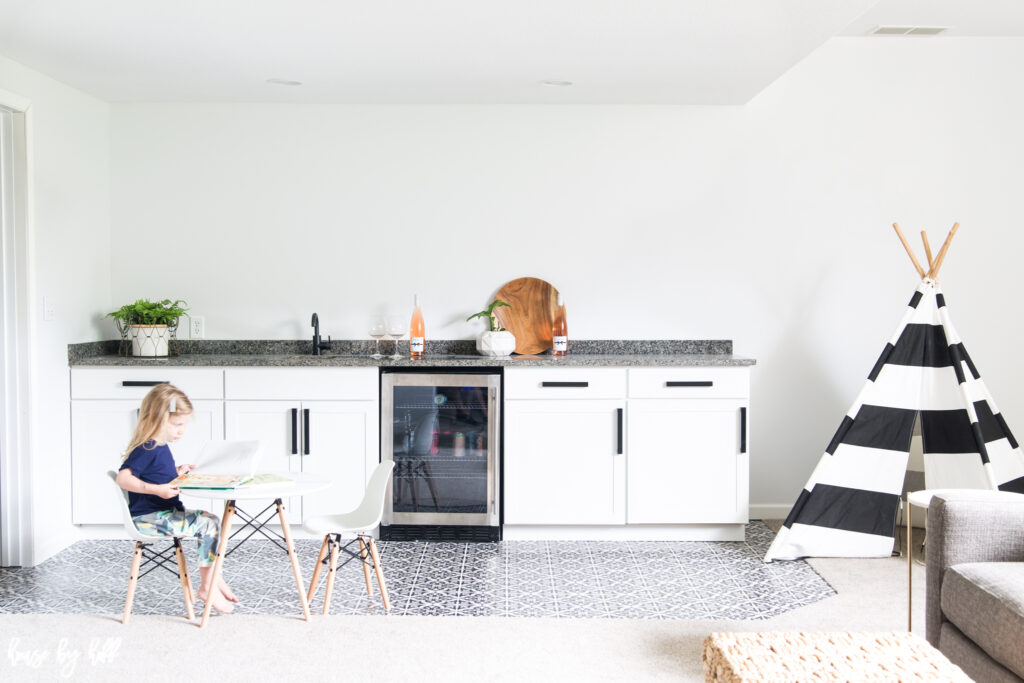 The basement is another amazing space!  My neighbors completely finished the basement and added a really cool bar/kitchenette area.  It's so stylish and simple, and I just love it!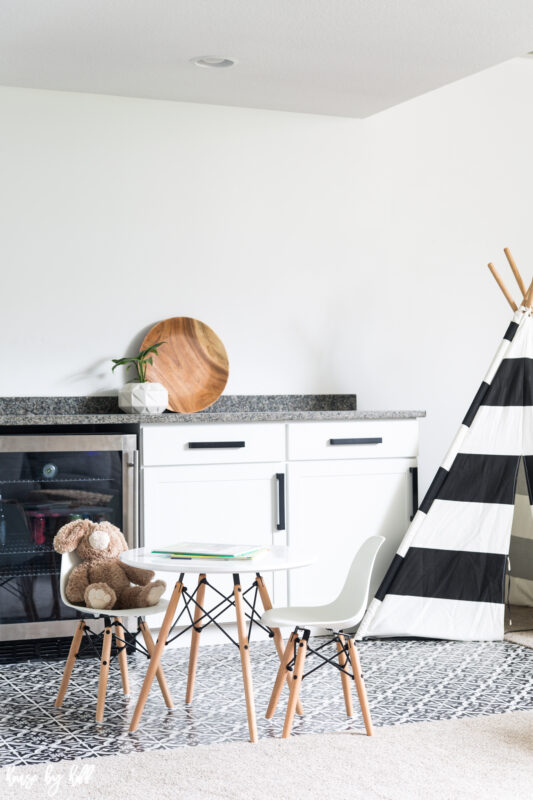 So, what do you think?!  Pretty awesome, right?
I've sourced items and finishes that are very similar to what they used in their home renovation below.


If you love these ideas, make sure to pin this post for later!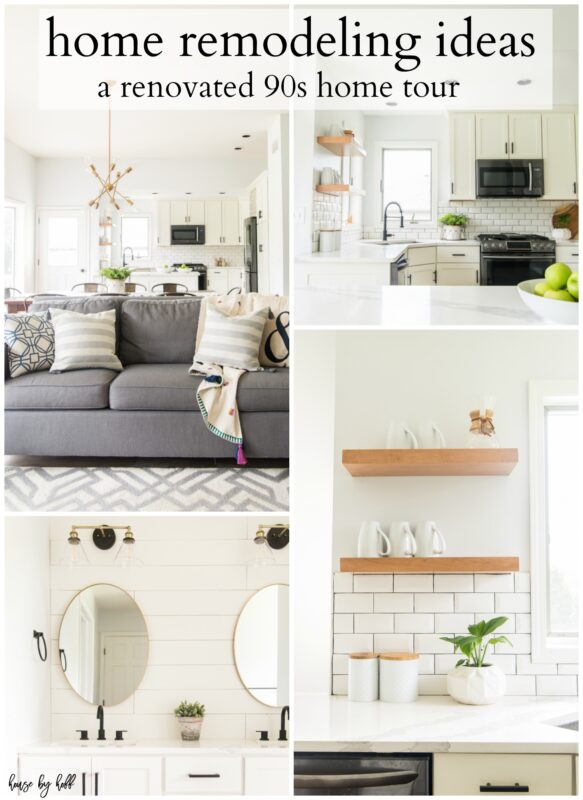 Have a great day!