Hey, there friends!  It's my September Girl Guide, and I'm so excited to get this one out!  It's got so many fun, feminine finds for grown up and little girls alike!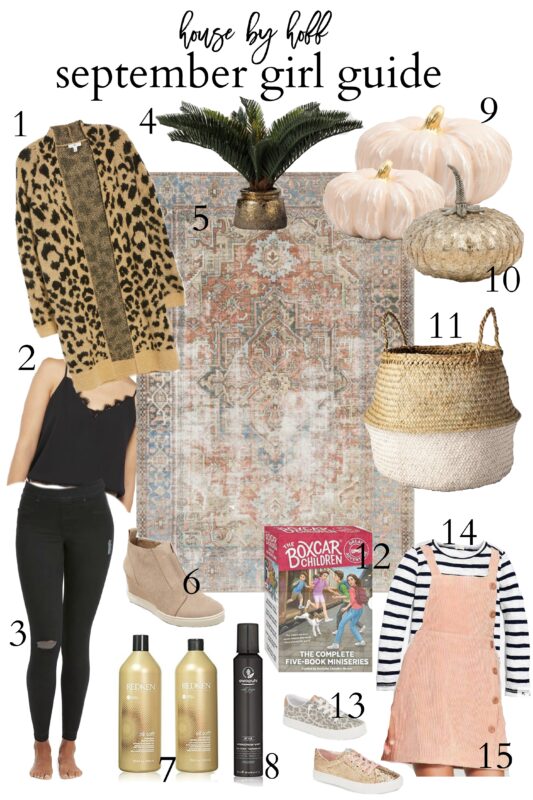 1 (similar here, here, and here) /  2  /  3  /  4  /  5  /  6  /  7  /  8  /  9  /  10  /  11  /  12  /  13  / 14  /  15
 This leopard cardigan is so cute!!!  It keeps going in and out of stock, so I've found similar options here and here and here.  It looks so good styled in so many ways, and you can really dress it up or down.  I'm truly obsessed!  🙂 I'm wearing a size small.
I've been eyeing some fancier camisoles lately and finally ordered this lace trim cami from one of my favorite clothing stores, Evereve.  It's the perfect layering piece and is so feminine and pretty!  I like it front tucked into my jeans and under a long cardi or my favorite military jacket.  I'm wearing a size medium.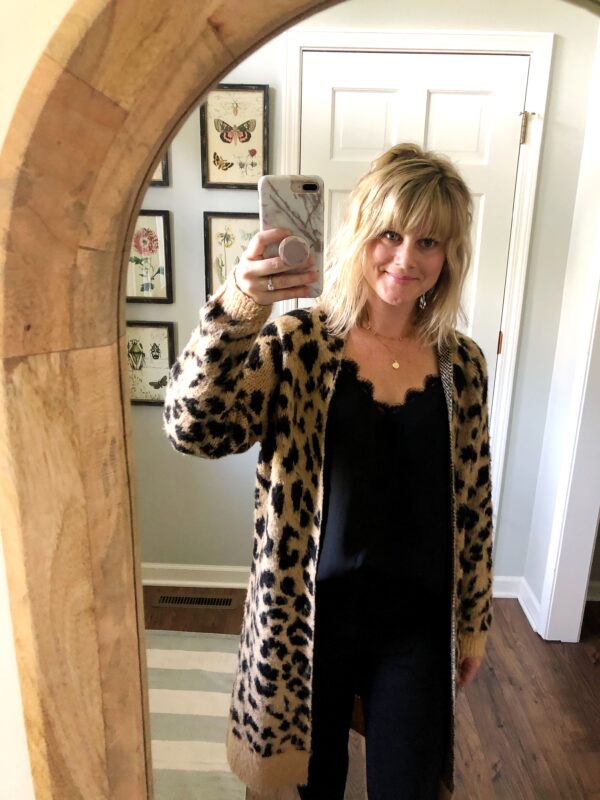 Leopard Cardi (similar here and here and here) / Lace Trim Camisole  / Spanx Jeggings / Necklace
3.  Let's take a moment to talk about my Spanx Jeggings.  Man, I love these things!!!  They suck me right in, hold me so tight, and make me feel skinny….they really do!!  As fall approaches, and the temps are dropping, I find myself reaching for these jeggings more and more.  They're another versatile piece that you can dress up with booties for fall, or dress down with sneakers and a tee.  LOVE them!  I'm wearing a size large (I always size up with Spanx!!!)
Here are my Spanx Jeggings styled four ways: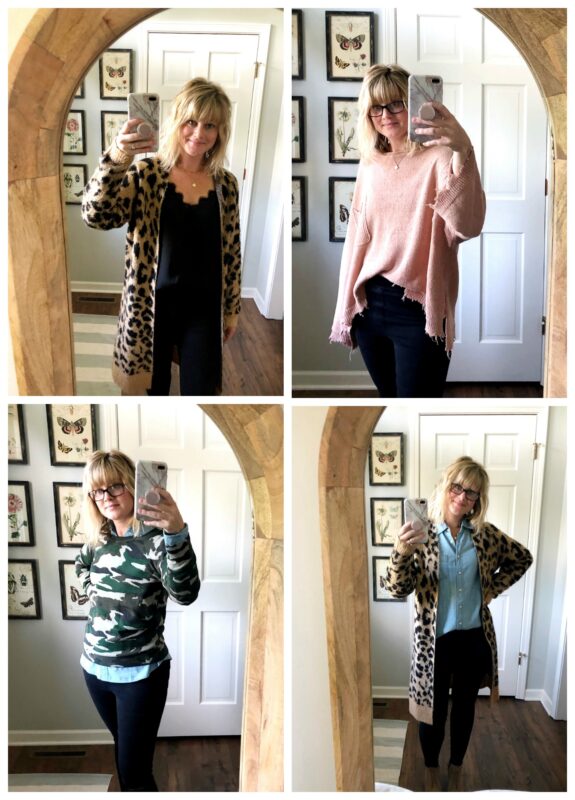 Leopard Cardigan (similar here and here)  /  Lace Trim Cami  /  Peach Fringe Pullover  / Chambray Shirt  /  Camo Sweater  /  Spanx Jeggings
4.  My decor hasn't changed significantly for fall, but I did add two of these tropical palms in gold pots to my fall vignettes.  The color of the leaves are so pretty, and something about that distressed gold pot got me.  It got me good.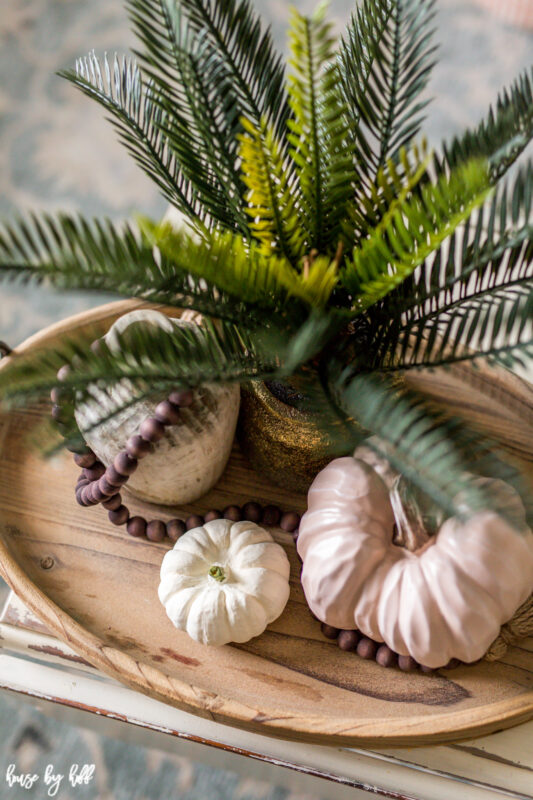 5.  Another recent addition to the decor are these Vintage Terra Cotta Rugs in my kitchen and eating area.  (I am using the 2'3″ x 3'9″ in front of my sink and in front of our sliding doors.)  I've mentioned in my posts this fall that pink is my new color decor muse, and these rugs pull just the perfect pinkish/terra cotta tone.  They are absolutely gorgeous and durable, and they're the perfect way to add a little punch of color to your space.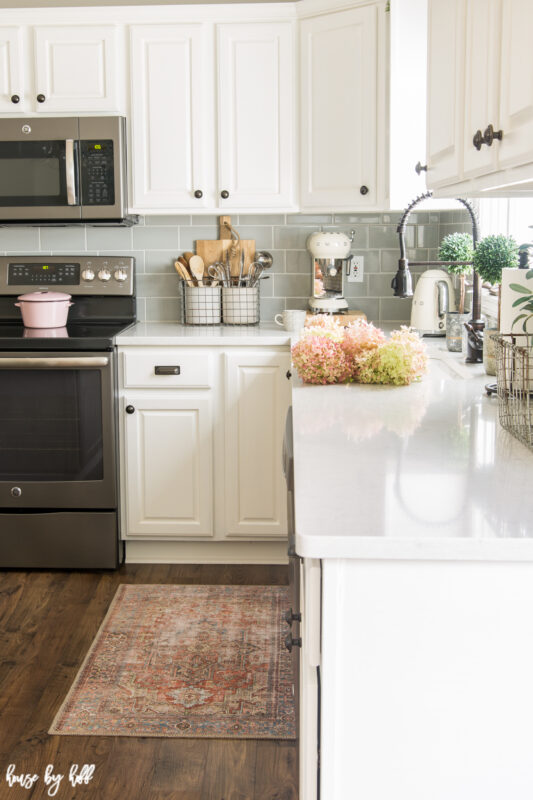 6.  On my last venture to Target I picked up a few pairs of shoes to try for fall.  The winners ended up being these Micorsuede Wedge Sneakers!  They are very comfortable and look great with leggings and jeans!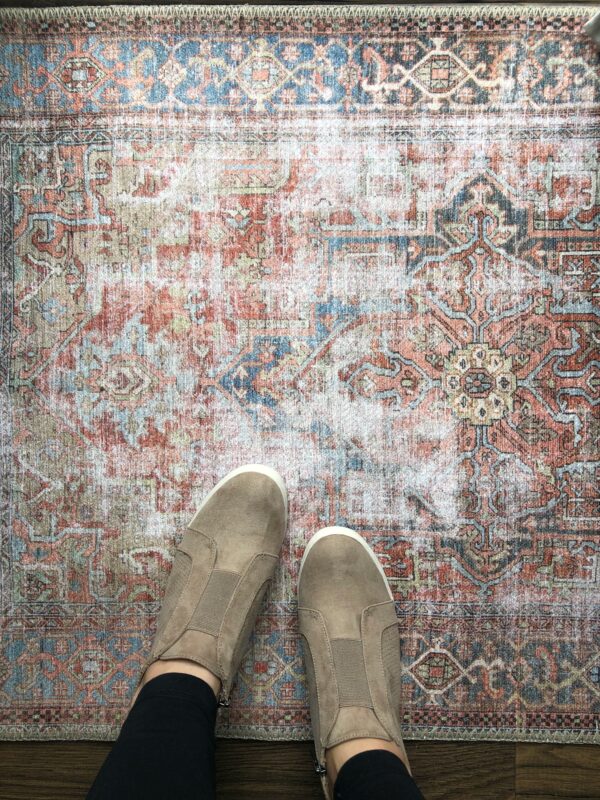 7.  I've been asked a time or two (usually on Instastories) about what I style my hair with.  I've been using Redkin All Soft Shampoo/Conditioner for a few years now, and I've never looked back.  These 33.8 oz bottles last me (and our whole family) 6 months, and I remember how surprised I was at how soft my hair felt after I made the switch.  I really noticed a difference in how light and voluminous it felt after I blow-dried it too.  I don't think I'll ever use anything else!
8.  Most of the time when I get asked about my hair, people are referring to the wavy curls I have.  Obviously, some of it is just how my hair is.  My hair has natural curls that aren't really tight.  I use a diffuser on the end of my hairdryer and Awapuhi Wild Ginger Hydrocream Whip Styling Cream to get my loose curls.  I apply it when my hair is sopping wet from the shower, but combed through once and parted. I turn my head upside down and scrunch a generous amount of the hydrocream into the roots and ends.  I've used plenty of products in the past that left my hair crunchy-feeling, but this Hydrocream gives me the curl I want without the crunch.  My hairdresser is the one who suggested it, and I am so glad I listened to her!
9.  Pink pumpkins, anyone?  As I've mentioned this fall, pink is the new blue around here.  I'm adding pops of pink / terra cotta / blush (whatever you want to call it…?) everywhere.  I could not source the exact pink pumpkins that I'm using (they are from Marshall's if you want to try to find them), but I found these very similar pink pumpkins online.  So pretty!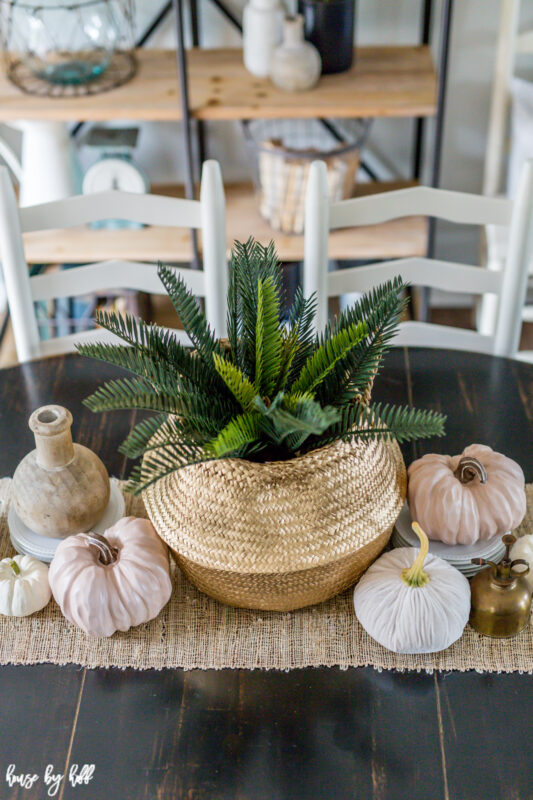 10.  I'm obsessed with these rose gold pumpkins too.  They would look so perfect with any color scheme for fall.  I almost grabbed some while I was out shopping, but stopped myself (only because I have too many pumpkins already..ha!)  But I loved them and thought I would share!
11.  Another recent favorite of mine are seagrass baskets!  I've had one on my tabletop since summertime, and I'm pretty sure it will stay there for awhile.  This pretty seagrass basket has me extra in love because it's got the light pink base, and looks to be the perfect size for a tabletop, on some shelves, or with a little plant plopped inside.  Love it!
12.  Moving on to little girl favorites, my seven-year-old daughter has recently fallen in love with The Boxcar Children series!  Her dad and I are super-pumped, because we remember reading and loving these books as children too.  It's just so fun to see your kiddos reading the same books you read as a kid! 🙂
13.  These adorable sneakers were in my roundup for back to school last month, and they made the cut again.  I'm pretty picky about what goes on my kid's feet, and she's pretty picky about how shoes feel on her feet, so I can't sing enough praises about these darling shoes.  They come in gold, gold sparkles, and leopard print, they are no-tie, and they are very durable and comfortable…AND they look cute to boot!  Truly, Miss L's and my favorite shoe of hers for quite some time!
14.  It seems like my kid has never not had a striped shirt from J. Crew Factory…I think we've owned every version in every size so far…ha!  I just really love the quality and the price points you get there.  This fall she's wearing this long-sleeved striped shirt with jeans, shorts, under jumpers, etc.  It's just a great basic layering piece that is one of our go-to's.
15.  Last, but not least, this darling pink corduroy jumper from Target had both Miss L. and I at hello.  It's one of the rare pieces in her wardrobe that we both love, and it's the perfect transition into fall look for her.  We'll probably throw leggings under it and wear it all winter too.  The little wooden buttons are such a sweet touch, and I just really love to see my kid in a corduroy jumper…it's such a throwback to the clothes I used to wear as a kid.
That's the September Girl Guide!  Hope you loved it!  Have a great day!  xo