I have put together a guide for girls that shares all the things I love! Perfect if you are looking for that special gift!

October is here, and I'm not mad about it.  Not at all.  Since it's the first Friday of the month, the time has come for me to round up all of my recent girly favorites and give you the full report.  And so, without further ado, I give you the House by Hoff October Girl Guide! 🙂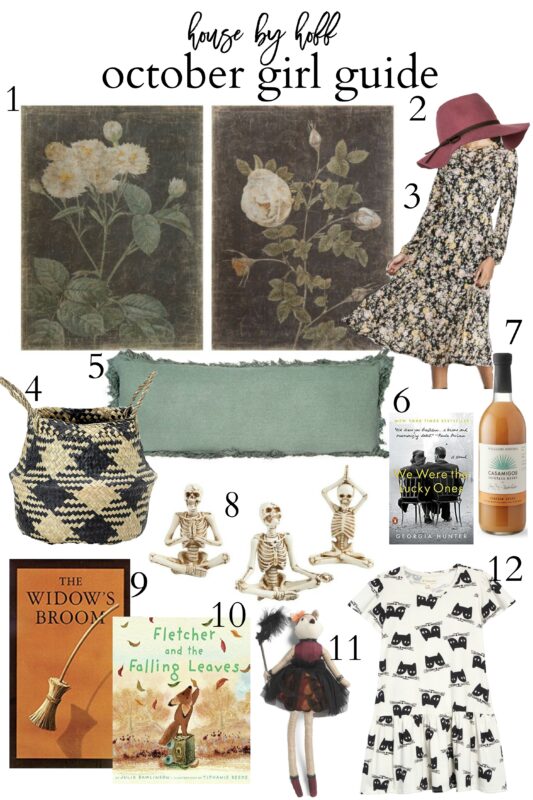 1  /  2  /  3  /  4  /  5  /  6  /  7  /  8  /  9  / 10 /  11  /  12
 Let's start with something fun.  Something different….and something fabulous.  These Decorative Paper Tapestries are blowing my mind.  They are so beautiful!!  Let me start with the fact that they can be as permanent or as temporary as you like.  I just used masking tape to adhere mine to the walls of our bedroom.  I hung one in the corner, and one above my desk.  They are very large scale, and would be the perfect solution to a big empty wall.  I just LOVE the vintage floral prints and the thick, worn texture of the paper.  I was looking for a quick fix to update our bedroom a little, and these tapestries were perfect for the job!  I really love them, and I'm not sure my cell phone photos do them justice! 😉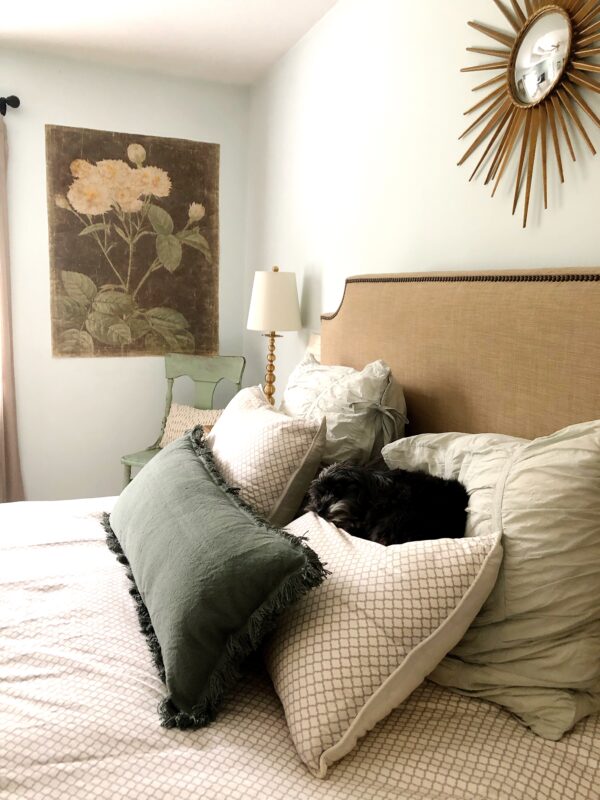 Ellie's napping spot in always on that pillow.  The cat was sleeping so peacefully, and I didn't have the heart to move her. 😉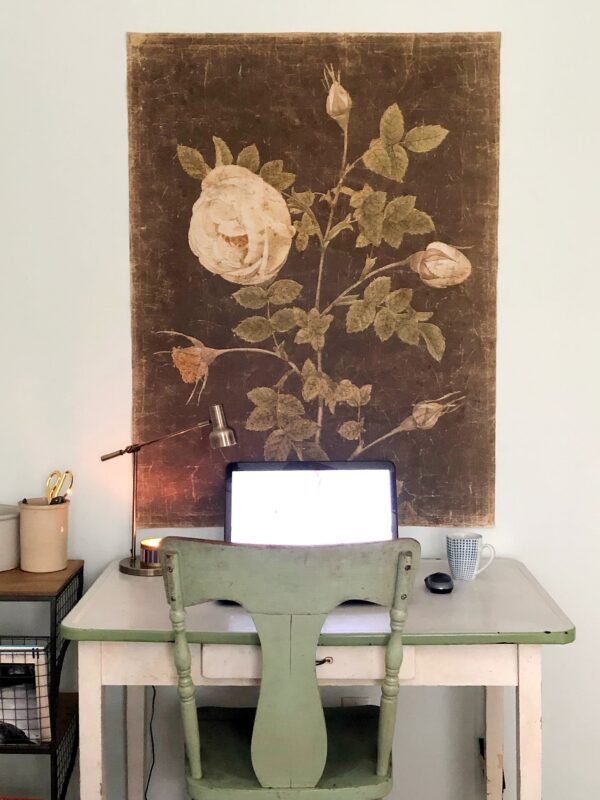 2. I initially bought this super-cute Felt Panama hat from Target for Miss L to wear for our family photos, but I ended up loving it so much, I used it myself…ha!  It looked so cute with my dress, and I always feel better with accessories. 😉  Actually, Miss L. and I passed it back and forth a few times during photos.  She looked really cute in it too!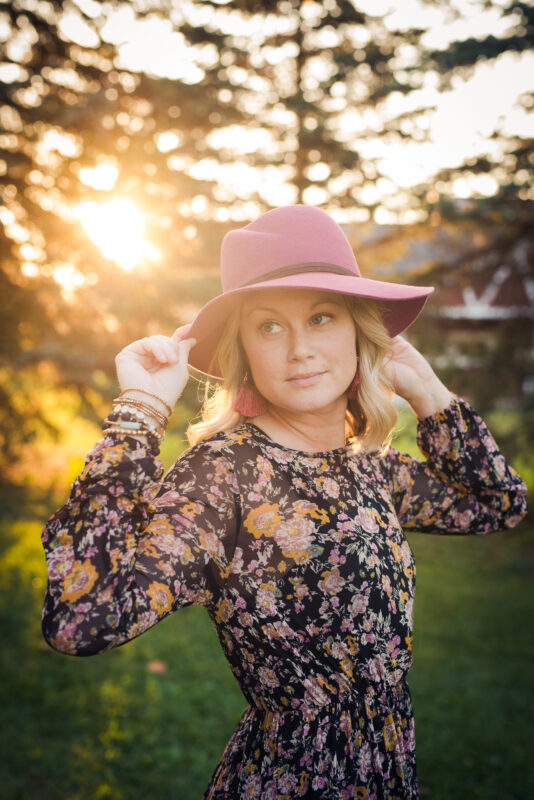 3. My floral print dress from Target saved me the other week.  I was desperately searching for something to wear for our family photos, and this dress did the trick!  It was so pretty, lightweight, and flattering. I love the colorful floral print, the cinched waist, and the  pretty, delicate sleeves.  It's the perfect dress to wear for a fall wedding, family photos, or special event.  It's honestly, my favorite dress that I've had in awhile.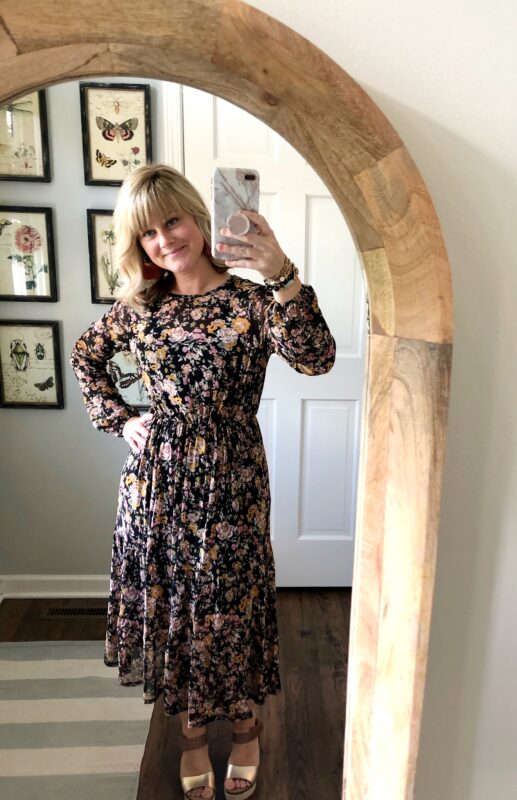 If you missed my post Tips for a Successful Family Photo Shoot, make sure to check it out!
4.  You know I've been into the seagrass baskets lately, and this darling buffalo check seagrass basket had me at hello!  It looks so perfect on my front stoop for fall.  I made sure to line the inside with plastic before I placed the plants inside.  I actually have two of them on my front stoop, and they look so cute!  More shots of my front stoop for fall coming soon!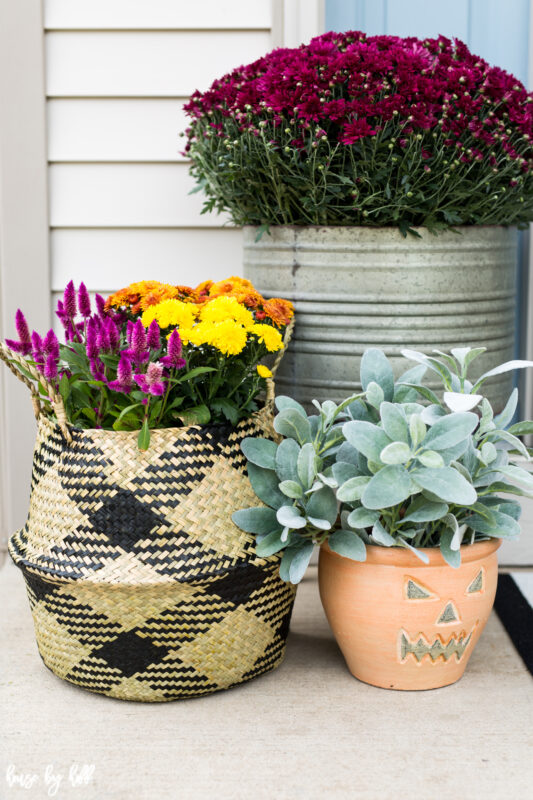 5.  I got the cutest new fringed green lumbar pillow recently.  It doesn't seem like a big deal, but I'm telling you it is.  It's the most gorgeous shade of green and works as almost a neutral.  So far I've had it in my entryway on a bench, on the couch and now on my bed.  (See photo above.)  I'm having a hard time because I love it in every spot.  Would it be weird if I got another one?  It especially looks good with the Decorative Paper Tapestries, so I think it's going to stay on my bed for now.  I really can't sing this throw pillow's praises enough.  She's an absolute beauty.  (Local friends, we carry these pillows at the Bent Fork!) 🙂
6.  I read two really, really good books last month.  The first one is We Were the Lucky Ones.  Mr. Hoff (who knows I love realistic fiction about WWII) grabbed it at an airport book store.  After he finished it, he passed it along to me, and we both loved it!  The story follows an upper-class Jewish family from Poland.  The family gets essentially separated during the war, each member enduring unbelievably devastating circumstances.  I very quickly fell in love with and got invested into each character.  Their search for each other after the war, and the story of how they put the pieces back together is one that will stay with me. I picked it up and read the whole thing in like two days.  I could NOT put it down!
The other really good book I read was Where the Crawdads Sing.  It was equal parts love story and murder mystery set in the North Carolina Outer Banks in the 1950s-1970s.  It was a beautifully written story about a young girl who is essentially left on her own to survive in her family's shack in the marshes of North Carolina.  It really made me think about the circumstances that some children are forced to endure, and both the kindness and cruelty of the human spirit.  It's another one of those stories that made me think differently, and will stay with me.
7. I don't know where I've heard of Casamigos Tequila, I feel like it was on an episode of Real Housewives of OC, but maybe I'm just thinking of the Tres Amigas??   Well, that's really neither here nor there, what I'm getting at is that I stumbled upon this Casamigos Pumpkin Spice Cocktail Mix, and it has me intrigued.  Very intrigued.  I'm thinking about ordering some.  I can just imagine sipping this cocktail while watching a fall movie or something.
8. Another fun thing I stumbled upon was this set of three Yoga Halloween Skeletons.  They just cracked me up!  SO cute!  Yoga is one of my go-to activities for both stress management and enjoyment, and I have several friends and family members that I know would get a kick out of these!  Just thought I'd share! 😉
9.  If you're looking for a GREAT fall/Halloween read for your older children (I would say 6 years and older), then The Widow's Broom is just the ticket!  I used to read this fantastic book to class every fall (back when I taught 5th grade), and it was always a favorite.  Now I read it to Miss L., and she loves it too!  It's the spooky tale of a widow who acquires a magic broom.  Her neighbors are scared of the broom, and insist that it be destroyed, but the widow comes up with a very clever way to save it!   😉
10.  Miss L. is getting a little old for some picture books, but I couldn't help ordering just one more cute fall tale called Fletcher and the Falling Leaves to read to her this fall.  (Actually, she'll probably read it to me…ha!)  I've always loved digging through her bookcase each season and creating a little curated collection of seasonal stories to keep in a little basket by her bed.  Some of my other fall favorites to read with her are Room on the Broom and The Little Old Lady Who Was Not Afraid of Anything.  I'll always treasure the memories of reading some of these classics with her!
11.  Who doesn't love a stuffed animal to go with a book?!  When I saw this darling Halloween Fox stuffed animal  I thought it would be so cute with the Fletcher and the Falling Leaves story.  Also, I can't resist the adorable little seasonal creatures at TJ Maxx.  I think I have either a mouse, unicorn, flamingo, or fox for every season for Miss L's room.  What will I do when I don't have a little girl to buy these cute little animals for anymore?!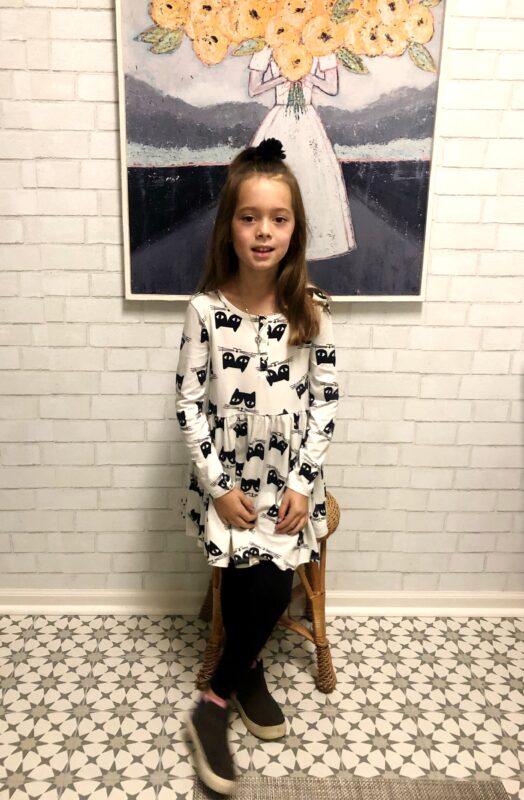 12.  Last, but certainly not least, is this darling Tucker + Tate Cat Print Dress.  I bought this dress for Miss L to wear as a little Halloween-themed outfit to wear in Kindergarten (2 years ago), and I must have bought it huge, because she can still wear it in 2nd grade!  Woohoo!  It's just so cute, and it's one of those sweet outfits that is comfortable, easy, and melts my heart.

Be sure to check out my Tips for a Successful Family Photo Shoot!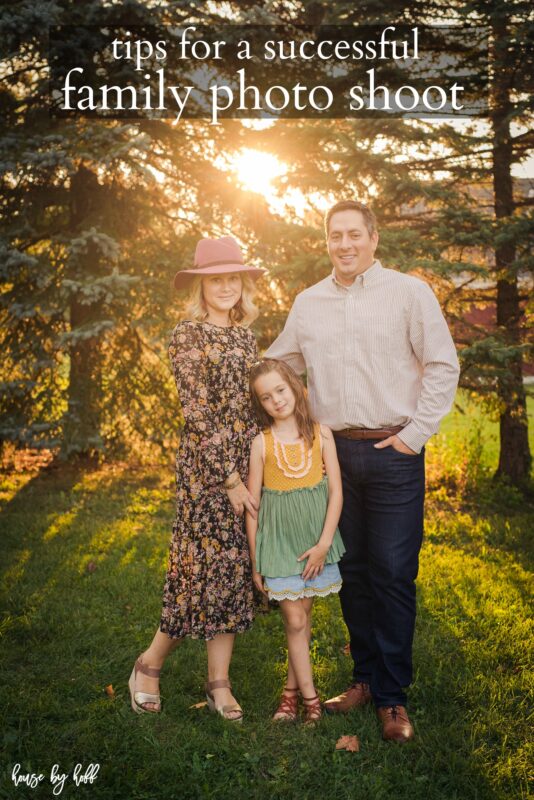 Have a great day!