November is always that time of year when I start to think about cozy sweaters, and warm blankets!

The beginning of November finds me recovering from the coldest, wettest Halloween ever.  We braved the stormy elements last night and got all the candy, but I'm so happy to say goodbye to October, and hello to November!  When putting the November girl guide together, I had Thanksgiving and the approaching holidays in mind.  When I think November, I think cozy sweaters, cute accessories, fun family games, and books to read under a warm blanket!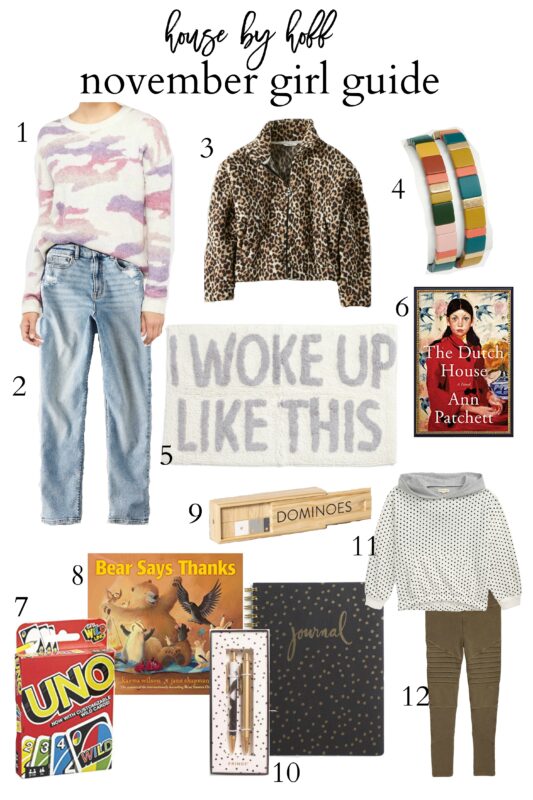 1  /  2  /  3  /  4  /  5  /  6  /  7  / 8  /  9 /  10  /  11  /  12
 While down in Indy last weekend, I had to stop at my favorite store, Evereve.  It's always such a treat for me!  I tried on so many sweaters, but this Spacedye Camo Sweater was the easy winner for me!  I love the unexpected purples and pinks in the camo print.  It's very warm, very soft, and very pretty!!!  If this sweater is more than you want to spend, I found this very similar sweatshirt on Amazon.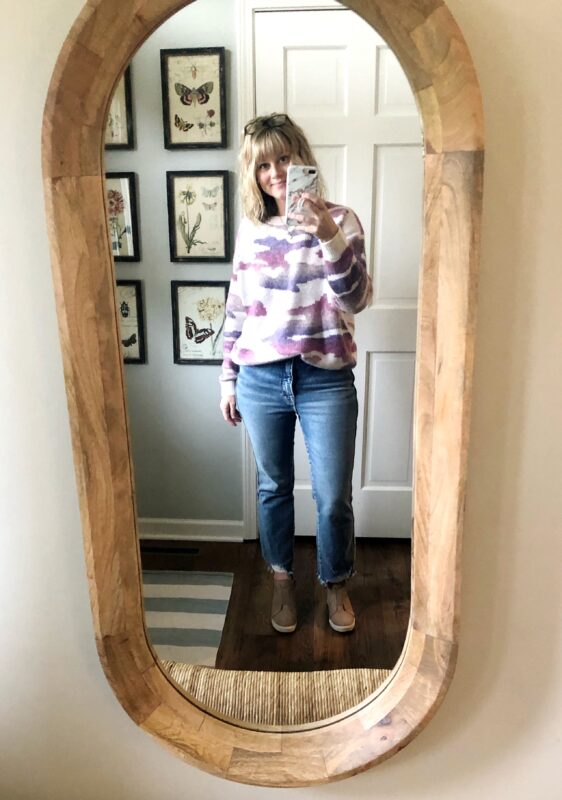 2. Breaking news.  I'm jumping on the "mom jeans" bandwagon.  Like in most trends, I wasn't really loving it in the beginning, but the more I see people wearing them, the more I like them.  The AE stretch curvy mom jeans are fantastic!  They're high-waisted, have lots of stretch in the jean fabric, and are very comfortable…(I have yet to find a pair of AE jeans that aren't comfortable…)  I've styled my "mom jeans" in a couple of different ways below.  I am wearing a size 6 (they run large, as I usually wear an 8.)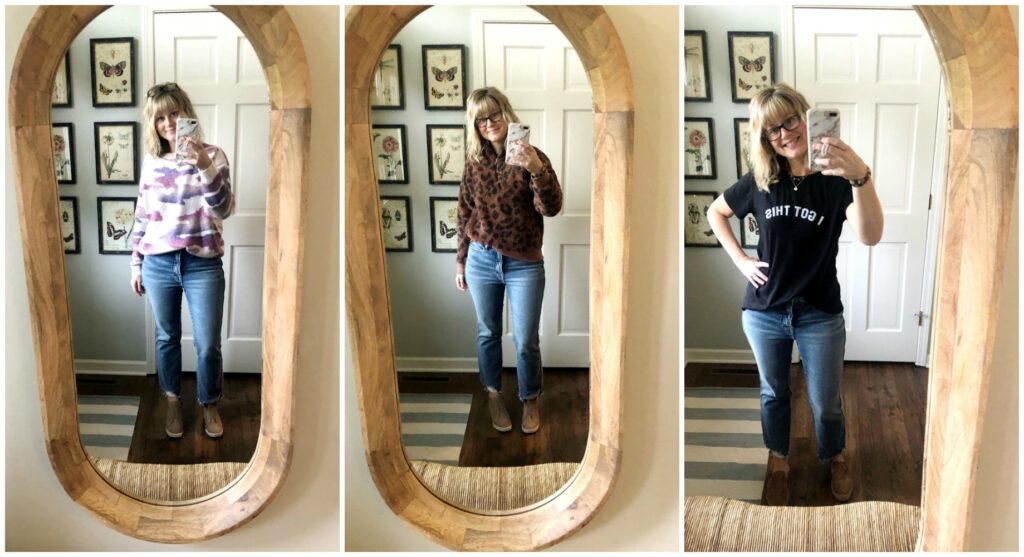 Spacedye Camo Sweater / Similar Sweater / Mom Jeans / Shoes/ Leopard Sherpa Pullover   / Similar Leopard Sherpa Pullover    /      I Got This Graphic Tee
3.  I recently got a really warm leopard-print  sherpa pullover at Target (which is the one I am wearing above.)  These warm sherpa tops are the perfect way to be cozy and stylish all at once! I am wearing a size M.
4.  These multi-color bracelets are everything!!! They're so fun and add a cute pop of color to my outfits.  They're made out of durable rubber-like beads, and they stack really well with other bracelets or watches.  They're just so easy to throw on, and always look good!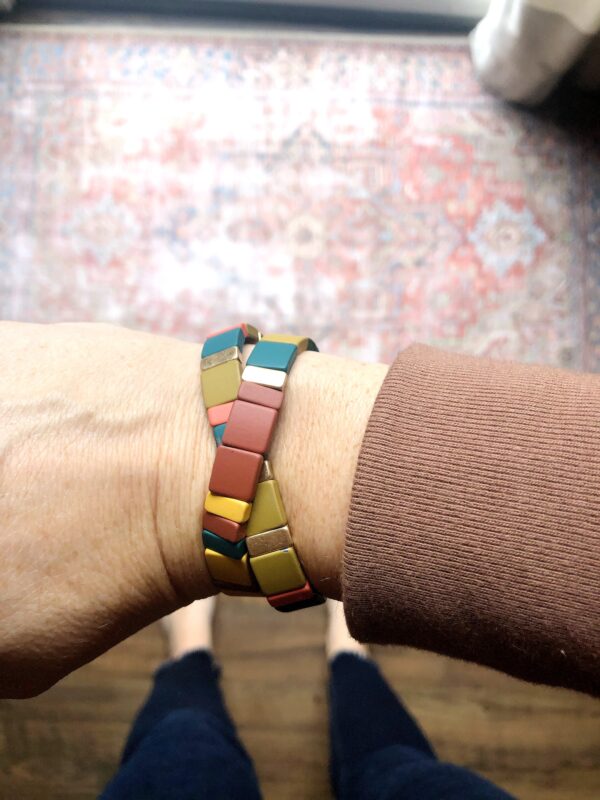 5.  I'm on the hunt for some new bath mats for our bathroom, and I found this cute I Woke Up Like This Bath Rug at TJ Maxx.  I'm thinking of grabbing one for Miss L's bathroom, and I think it' would be cute in a kid or teenage bathroom…or adult bathroom too!
6.  I just finished reading The Dutch House by Ann Patchett.  It was a very interesting story about an old Dutch estate in the wealthy suburbs of Philadelphia, the family who buys it after WWII, and the way it causes their eventual demise.  The story centers around the brother and sister who grew up in the house, and how they deal with the loss of their parents, the estate, and their wealth.  It was a very well-written story that held my interest from the very beginning to the very end.
7.  Who remembers UNO?  I remember playing this game all the time when I was young, and now we play it with Miss L.  I like heading to family holiday events with a game that she can participate in, and UNO always seems to be a crowd-pleaser!
8.  When Miss L. was a little younger (I'd say age 3-5) she and I read every single Bear Book out there.  One of our favorites was Bear Says Thanks.  It's especially sweet to read it around Thanksgiving to teach kids that we can be thankful for so many things, but especially our friends!
9.  Dominoes is another game that Miss L likes to play.  It's another one that can be taken to family holidays and enjoyed by everyone!  I thought this particular Wooden Dominoes Set by Hearth and Hand was especially cute and would make a great gift!
10.  Miss L.  loves to write stories and journal, and I like to get her cute notebooks to record her ideas and thoughts.  This pretty polka-dotted journal and pretty pencil set are right up her alley!  If you're looking for an easy gift idea for a little girl, this is a good one!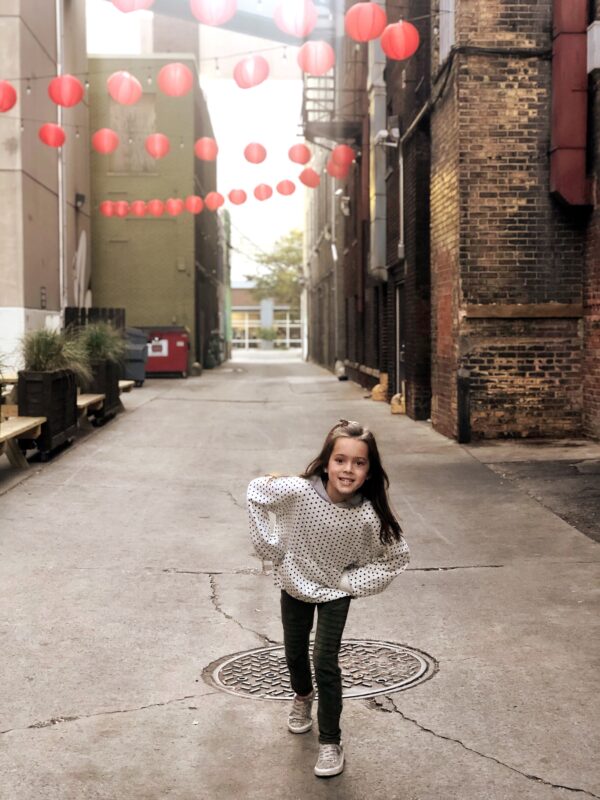 11.  I love picking out cute clothes for Miss L., and as she gets older, I find myself picking out pieces for her that I'd wear if they came in my size! 😉  This Polka Dot Hoodie is SO cute, so cozy, and a perfect piece to keep her warm this winter.  She loves the feminine polka dots and the warm hood!
12.  She also loves her high-waisted moto pants.  These comfy pants look great with everything, and are the first pair she grabs for after they come out of the laundry!  They're a great army-green color and look so cute with so many pieces in her wardrobe!  They're just really easy to mix and match with so many tops.