This summer I picked up a small table and two little chairs for Miss L for $25 at a garage sale. I like the idea of having a place for her to sit, color, play, or have a snack. In my daydream she is sitting at this little table eating a snack off of a cute little plate. There is also a mini milk glass vase with some pink flowers in it… Only I would have a fantasy that involves a milk glass vase.
Here is the table and one of the chairs: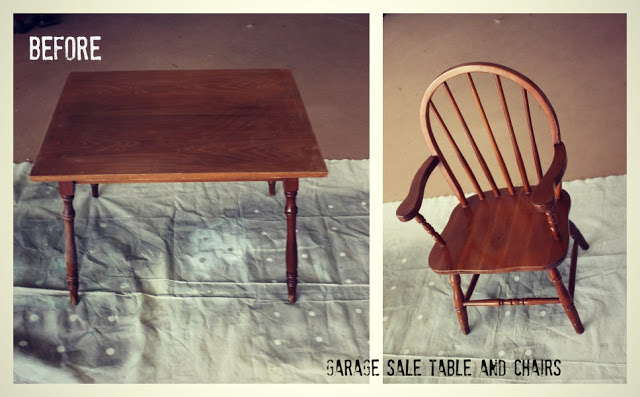 Lots of potential, don't you think? The table and one of the chairs had a case of the "wobbles", so my dad tightened bolts and did other things (I have no idea what) to make them nice and sturdy. Thanks Dad! 🙂
I put the table and chairs in the basement and kinda forgot about them for awhile. Then I came across this great tutorial on Houzz.com about making a chalkboard tabletop. I loved the idea of having a chalkboard tabletop for Miss L to draw, scribble, write, practice letters, etc. on. As the tutorial points out, the surface is wipable and very kid friendly. If it does get scratched or dinged up, you can just put a fresh coat of chalkboard paint on it, and it's as good as new.
So, I recently sanded down the table and both chairs. I primed all three using a brush (priming the spindly chairs with a brush took foooorreeevvverrr). I brush painted three coats of my fave American Accents "Heirloom White" on the base of the table, and brushed two coats of Rust-Oleum's Chalkboard Paint in "Black Finish" on the tabletop.
Here is what the table looks like now: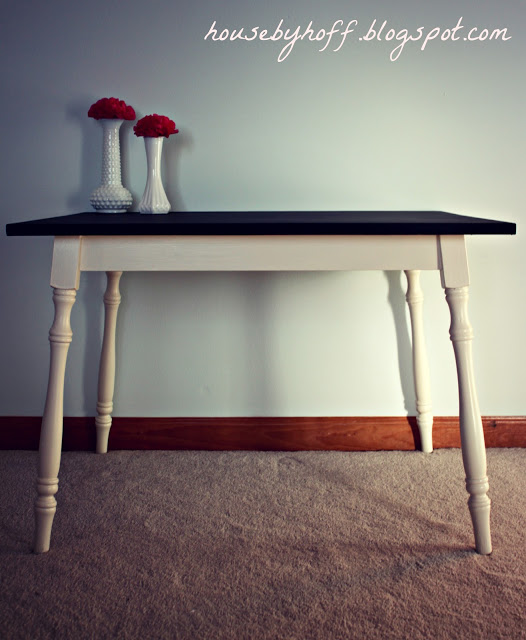 So far, so good! I can't write on it yet because you need to wait 24-48 hours (some say even longer) to allow it to cure. Once it is cured, I will take a piece of chalk and rub it sideways all over the surface of the chalkboard and then erase it. This "conditions" the surface and makes future chalk writing easier to erase. I've tried this process on a few chalkboard crafts, and it really makes a difference!
I'm waiting for a day that is above 50 degress to spray paint the chairs. I am NOT going to brush three coats of paint on them, it will take way to long! I'm considering painting the chairs an accent color but may just match them to the white of the table base…not sure.
So, basically I'm sharing a half finished project with you! I was going to make these a birthday present for Miss L, but it just may not be finished on time….Christmas present?
I hope you have a great weekend! 🙂