These delicious chocolate peppermint blossoms are worth the effort!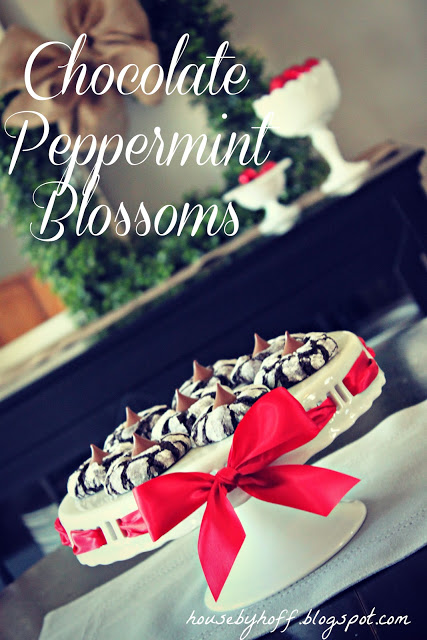 Would you judge me if I told you that this cookie baking experience was my first?
Yes?
That's ok, I'm going to tell you about my chocolate peppermint blossoms anyways!
Let me further explain. I have made delicious cookies from pre-made dough lots of times. I might have made these cookies from scratch when I was a little kid, but not that I remember. So, I'm counting this as my first time!
Here is the recipe for Chocolate Peppermint Blossoms:
1 1/2 cups unbleached, all-purpose flour
3/4 cup Hershey's Special Dark Dutched cocoa flour
1 1/2 teaspoon baking powder
1/4 teaspoon kosher salt
1/2 cup ( 1 stick) salted butter, sliced into chunks
1 1/4 cup sugar
3 eggs
1/2 teaspoon vanilla
1 teaspoon peppermint extract
1/2 cup powdered sugar
Hershey's kisses
Line cookie sheet with parchment paper. Preheat oven to 350.
Whisk together the flour, cocoa, baking powder, and salt. Set aside.
With an electric mixer, cream the butter and sugar until light and fluffy. Beat in the eggs and extracts, beating until combined.
Gradually, add the flour mixture, beating on low just until combined. The mixture will be very sticky. (This step is where my arms got sore!)
Place the bowl in the refrigerator and chill for 30 minutes to 1 hour.
Use a spoon to scoop dough onto the prepared cookie sheets. Place the powdered sugar on a plate.
Gently roll each ball of dough through the powdered sugar until coated and place on the cookie sheet.
Bake for 12-16 minutes, or until toothpick comes out clean. Unwrap kisses while the cookies bake.
Remove from the oven and immediately press a Hershey's kiss on top of each hot cookie. Let cookies sit on the sheet for 1-2 minutes, then remove to a wire cooling rack until cooled completely.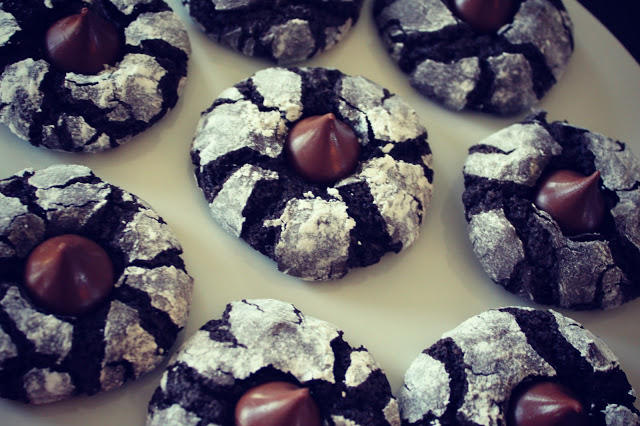 I learned a few things as I went that I will find helpful in my future baking endeavors:
1) It takes muscles! My arms got tired from stirring and mixing and stirring and mixing.
2)  Figure out what "creaming" the butter and sugar means before you begin. I had to let the butter get to room temperature for an hour before I could start.
3) Listening to holiday music while making the cookies makes them taste their best!
I had a lot of fun making these delicious holiday treats! So I think I'll deliver some to my neighbors today…I don't trust myself home alone with them!
Have a good weekend! 🙂