My DIY gift card envelopes are the cutest envelopes ever!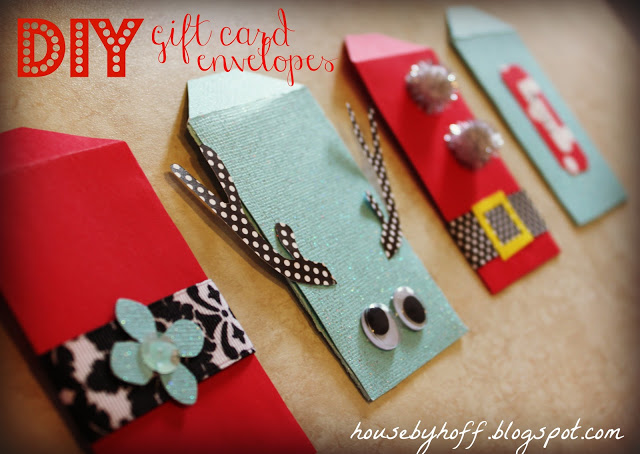 Have you ever read the Love Languages book? I have. I think my primary love language is "acts of service". In other words, 
Mr. Hoff
 if you help me out around the house, I will love you forever. 🙂
My love language is definitely not receiving gifts. If my husband gave me a piece of jewelry, I'd want to return it to get a brand new counter top or a nice piece of furniture…
This may be the reason why I stink at giving gifts. I don't know what people want, and I would love to give them a gift card so that they can be very happy. Happier than they would be if I tried to pick out a gift for them.
Sorry, it's just how I feel. I can't help it.
You know what I can do though? I can make you a super-cute gift card envelope to make your gift card more personal.
I downloaded this handy gift card envelope template 
here
.

1. My goal was not to spend any money on this project, so I only used materials I already had including this scrap booking paper.
2. I traced the template onto the paper.
3. I used a ruler to mark straight lines where I would need to fold. Then I used a scoring tool to make the folds nice and neat.
4. I dabbed hot glue along the folded edges, then closed the envelope up.
The decorating of the envelopes just kind of came to me while I was looking at all of my embellishments. There's no wrong way to decorate them!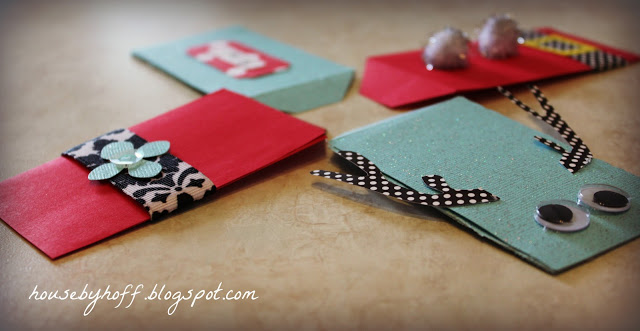 Cuties! I think my favorite is the reindeer. He looks a little loopy with those googley eyes. I know just who's gift card to put in there…kidding. 🙂
Have a good Tuesday!