Happy Monday to you! I'm so happy to tell you that the painting project (which included painting ALL walls and trim in the "front" of the house) is DONE! Wooooooooohoooooo!!!! I'm so happy with the result and will be posting pictures tomorrow! (Sorry, I just didn't get pictures taken over the weekend…too much going on!)
I wasn't too busy to get Miss L involved in her very first craft project though! Got to start 'em young! I got this idea on Pinterest, and had to try it.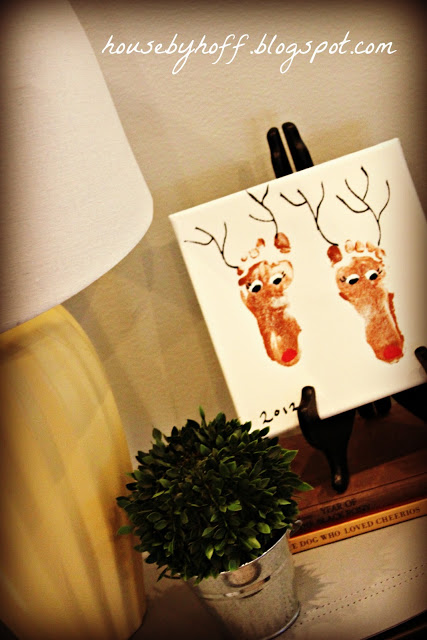 It was so easy! I got several canvases at JoAnn over the weekend for 40% off. (I think they were like $3 each.)  The brown reindeer, their red noses, and the white eyes are all acrylic craft paint. I used a black paint marker to make the black antlers, eye pupils, eyelashes, and "2012" .
Miss L enjoyed getting her feet painted. (At least the first few times…then we fed her Cheerios to keep her satisfied while we continued to press her feet onto canvases…do whatchya gotta do.)
She kept pointing to her footprints all night, so I think she's satisfied with the result. These will be her Christmas presents to some of our family members! Ummmm….avert your eyes family members!!!
Have a good one!