Spring is getting here soon, right? Right?
I figure if it isn't going to act like spring around here, then I'm going to force a spring-like atmosphere with a mossy monogram wreath! That ought to make March get here faster! If that doesn't work, well, then I don't know what will.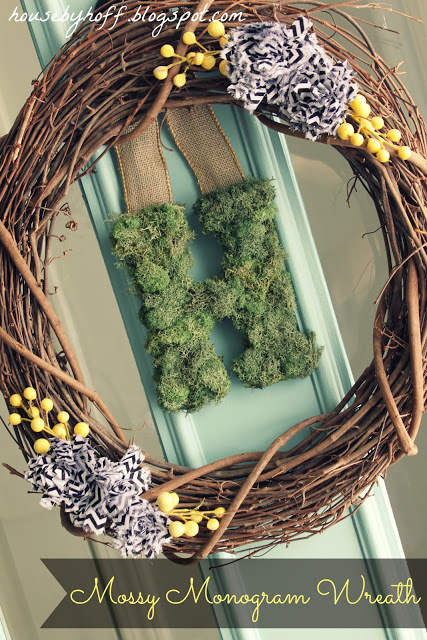 This is my first experience with moss. I should have probably read tutorials first, but I threw caution to the wind and just winged this DIY wreath. I have provided my own little tutorial, if you want to make one yourself!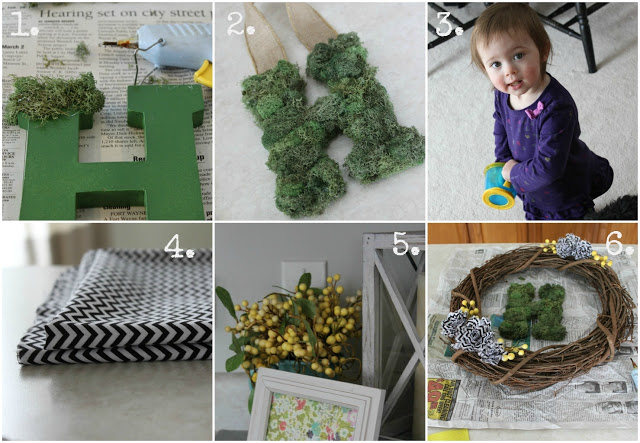 Step 1: Lay baby down for nap. Get out green, previously spray painted, wood letter (I used Krylon's "Seaweed" spray paint to paint this one). Use glue gun to begin covering the letter with moss. (Sorry, that was a long first step!)
Step 2:  Finish covering letter with moss. Attach burlap ribbon to letter. Hear baby wake up and wonder how much longer she'll play in her crib before she gets fussy….
Step 3:  Decide that baby isn't going to cooperate much longer. Get her from crib and feed her goldfish. This will buy you at most 10 more minutes….
Step 5:  Spot yellow sprigs across the room. Decide to cut just a few off to add some pops of color to your wreath. (Ok, you might want to buy these instead of cutting them off of an existing arrangement.)
Step 6:  Arrange everything on wreath. Glue gun it all together!
Step 7:  Give baby big hug and lots of kisses for being a good girl and letting Mommy finish her craft!
I really like how this wreath turned out! To be honest, I was just pumped to get the Chirstmas wreath off of the door…yes, the Christmas wreath was still on the door.
Jen, from
Migonis Home
, has been doing some adorable moss crafts too! Be sure to check them out!