An easy spinach & quinoa salad is the perfect dish for if you want a fast and easy meal!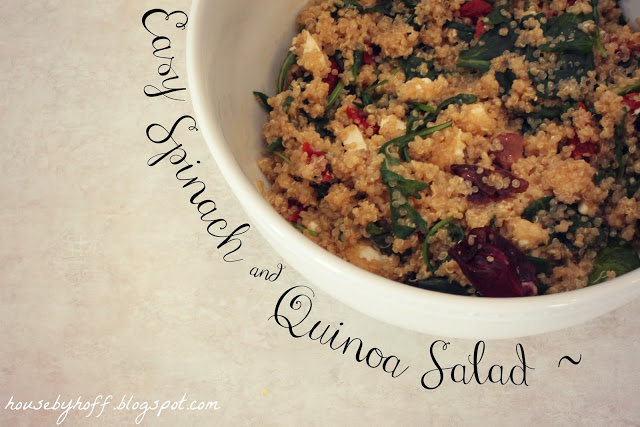 If you're new to my blog, then you need to know something about me:
I don't like to cook.
Whew! Ok, I feel better now that you know that.
Now, just because I don't like to cook, doesn't mean that I won't do it. I will cook something if it is easy and tasty (and preferably not devoid of any kind of nutritional value).
Enter, an easy Spinach & Quinoa Salad:
I like this recipe, which I got from my sister-in-law, for many reasons, but highest on my list is that it is easy!
Here are the ingredients: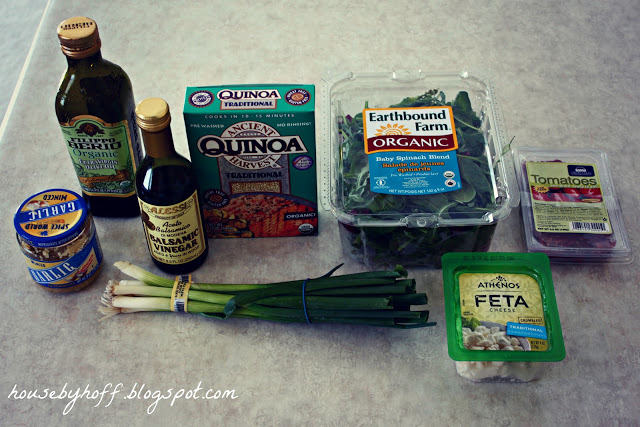 – 2 cups quinoa cooked (that would be 1 cup uncooked)
– 4 cups spinach
– 1/3 cup feta cheese, crumbled
– 1/6 cup green onion, chopped
– 1/4 cup sun dried tomatoes, chopped
– 1 clove garlic, minced
– 1 Tbsp. balsamic vinegar
– 1/8 cup olive oil
Instructions:
1)  Cook quinoa according to instructions (*Tip: Cook quinoa in vegetable or chicken broth for extra flavor)
2)  Toss all ingredients in large bowl.
3)  Chill in refrigerator for 2 hours before serving.
That's it! Toldja it was easy! 🙂
I came across this great tutorial about food photography the other day. (If you've ever tried to photograph food, then you know that it has a whole new set of challenges compared to other types of photography.)  I read it after I had taken the pictures above, but found it super-informative. I will definitely read and re-read it before my next food photo session. Hope you find it helpful!
For more easy recipes check out my Easy Chicken Recipe