Do you struggle with giving the perfect gift?
I do.
Don't worry though. I have a great idea for you!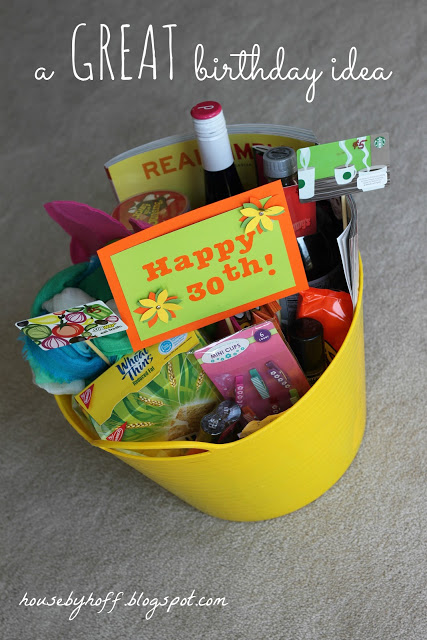 My longtime bestie is good at giving gifts. She is one of those thoughtful people that never fails to pick the perfect gift! For my 30th birthday, she did not disappoint. She delivered this basket full of 30 of my favorite things. I mean c'mon, how great is she?!
Some of the highlights: cute mini clothespins, magazines, a bottle of Riesling, some chap stick and hairspray (don't your good friends know the most random things that you like?), $5 gift cards to some of my favorite places (Starbucks, Subway, and
Wendy's
no I do not eat fast food.
often.
)
I love this because it's a good idea for any age!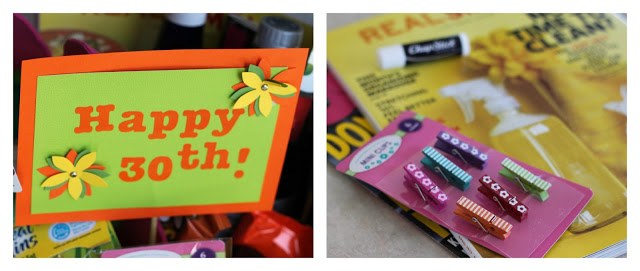 Cute, cute, cute!
~
I also have to tell you 3 reasons why I'm super excited and doing a happy dance:

1. I saw my first Garage Sale sign up this weekend…I LOVE garage sales and can't wait for GSS (garage sale season) to be in full swing! Does anyone else make up acronyms just for fun?
2. Northern Indiana has finally decided to go ahead and be spring outside…You know what 50 degree weather means, don't you?!? SPS!!! (Spray Painting Season!!!)
3. Mr. Hoff and I were driving around this weekend and I spotted FREE ANTIQUE WINDOW FRAMES…wha?!? We only loaded like 8 giant window frames into our Rav 4. This must by my LW!!! (Lucky weekend!!!)
~
My blogging buddy, Jen Migonis, has been nominated for the Circle of Mom's Top 25 Home Design Moms! Click here to go vote for her! (It only takes a few seconds!) You can vote once every 24 hours too!
Have a great day! 🙂

I'm linking up at: Give Me The Goods Monday, Tatertots & Jello