Throw pillows are the best way to add color and texture to a room and here I will show you how to mix and match the pillows.
Throw pillows are the butter to my toast.
They are the cream to my coffee.
They are my FAVORITE way to add bold color, fun, and texture to my home.
Perhaps it's their relatively low cost.
Perhaps it's how easy they are to switch out when I'm bored with them.
For whatever reason, I LOVE throw pillows!
Now that I've professed my undying love, I want to share with you a few tips for mixing and matching throw pillows. It's an art that I'm still perfecting.
A little lingo for you to know before I begin:
Solid – A throw pillow that is a solid color and has no pattern
Semi Patterned– A throw pillow with 2 colors and a simple pattern
Highly Patterned– A throw pillow with 3 or more colors and a complex pattern (the pillow(s) that pull it all together). This is also known as the "lead pattern".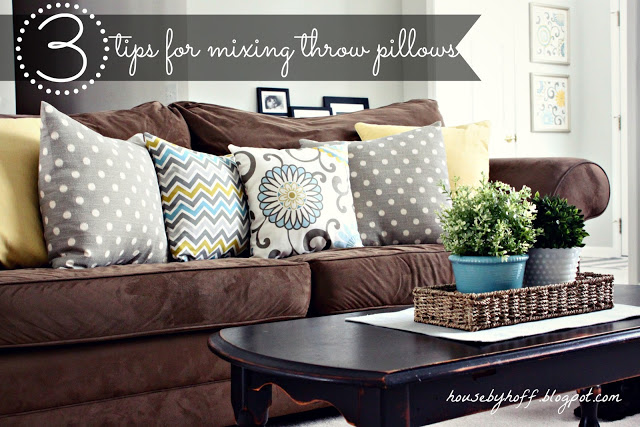 Tip # 1:
Use At Least 3 Colors in Your Throw Pillow Palette
In the example above, I'm sticking with three basic colors: yellow, gray, and turquoise. It is a tried and true palette that I'm currently using all over my house. I recommend using at least three colors because it gives visual balance, it is interesting to look at, and it gives you more options when it comes to looking for fabrics. I would not recommend using more than 5 colors. *Important Note*  The yellows, blues, and grays, do not match exactly from pillow to pillow, but that's ok! As long as they are close, it is still visually appealing.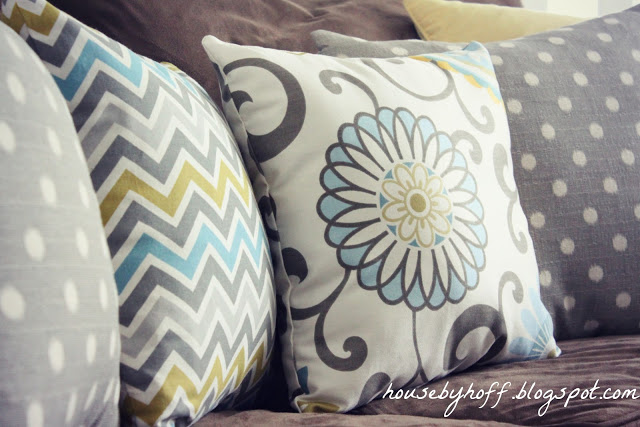 Tip #2:
Balance Your Solids & Patterns
Keeping a nice balance between solids, semi-patterned, and highly patterned pillows is important. (Well as important as throw pillow issues can be.)  Your pillows will look "too busy" if you try to do too many patterns, but they will look boring if you only choose solids. I'm going with a yellow solid and a gray and white polka dot (semi-pattern). The highly patterned zig zag and floral pillows in the center serve the important purpose of pulling all of the colors together and adding lots of visual interest. *Helpful Tip*  If possible, choose your highly patterned pillow fabrics first. It is easier to choose the busier fabrics that have all of your colors first. It can be very difficult to try and find a highly patterned fabric that pulls together pillows you already have.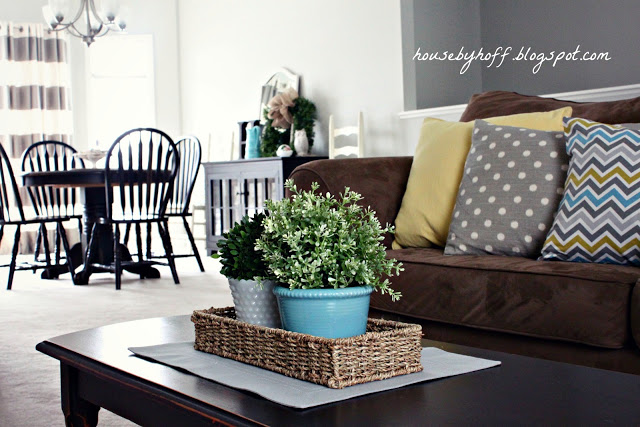 Tip #3:
 Consider Other Colors That Are Already in the Room
Consider your curtain color(s), wall color, and any other pops of color in the room when determining the color palette that you will use for your throw pillows. When I chose my throw pillows, I had to consider my wall color (gray), my curtains (gray and white striped), and my turquoise and yellow pops of color throughout the house. If you have at least one item in the room that matches a throw pillow color, then your pillows should be a nice cohesive fit for the room.
~
Does this subject fascinate you as much as me? If so, here is some light throw pillow reading for you:
I hope you found this helpful!
Have a great day!