This tortellini salad is my go to staple for a delicious summer salad!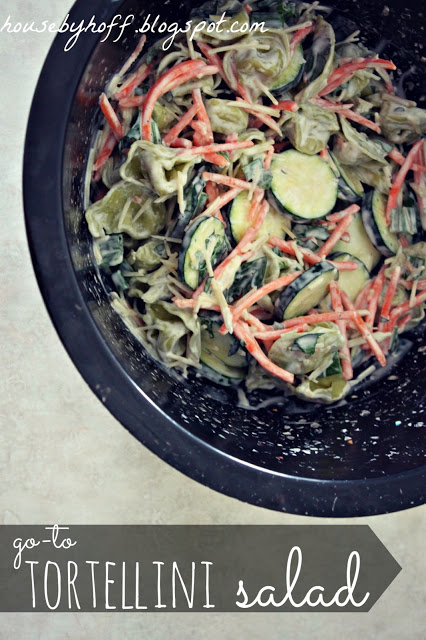 I have a few go-to recipes around here.
This tortellini salad is one of them. I found this recipe on Pinterest last summer, and I've been making it ever since!  It's easy and delicious and my whole family loves it!
Here are the ingredients: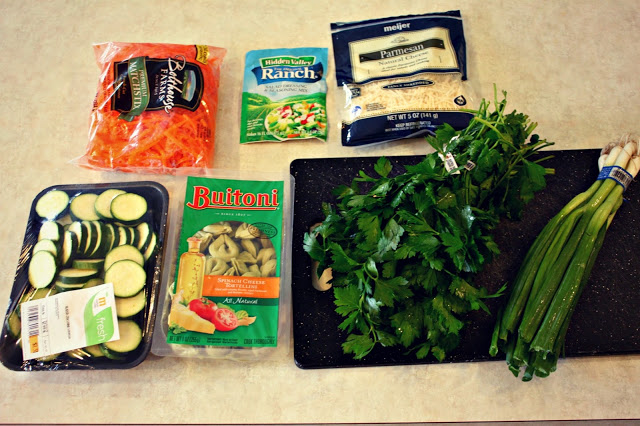 – 9 oz. package of uncooked refrigerated cheese-filled tortellini
– 1 medium zucchini, thinly sliced
– 1 large carrot, peeled and chopped (I use shredded carrot)
– 1 pint cherry or grape tomatoes, halved (I actually skip this ingredient, I'm not a tomato fan!)
– 4 green onions with tops, thinly sliced
– 1/4 cup snipped fresh parsley
– 1/2 cup of ranch dressing (I make it from the Hidden Valley Ranch packet…it tastes so good! You'll need milk and mayonnaise to make this dressing.)
–  Parmesan Cheese – to taste
Directions:
1)  Cook tortellini according to package instructions. Drain. Set aside.
2)  Meanwhile, chop zucchini, carrots, tomatoes, green onions, and parsley.
3)  Make your salad dressing.
4)  Add veggies to tortellini. Pour salad dressing over salad. Add Parmesan cheese over salad. Cover and refrigerate at least 2 hours before serving.
I've been known to throw some chopped up chicken breast in this salad for extra protein and call it dinner!
Have a great day! 🙂