Happy Friday!
I survived my first full week back to work…whew!
It's been quite an adjustment week for my little family!
Mr. Hoff has been pitching in with the laundry, the dishes, and keeping the house straightened up.
Miss L has been getting adjusted to her new routine. She is exhausted when she gets home from daycare on Tuesday and Thursday and went to bed a whopping 2 hours early last night!
I know it takes time to adjust, but we're all wiped out!
I wanted to share a quick and easy recipe with you today!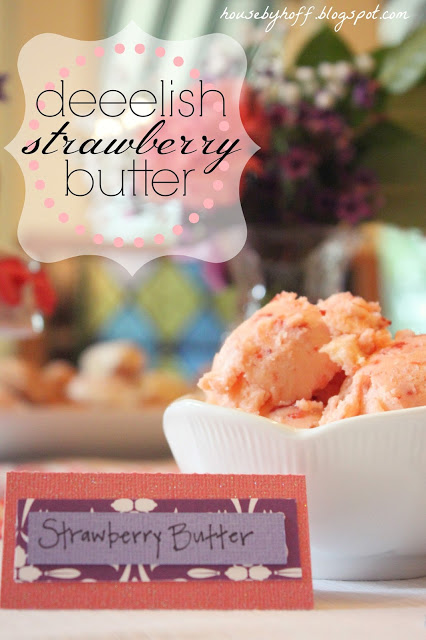 My mom made this strawberry butter for my sister's shower a few weeks ago. It tasted amazing with the banana and blueberry muffins!
Here is the recipe:
1/2 cup butter, softened
2 T. confectioners' sugar
1 T. strawberry preserves
Directions:
In a small bowl beat together butter, confectioners' sugar, and strawberry preserves until creamy. Cover and refrigerate until serving.
I hope you have a great weekend!
I will be spending mine relaxing and recouping!