I painted a whole wall in our spare room with chalkboard paint.
Even for a chalkboard paint fanatic like me, this was quite scary. I probably talked myself into it, and then back out of it, 10 times before I just dipped my paint brush into the black paint and started painting the huge, white wall.
It was crazy. I've never painted a wall black before, but I had good reason for doing it…
You may, or may not, know that I started my own photography business last summer. I have to say, I've been pleasantly surprised at how much business I've received, and,  even though it's too cold to take photos outside, the inquiries keep coming. I quickly figured out that I needed to have an "indoor option" for mini-sessions in the winter…
Now, I have to be honest…I'm not a HUGE fan of indoor/studio photography. I much prefer outdoor photos in natural light to backdrops and flashes, but I live in Indiana, and we simply don't have the option to be outside in January in a foot of snow taking photos.
To me the best option was to paint a big chalkboard wall in our extra room, and use it as a backdrop for my indoor photography. I like the color, texture, and versatility of a chalkboard wall, and I think it will be perfect for my needs.
Here's how we did it: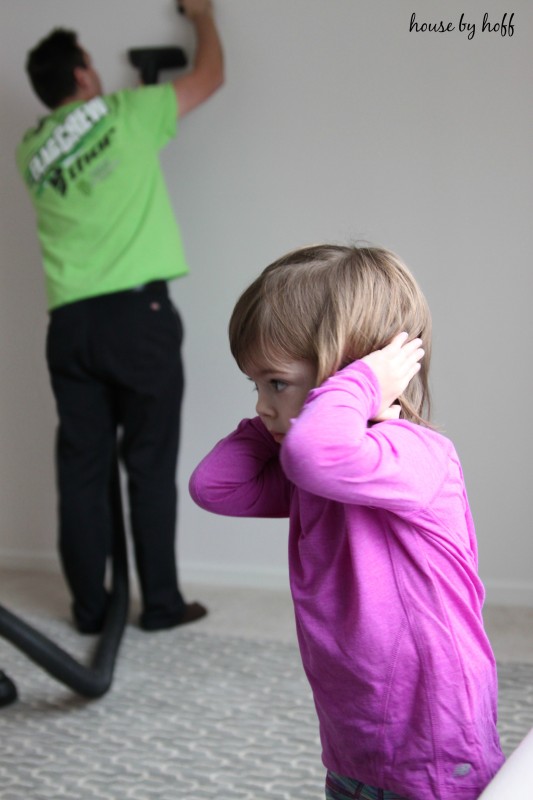 First, we sanded the entire wall. Every tutorial I read online suggested doing this to get the smoothest surface possible. Mr. Hoff sands and vacuums at the same time…What a stud. (Miss L. hated the sound of the vacuum…oh how we torture her.)  😉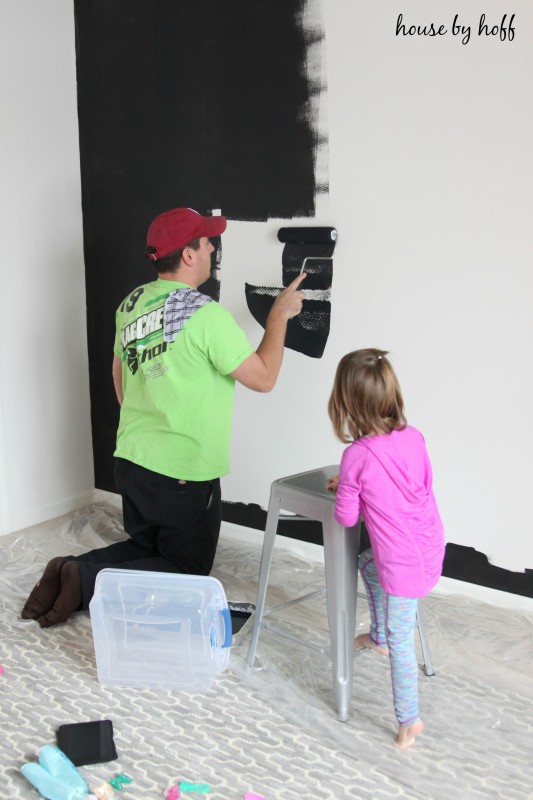 It would appear that Mr. Hoff did all the work, but I swear I did more than just take pictures. I edged the wall with a paint brush, and then he rolled. It only took two coats to entirely cover the white wall. That surprised me!
After letting the chalkboard paint dry for 3 entire days, I seasoned the wall with chalk.  Anytime you do a chalkboard project, you need to do exactly that:  wait 3 days to cure, then season with chalk.  To season, you simply rub a piece of chalk sideways over the entire surface, then erase. If you do not take the time to season, then it will be hard to completely erase the words or pictures you draw on a chalkboard, it will "burn" into the black paint and be pretty much impossible to erase completely…makes sense?
Since we've been snowed in, I've been practicing my indoor photography with Miss L. and the dog. 😉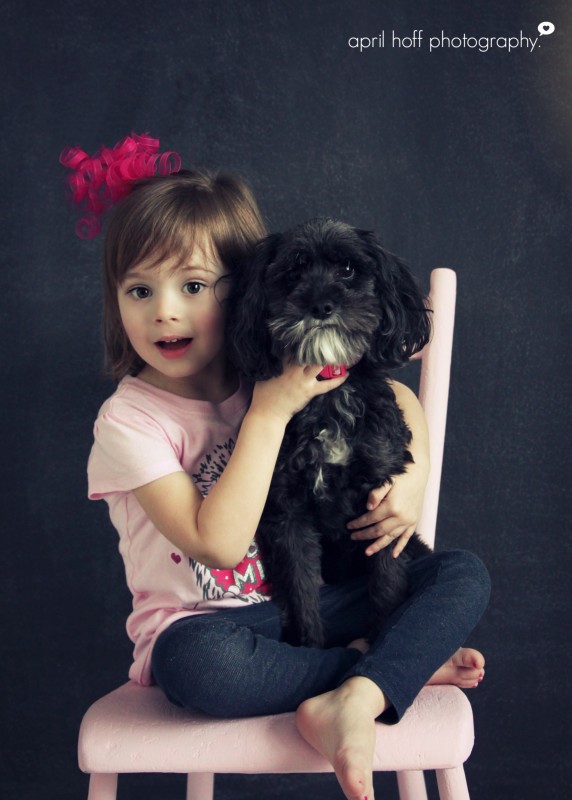 Luckily, we get lots of natural light in this room, so I've been able to manage without using a flash. Whoot!
(Sorry, I don't know why I have such an aversion to flashes. I actually have a great external flash that I should be more open to using…)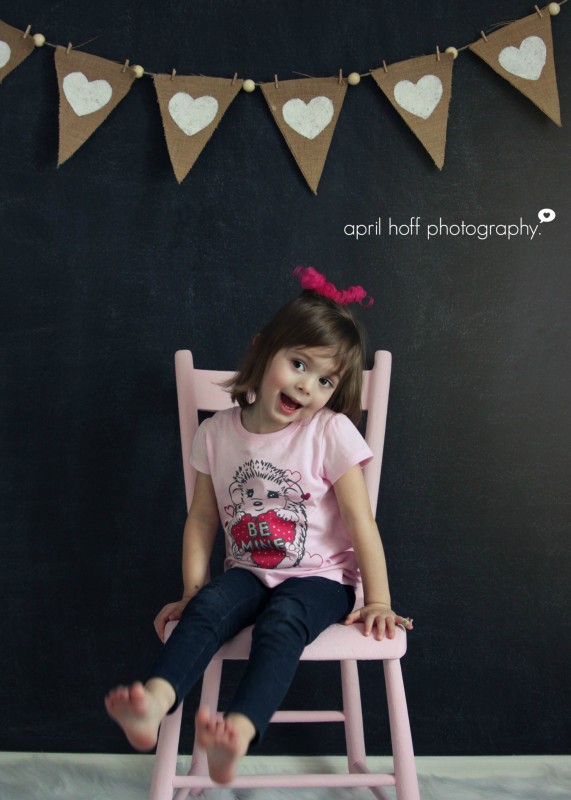 I guess I just love the way natural light looks. Love this shot of her holding her Frozen snow globe!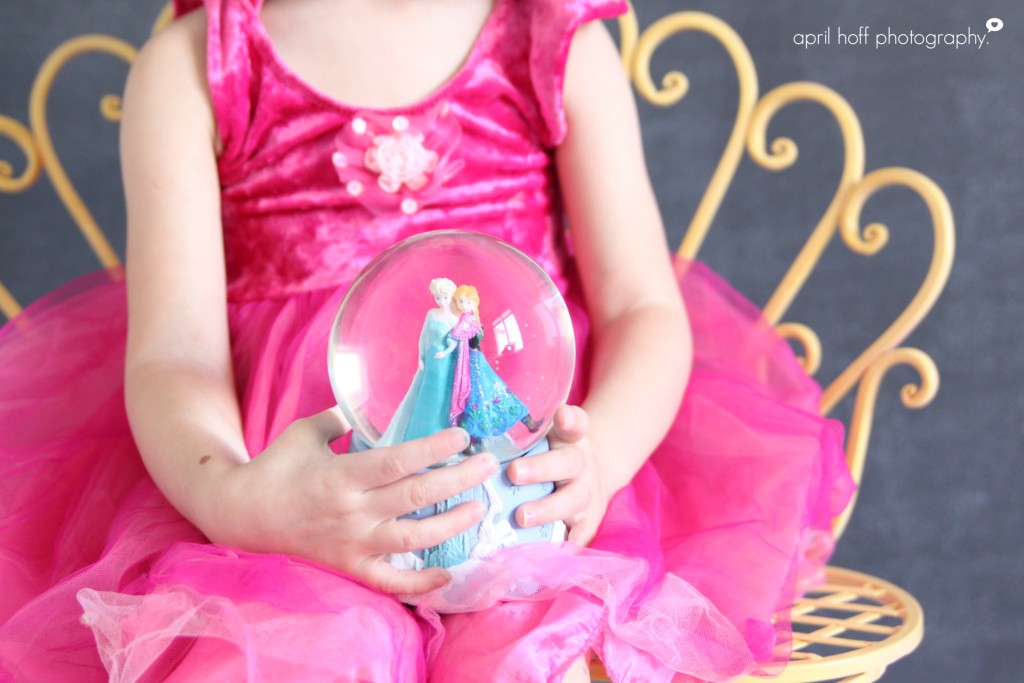 I actually have lots of big plans for turning this room into my studio/office and a play space for Miss. L…
Lots of exciting projects coming up for this space!!!
Have a great day!