Pop Quiz:  Which of the chairs below most reflects your personality?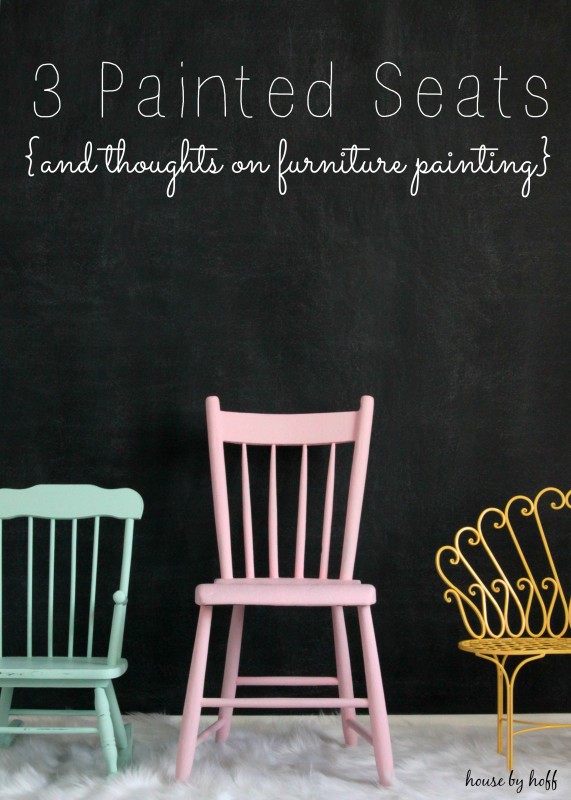 Would you be the lightly distressed blue rocking chair? Serene and calm, but ready to rock!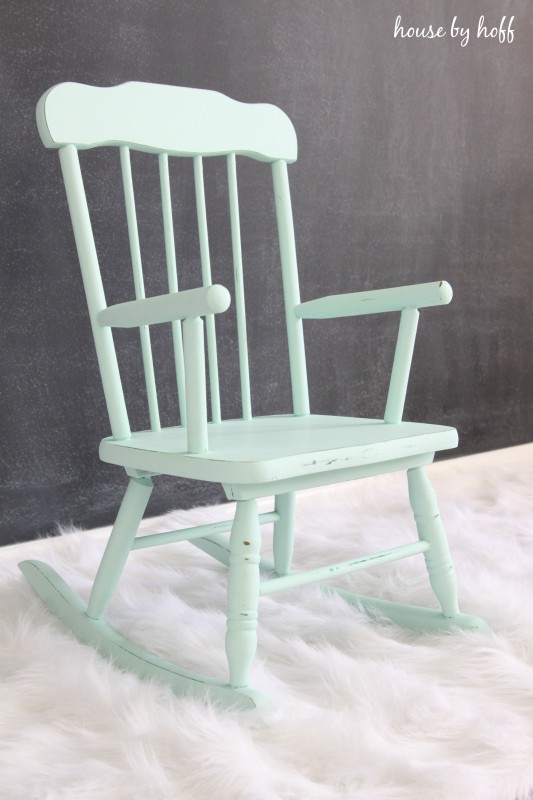 Would you be the feminine, pink desk chair? Innocent and sweet.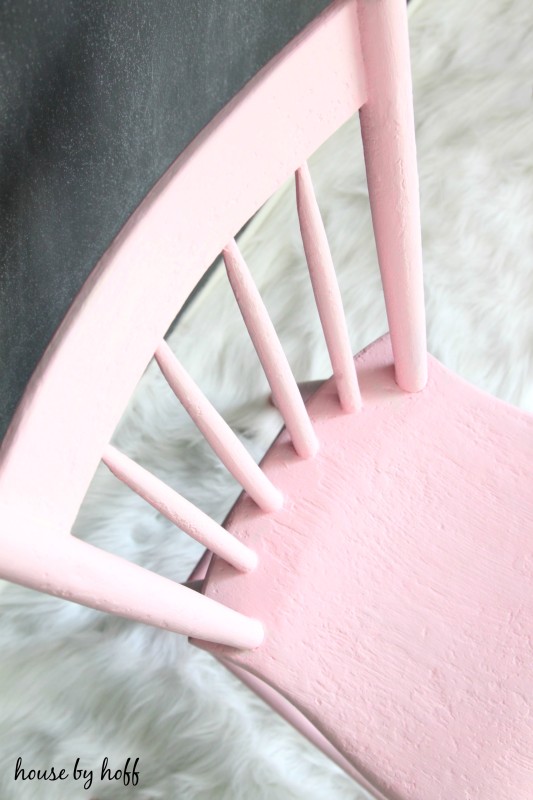 Or, would you be the fancy yellow bench? Elegant and refined, yet cheery and bright.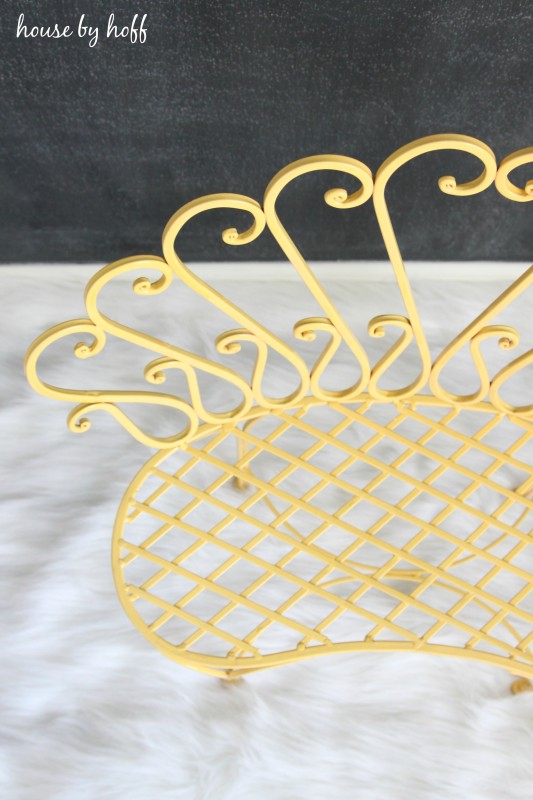 I think I missed my calling as a magazine quiz writer, don't you? Well, no matter which chair you decide most fits your personality, you're all winners in my book. 😉
    I've been busy lately painting pieces for my photography business. We recently converted our spare bedroom into a bit of a photography studio/playroom/work space. Huh?  (Yeah…quite a combo, right?)  I thought I'd share my latest thoughts on furniture painting with you. I hardly consider myself an expert on furniture painting, but I have painted a lot of pieces over the years, and I might have something useful to say on the subject…
Premium Latex Furniture Paint
    In the past, I've sung the praises of American Accent's Heirloom White. It's a latex-based paint that is made specifically for painting furniture. I love the color (not too yellow, not too bright), and it has been a tried-and-true paint for me over the years. My only beef with this paint is that it doesn't cover that well. It would not be unusual for me to have to paint three coats to cover a piece of furniture. I normally sand and prime a piece before I use this paint. I have used this paint with most of my sign-making projects. I like this paint, but it isn't currently what I'm in to…more on that later.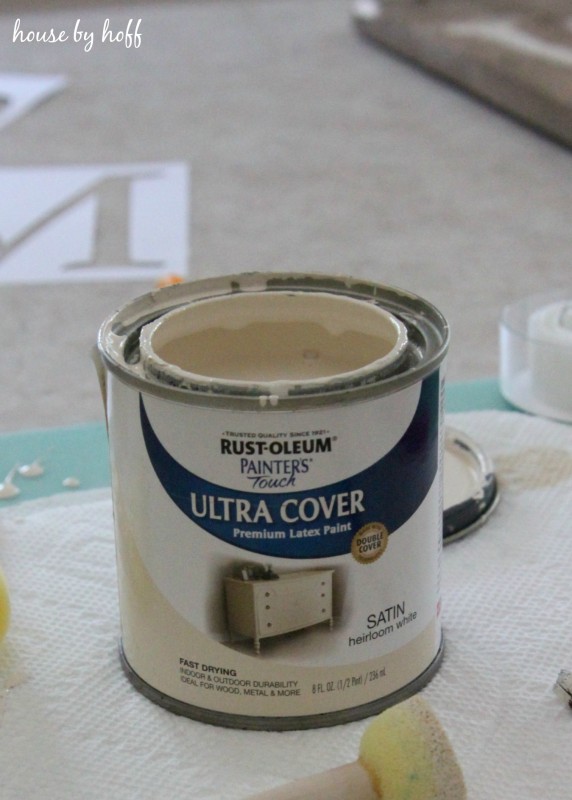 Some projects that I've used this paint on are:  Chalkboard Table and Chairs, Console Table Makeover, and Pallet Wood Welcome Sign.
Spray Paint
     I've also used my fair share of spray paint for painting furniture. I love spray paint for a lot of reasons:  It's easy, it's fast, and there are no brush-strokes when you're finished. The downside would be that it has to be 50 degrees outside to use it, and in Indiana the winter months aren't ideal for spray painting. I normally sand and prime a piece before spray painting it. Spray paint is oil-based, and it covers and coats like a dream. I prefer many light coats to fewer heavy coats to avoid dripping. (And if you do end up with drips, let them dry completely, then sand them lightly off and spray paint the area again.)  If a piece isn't completely clean, or you try to spray-paint in less than ideal conditions (humid, too cold, too hot) you might end up with cracks in the paint.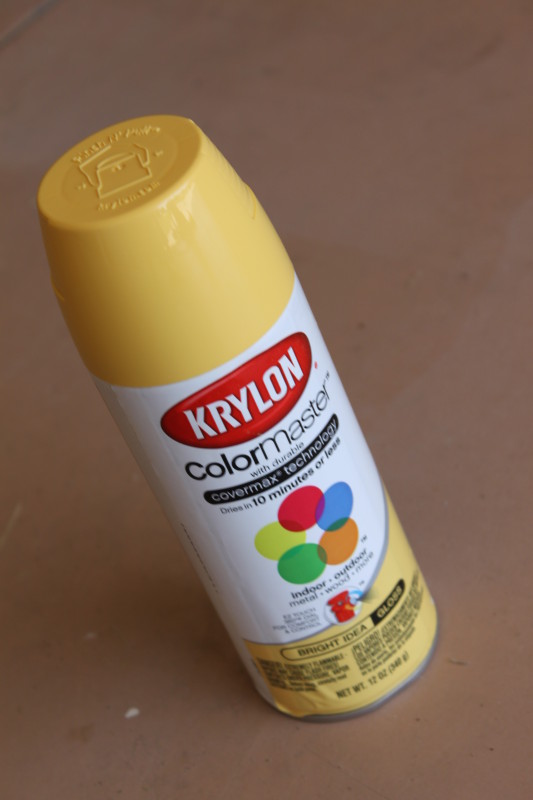 Some projects that I've used spray paint on are:  Two-Toned Turquoise Table, Spray-Painted Wicker Chair, and Little Step-Stool Makeover.
Chalk Paint
      Alright, now I'm ready to talk to you about my favorite paint for furniture painting:  chalk paint. I absolutely love chalk paint.  Chalk paint requires little to no prep. You technically don't have to sand or prime your piece before painting (although I do encourage you to use your best judgement on that rule). If a piece has paint chips falling off, or is extremely uneven or bumpy, I'd still sand it a bit. If a piece is in good shape, then just use a dry dust rag before painting to remove any dust. Chalk paint requires a short amount of dry time in between coats. Usually by the time I finish painting a piece of furniture, it's already dry to the touch where I started.
     Chalk paint's  texture is a bit thicker than latex or spray paint, so it tends to cover really well. Two coats generally do the trick! It's also very low odor, so I can paint pieces inside during the winter months. I also love the mat look of a piece when it's finished, there is no shine to it whatsoever. It sands off very nicely and it's easy to achieve the "distressed look" with chalk paint. I've used two types of chalk paint, and I loved them both. Country Chic Chalk paint can be found online here. Americana Decor Chalky Finish paint can be found in lots of colors at Hobby Lobby.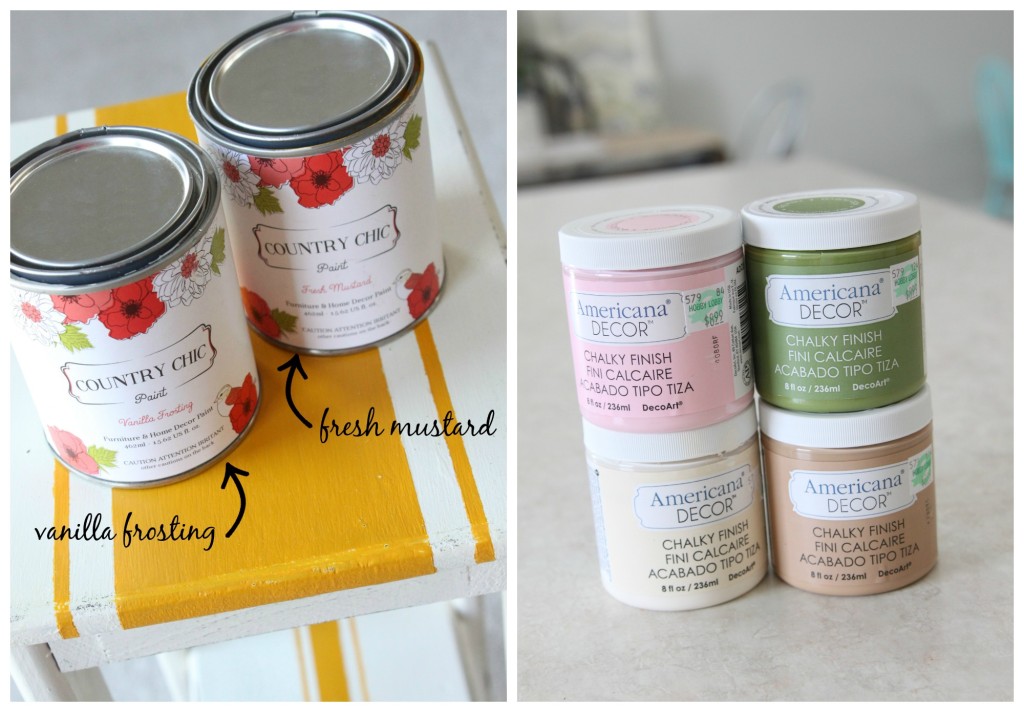 Some projects I've used chalk paint on are: Two-Toned Table, Tea Towel-Inspired Table, and Easter Bunny Sign.
In case you were wondering, the chairs at the beginning of this post were painted with:
Minty colored rocking chair:  Americana Decor's "Refreshing" Chalky Finish Paint
Pink Desk Chair:  Americana Decor's "Innocence" Chalky Finish Paint
Yellow Bench: Krylon's "Bright Idea" Spray Paint
~
So, what painting projects are you working on at the moment?
Have a great day!
I'm linking up st:  Link Party Palooza