I have some great ideas on how to get your dining room and tablescape ready for fall!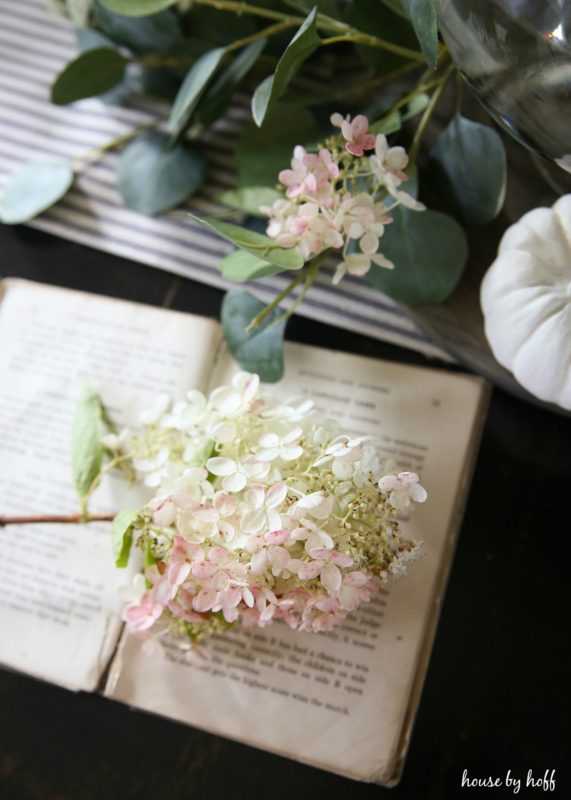 I am in a bit of denial that summer is pretty much over. If it's still hot and muggy, and the cicadas are still singing, and I'm still wearing sandals to work, then it's definitely still summer…right?!
Even though we're in the last lovely days of summer, I've been getting my home ready for Fall Home Tour season. If you're not a blogger, then you might not know about it, but it's a real thing. We have to have our homes season-ready and photographed before the actual season begins. We're like Hobby Lobby, we start getting the decorations out for Christmas in August.
#kidding #chillouthobbylobby #putsantaaway #my4yearoldisconfused #andsoamI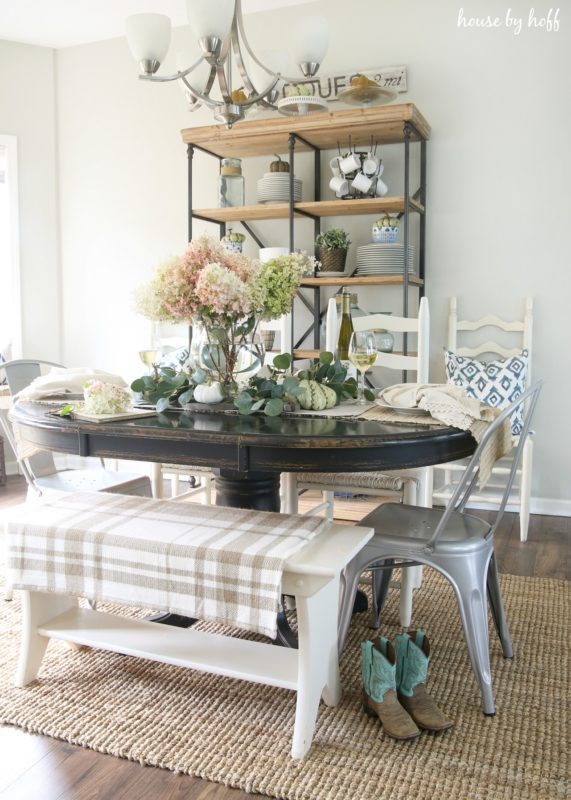 Before I stray too far off topic, let's get down to it, shall we? The dining room is ready for fall, but in a not-so-traditional way. I avoided going with orange pumpkins and yellow leaves in this space, because I'm digging a more mellow approach to fall in this particular room. (Don't worry, I plan to get all orange-pumpkiny soon enough.)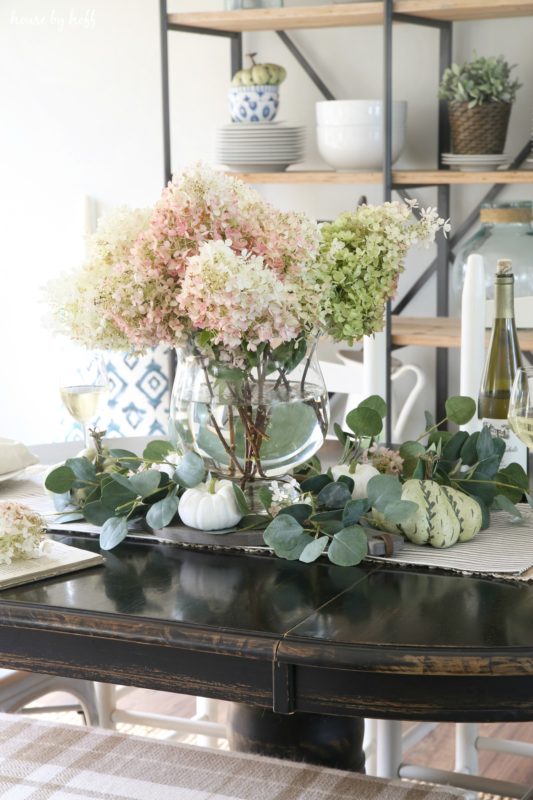 Instead I snipped some hydrangeas from my dear friend's gorgeous hydrangea bush and put down a base layer of eucalyptus leaf sprigs.
*Side note:  I've learned how to spell eucalyptus without looking it up. It's a little thrilling every time I type it out and no little red squiggly line appears underneath. I feel so smart.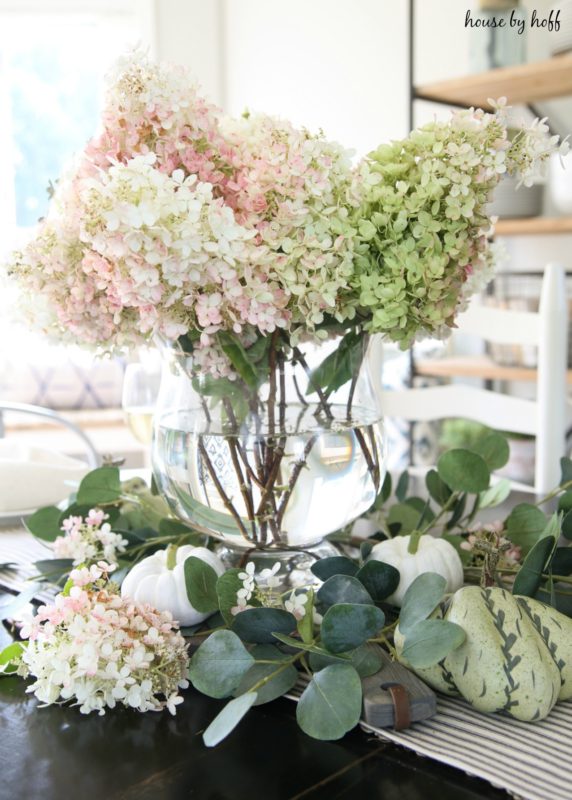 Next, I layered in the little white pumpkins and green gourds.
*Side note: I have not, apparently, learned how to spell gourds without looking it up. #spellinggoals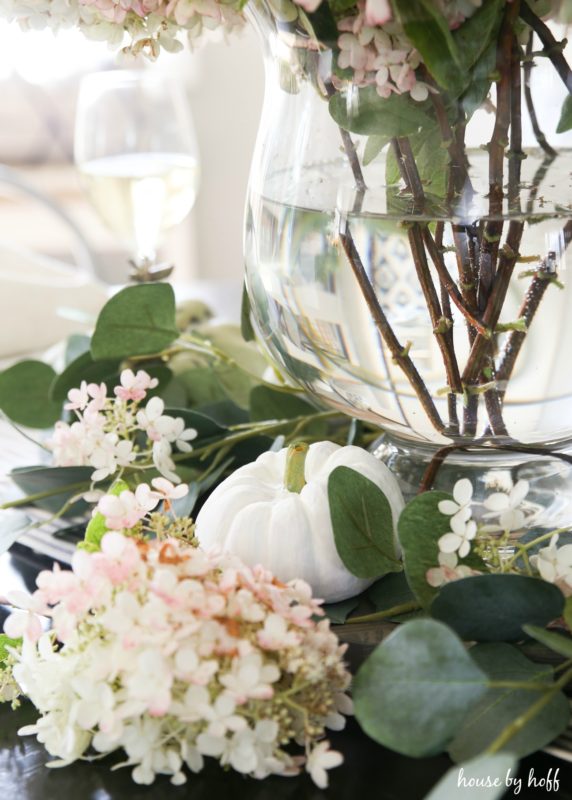 Last, I added sprigs of hydrangea to finish this early fall tablescape off. Since hydrangeas dry so pretty, I figure I can leave this tablescape the way it is for awhile.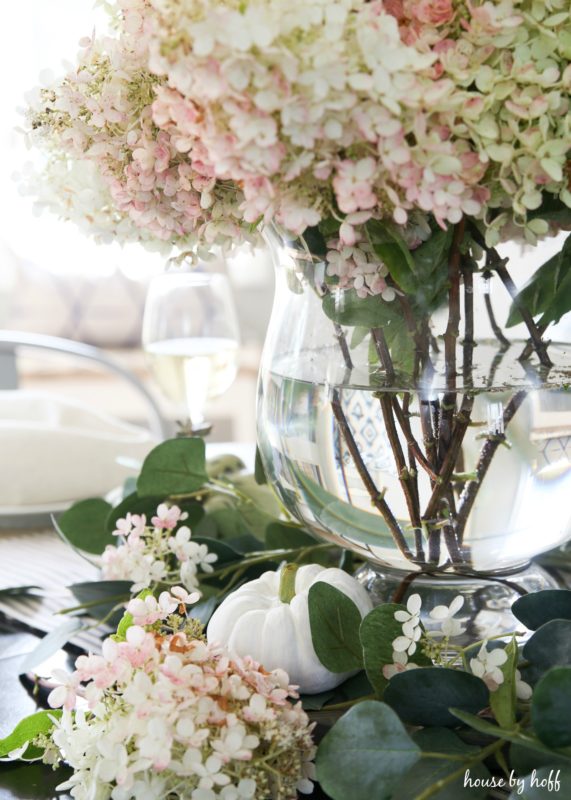 I had the most amazing time photographing this vignette. My favorite thing to do on a lazy weekend morning is play a little music, make something pretty, and take pictures as long as Miss L. lets me. 😉   It's very theraputic.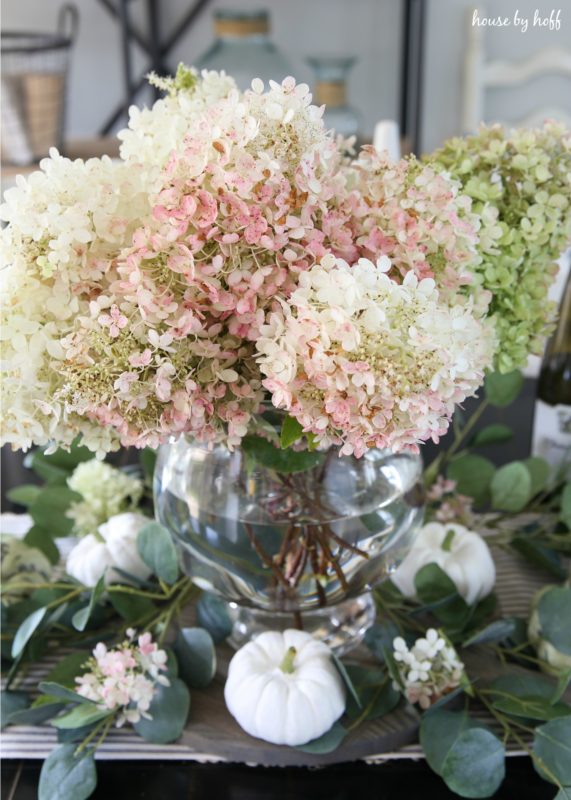 I just love the way these hydrangeas are tipped in pink…Does anyone know the exact variety they are?  I want to plant some in the backyard, but my friend isn't exactly sure, and I have no idea.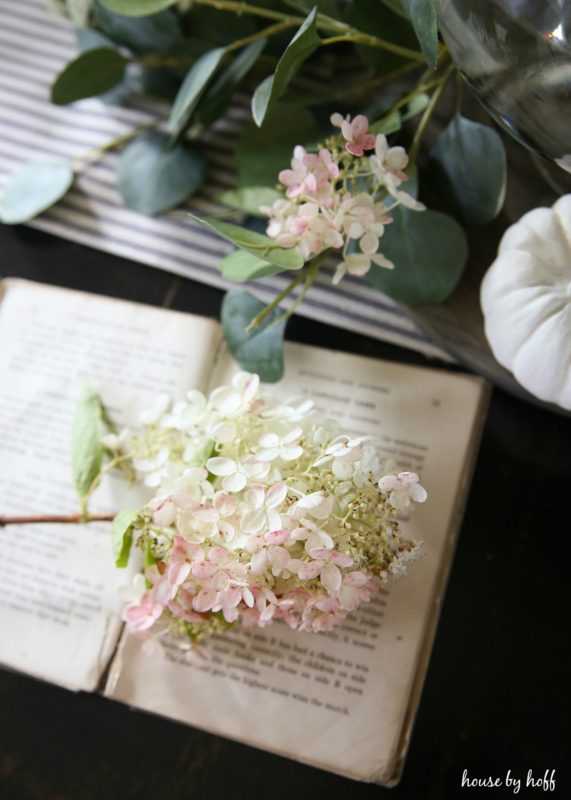 Yes, summer is lingering for just a little longer, and I'm happy about that.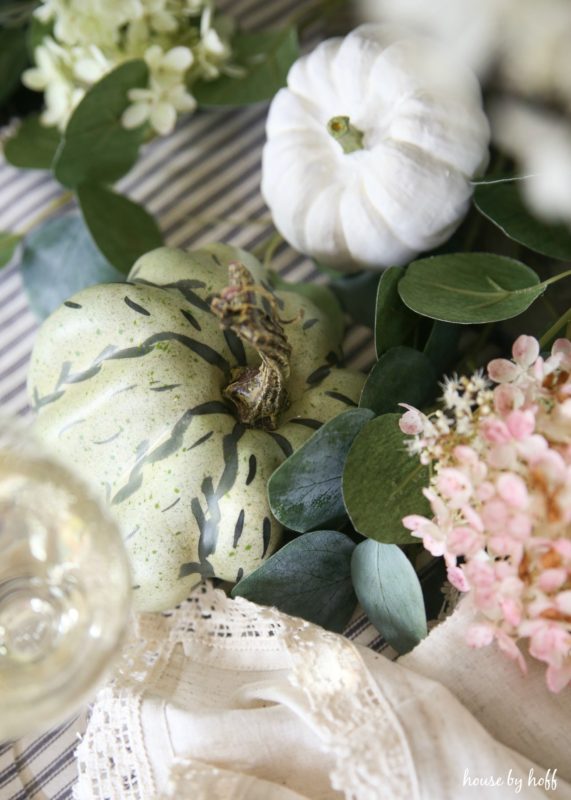 Fall will be here soon enough.
Have a great day!
~
Let's see what my GYDO co-hosts came up with for our "DIY Fall Favorites" September theme: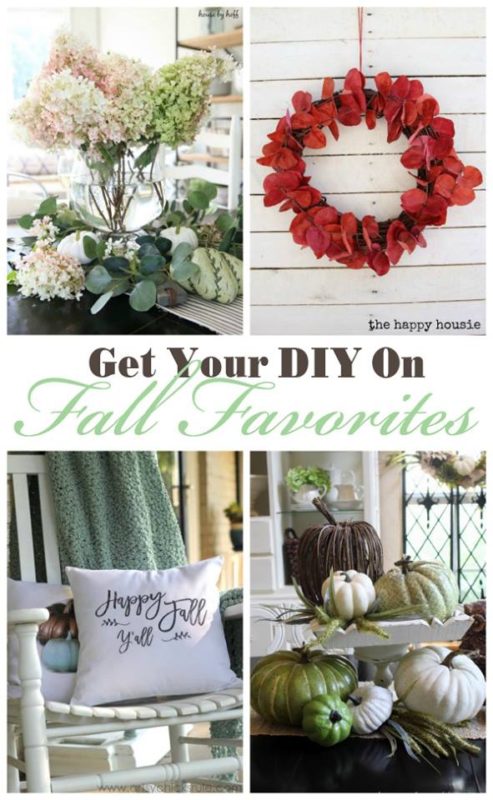 The Happy Housie's Five Minute Dollar Store Fall Wreath
Artsy Chicks Rule's DIY Fall Pillows & Free Printables
Confessions of a Serial DIYer's 7 Thrifty and Neutral Fall Decor Projects
Don't forget to link up our favorites Sunday at 7:00 PM!