It's November and it seems like most of blogland is going Christmas crazy at the moment. And I get it. I love decorating for Christmas! Truth be told, if I wasn't throwing a big 5th birthday party here next weekend, I'd probably be up to my neck in tinsel and ornaments too. Miss L's b-day comes at a tricky time of year, because it feels completely wrong to have the Halloween decor still out in the beginning of November, but having my home decorated for Christmas also seems ridiculous…I think most of our guests would be giving me some major side eye. I see you looking at me, Grandma.
So the only practical solution seems to be to take all the Halloween decor down, leave Christmas down in the basement for a little longer, and go for seasonally neutral decor for the party. After all, you know we'll have this place decked out in balloons and confetti here real soon.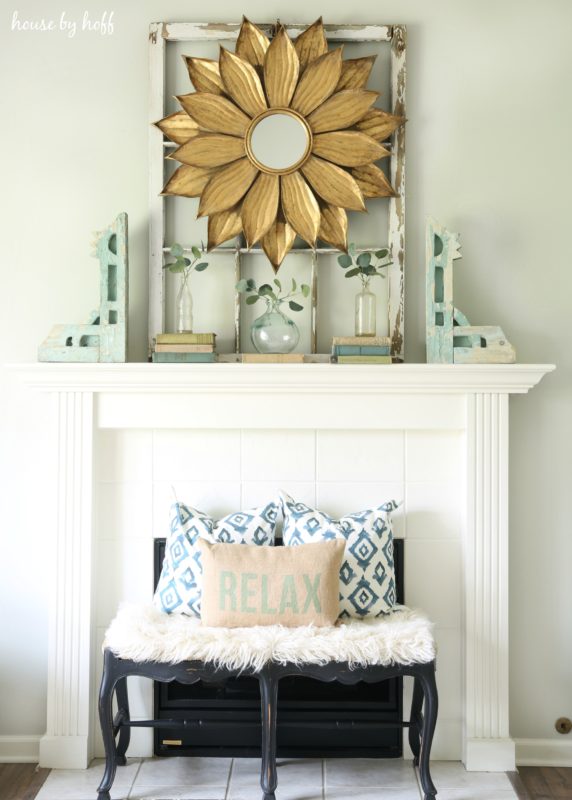 …So all the yacking just to say that I've taken down the Halloween decor and decorated my mantel with very seasonally neutral decor.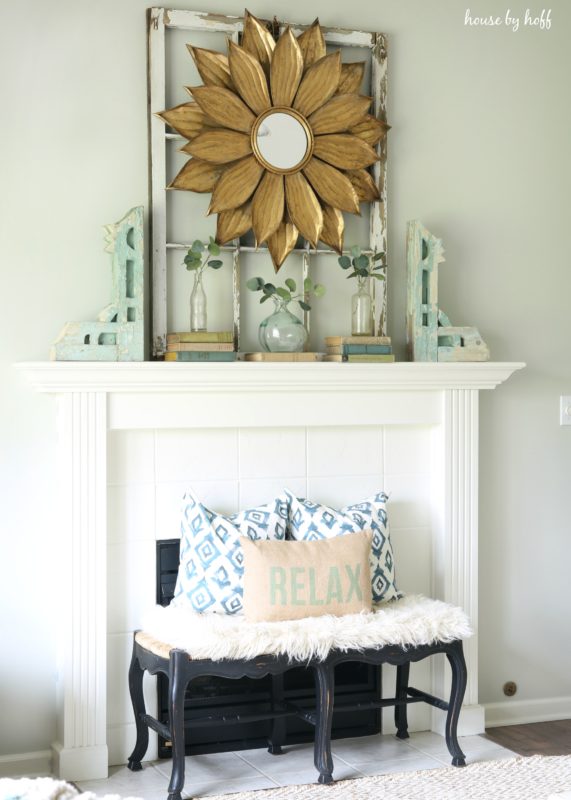 I found the gorgeous antique corbels at a local antique store a few weeks back. It was one of those times that nothing seemed more meant to be than those corbels on being on my mantel. Immediately. I love the color, the chippy paint, and the perfect touch of vintage it adds to the mantel.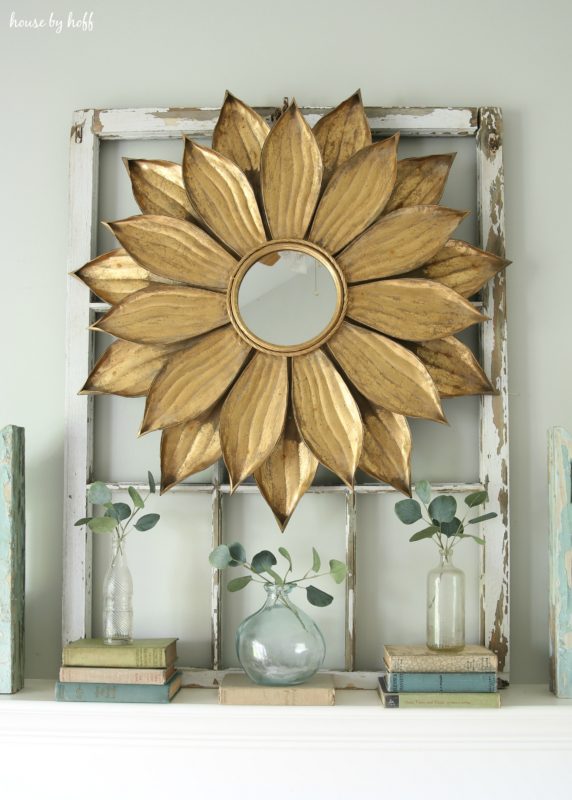 ….and let's talk about this mirror, shall we? It's the Uptown Dahlia Flower Mirror from Wayfair. I love this dramatic statement piece so much. I mounted it on my old wood window, and I think it's perfect.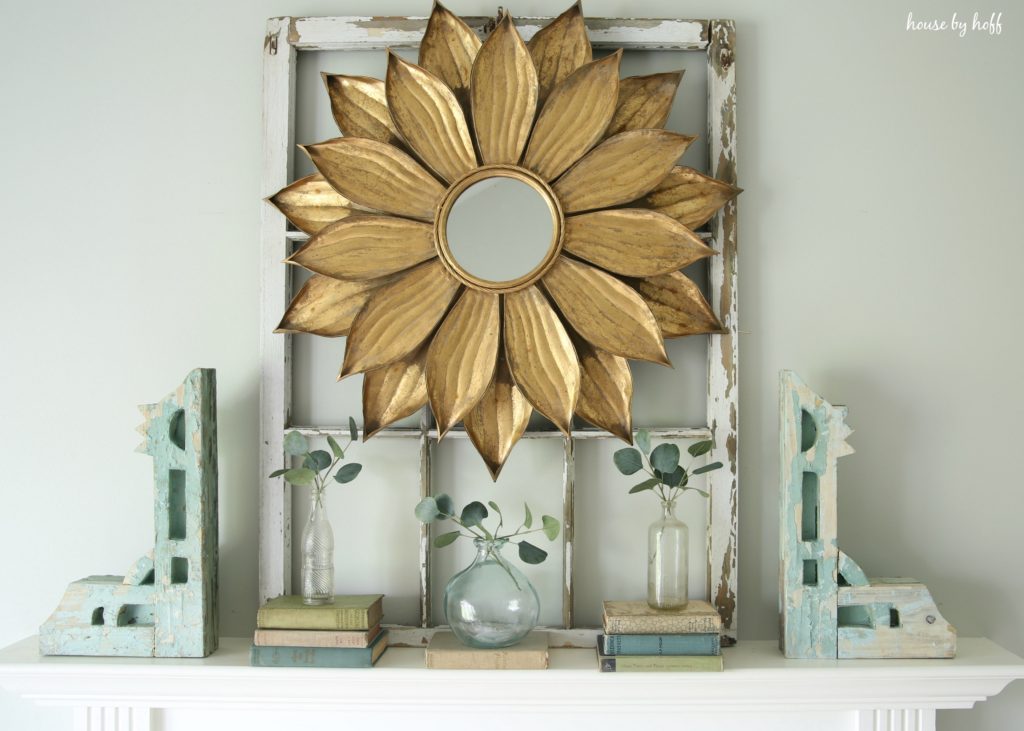 I think I'll leave this mirror here for the holidays…let's picture it with some sparkly garland on the mantel under it….can't you just see it?!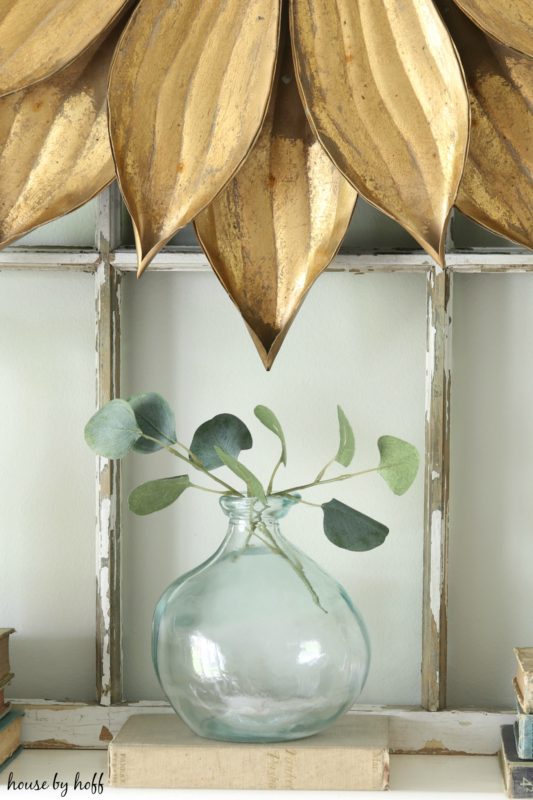 These simple eucalyptus leaves from Hobby Lobby keep multiplying in number around my house. They're everywhere! I can't seem to leave HobLob without a few more of them in my cart. 🙂
Have a great rest of the week, and if you need me I'll be under piles of wrapping paper, balloons, confetti, and garland as I transform this place for Miss L's party next week! (I seriously think I'm going to do a party at a different location next year…but, I think I've said that before.)
~
Let's see what my GYDO co-hosts came up with for their "DIY Wood Projects" this month: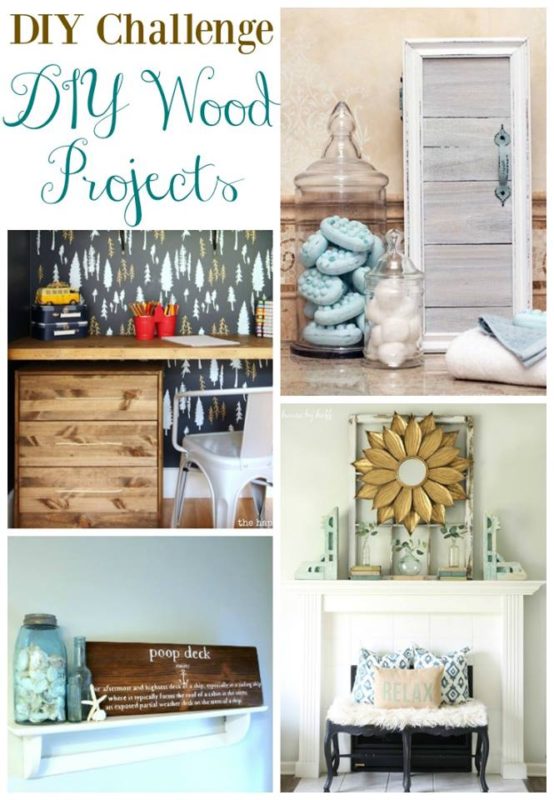 Rustic Ikea RAST Hack with Rope Handles by The Happy Housie
10 Thrifty Reclaimed Wood Projects by Confessions of a Serial DIYer
DIY Nautical Bathroom Sign by Artsy Chicks Rule
Don't forget to join us this Sunday to link up your DIY Wood Projects!

Have a great day!