We're having a bizarre winter here in Northern Indiana. One day it's freezing cold, and the next day it's in the fifties. It has me all kinds of confused. Like, can I get away without wearing a coat today? Do I really need the heated seats in the car on? And, most importantly, can I start decorating for spring?
Well, it may not be quite time to leave the coat at home or turn off the heated seats…but if I can get away with decorating for spring, you know I will. 😉
You may remember my post a few weeks ago about being featured in the Spring 2017 issue of American Farmhouse Style. My awesome friends at Wayfair were kind enough to hook me up with some fun new decor for the shoot, and I thought I'd break down the looks that I photographed for the magazine for you today!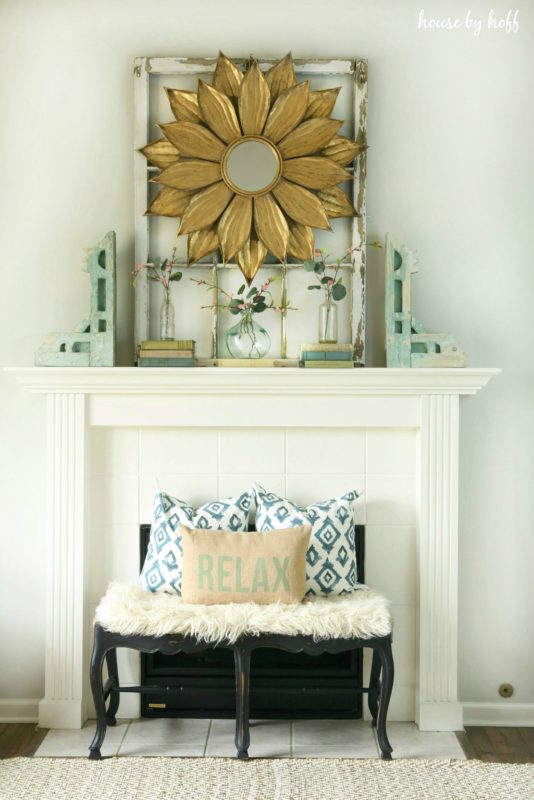 You know I love me some layers when I decorate. I created the look for this spring mantel by starting with my favorite old window frame. I wanted to add something bold and gorgeous, and Wayfair's Uptown Dahlia Mirror fit the bill perfectly.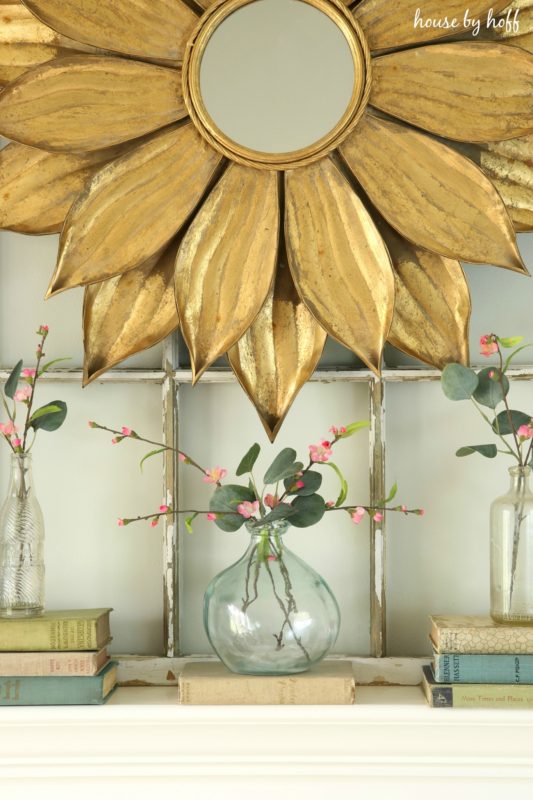 Of course it just wouldn't feel like spring decor if I didn't add some leafy sprigs to the mantel. I pulled a few vintage bottles from my collection and added the sprigs.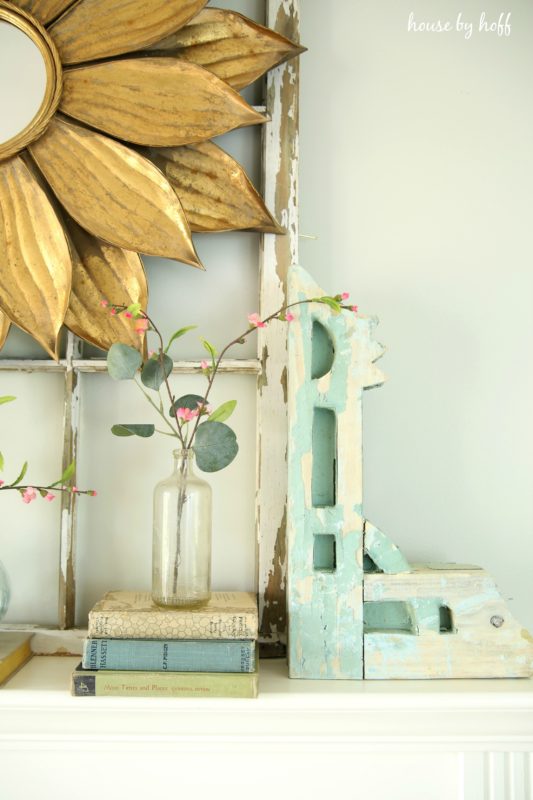 I flanked either side with some vintage corbels from a local antique store.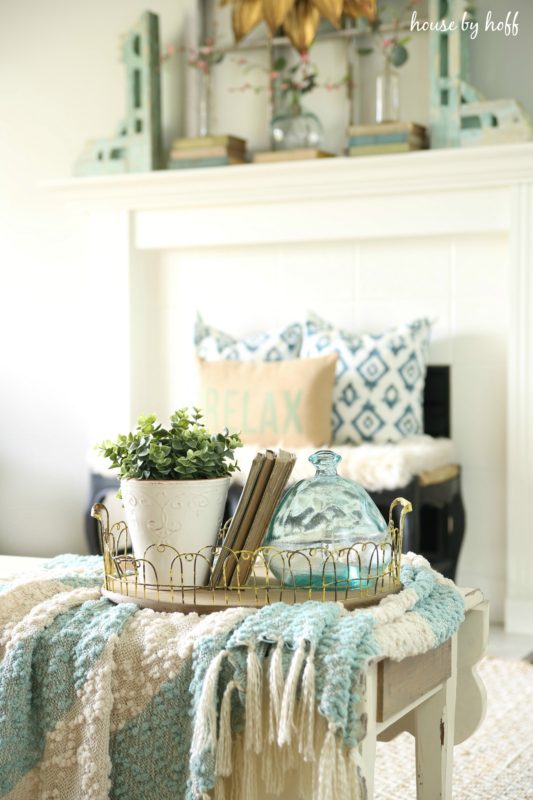 I am absolutely in love with this whimsical-looking tray. I love using trays to create little vignettes on my coffee table or in centerpieces. The Cottage Decorative Tray looks so vintage and charming here.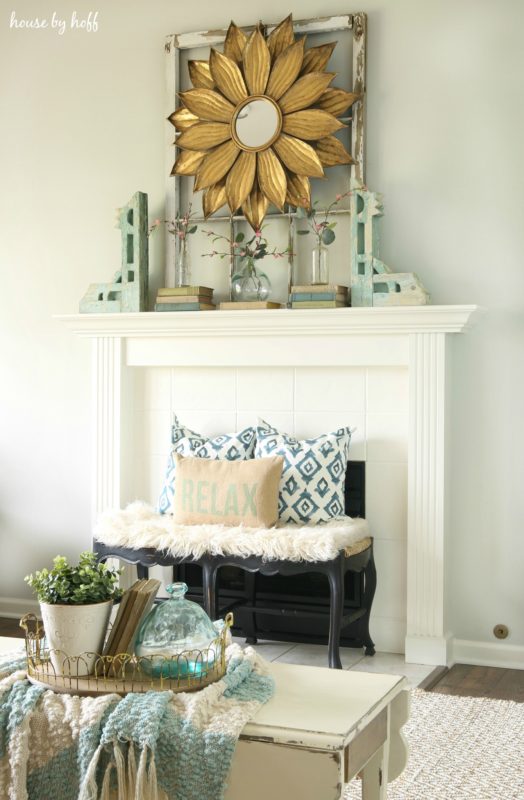 Let's move right along to my console table in the entryway. I had so much fun putting this look together. I absolutely adore these botanical prints, and I wanted to prominently display them in this vignette. I knew that I'd eventually want to hang them elsewhere, so using an old window as almost a shelf to set them on was the perfect way to display them without actually putting holes in the wall.
The botanical prints are the:  Chateau Wood 6 Piece Framed Graphic on Plaque Art Set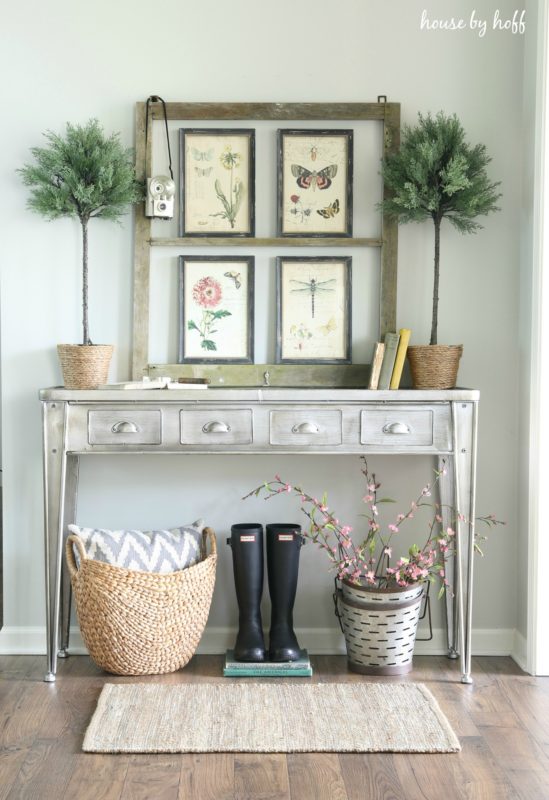 I imagined that this was the home of gardener who just came in from her garden. She probably took off her wellies, hung her camera on the edge of the window, and left her magnifying glass and clippings on the table before making herself a warm cup of tea….ha! 😉
I love the story-telling side of decorating and photography. My true passion is telling stories with the  photos I take…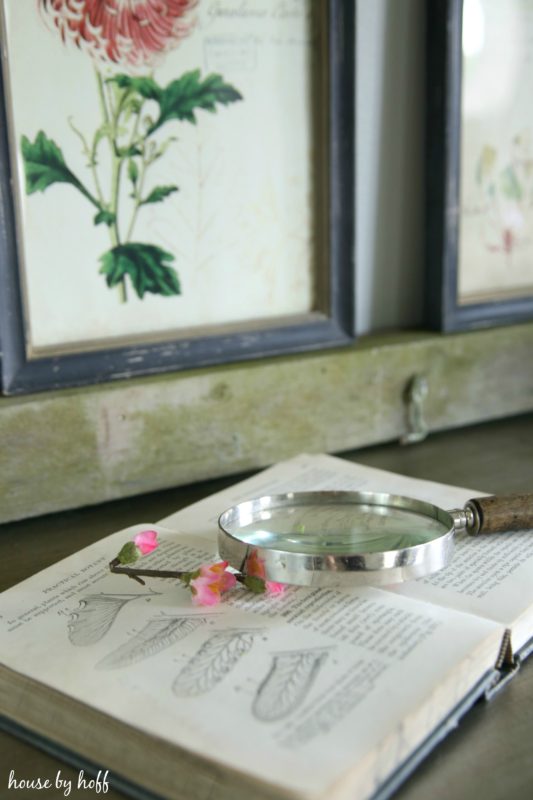 So, it may not actually be spring yet, but isn't it fun to pretend?
~
Thank you again to Wayfair for giving me some gorgeous new decor pieces for my photoshoot with American Farmhouse Style! The Spring 2017 issue is on newsstands now! I have found it at Target, Kroger, and Walgreens.
🙂
Have a great day!