Spring has a funny way of sneaking into all of the rooms in our house. It's in the open windows, the clippings of spring flowers, and in the case of our bedroom, the fresh new bedding that has given this room a bright new look. I was invited to take part in a fun blog hop this week, hosted by Camila of Effortless Style. She asked us to share our spring bedrooms and share some of our best tips for getting beauty rest.
I'll be honest. I am a night owl. I tend to get a second wind at night that makes it hard for me to go to sleep. I fight the urge to stay up late, and I've found that there are a few things that can help this night owl wind down and go to sleep at a (semi) decent hour.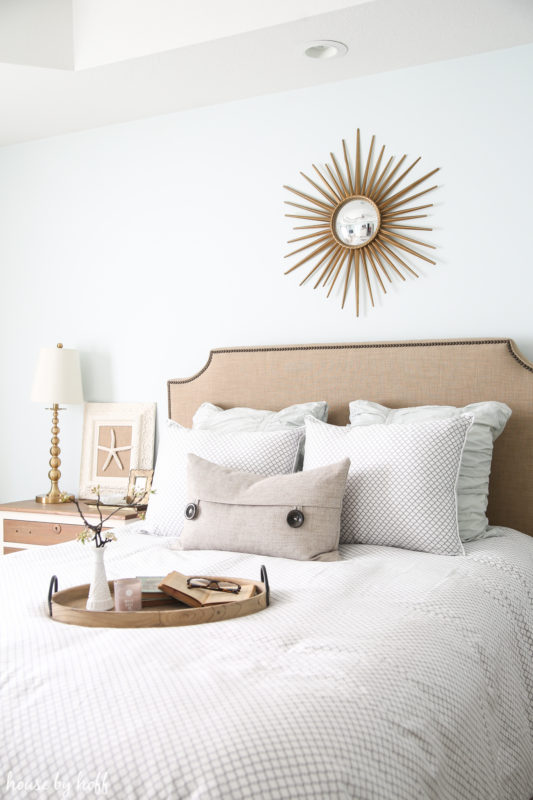 My first tip is to get an essential oil diffuser and diffuse lavender. I got my first diffuser for Christmas last year, and it has been a total game changer for me. I love using it in every room in the house, but I never miss diffusing lavender in my room at night. It just makes me feel calm and ready for sleep.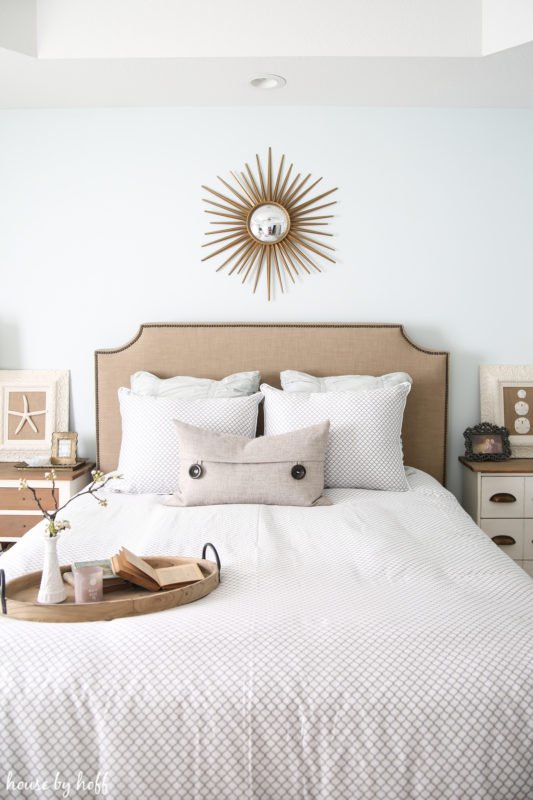 My second tip is to invest in good bedding. My new bedding from Crane & Canopy has been such a welcome change. It's been years since I've really had nice bedding, and now that I have some again, I can't believe I went so long without it. The soft and luxurious  fabric of this duvet cover and my  new cotton comforter make me feel like I'm sleeping in a bed in a fancy hotel or something. I'm not sure what it is about a good down comforter and a high-quality duvet cover, but I'm telling you, I'm giddy about crawling into bed at night.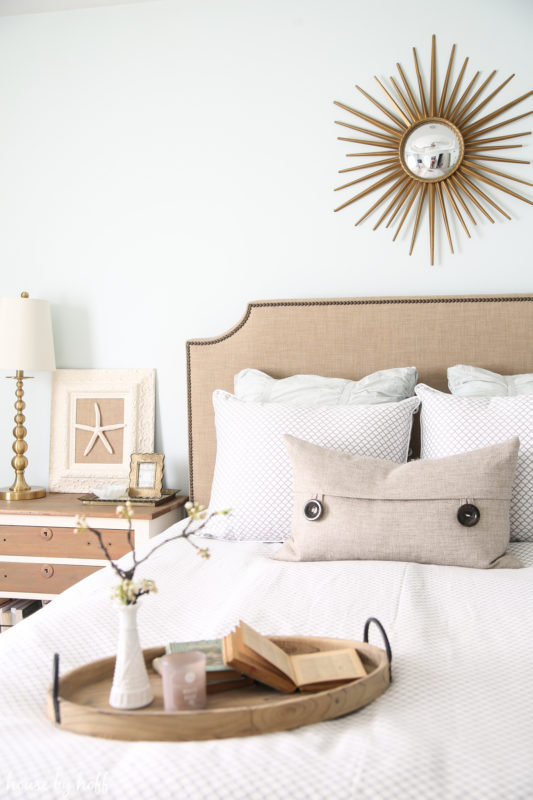 My third tip is the hardest for me to stick to, but I definitely notice a big difference when I follow it:  put away the cellphone. Why is this so hard? Why do I think that I need to check my email or Instagram feed one last time?  I don't know, but when I start reading emails or checking social media before bed, I end up for hours just scrolling through my feed.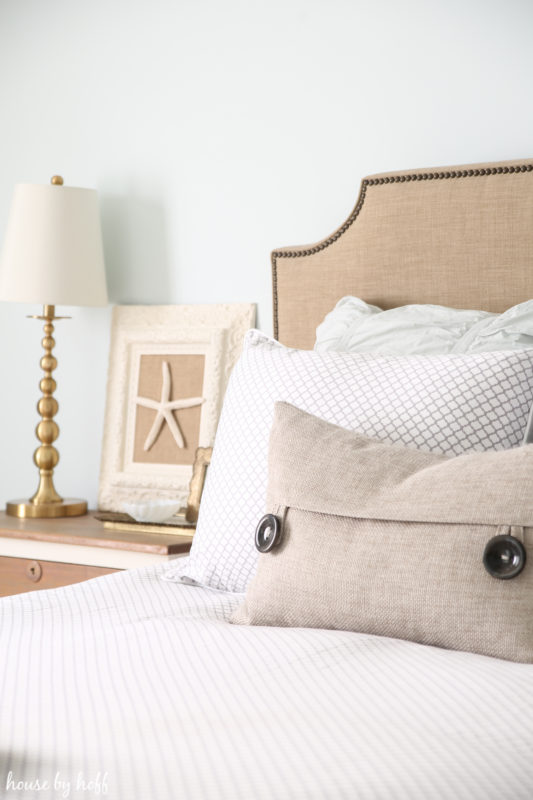 My last tip seems to defy any sleeping advice I've ever heard from a professional, but I swear that watching TV makes me sleepy. If I turn on HGTV before bed and catch an episode of House Hunters or something, I swear I can barely keep my eyes open long enough to see which house they end up choosing. I really like just a little TV before bed. 😉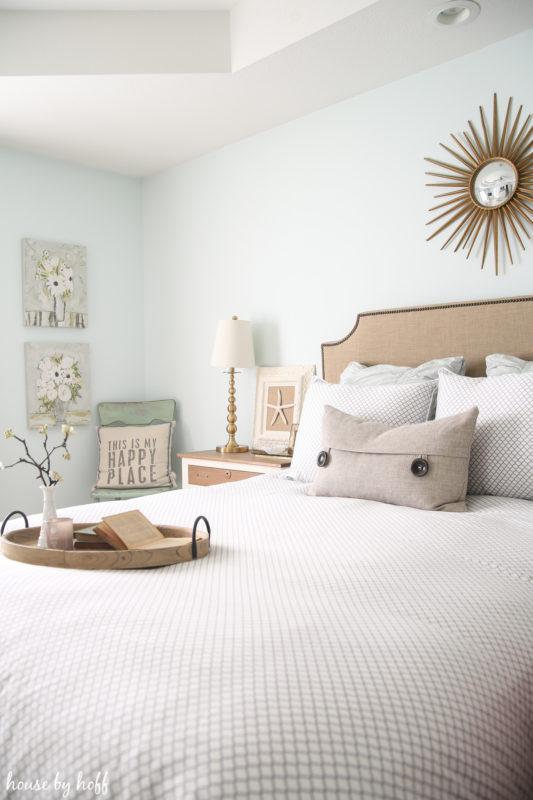 So those are my tips for getting some good beauty sleep. Like I said, I tend to have a hard time going to sleep, so these are just my tried and tested methods that work for me.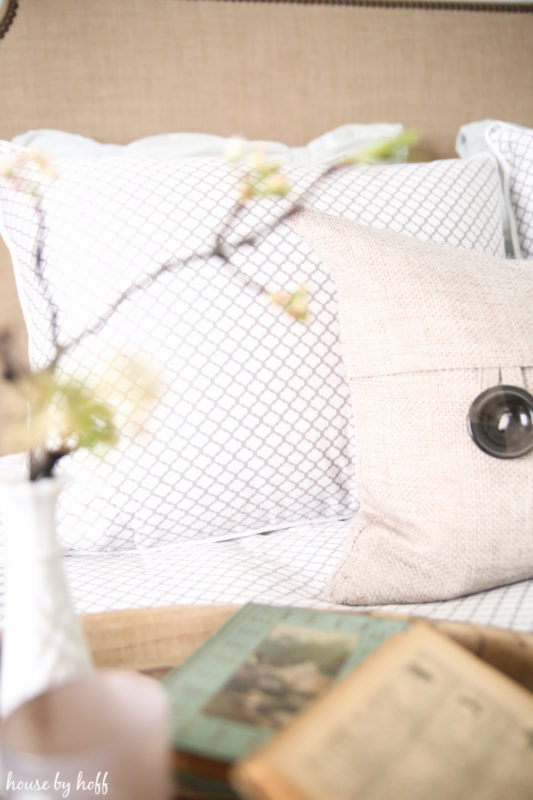 I'm not the only one sharing my spring bedroom and tips for good sleep! Be sure to check out the entire lineup for the week:
Have a great day! 🙂