Lots of pictures of how our laminate floors are holding up almost 2 years later!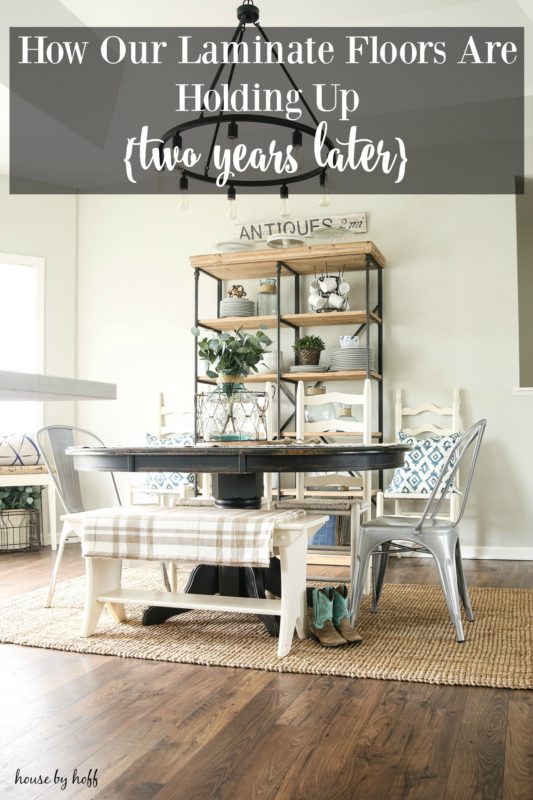 As a home decor blogger, I get lots of questions about the products that I use in my house. One of the most asked about products is our flooring. Nearly two years ago, we replaced the flooring in the entire front of our house and put down a laminate floor product. Today, I'm going to give my honest opinion about our choice to use laminate floors in the kitchen, eating area, living room, hallway, and playroom.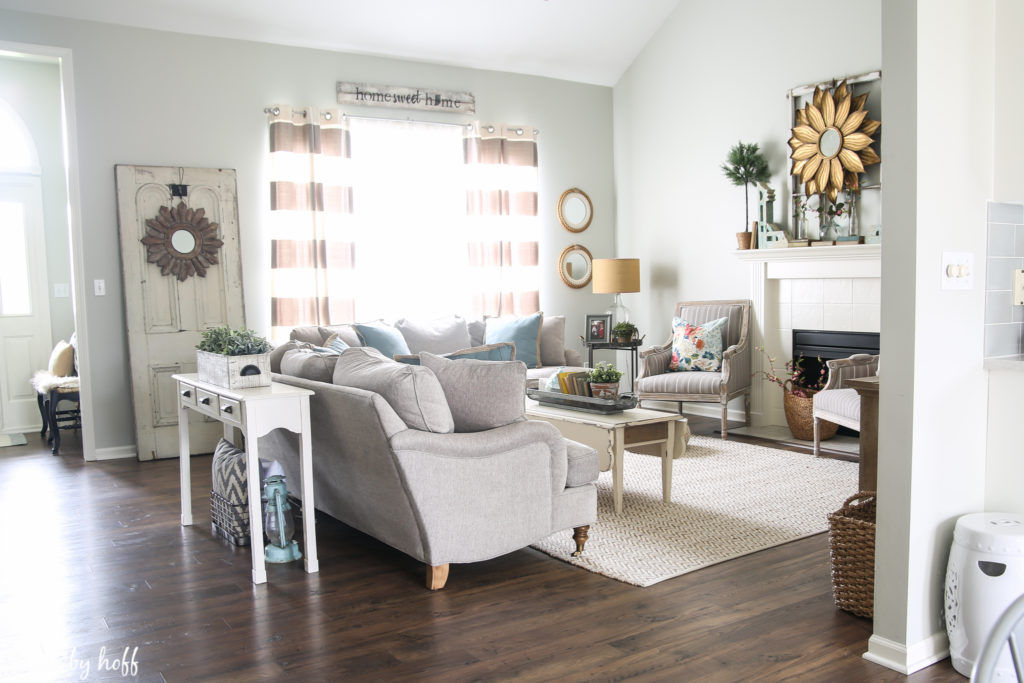 So, let's rewind for a minute….When we moved into our home five years ago, the flooring situation was less than ideal. We knew that we'd eventually want to replace the linoleum floors in the kitchen and the white carpet that was everywhere else. Here are a few "before" shots to show you what I'm talking about. Yikes!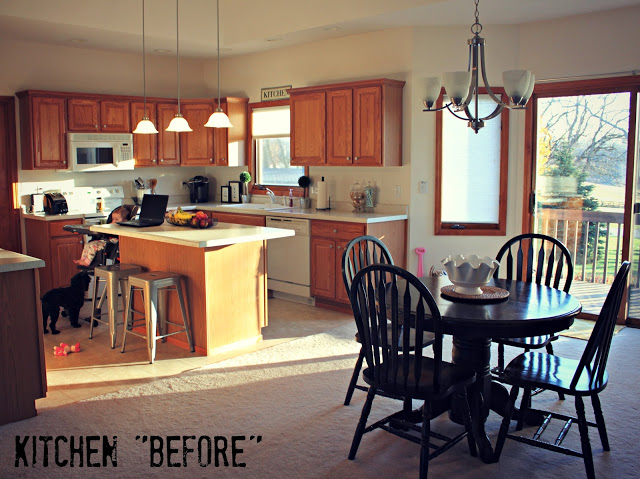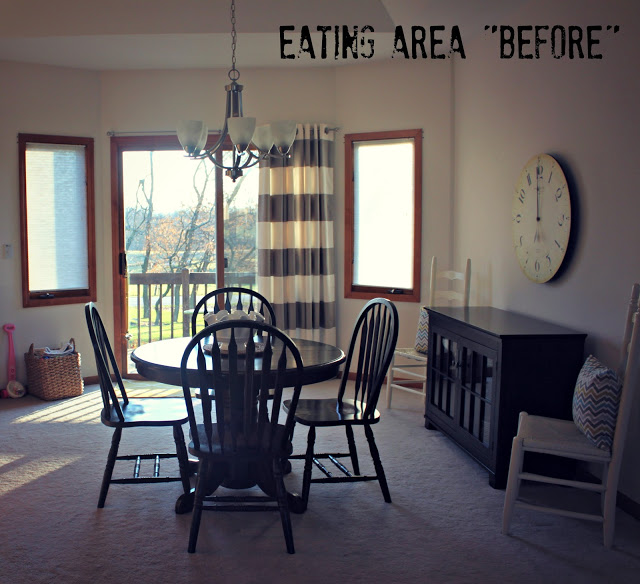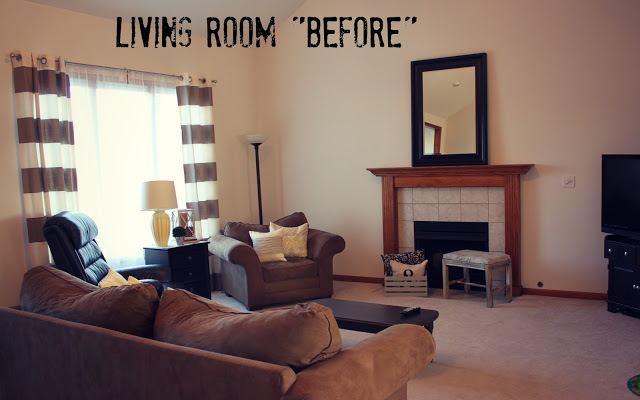 So, as you can see, the flooring really needed to be replaced. (As well as many, many other things!)  I always hated the look of the cheap linoleum in the kitchen, and the white carpet was impossible for me to keep clean. I'd vacuum the entire house 2-3 times a week, and even then it looked terrible. Our shoes would leave footprints in the carpet, we spilled coffee on it more than once, and our dog would track in dirt and grass from our yard constantly. It always looked terrible, and I was SO over it.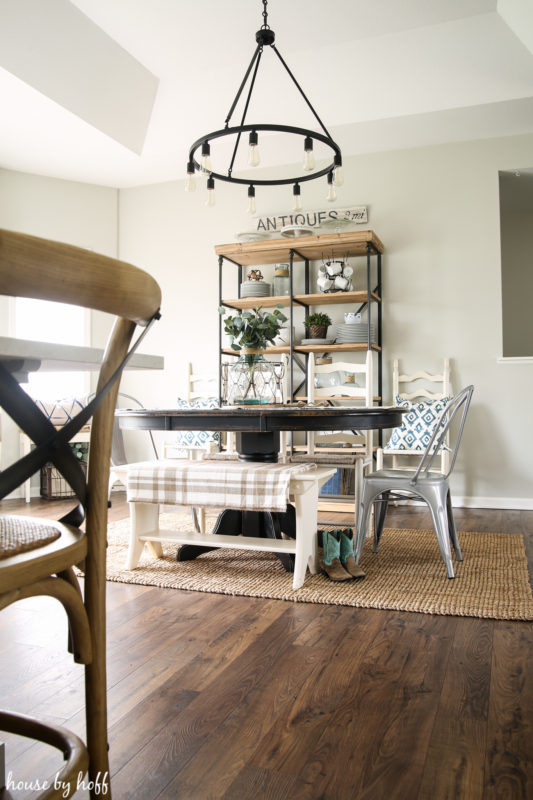 When we first started talking about replacing the floor, I knew it was probably going to be laminate wood flooring for the win. As much as I would have loved to do hardwood, we were replacing SO much flooring, and I knew that laminate would be much more budget-friendly for the look I wanted.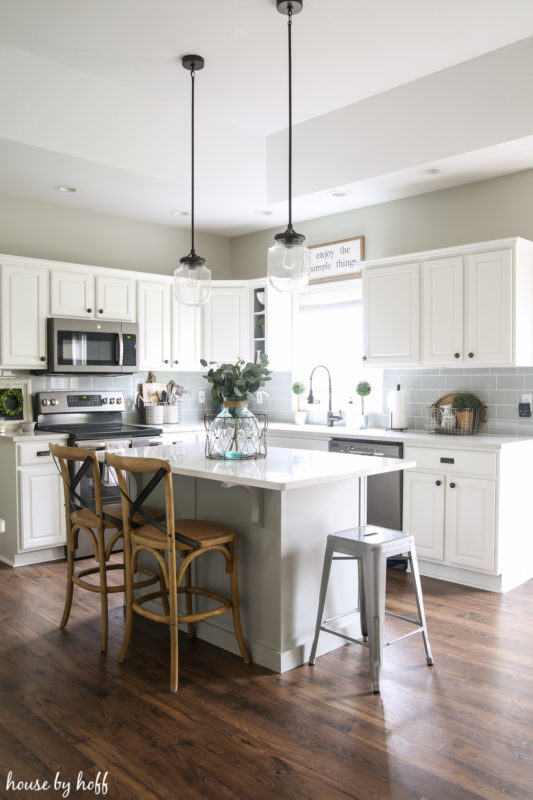 I also knew that I wanted ONE kind of flooring throughout the whole front of the house. I didn't want a patchwork of flooring. Which meant that I would be putting a laminate product in the kitchen. Which leads me to one of the questions I get asked most:
How do laminate floors do in the kitchen?
My honest answer:  They do great! We do not have a problem with moisture, and I definitely make sure to wipe up water off of the floor as quickly as possible, but we have found that our flooring is very durable and well-suited to our kitchen. My daughter, like most five-year-olds, spills on it all the time, and it's very easy to wipe up.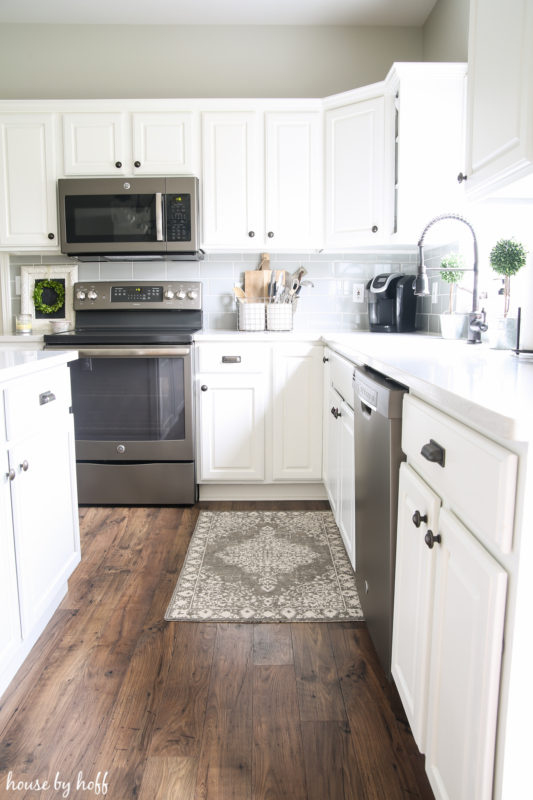 The kitchen is obviously one of the most-used areas in the house, and we have not noticed a bit of wear in here. They look as new and as nice as the day they were installed.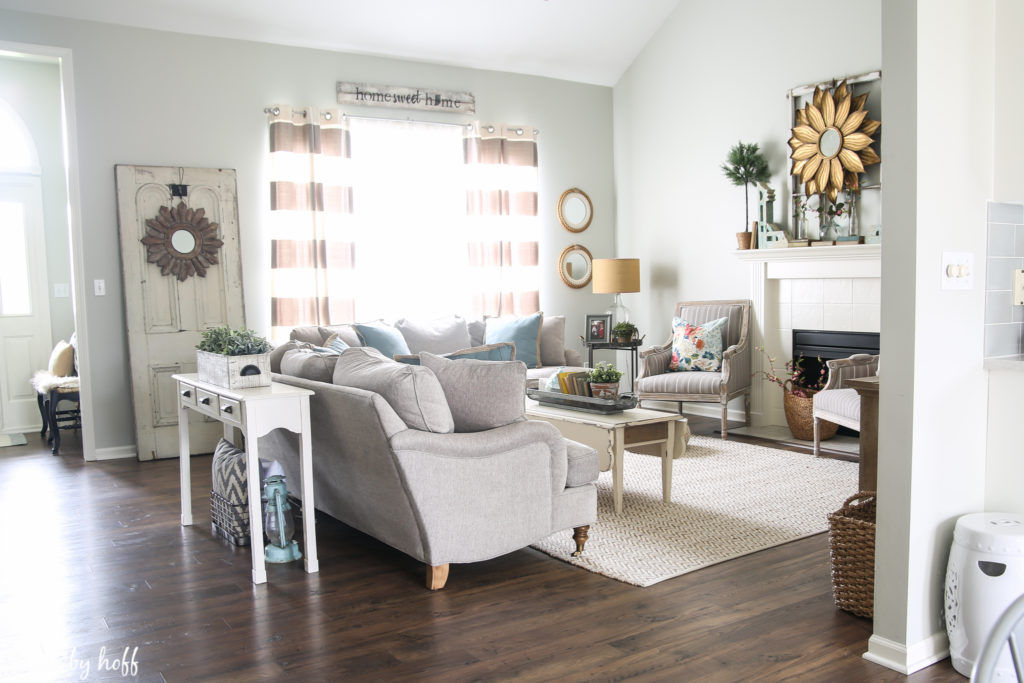 The flooring continues from the kitchen/eating area and into the neutral living room. Another question I get asked a lot is:
Does it look/feel real?
Ok. Well, I am not a flooring expert, but I think it does look and feel real. We chose a product that has a lot of variation of color and texture. It has a rough, wood-like texture, and there is a lot of variation from plank to plank. When people come to our house, they ask if it is real wood or not, so I don't think most people can tell a difference.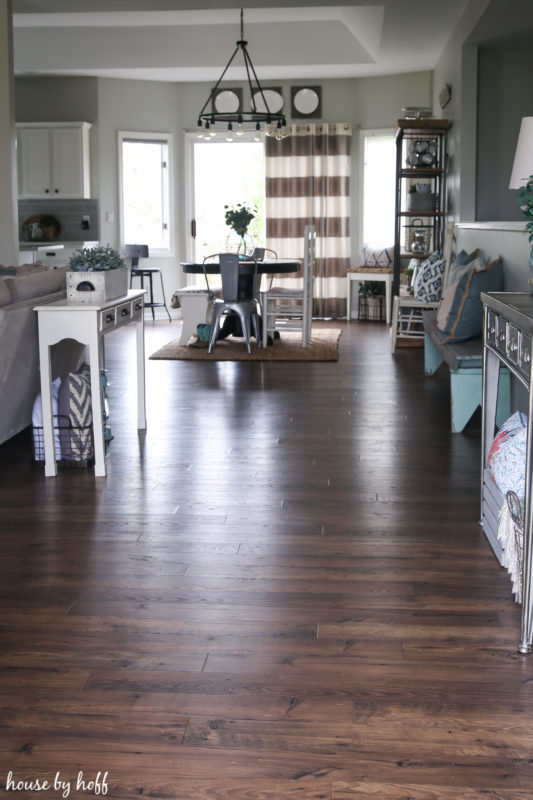 Here is a shot that shows what the flooring looks like when you first enter the house. Another question I get asked a lot is:
Does it scratch easily?
No. Not easily. But we have scratched it. One time I dropped a sharp pair of scissors on the floor, and it left a pretty good ding in it. Another time, my husband dragged the stove out and then pushed it back, which left a few scratches in the floor. I just used a Mohawk Touch-Up marker (affiliate link) on the floor to color in the scratches, and you can't even see them. It's like they aren't even there! 🙂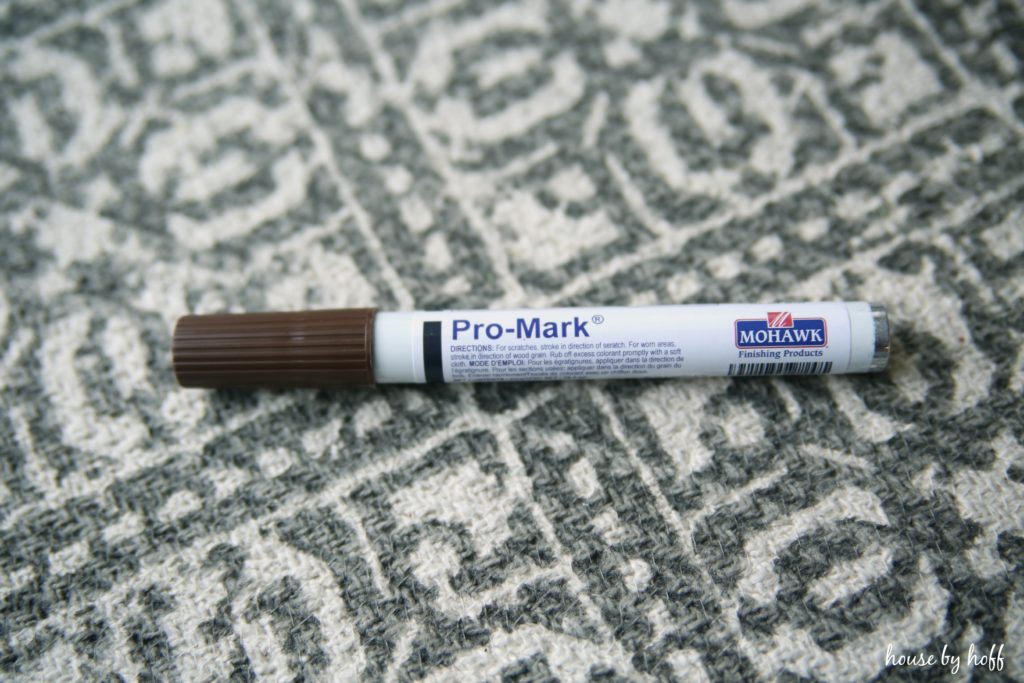 We were so happy with these floors that we had our hallway and playroom carpet ripped out last fall, and the same laminate flooring installed. I love the look of one continuous flooring throughout most of our house. I'm even trying to convince my husband that we shouldn't replace the bedroom carpeting with more carpet…I just want more laminate! He's not sold on the idea (he wants carpet under his feet), but I just want it all to be the same…we'll see who get's their way! 😉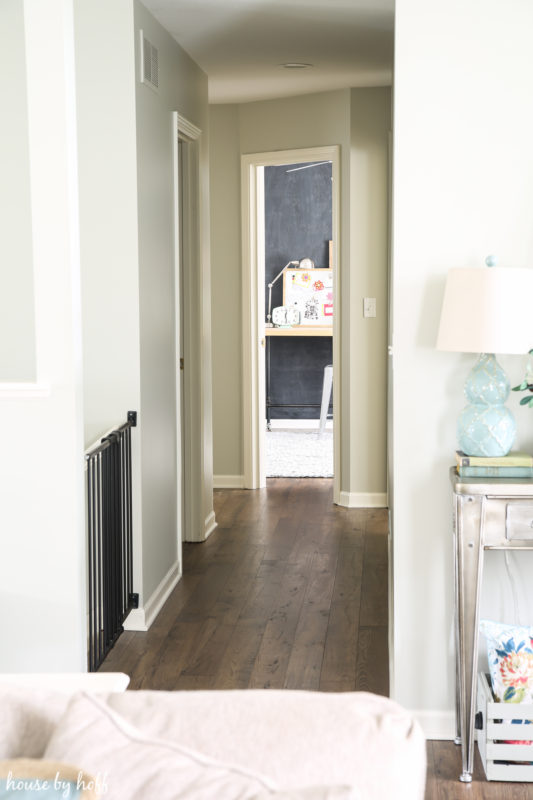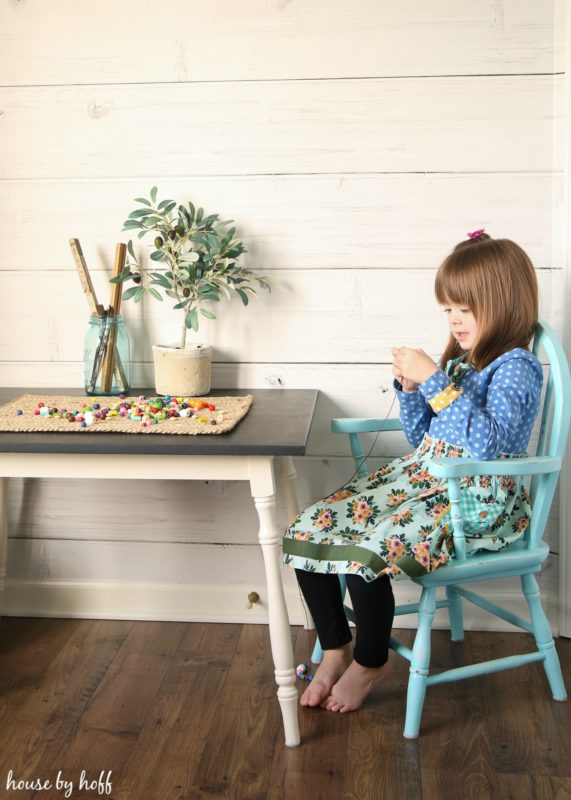 So, the last question I get asked a lot is:
What kind/brand of flooring is it?
Our floor is a laminate product by Mohawk and the color is called "Toasted Chestnut." That's about all I know….ha!
So, hopefully, this answers some of the questions you may have about our flooring. To sum it all up:  I am very happy with our decision, we have no complaints, and it has been a very durable and beautiful choice for our home! This post is in no way sponsored, and these opinions are completely my own.
Have a great day! 🙂