I am super happy with my new blinds and wanted to share all the details with you!

I am not, by nature, a patient person. One of my many faults is my impatience…I can be a downright stinker about wanting my house to look a certain way now. Not a few years from now, not next month…now! But, I have learned, (or have been forced to accept), that I can't have everything right when I want it…I think they call this being a grownup or something.  😉
#adultingishard
There is one thing I've wanted in our neutral dining room and kitchen for quite some time:  bamboo shades. So, you can imagine my excitement when I got the opportunity to partner up with Blinds.com to get some Woven Wood Shades in this area of the house! These blinds are the icing on the cake for me! They're the finishing touch that my kitchen and eating area really needed to truly fulfill my vision for this space!
Before: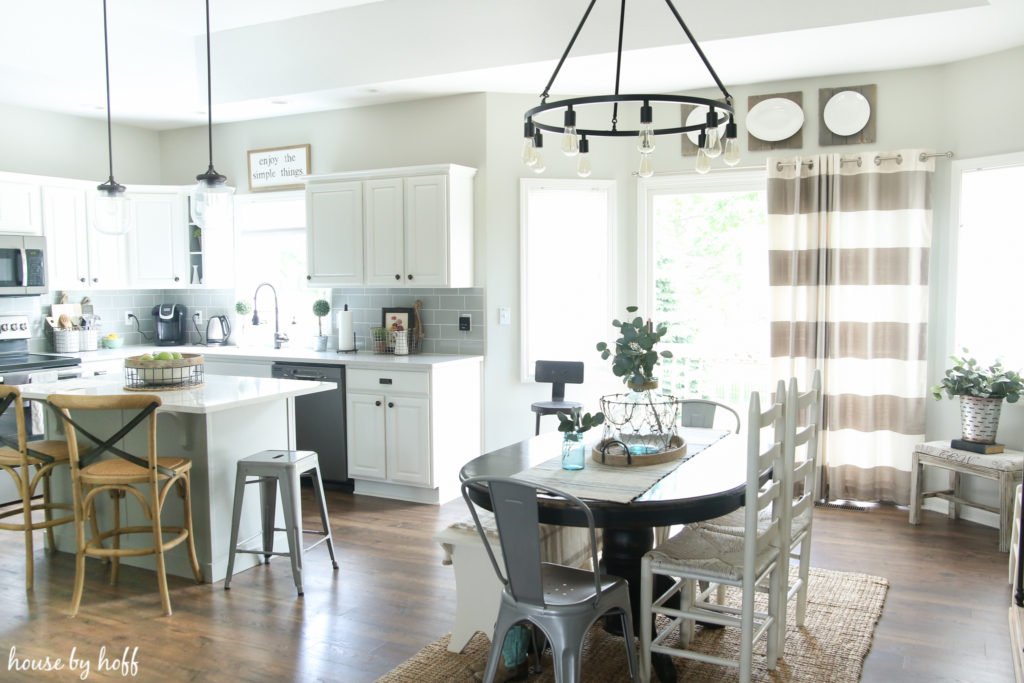 It's not that there was anything wrong with the light-filtering shades that were here when we moved in, but they certainly didn't add anything aesthetically. With all of the crisp white and gray in the kitchen and eating area, I knew that some bamboo blinds would add the texture and warmth that this space really needed. You can see from these "before" shots that the original blinds were just kind of "meh." (You have to shrug your shoulders and tilt your head to one side when you read the word, "meh.")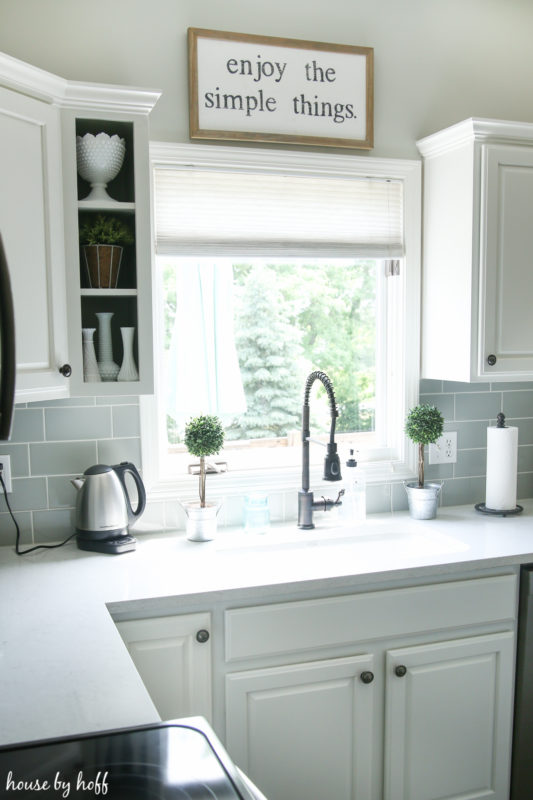 Installation:
Whenever we tackle a project like this, I have to get Mr. Hoff on board! Luckily, installing our new matchstick blinds was super EASY! First, he removed the old blinds and installed the brackets for the new window shades.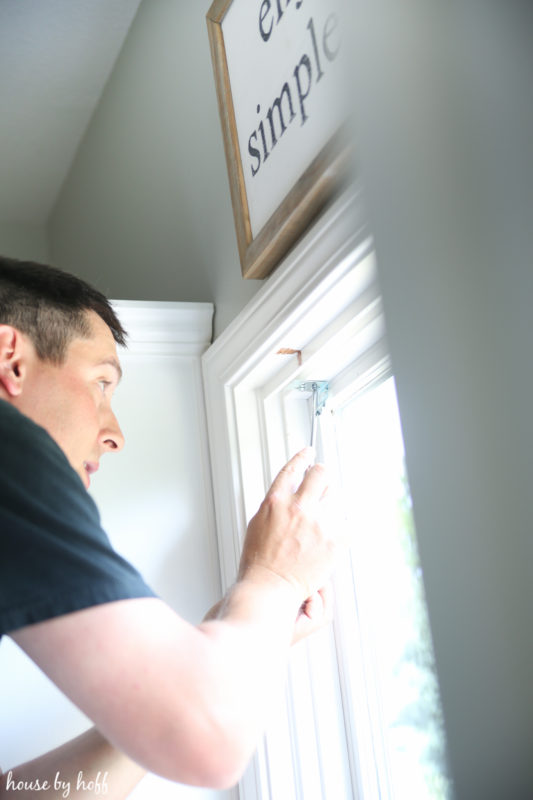 The new woven wood shades came with snap-in bracket connectors already pre-attached to the top of the shade's headrail. There are two bracket connectors, one on each side of the headrail.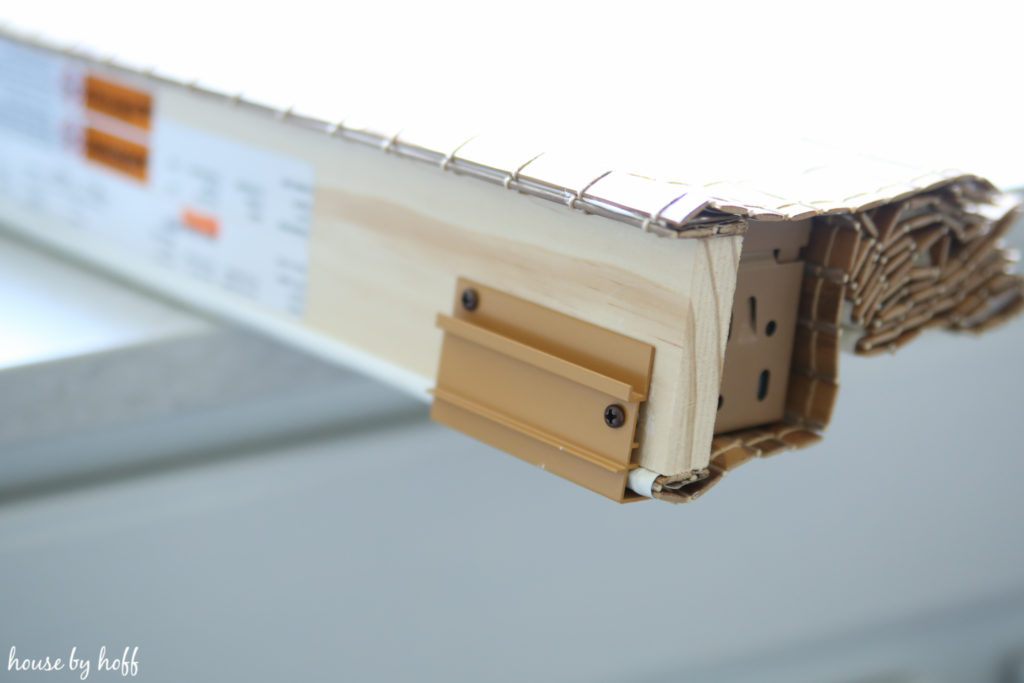 It was as easy as just snapping the two connectors on either side of the headrail to the two brackets that Mr. Hoff mounted on the window frame.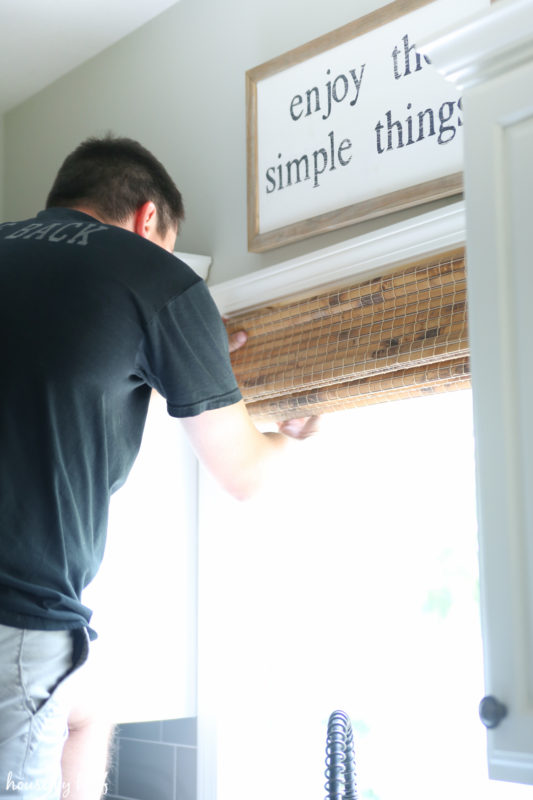 After: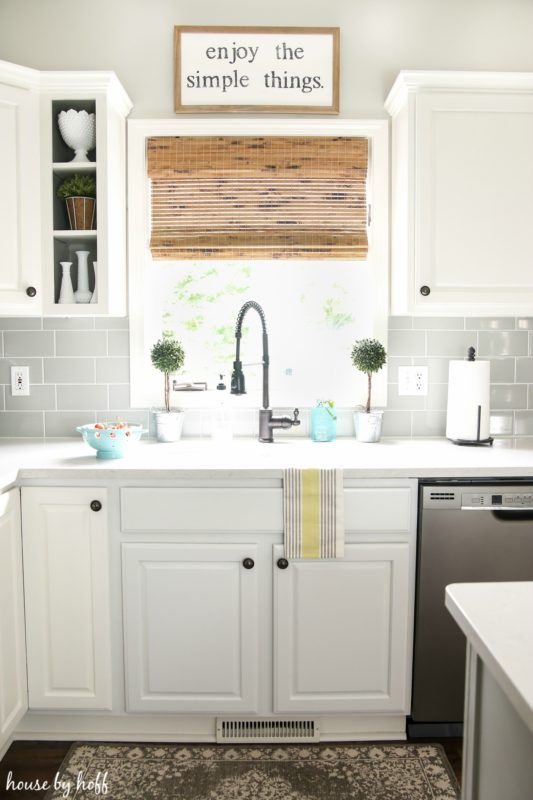 Aren't they so pretty?! These woven blinds are just what this space needed!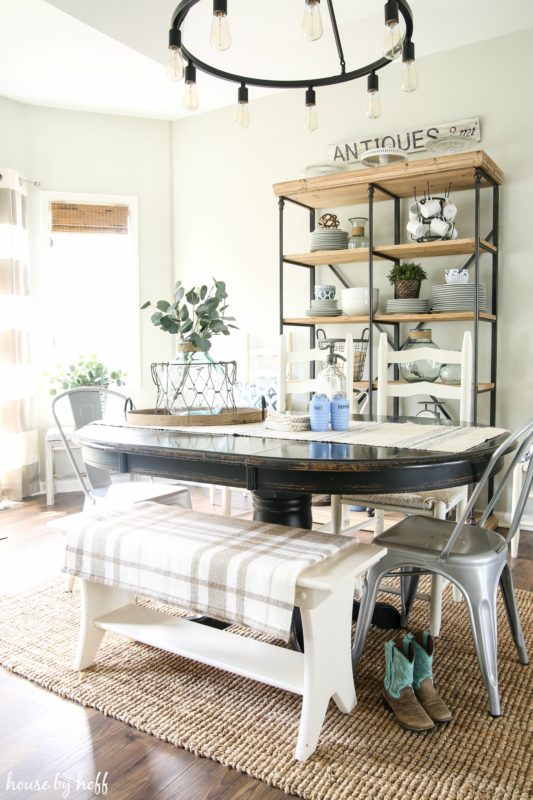 When choosing the blinds, I considered a couple of things. 1) The color of the wood decor and accents in my home, and 2)  The color of the wood floor.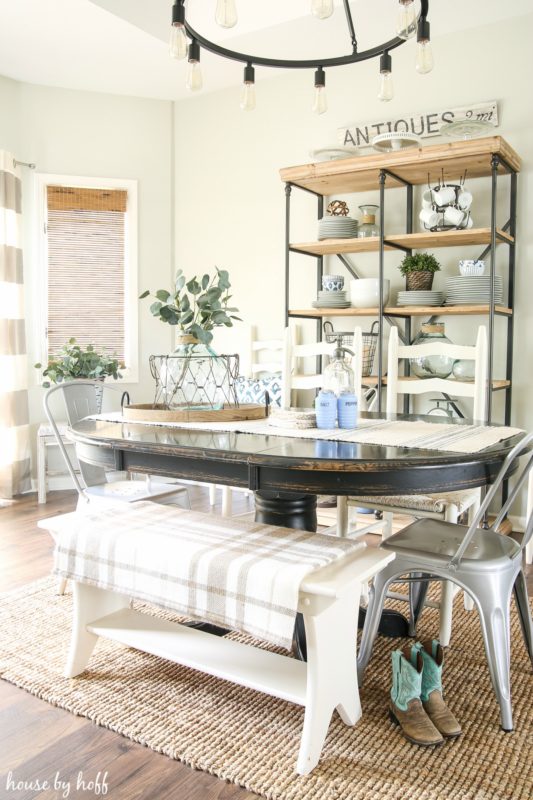 I wanted something that would pull it all together and incorporate all of the earthy wood tones in this space.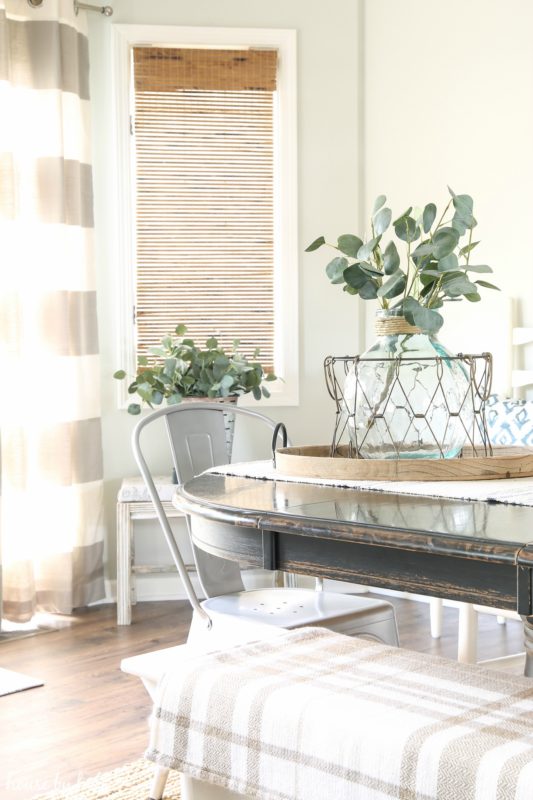 I love the way it all looks together, and the way the blinds pull the darker wood tones out of the floor.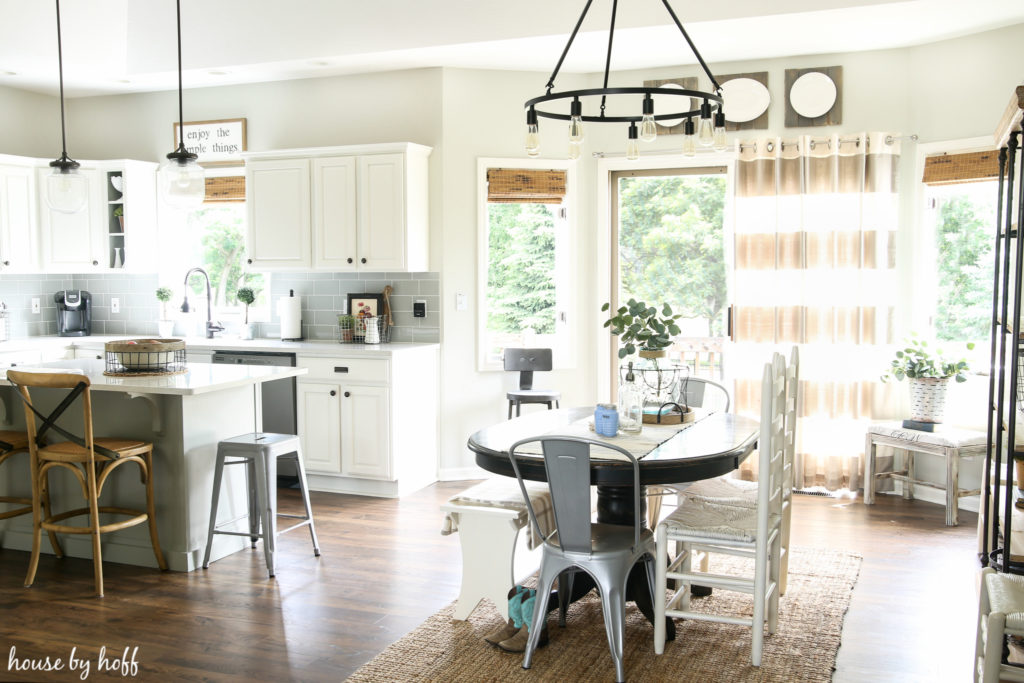 I opted to get a valance, and I like the way it looks when the blinds are all the way rolled up to the top.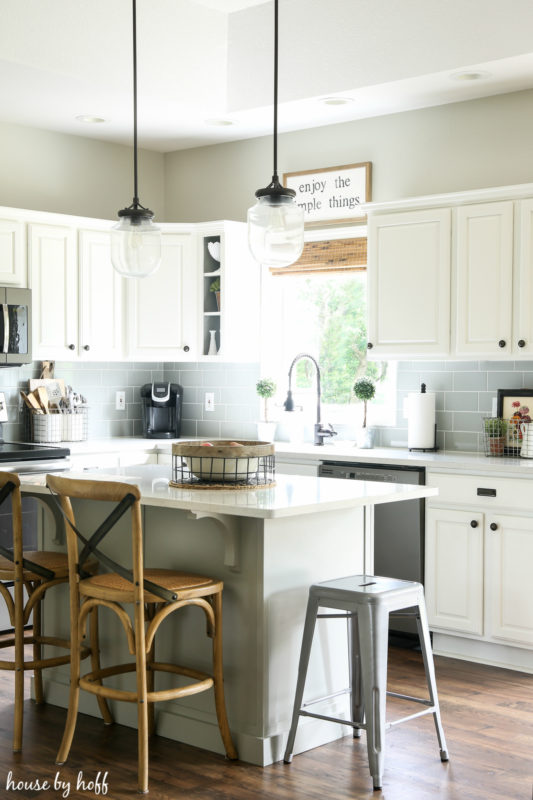 I opted for an inside mount, which I think looks clean and custom. I always prefer an inside mount. 😉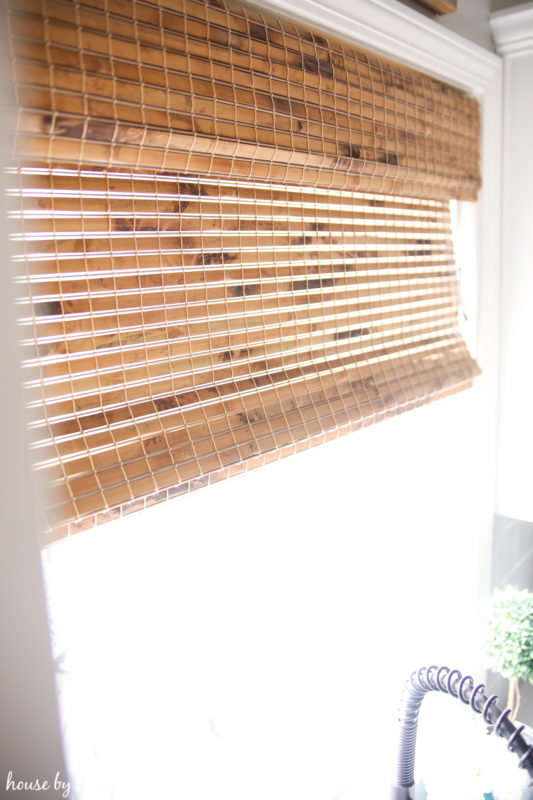 The exact blinds I chose are Blinds.com Delux Woven Wood Shades in Palena Sand Dune.
If you're loving the looks of these window blinds, and you're thinking you might need some, I have some exciting news!
Have a great day! 🙂