It may still be August, but the fall decorating is on around here! My first fall-related project was throwing together this really pretty (and simple) DIY Fall Centerpiece.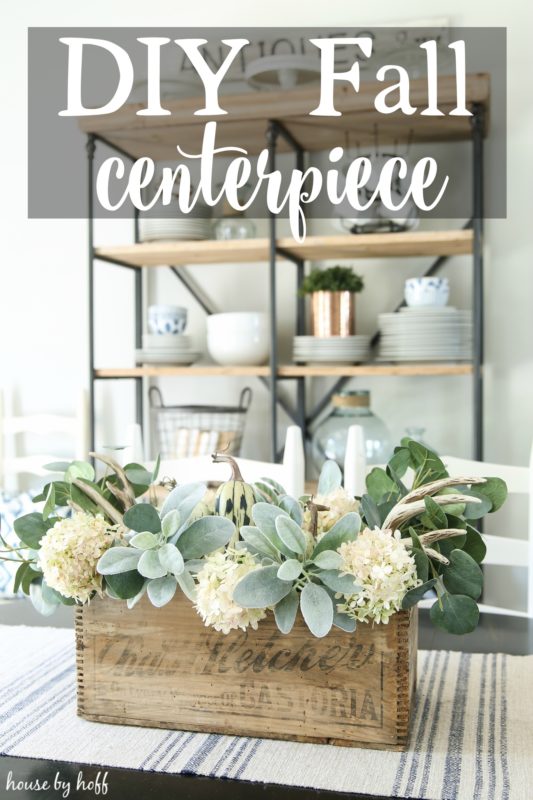 When I first start decorating for fall, I tend to resist the orange-pumpkin kind of fall decor. I feel like that should be reserved for later in the season…am I right ?! For this "early" DIY fall centerpiece, I wanted the look to be neutral and almost monotone but an elegant fall centerpiece. I stuck to mostly greens and whites, and I have to say I love how it turned out!
DIY Fall Centerpiece
To create this centerpiece, you'll need:
 An old crate that fits the size and scale of your table
Greenery (I used eucalyptus leaves and lamb's ear from Hobby Lobby)
Hydrangea (real or fake would work fine, I used real from my backyard)
Gourds (mine are fake from Hobby Lobby)
Antlers (mine are actually Christmas Ornaments that I found last year at, say it with me, Hobby Lobby)
*Optional: floral foam (This would be helpful to use to get your greenery and gourds to stay in place. My crate is small enough that everything is just kind of jammed in there and holding pretty well.)
Step 1:  Put crate on table
I know, I know. This is a complicated tutorial! 😉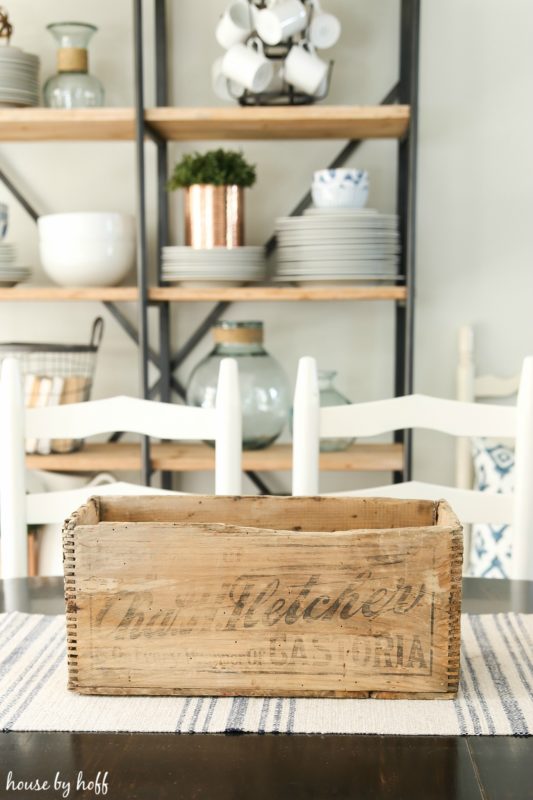 Step 2: Add greenery
I placed the greenery inside the box with the stems facing inward so that the greenery would almost look like it's spilling out. I wasn't really worried about it looking perfect yet, I was just putting it in for basic placement. I used 3 stems of eucalyptus and 2 stems of lambs ear.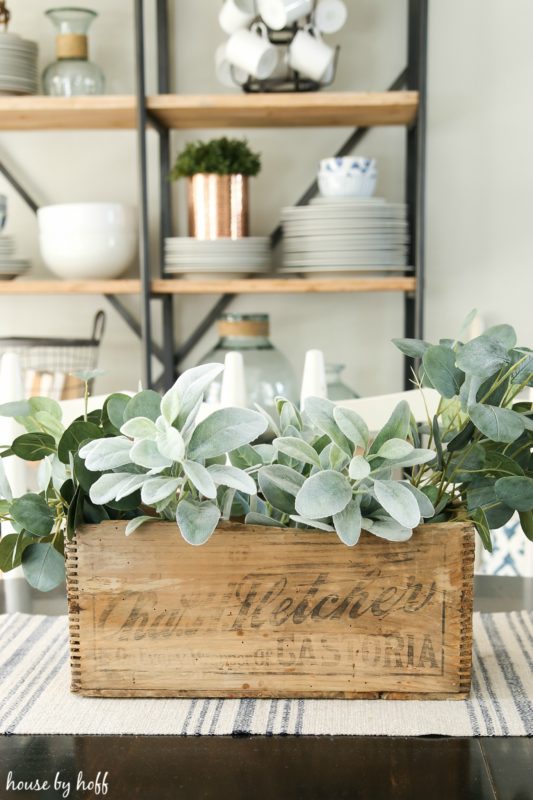 Step 3:  Add hydrangeas
I used five stems clipped from my hydrangea bushes in my back yard. I placed them in between the greenery stems. Again, I wanted them to look like they were spilling out, so I placed them in with the stem going inward.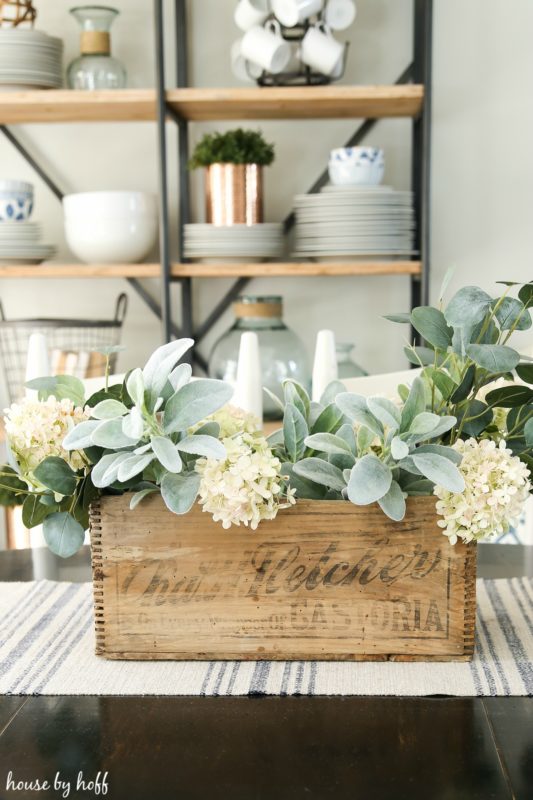 Step 4:  Place your gourds
So, by now, you've kind of created this perfect little nest of greenery and hydrangea stems to place the gourds in the middle. Mine just sit nicely right on top of the stems. If you were using a bigger crate than mine, you might find it helpful to stick some floral foam in the center to help give you some height for your gourds. I think fake gourds are the way to go here because they are so light weight, and can sit so easily on top of the greenery and stems.  From the view below, you can only see the one gourd in the middle popping out, but upon closer inspection, you can actually tell that there are three.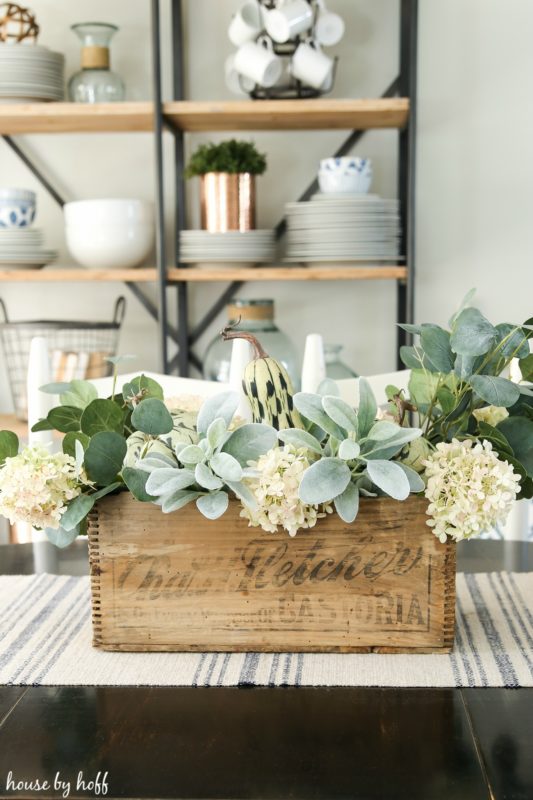 Step 5:  Add the antlers
I'm not going to lie, the antlers are my favorite part of this centerpiece. They add a bit of an unexpected twist. I just kind of finagled one in on each side of the box.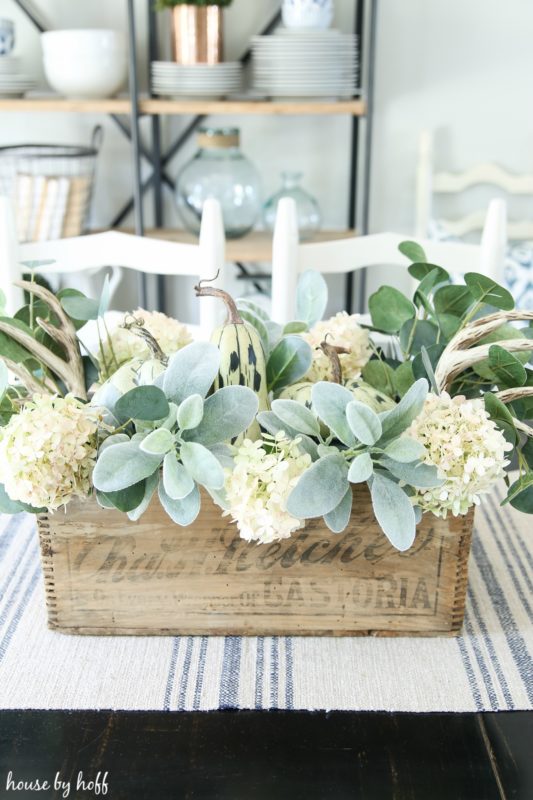 I ended up just kind of tweaking it here and there until I got the elegant fall look I was going for.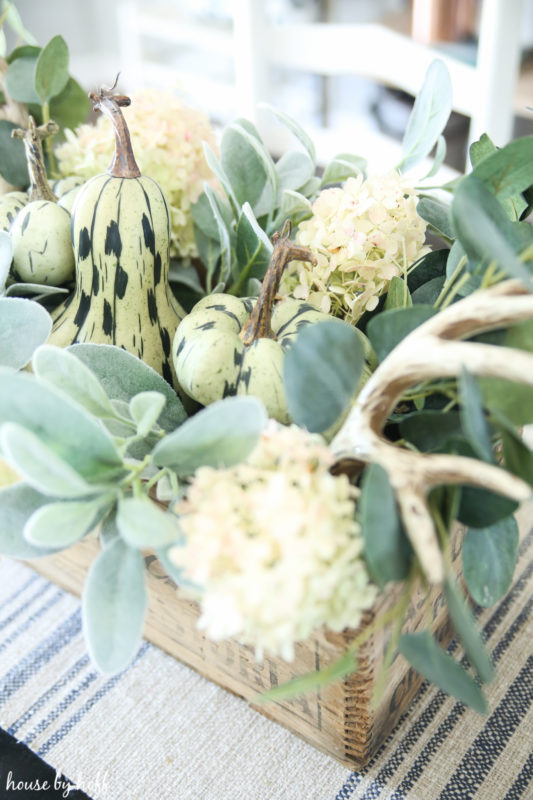 …and there she is! The completed DIY Fall Centerpiece! Perfect for early fall when you're not really feeling orange-pumpkiny yet.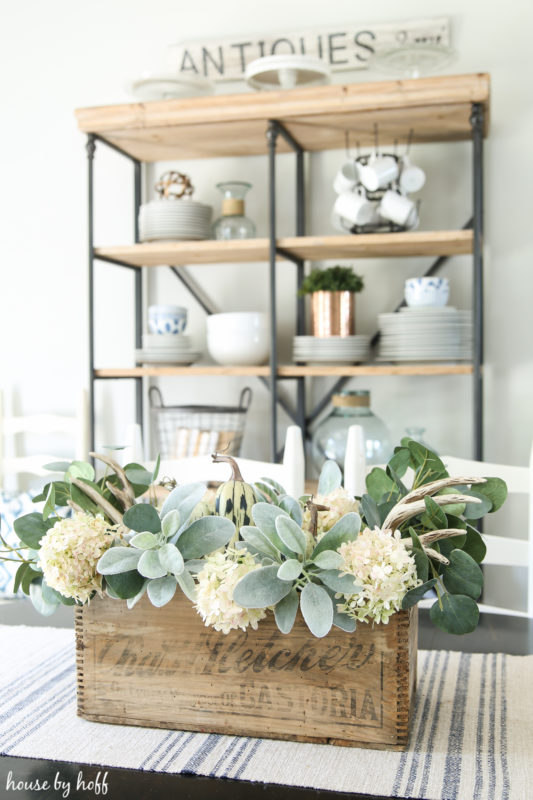 I'm so excited to be part of a fun Fall DIY Blog Hop today hosted by Taryn at Desig! Be sure to check out all of the fall DIYs below!
Craftberry Bush | Town & Country Living | The Happy Housie | House By Hoff | Taryn Whiteaker Designs