This fall I decorated the front of the fireplace and kept the mantel fairly simple.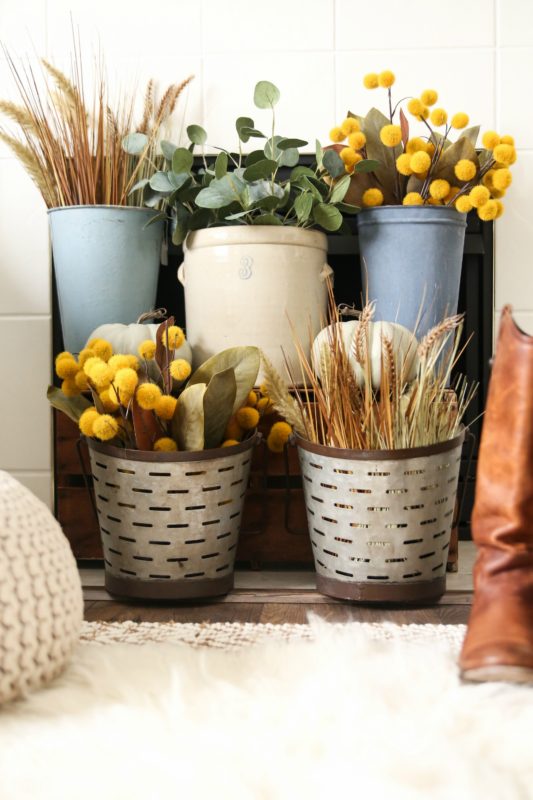 Jumping into the week on a Tuesday feels so weird, doesn't it?
I'm not quite ready to be this far into the week yet. It's like being thrown into the pool with your clothes still on or something…and while my analogy probably makes no sense, let's jump into this fall mantel post, shall we? 😉  I'm participating in a fun fall DIY mantle blog hop today hosted by the lovely Taryn Whiteaker.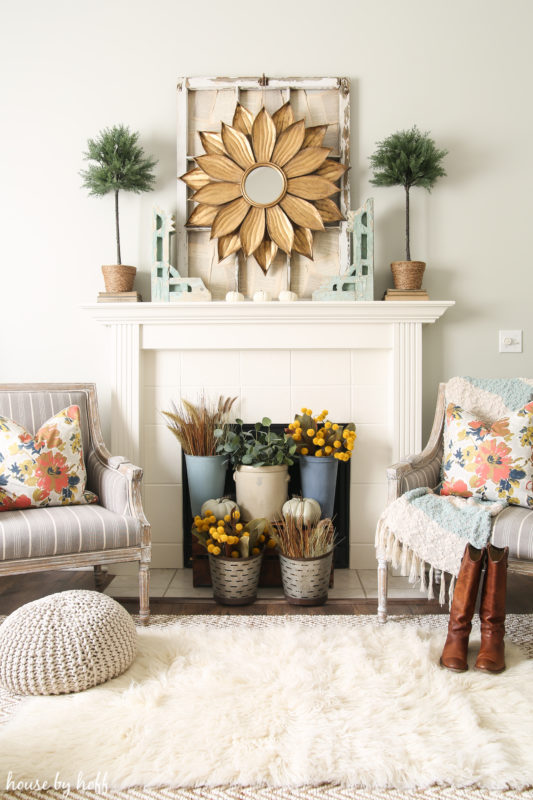 Falllllll mantles. Everybody loves a well decorated mantle for fall, am I right? And yet, you'll notice that I barely decorated the actual mantle for fall. Instead I focused on covering up the unattractive fireplace cover below. By the time I finished doing that, I figured that I'd better keep it really simple on the mantle itself. 😉  The Dahlia Mirror makes such a statement up there, and I figured not much else was really needed. #lessismore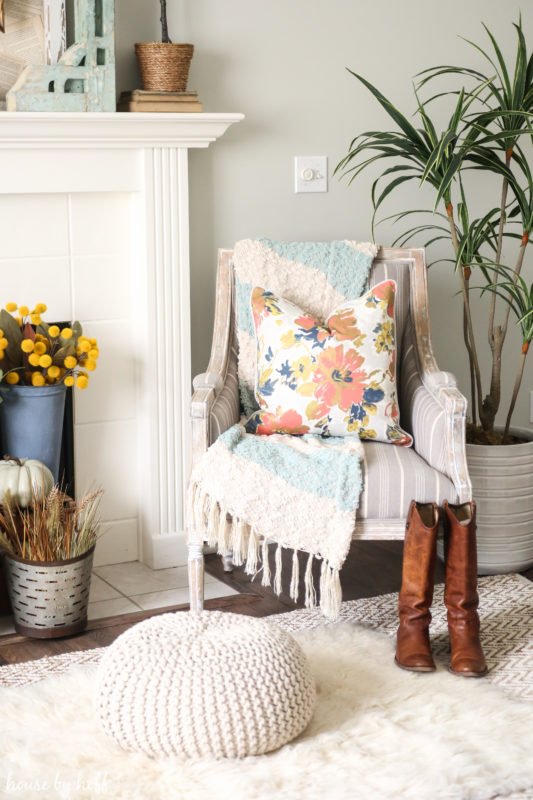 I brought back out our pretty floral pillows (from Marshall's) that I used for fall last year. I love the pops of color that these pillows add to our gray striped chairs.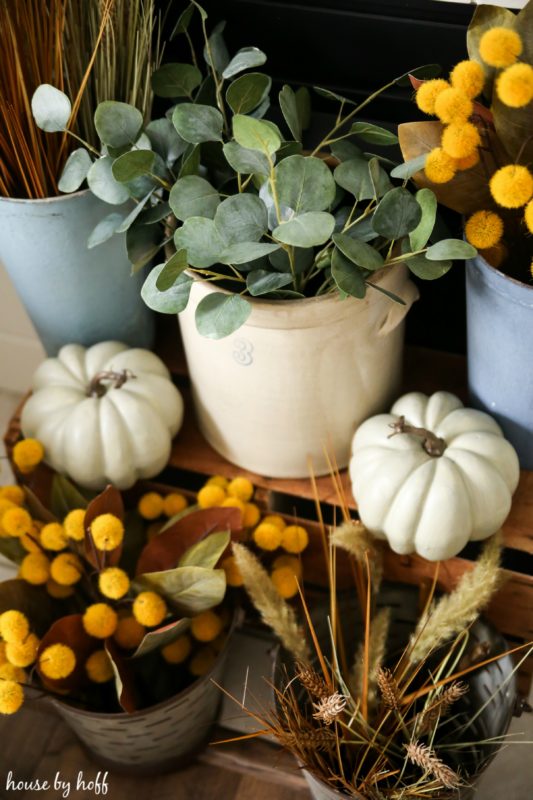 I wanted to set this lower area of the fireplace up like a flower shop. Like a flower shop in the fall. Like a flower shop in the fall with some color but not too much color…make sense?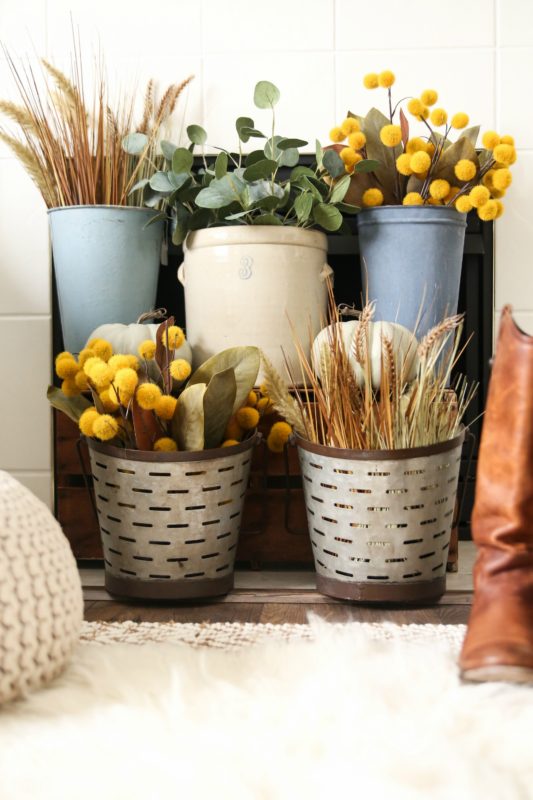 It actually took me a few trips to Hobby Lobby to find just the right combination of fall foliage and sprigs to make this look just right. Pretty much everything you see (with the exception of the magnolia leaves) are from Hobby Lobby.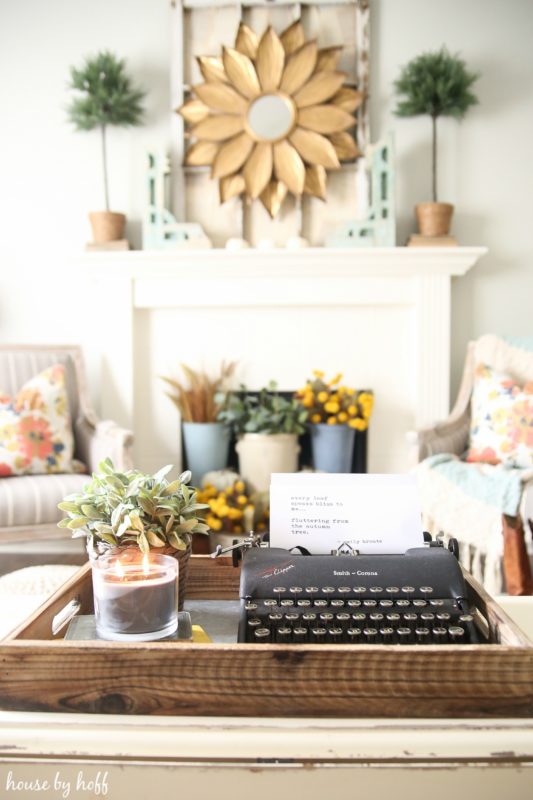 I found this vintage typewriter in a dumpster earlier this summer, and I knew I wanted to use it in our fall decor somehow. I love the way it looks here on the coffee table. So fun! 🙂  I love this tray, but it is no longer in stock. I found a similar one here.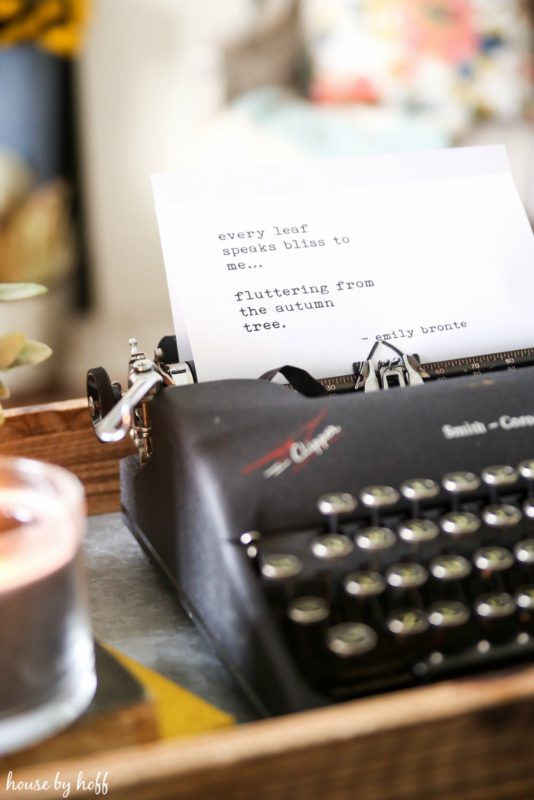 I searched Pinterest for the perfect fall quote, and landed on this one. I could have typed it out on the typewriter, but my five-year-old pulled the ribbon out before I could try. Wump, wump.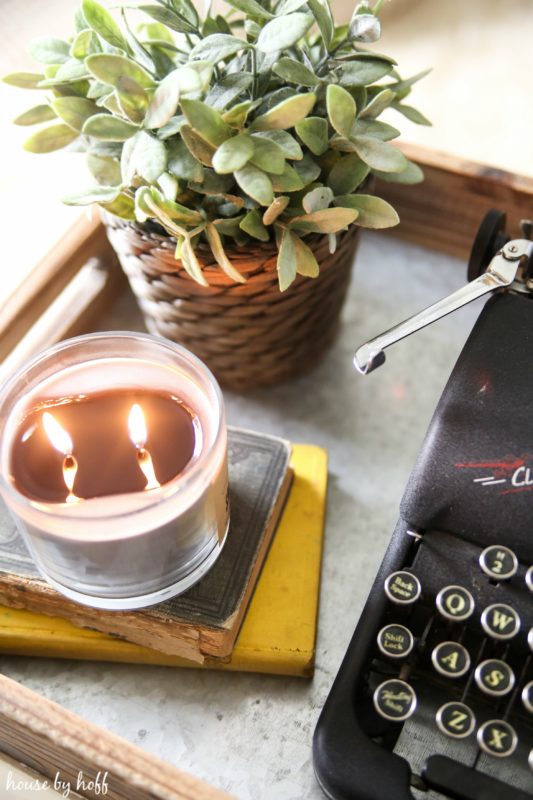 I've lately become a candle burner again. While my daughter was really small, I pretty much quit burning candles…but now, it seems like I have one burning almost all the time.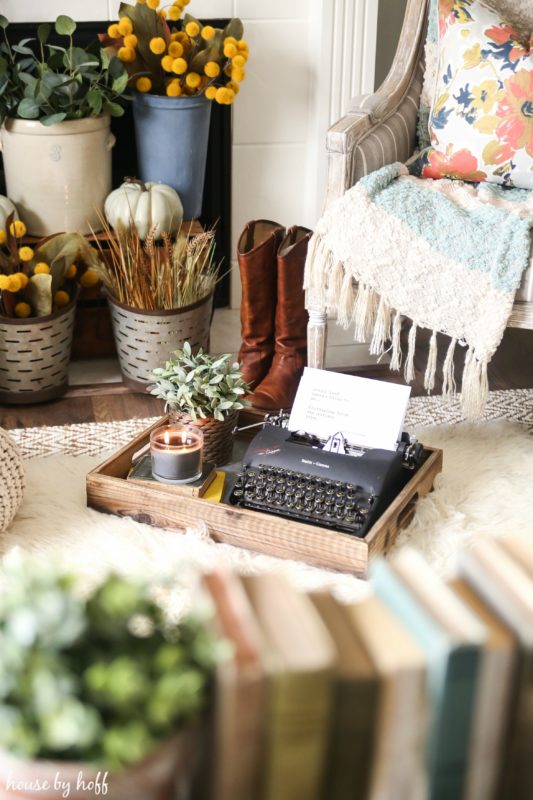 For more mantel decorating ideas check out my post: Cozy and Neutral Holiday Mantel
Thank you so much for stopping by today! I hope you found a little inspiration. 🙂


There are so many pretty fall mantles to look at today! Be sure to take the whole tour!
Taryn Whiteaker Designs | Cherished Bliss | Sincerely Marie Designs | Making Home Base | Town & Country Living
Design Dazzle | The Happy Housie | A Pretty Life |House By Hoff | Maison De Pax
Have a great day! 🙂