We recently returned from our family vacation on Kiawah Island, and today I wanted to share with you how we saw Charleston, SC in one evening. Even I'm impressed with just how much we packed into the five hours we were there. We managed to see and do a lot, even with our five-year old in tow! We have been to Charleston many times, so I have a pretty good feel for what I want to see and do when we only have a couple of hours to spend there.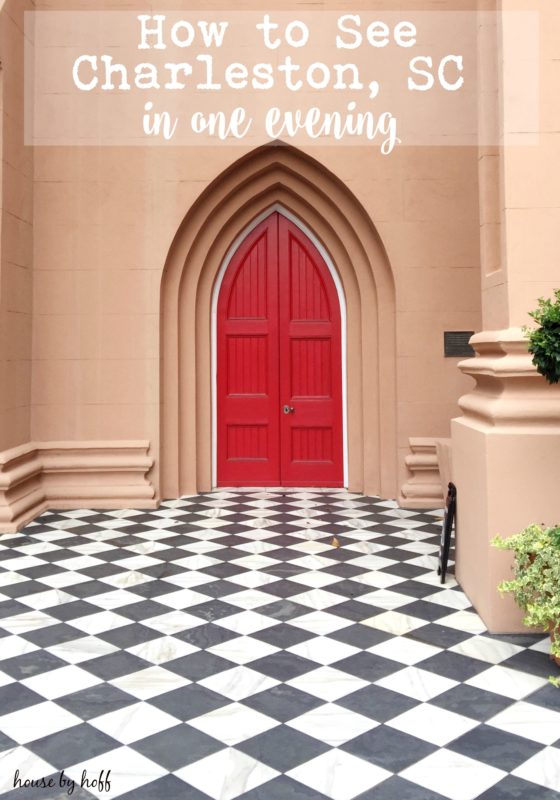 ~
This particular day didn't start out great. We were planning a beach day on Kiawah, but it rained for most of the morning and afternoon. We were pretty exhausted from just being on vacation, and we all needed a nap….However, Miss L. decided that she didn't need a nap and wasn't going to nap. (She needed a nap.)
Allllllll I wanted that day was a nap…but that precious child of mine would. not. nap.
So nobody got a nap. Awesome.
As we were driving the 40 minutes into Charleston, she refused to sleep in the car. Until, that is, we pulled into Charleston. Then she was out like a light.
#imnotkidding  #forthelove
So, being the good sport that he is, Mr. Hoff agreed to stay in the car to let the little one get a (much needed) nap while I walked up and down King Street and snapped pretty pictures on my phone. King Street is one of the main streets running North/South through Charleston. It's loaded with shopping and pretty sights, so it was an easy choice for me to just stick to one street and snap away!
I started out by St. Matthews Lutheran Church. It's SO pretty, and always just looks stunning in photographs.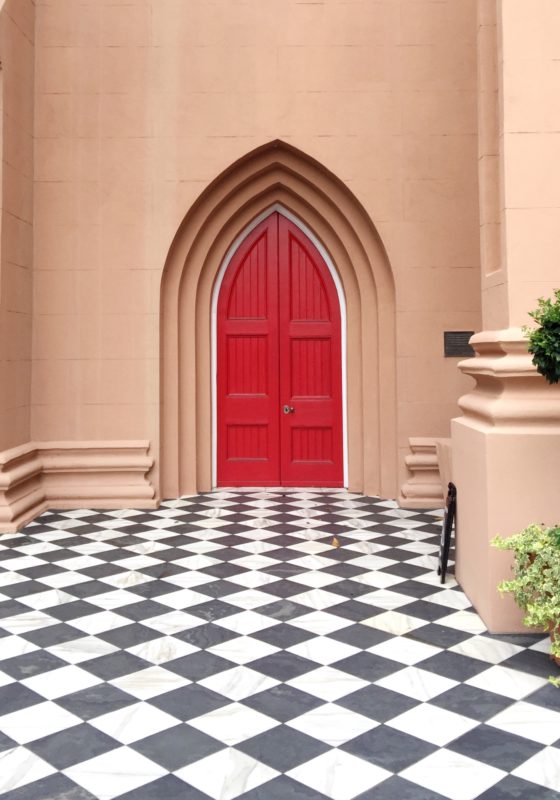 I traveled south and apparently was having a thing for tile. 😉  I mean, how could I not…just look at it!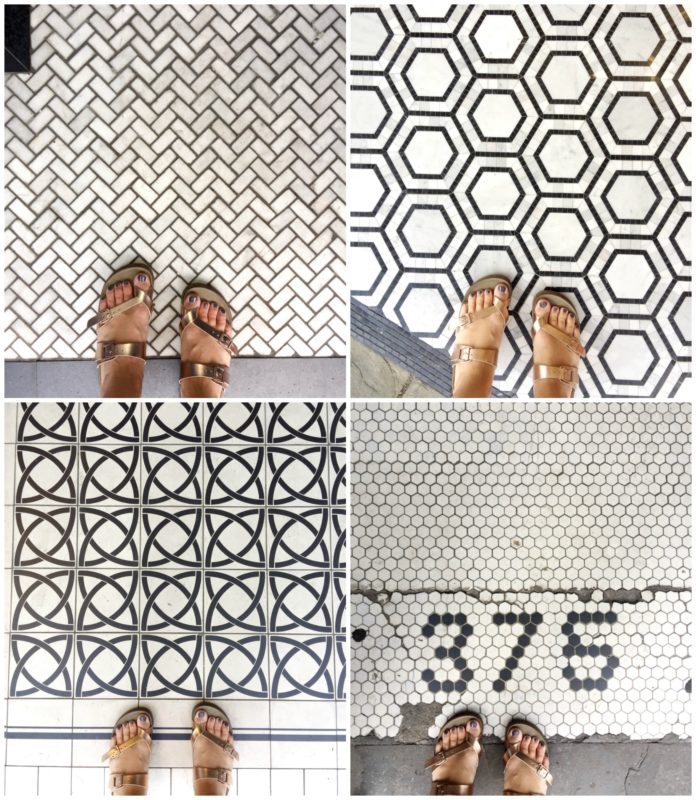 King Street has pretty much any store you can think of…I did very little shopping because I just wanted to take as many pictures as possible.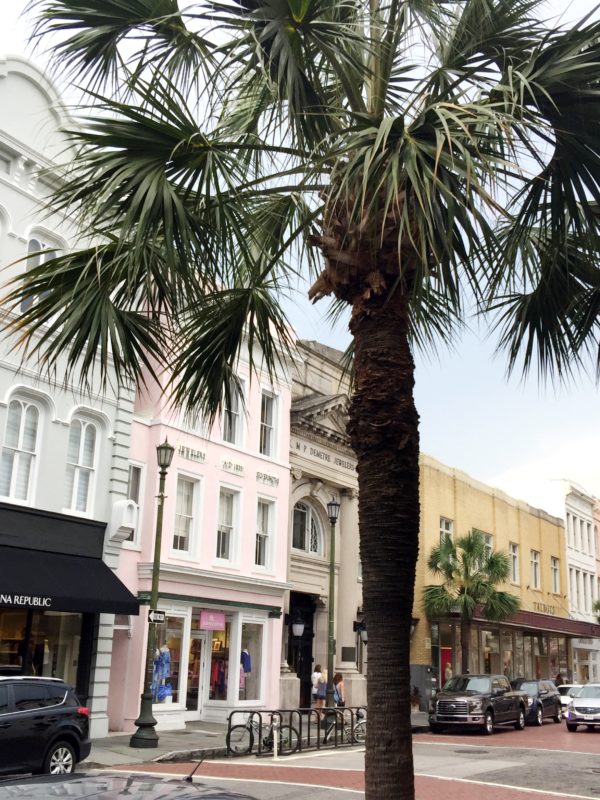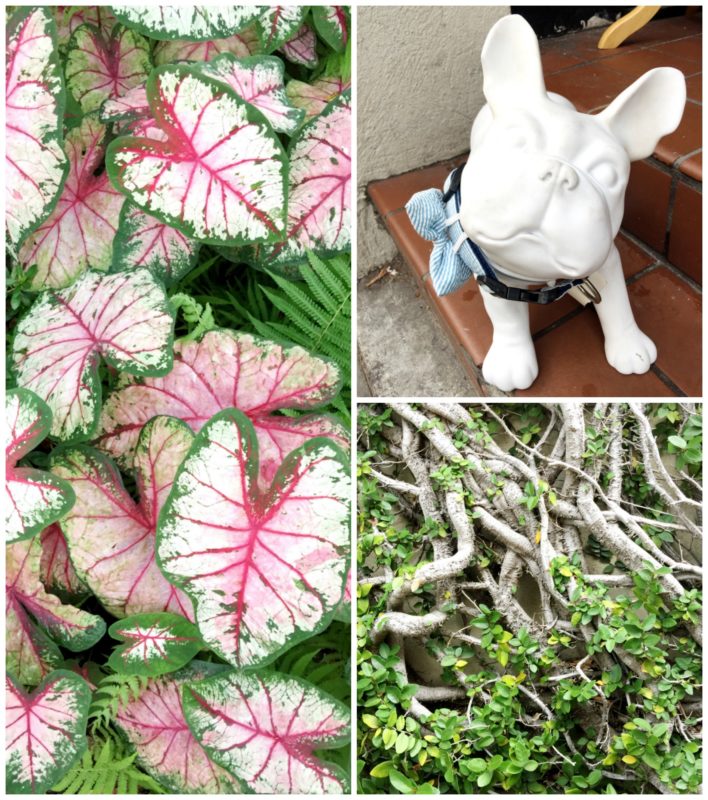 After about 30 minutes, I got a text from Mr. Hoff telling me that our girl was awake. I walked back up King Street and met them for dinner at Coast Bar and Grill (good seafood restaurant). After dinner, we set out through Marion Square and took some pictures of Miss L and her umbrella. It wasn't raining too hard, and the umbrella was really more of a photo prop at this point….ha!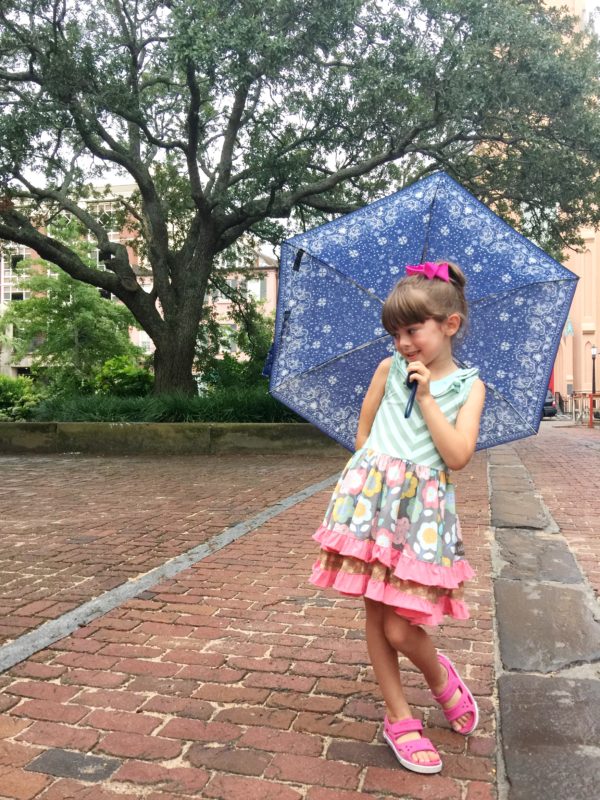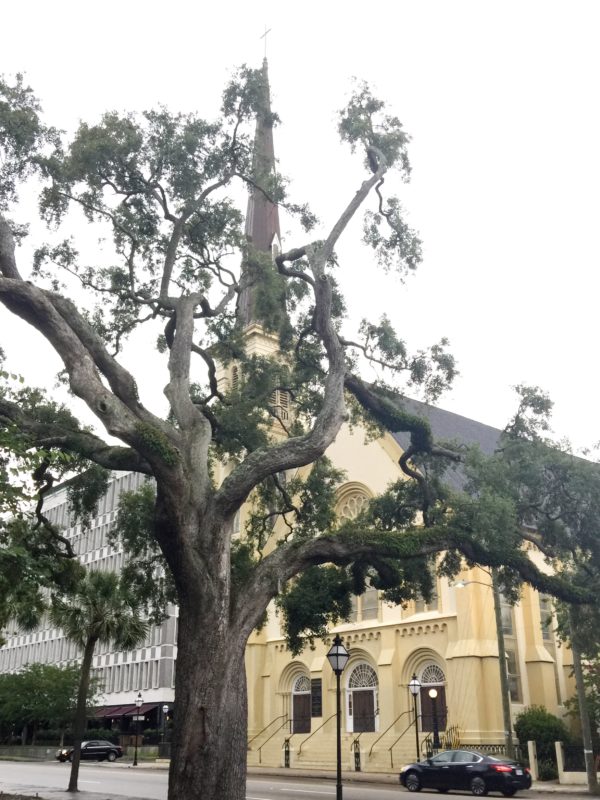 Our initial idea was to grab a horse-drawn carriage ride through Charleston (which Miss L would have loved), but it was getting late, and we didn't see any still out. So, we did the next best thing:  hopped in a pedicab!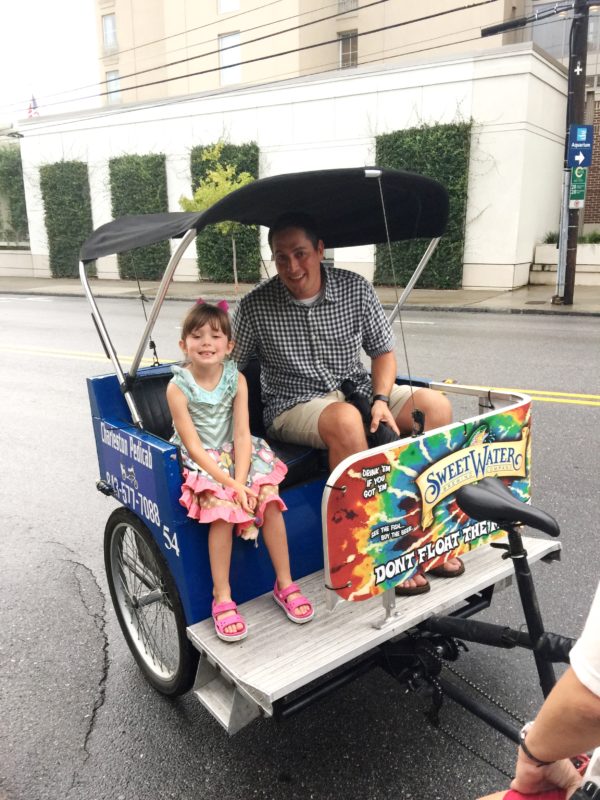 The SWEETEST young lady, named Britt, peddled us all around. My request went something like this, "I want to see all the old pretty houses, please!" She took us through the College of Charleston (which is an absolute gorgeous campus…picture the most beautiful tree-lined streets with Spanish moss just dripping from every branch), and through many of the gorgeous side streets in the South of Broad Neighborhood. South of Broad is where you'll find the most gorgeous story-book historic homes. Some of them are quaint, and others are ginormous…either way, this is the most exclusive and expensive area of Charleston. Historic plaques are mounted everywhere, and just about all of these homes hold massive historic importance. It's quite amazing, really.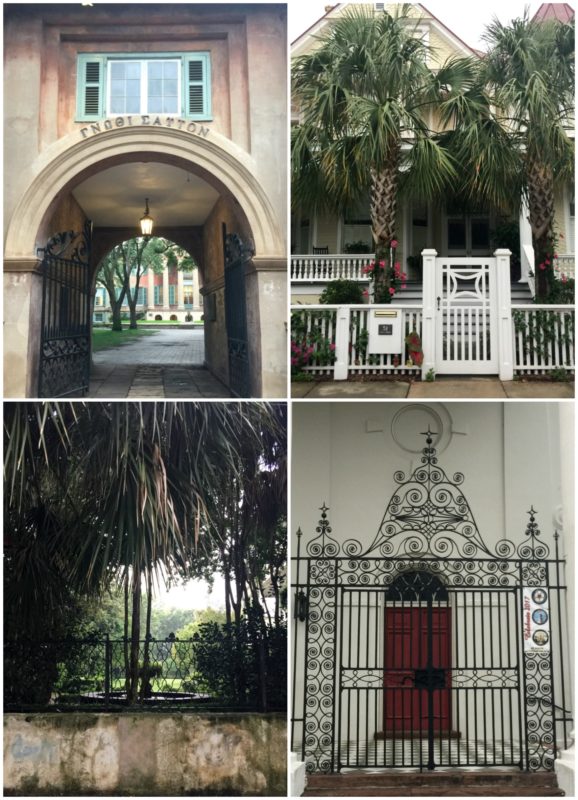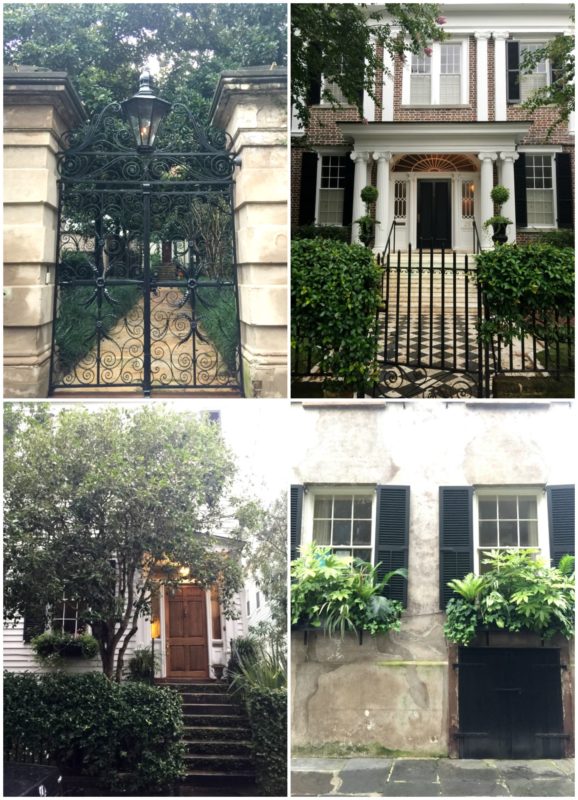 We ended up down in the southern most tip of Charleston at White Point Garden. From here you can look out over the water and see some of the most gorgeous antebellum mansions.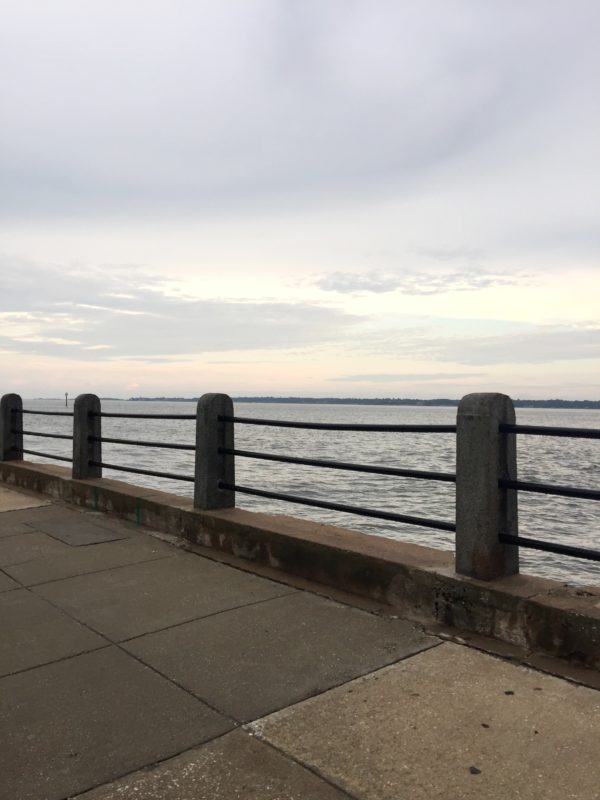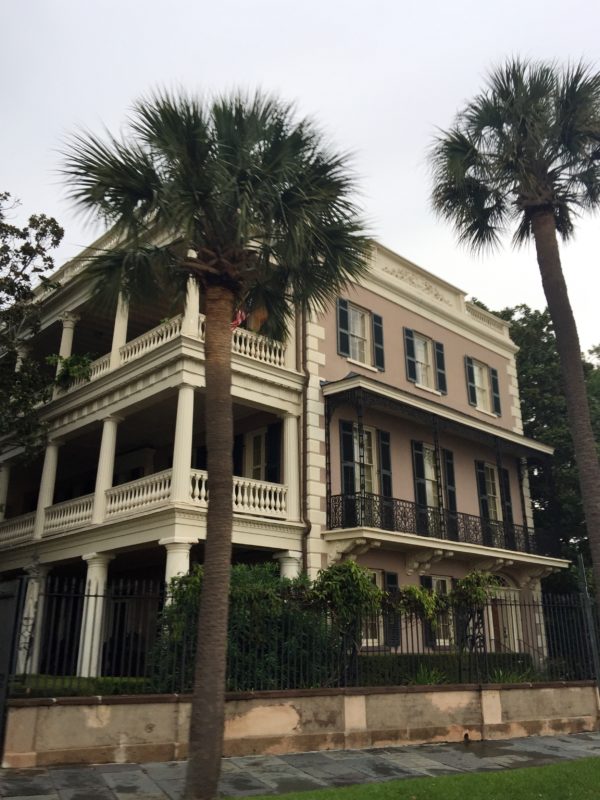 At this point we started back up East Bay Street and saw Rainbow Row (the row of brightly painted historic homes).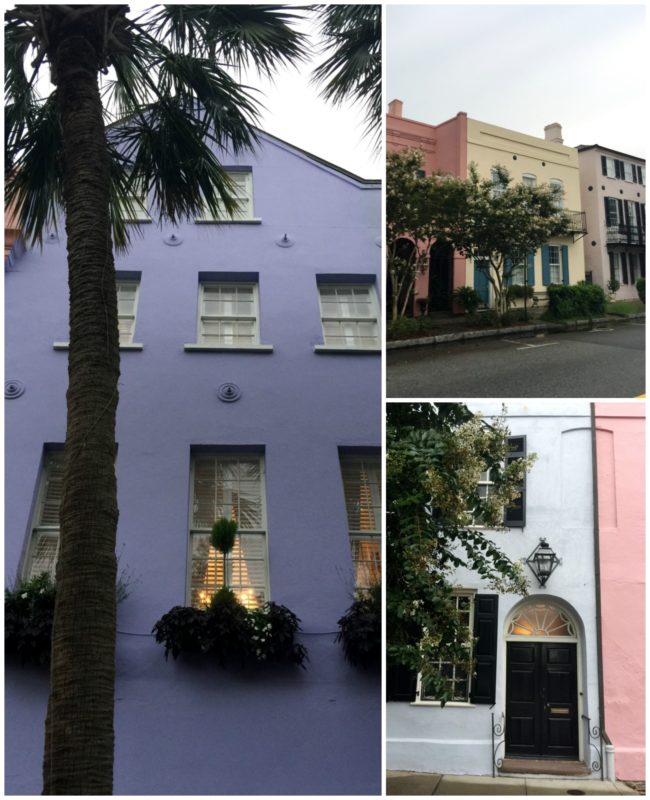 We were dropped off right in front of The Vendue, which has a rooftop restaurant. We sat, we sipped, and we enjoyed the evening views of the city. My Southern Charm-watching friends, that is the Ravenel Bridge behind Miss L. 😉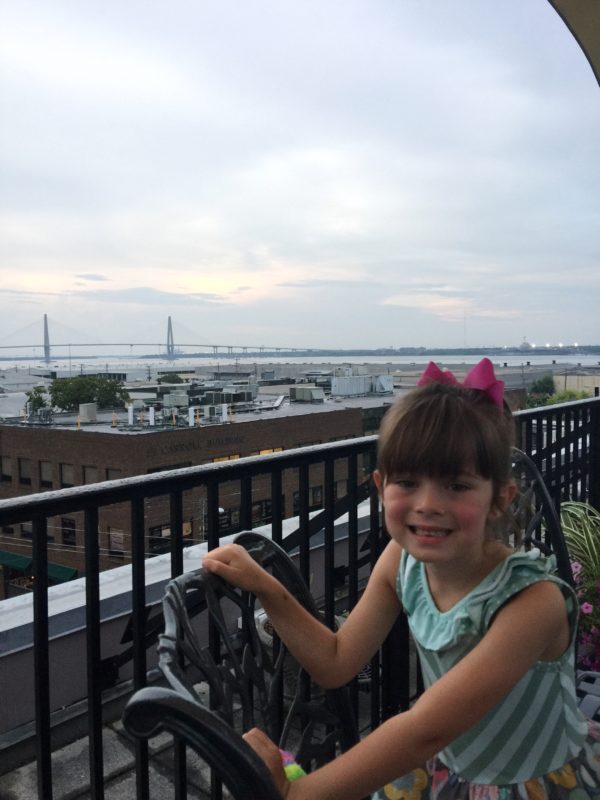 After our drinks, we made our way past Charleston City Market, and stopped for ice cream.
It really was the perfect evening in Charleston! 🙂
So here are the high-points of what we saw and did in one evening:
 King Street
St. Matthews Lutheran Church.
Dinner at "Coast"
Marion Square
Collage of Charleston Campus
South of Broad Neighborhood
White Point Garden (for views of the water)
Rainbow Row
Drinks at Vendue Rooftop
Ice Cream by City Market
If you have more time in the city, and you are looking for something else to do, I would HIGHLY recommend taking a historic home tour. I've toured the following places:
 Aiken-Rhett House (a basically untouched urban plantation…SO COOL!)
Nathaniel Russel House (completely restored and maintained piece of architectural history, also very neat).
Middleton Place (this one is a little out of the city, but SO worth the drive. It is one of the only plantations left after the civil war….and actually, the main house was destroyed in the civil war, but one of the side houses survived. The foundation of the main house is still there though.)
You guys. I get excited about Charleston, can ya tell?! Ha! I will return to blogging about "home-stuff" again soon.
Have a great day!