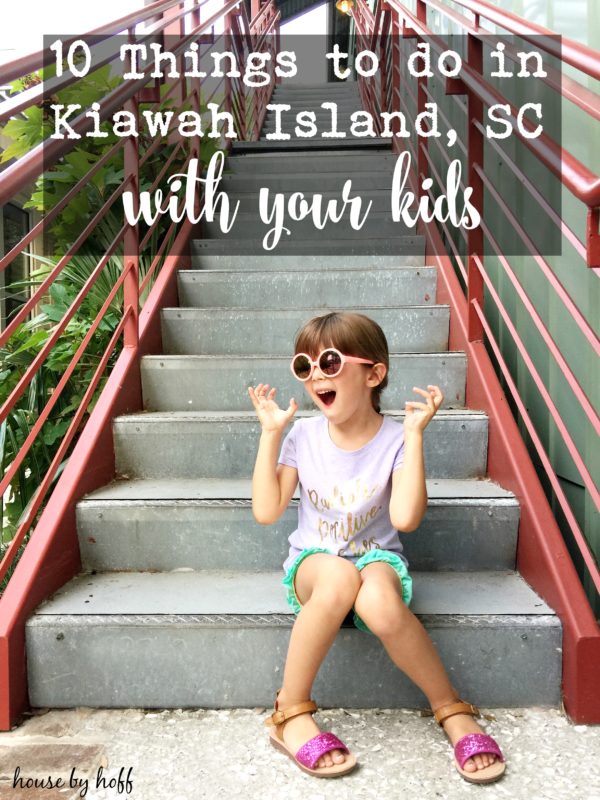 Well, the three of us have suntans, we're still shaking sand out of the beach bag, and Momma is missing her 11:00 AM Moscow mule by the pool…that can only mean one thing: we just got back from our summer vacation. For the fourth year in a row, Mr. Hoff and Miss L. came down with me to Atlanta for the Haven Blogging Conference. They busy themselves by the pool or go to a museum while I go to classes, hang out with my blogging friends, and attend fun dinners.
After Haven was over, my little family loaded up our car and drove out to Kiawah Island, SC. This is our second year in a row vacationing here, so I feel like I have a good lay of the land and know what to do with kids. Below I am going to share pictures and share 10 Things to Do in Kiawah Island, SC With Your Kids.
10 Things to Do in Kiawah Island, SC With Your Kids
 1)  Stay at the Andell Inn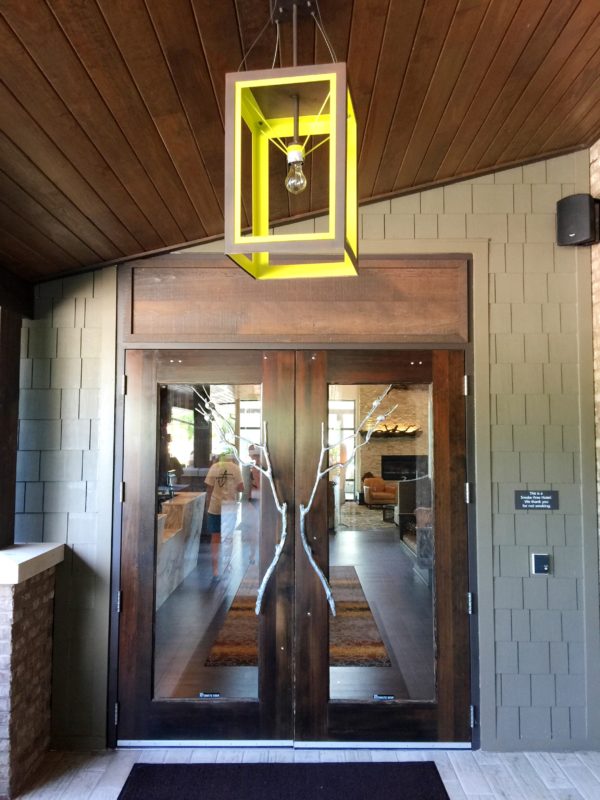 I have admitted before, and I'll admit it again:  I am a bit of a hotel snob. I don't necessarily mean that I need five-star amenities or service, but here's the deal:  I don't do dirty, I don't do old, and I don't do stinky. If a hotel is any combination of those three things, I'm out.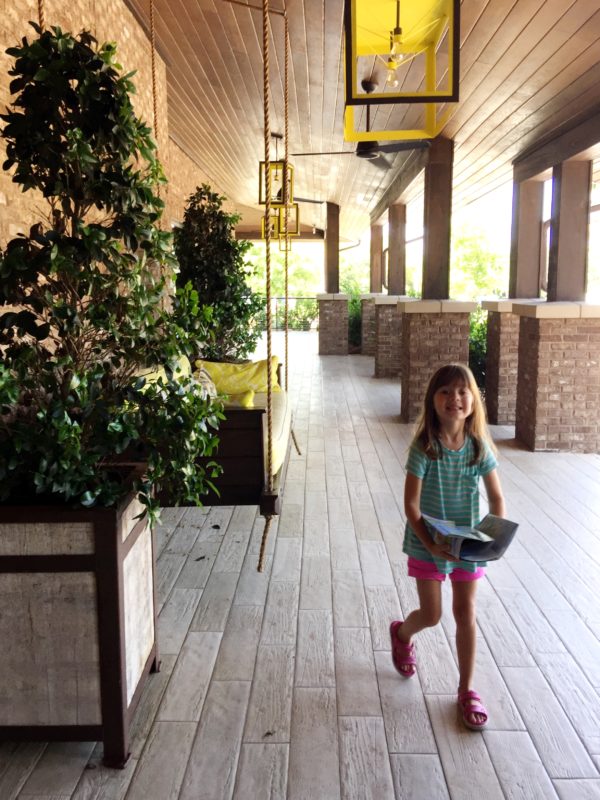 Which is why the Andell Inn is perfect to me. It's gorgeous, it's new, it's clean, and it's not stinky. So there ya go!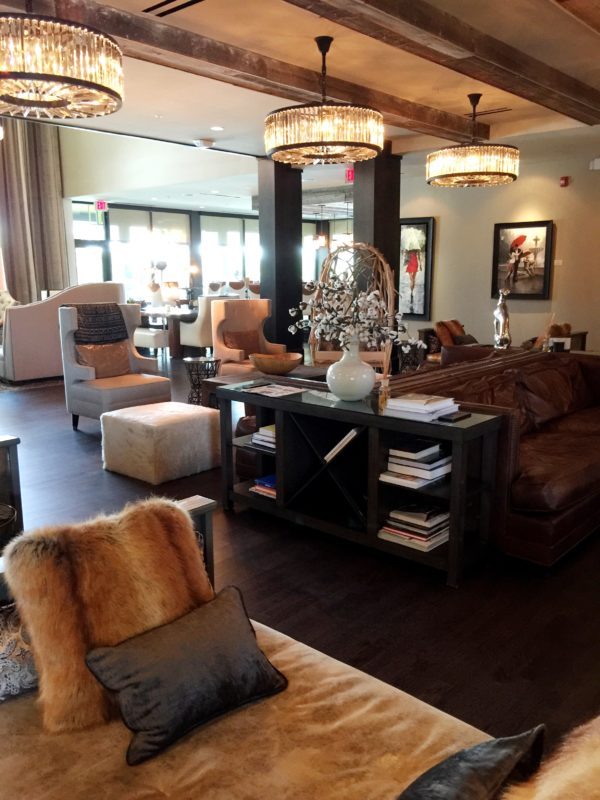 If you're at all like me, and love decor, then you'll have to wipe the drool off your chin a few times while walking around…I'd love to pick the brain of whoever designed this place. It's SO pretty!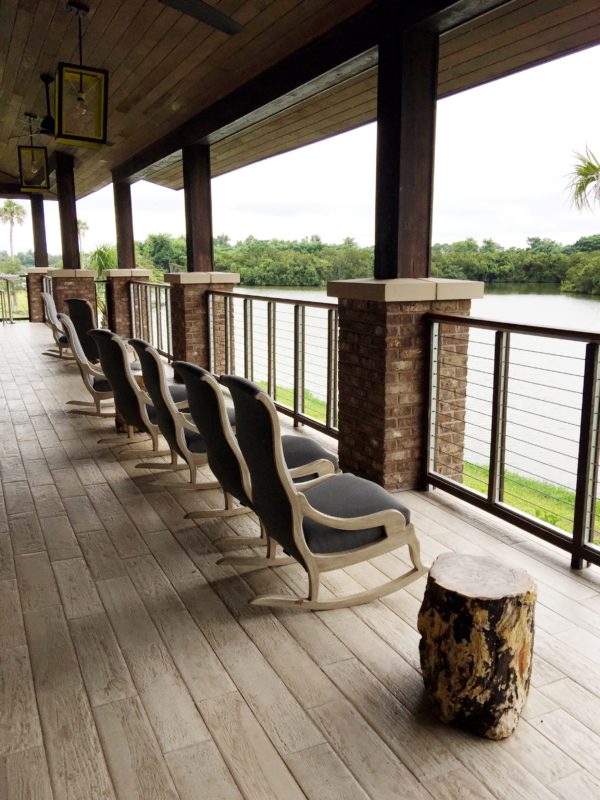 Not only is it gorgeous, it's just such a family-oriented and kid-friendly place. Lots of kids, lots of families, etc.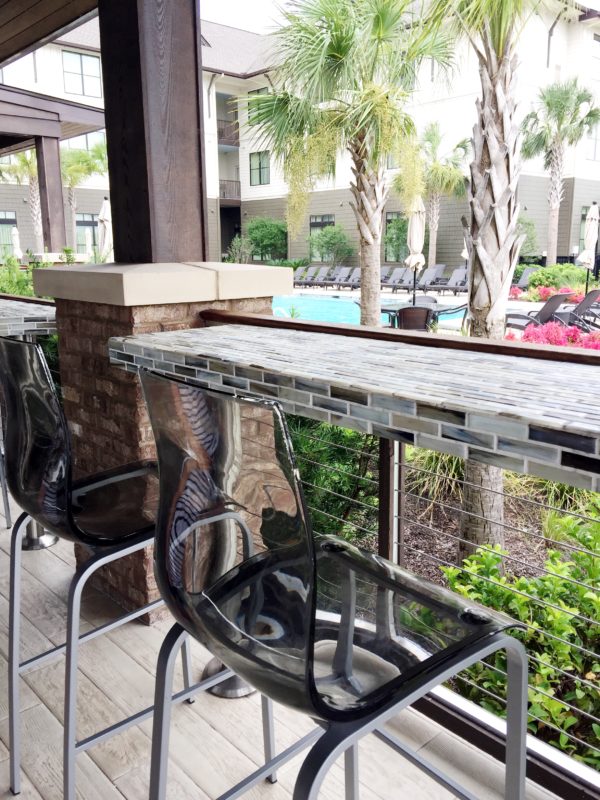 2) Play at the pool at the Andell Inn
I know. Duh! If we're staying at the Andell Inn, we'll play in the pool. But this pool is seriously awesome! It's so scenic here, that you don't feel like you're missing out on much by just staying at the hotel. Miss L. made lots of friends at the pool each day, (she's very social and friendly) and I get so tickled watching her interact with other kids in such a positive way. They splash, they play, and mom and dad can relax and watch.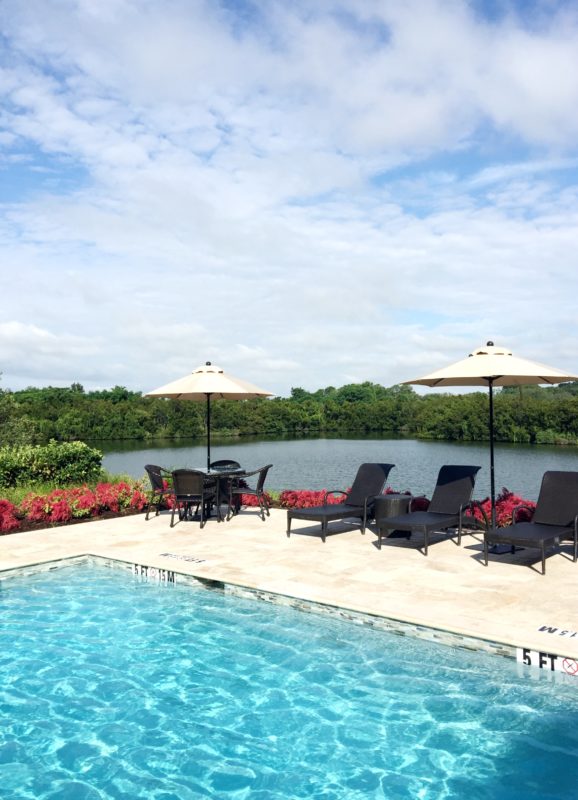 As you can see, there are lots of places to sit, relax, and enjoy the beverage of your choice. 😉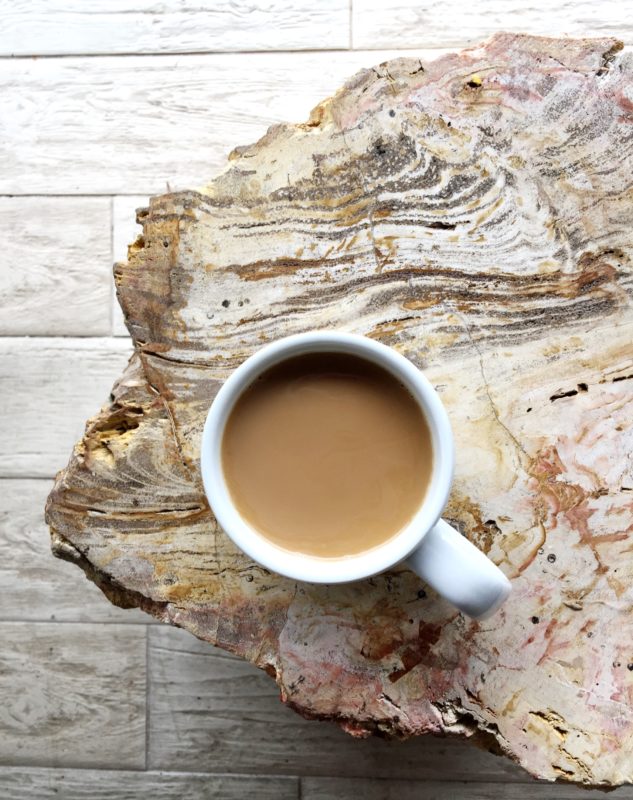 It rained for part of the day on two of the days we were there. Mr. Hoff came to the rescue by running to the grocery store and picking up some puzzles and projects for Miss L. This little Plush Craft Pillow kept her entertained for about an hour and a half…which is saying a lot for this one.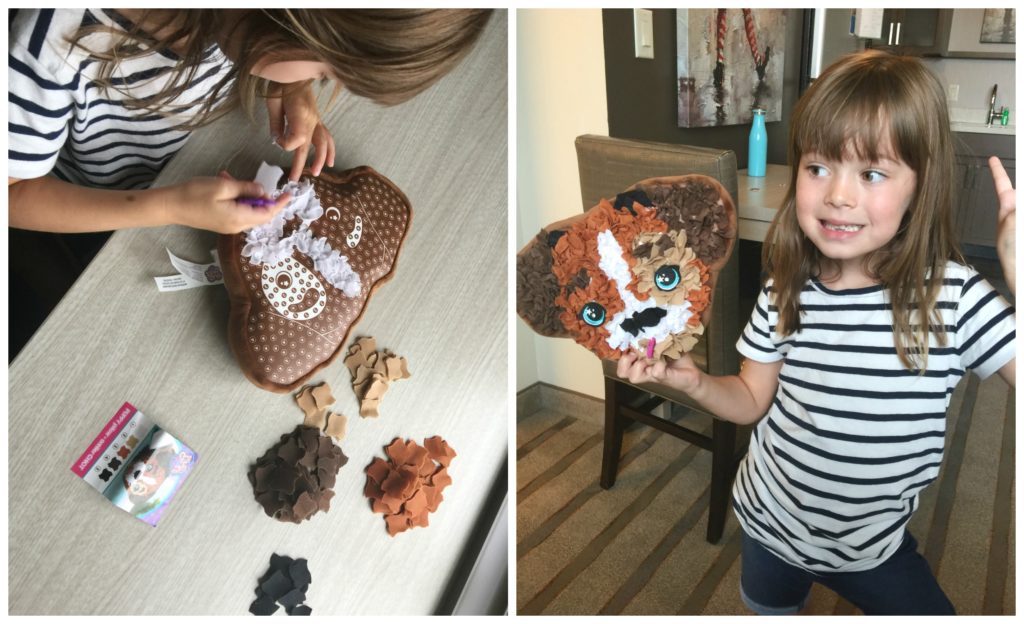 3)  Check out Fresh Field Village
The Andell Inn sits on the edge of this quaint village. It's perfection, really. You can rent bikes, grab a meal, or just walk around. Or, if you're like me, take pictures of your kid on a cool stairwell…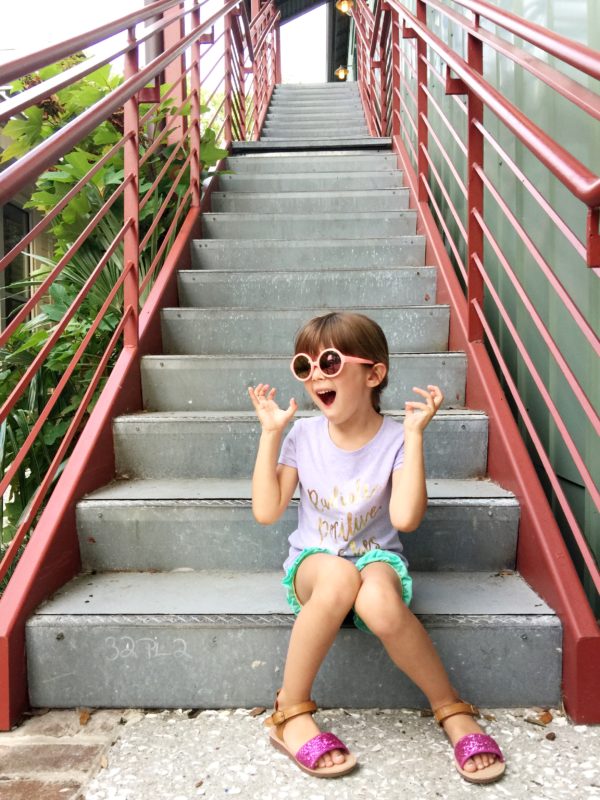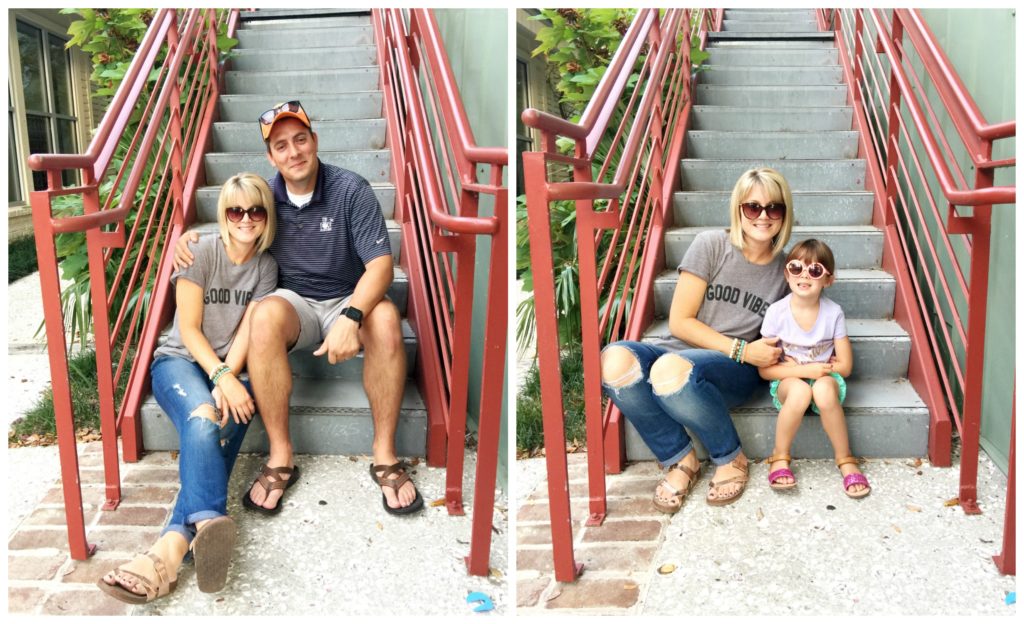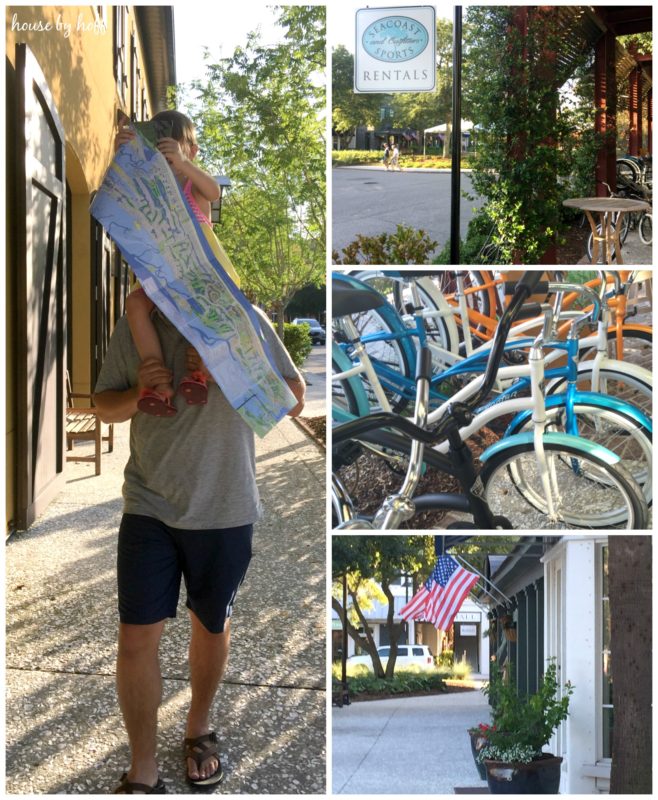 4)  Catch a movie on the lawn in Fresh Field Village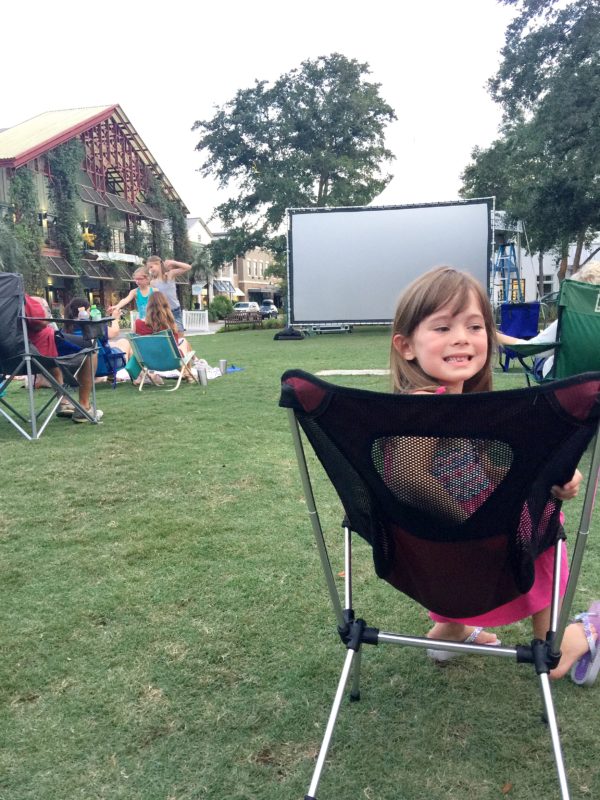 We sat on the lawn one evening and watched the movie Sing. She LOVED sitting outside and watching a movie…it was a whole new concept to her. 😉
5. Go to Bohicket Marina for dinner and ice cream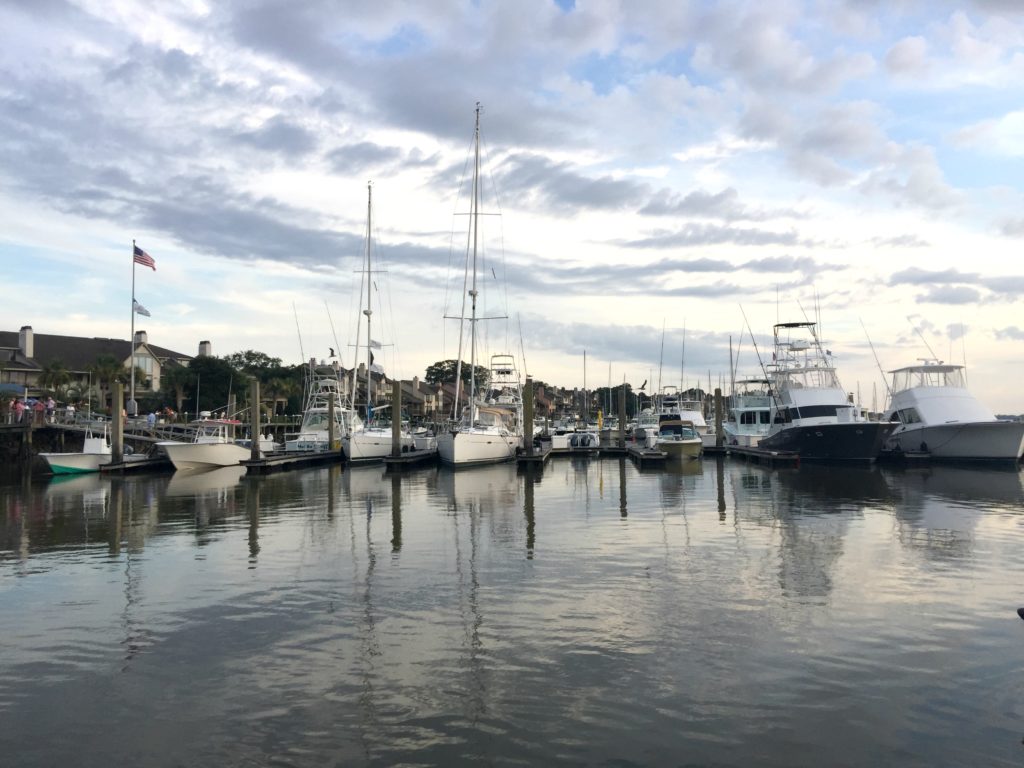 We love walking the docks of this beautiful marina after dinner at Lokal. The marsh is gorgeous, and if you're lucky, you'll spot some dolphins swimming in at low tide.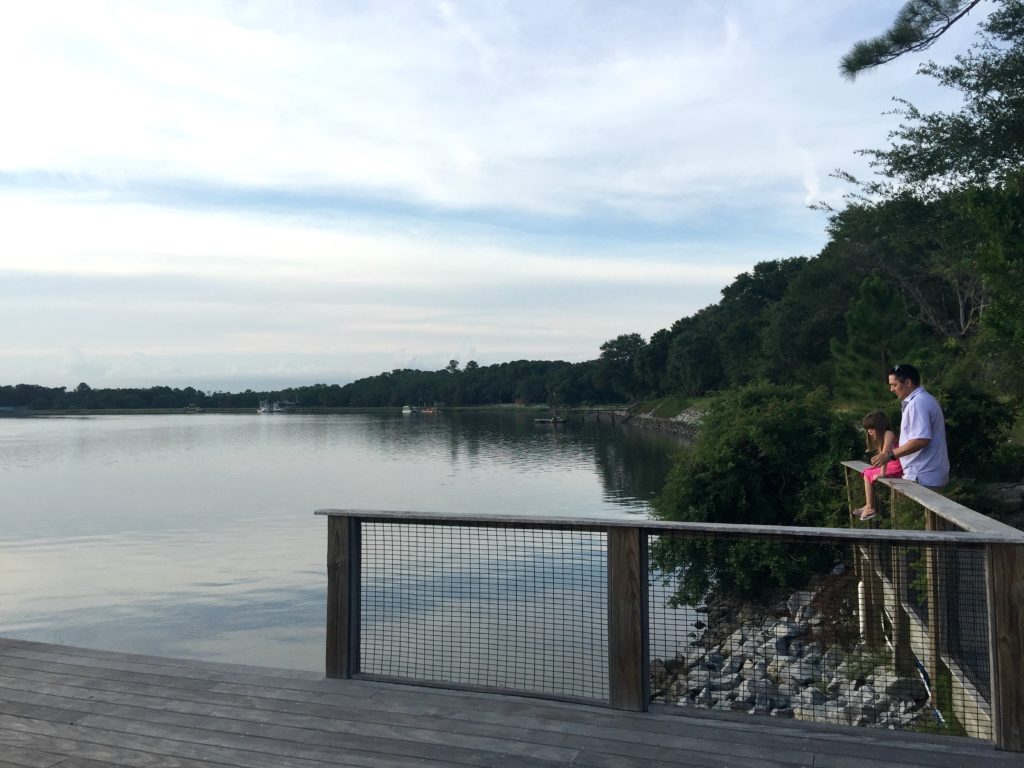 6. Go on a pirate cruise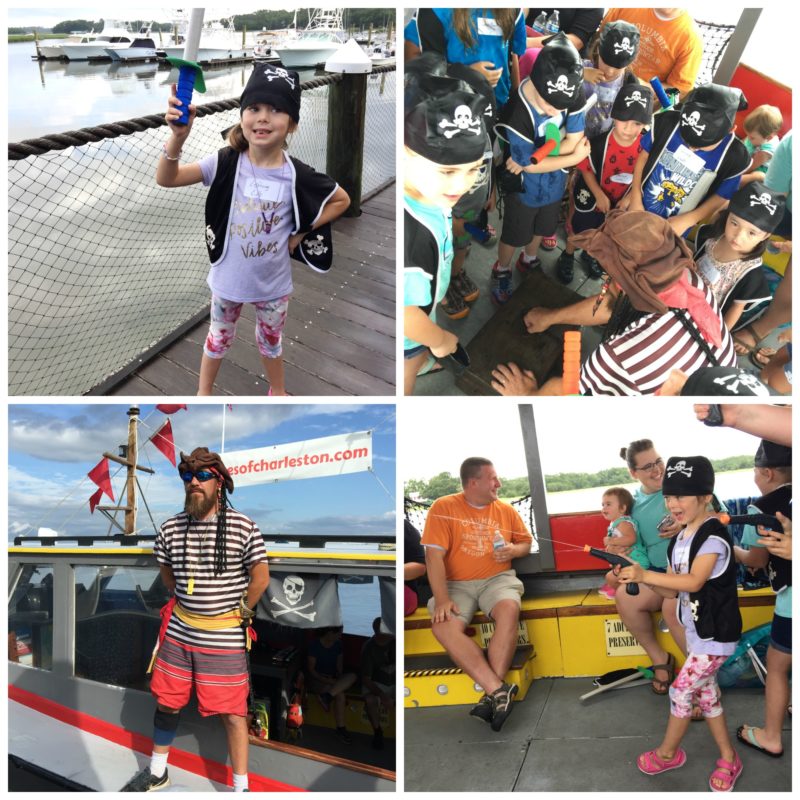 Last year we did a seashell cruise, and this year we went for the much cheaper Pirate Adventure Cruise…and we LOVED it. You can find all of the information about it here, but you can also grab a pamphlet and get all of the information on the docks of Bohicket Marina. Basically, these hilarious pirates take you out on the marsh for an hour and half pirate adventure. The kids are trying to get the keys to the treasure chest from the "scalawag" Sneaky Pete. They get to shoot him with water cannons, mop the deck, read a pirate map, do the limbo, and have squirt gun fights. Seriously, it was hilarious. 😉
7. Grab a sandwich at The Station and have a picnic at Beachwalker Park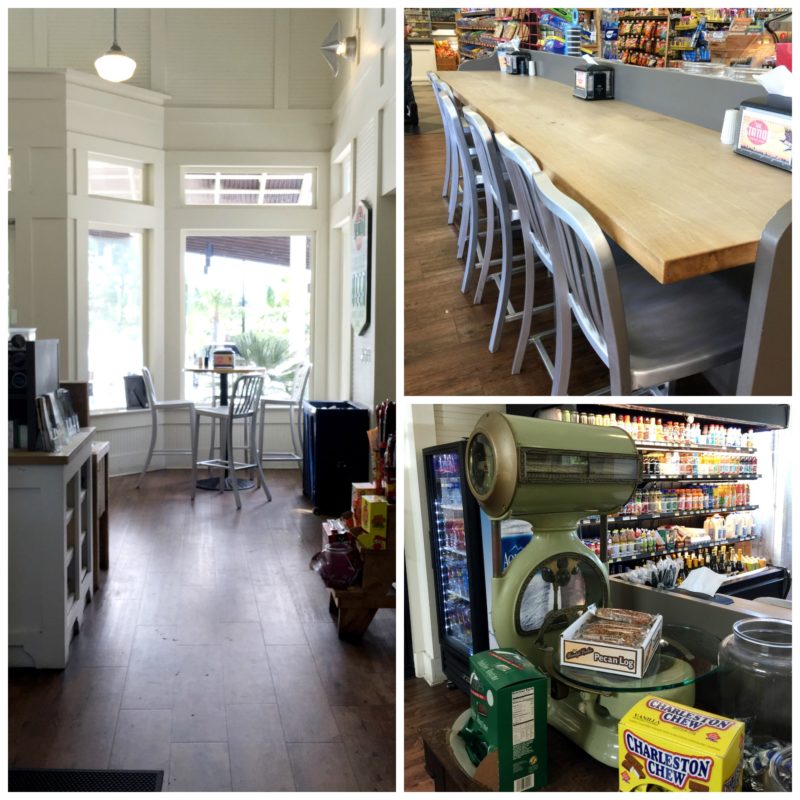 In Fresh Field Village there is a gas station, but not just any old gas station. It's, of course, a darling little gas station, called "The Station" with a deli inside. We order up sandwiches and drinks and then head to Beacwalker park for a little picnic (at one of the many picnic tables off of the parking lot) for a quick lunch before beach time. Last year we spotted a bunch of dolphins in the marsh while we ate.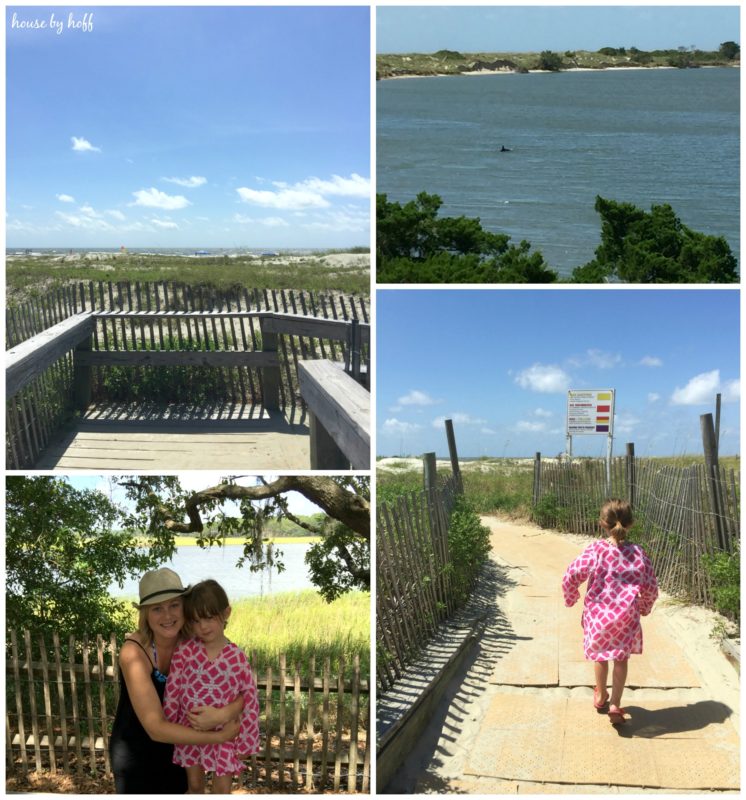 8. Go to Beachwalker Park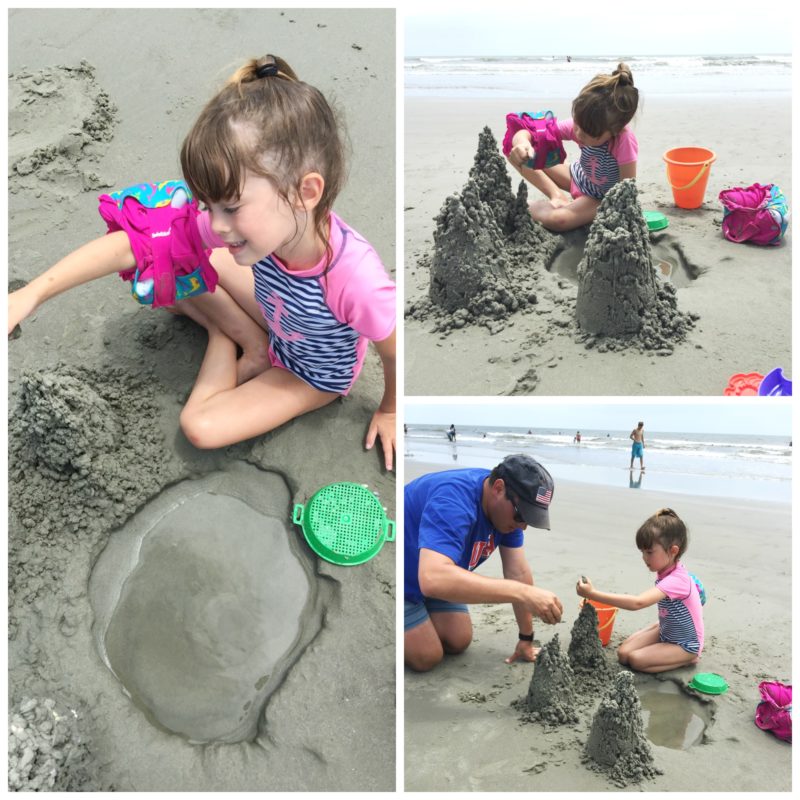 Obviously, you don't come to Kiawah without going to the beach! We love this beach because it's much less crowded then other South Carolina beaches we've been to. We went on a Monday afternoon, and practically had the place to ourselves. We returned on Thursday afternoon, and it was a bit more crowded, but not bad. We opted to buy and bring our own beach chairs this year, which we liked MUCH better than renting them at Beachwalker. It allowed us the freedom to get away from the crowd and have a completely unobstructed view of the ocean. I don't really want to be looking at the back of peoples heads when I am having my once-a-year beach experience…know what I'm sayin'?
9. Check out the gators at Night Heron Park Nature Center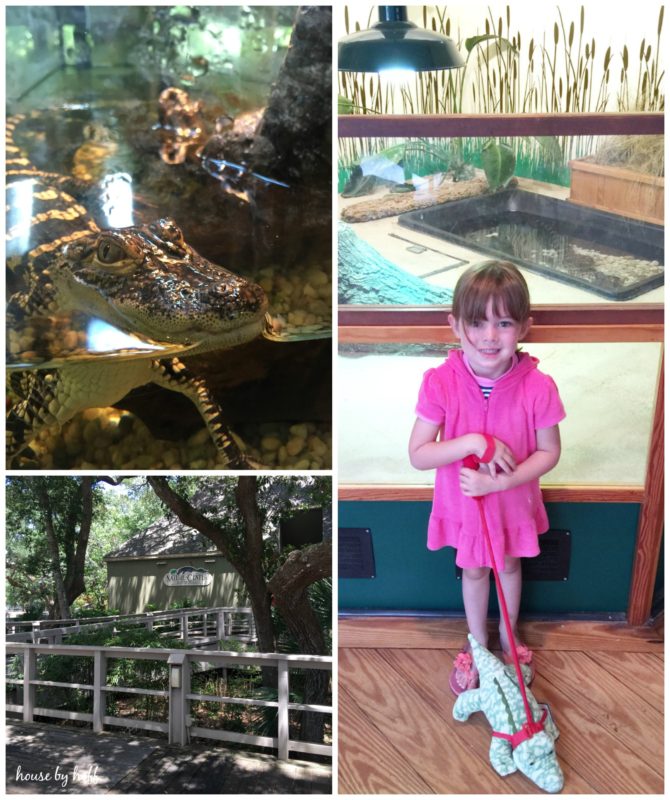 We made sure to stop by again this year (on one of the rainy afternoons) to check out the nature center at Night Heron Park. They have real alligators there, which is fun for Mid-westerners like us! 😉
10. Go to the Oceanfront Golf Course for dinner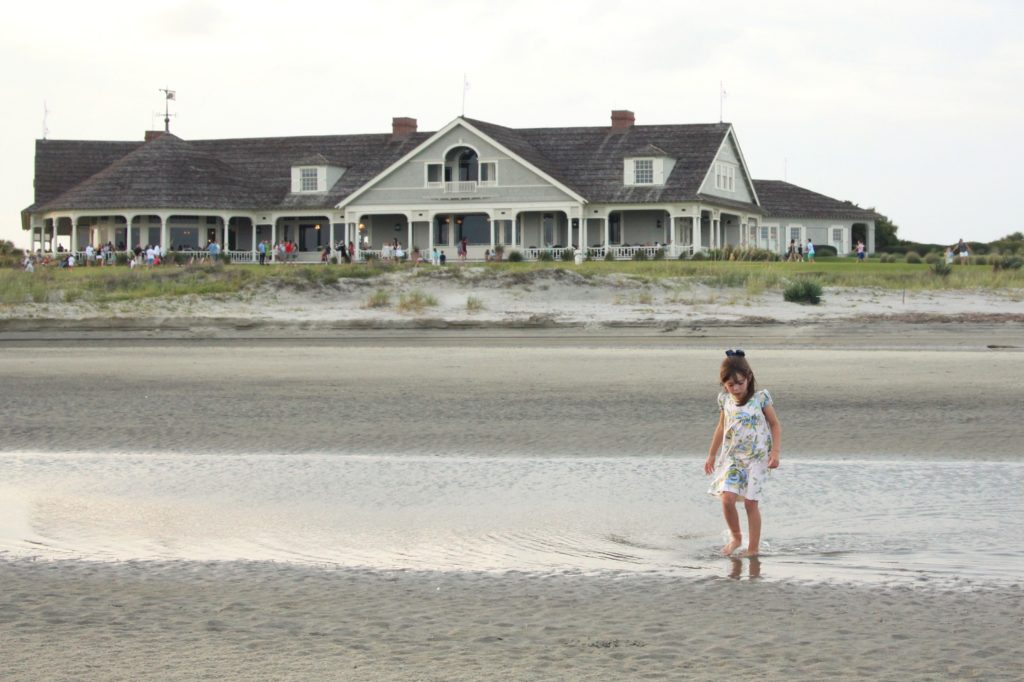 I think I'm going to write a whole post of it's own about our visit to the Oceanfront Golf Course, because it is just. that. amazing. It is a breathtaking place (and I don't use that adjective lightly…ha!), and the great thing about it is how kid-friendly it is. You'll see so many families out on the lawn snapping pictures or playing in the ocean after dinner. It is the absolute highlight of my trip each time we go.
*After I wrote this post, Mr. Hoff brought up two more suggestions of things you could do with kids on Kiawah Island, so here are some bonus items:  11) Visit Angel Oak Tree (a stunning 500 year old oak tree) and 12) Go to Fat Hen for dinner. Sit outside and enjoy a giant game of Jenga.
So there you have it! 10 Things to Do in Kiawah Island, SC With Your Kids! To see my posts about our Kiawah Island Vacations last year, click here and here.
Have a great day! 🙂