I will show you how to decorate your small front porch for fall.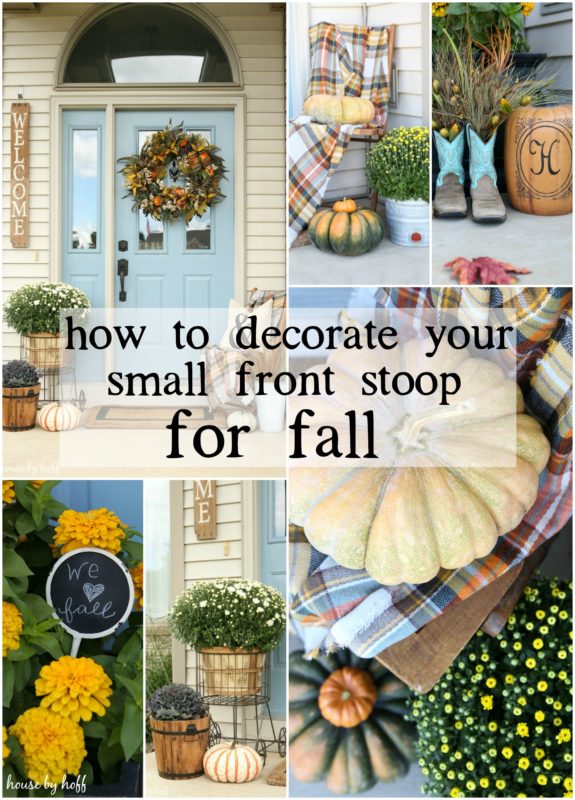 Lord have mercy, I have been blogging for a long time! One of the great things about having so many years under my blogging-belt is that I have tons of fall decor ideas for your small front porch right at my fingertips! I decided to open the vaults today and share some inspiration for how to decorate your small front porch for fall. Affiliate links are used in this post.
Front Porch Inspiration
This will be obvious from the pictures, but my front porch is very small….It's actually more like a stoop. I have a little room on each side of my door to decorate, but that's it! I have to be creative to squeeze as much decor as I can into a small space.
2017:
This year's decorating came pretty easy. You'll see that I have some staples that I seem to use each year. I'll include links to these items at the end of the post. 😉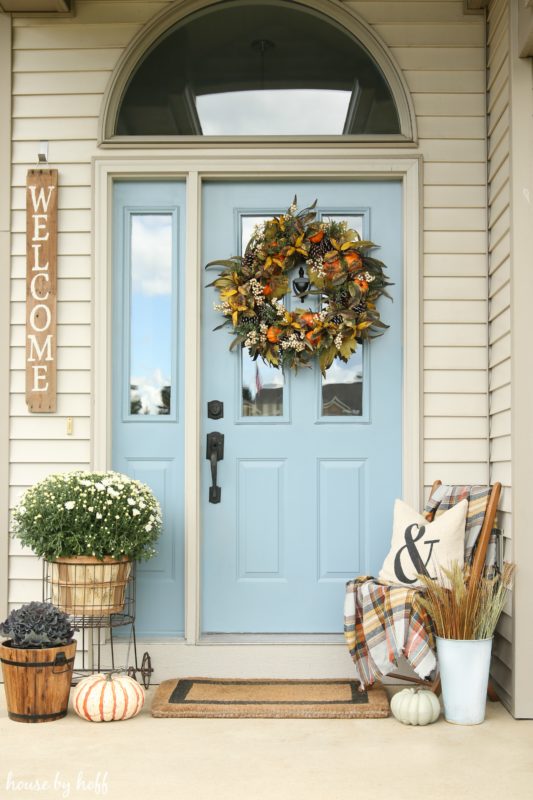 One of my essentials is my wire baskets on wheels. It's great for creating some height in such a tight space.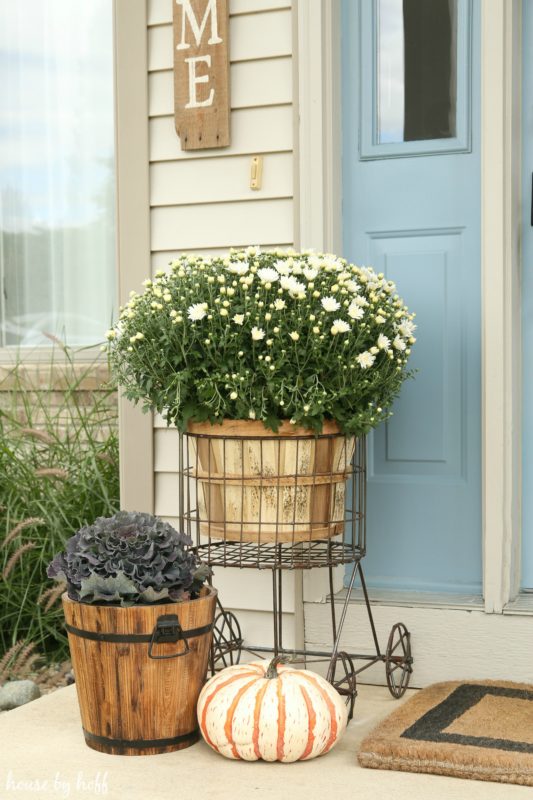 It's so easy just to stick a barrel of mums in there, and done! 😉  This year I went with a neutral white mum and simple head of kale.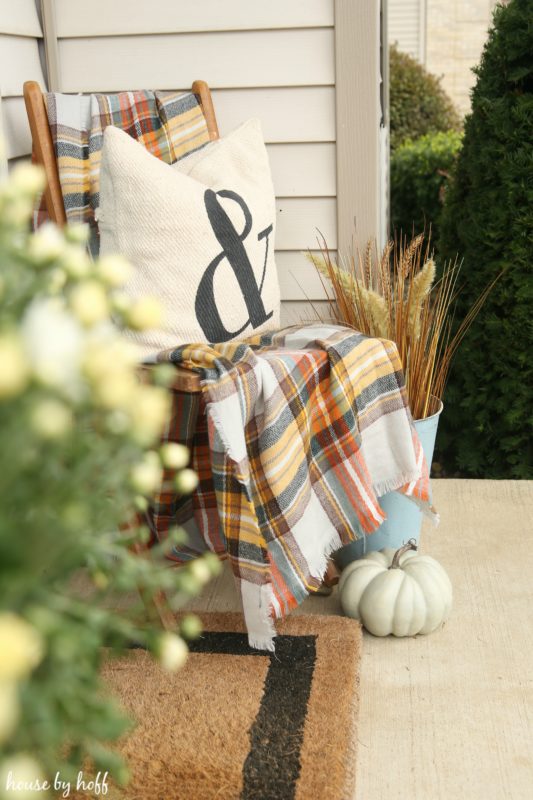 This year, fake pumpkins were my jam. I really couldn't find any good gourds in time to take pictures. I like layering in real or fake pumpkins and gourds in front of some of the bigger pieces.
2016:
You can see that last year, I followed a very similar formula for the front porch.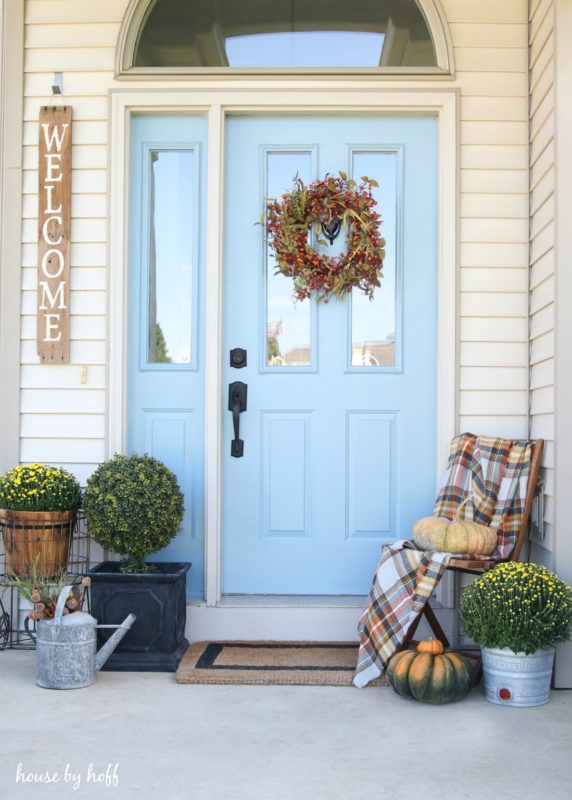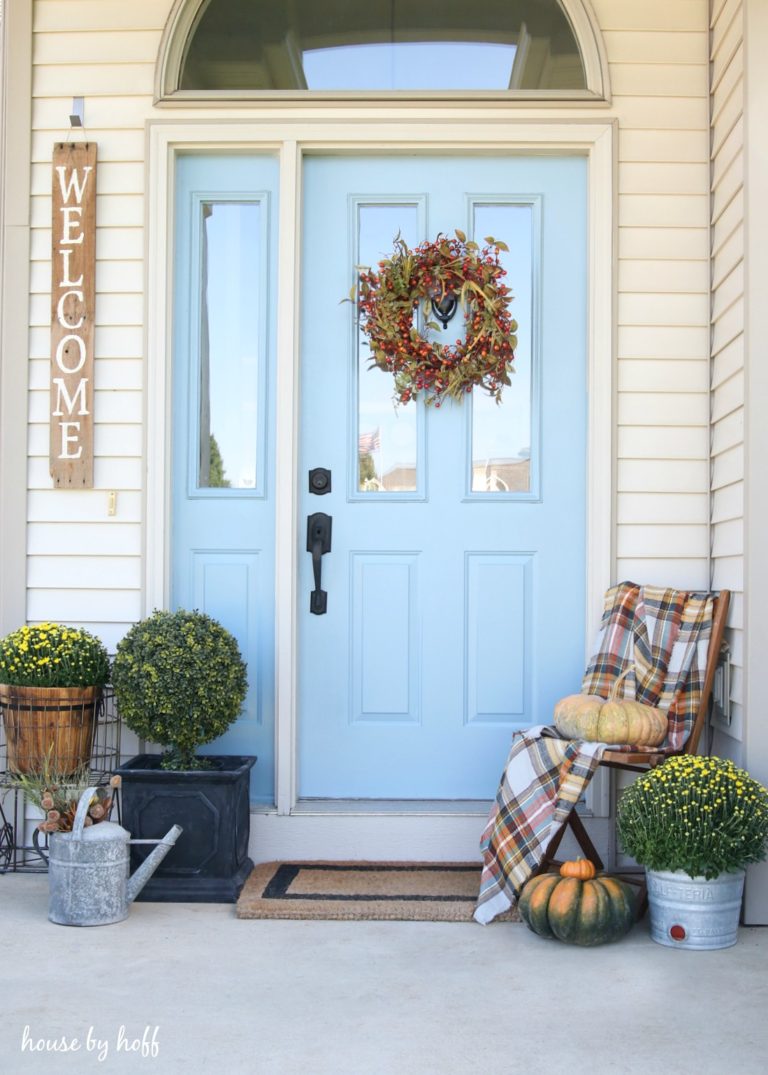 I really like using an inexpensive blanket scarf to add color and texture to the stoop. It's fun to drape over a chair, and stick a pumpkin on it.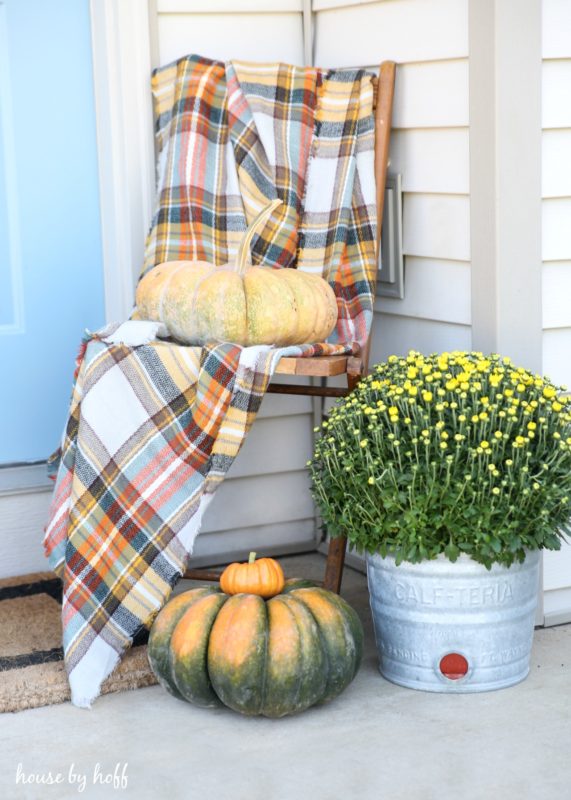 Love this shot of the pumpkins and mums! Last year, I stuck some yellow mums in a galvanized bucket. I like the way yellow flowers look with my front door.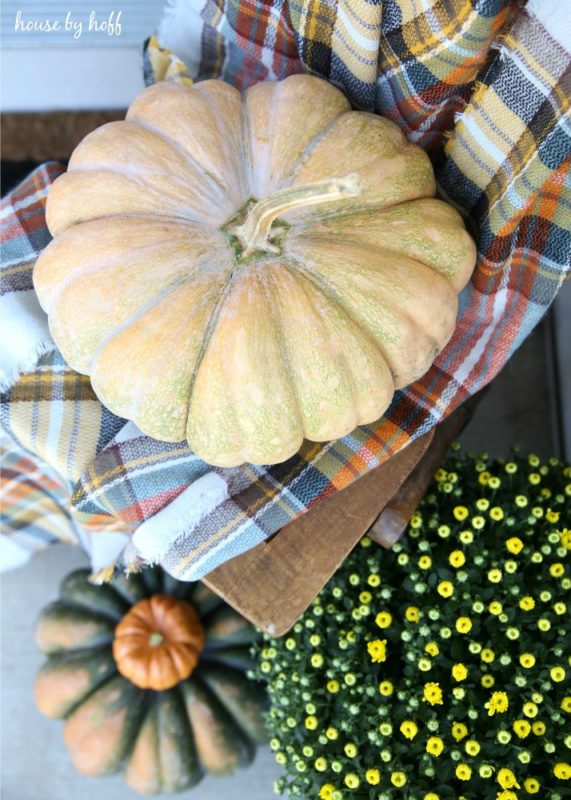 Eeeek! So, I did a separate shoot for a Halloween front porch last year. I was working with Balsam Hill, on their Halloween line, so any of the Halloween items you see below are from there, just FYI. 🙂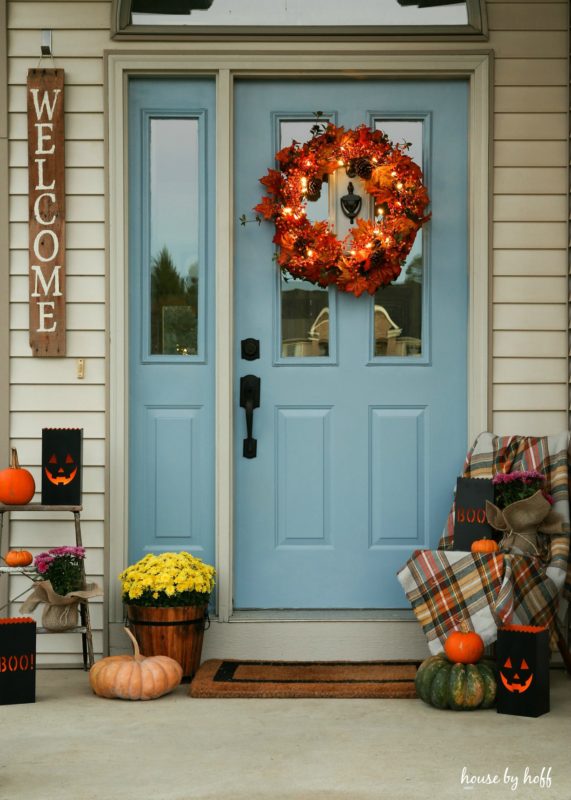 I love the idea of wrapping up some mini-mums with burlap. Sometimes it's hard to find containers that will fit the smaller mum containers, and this is just a simple idea to make it pretty! 🙂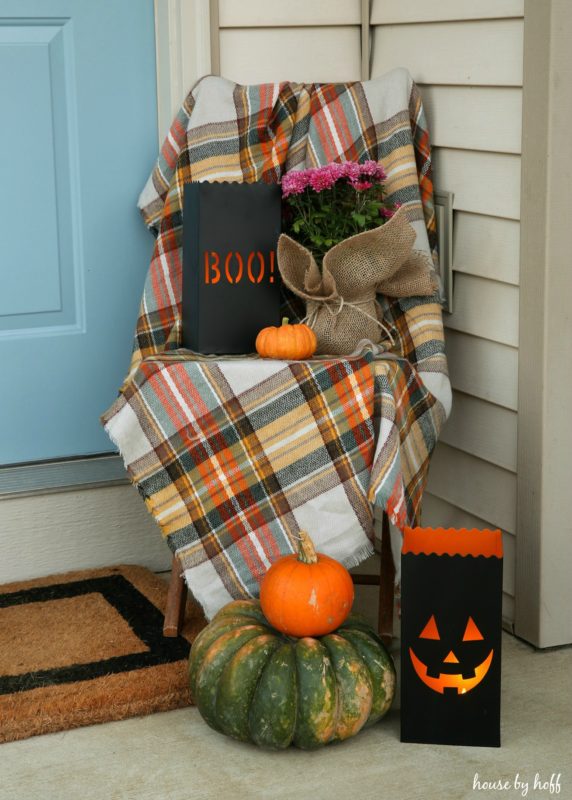 Obviously, creating layers is important when decorating such a small space. Using a little ladder is just another way to create layers!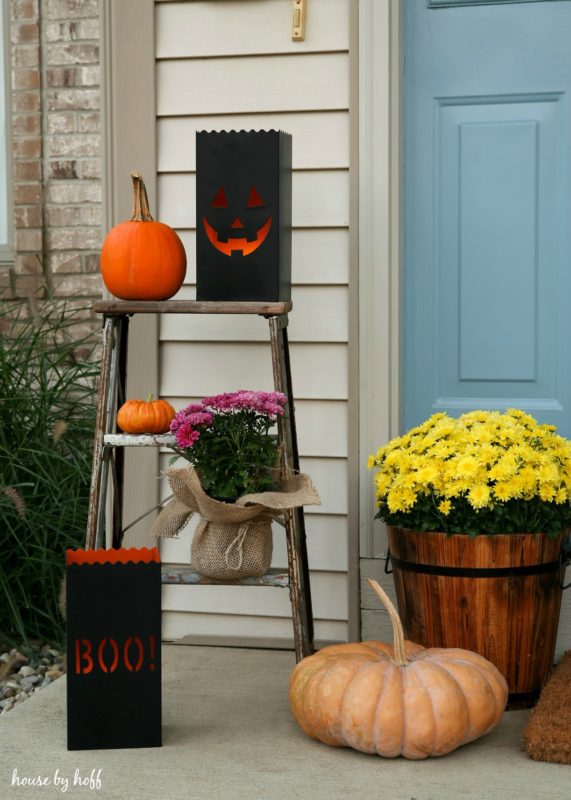 2015:
Two years ago I was working with Home Depot on my front stoop makeover, and oh what fun I had with this one! 😉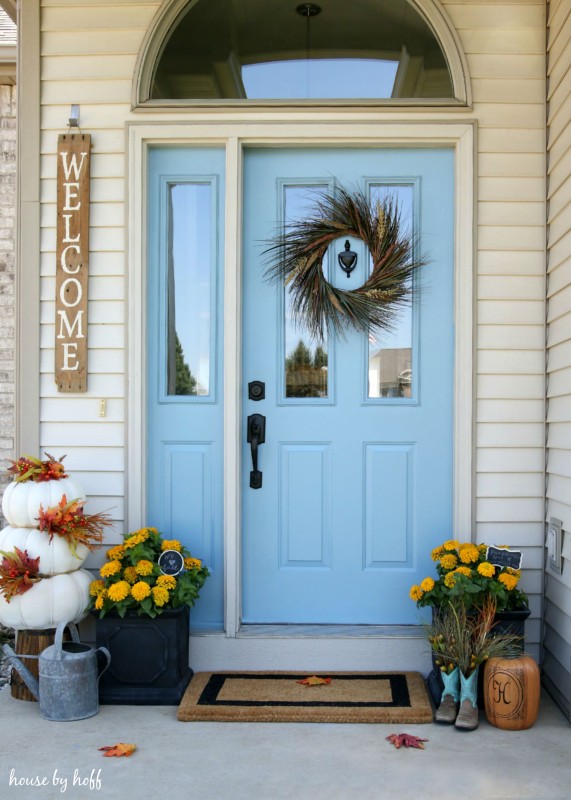 I stuck some fall sprigs into Miss L's little cowgirl boots…cute!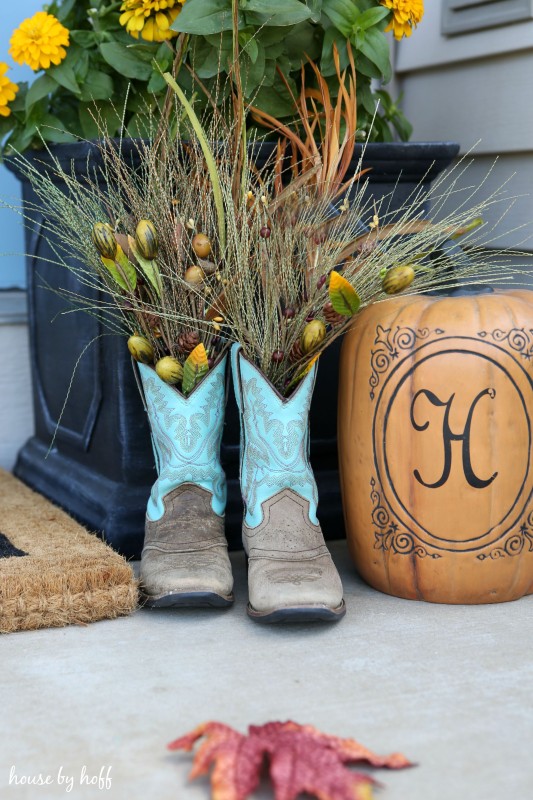 To create a white pumpkin topiary, I spray painted a plastic pumpkin stack white and stuck it on top of a wooden barrel.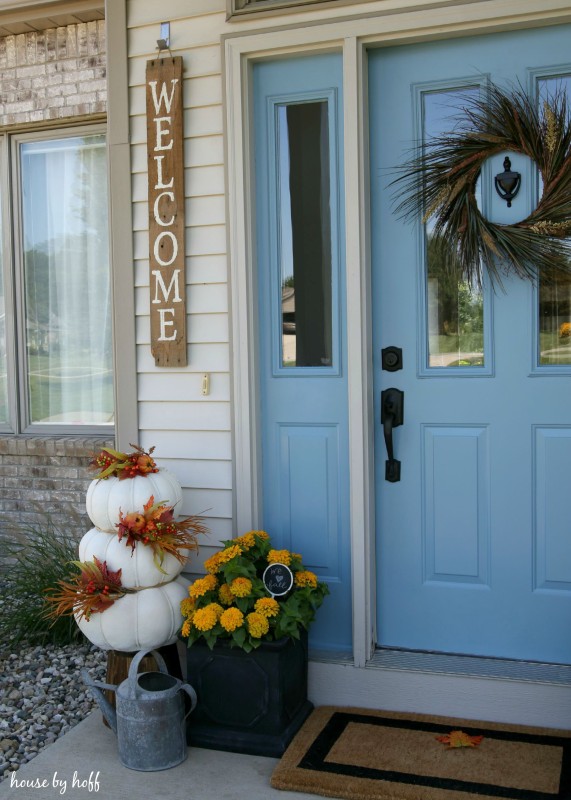 I loved these cute little chalkboards with fun fall messages written on them.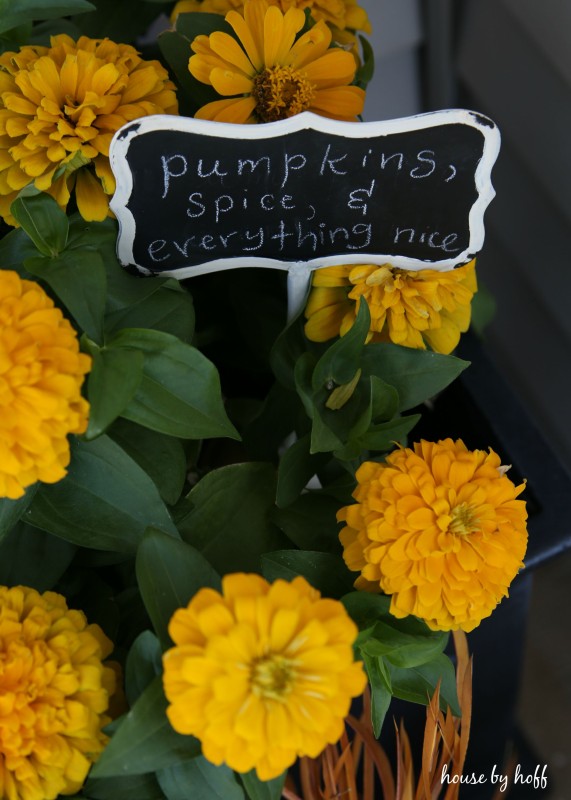 I hope you found this walk down memory lane helpful! It was fun for me to remember all of the different ways I've decked the front porch out for fall over the years. Below, I'm sharing links to all of my essential items for decorating my front stoop for fall!
*Affiliate links are used.